Electric kettles are a must-have in your kitchen. They make your life easier. You can use an electric kettle to boil your water very fast and in a safer way. If you take the time to find the best electric kettle, it should last many years.
Here is a buyer's guide for the best electric kettles in Malaysia. You can find these kettles in online shops or the various appliance centres in Malaysia.
1. Tefal Kettle Safe Tea KO2608 – 1.7L
Have you ever burned your hands when boiling water? Well, if you start boiling water with this kettle, you can forget about such accidents. It comes with a heat barrier to make sure that the body of the electric kettle remains cold all through.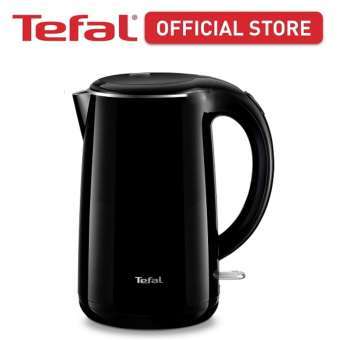 Some of the notable features of this amazing kettle include the following:
360 cordless base with a central connection
Manufactured using stainless steel
Dual heat barrier
Own cord storage
The electric kettle is very powerful, operating at 1800 watts. Therefore, it boils a maximum of 1.7Lts of water very fast.
Check The Best Price at Lazada
2. Philips Kettle HD9306 – Daily Collection 1.5L
It has a very elegant appearance and the true definition of an electric kettle. It has a cordless base that brings out the sleek features and makes it very portable.
The amazing features of this elegant electric kettle include the following:
Hinged lid
Steam sensor
Manufactured using food-grade stainless steel material
UK Strix thermostat
If you want an easy time boiling water, you should definitely choose this amazing kettle by Philips.
Check The Best Price at Lazada
3. Philips Kettle HD9350 – Daily Collection 1L
Do you want to bring your electric kettle with you when going out of town? Do you want to make it an aesthetic part of your kitchen? Well, you can enjoy this beautiful kettle that boils at 200 watts power.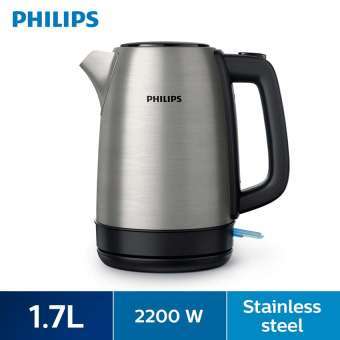 Other features of the kettle include the following:
Non-slip base
Boil dry protect
Flat heating element
Auto-power off
You don't need to worry about overheating or other electronic related incidents since Philips has designed their kettles to be safe and worry-free.
Buy this Philips electric kettle here today.
Check The Best Price at Lazada
4. Philips Kettle HD9316 – Viva Collection 1.7L
Philips basically outdoes itself when it comes to electronic technology, and this electric water kettle Malaysia is no exemption.
Check out these features below:
Keep warm function
Spring lid for easy opening
Removable filter
UK Strix Thermostat for a more accurate temperature control
We love the upright body design of this kettle as well as its PTC technology which reduced the need for reboiling water.
You can purchase this model online here.
Check The Best Price at Lazada
5. Philips Kettle HD9303 – Viva Collection 1.2L
It's a small but terrible package that also comes with similar features as the larger versions. This model, however, makes it easier for you to take anywhere.
Here are the features we love.
Wide opening for easy filling and cleaning
Overheating Protection and Steam Sensor
Wide opening for easy filling and cleaning
Food grade stainless steel body.
You can buy this Philips electric kettle in Malaysia here.
Check The Best Price at Lazada
6. Tefal Kettle Safe Tea KO2618
Here's another top of the game design that we love from Tefal. Comes in a sleek back body with LED light illumination. It also comes with these features:
Dual heat barrier layers to better protect your hands
Ready for tea preparation
Assisted opening lid for convenient filling and cleaning
Auto switches off for both light and heater.
Don't miss the best price for this heater available here.
Check The Best Price at Lazada
11. Philips Electric Kettle HD9322 – 1.7L
Poised to be your lifetime electric kettle, this UK-designed technology of Philips ensures fast, efficient, and safe boiling for every home. Check out these features below: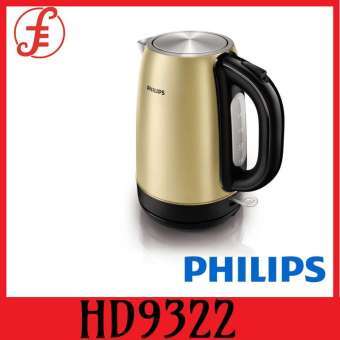 Rustproof stainless steel, safe, durable
Anti-calc filter for a clear cup of water
Easy lid and spout filling
Flat heating element
This is a game-changer in the electric kettle but comes with a relatively low price. You can buy this kettle online here.
Check The Best Price at Lazada
12. Cornell Electric Kettle CJKE171SSB – 1.7L
We love this stainless steel and sturdy look of the Cornell electric kettle. It looks both elegant and preppy and will easily match almost any kitchen. This goes without saying that this water kettle also offers the best features for its price:
Concealed heating element
Safety lock lid
304 stainless steel body and Strix control
Automatically turns off when water boils
Cornell is also a trusted brand in water kettle. These features are surely worth your spending, as well.
Buy this Cornell Electric Kettle here.
Check The Best Price at Lazada
13. Delonghi Argento Flora Kettle KBX2016
Luxurious and extremely functional, this electric kettle is a dream. We've checked out its features, too, and they surely do not disappoint.
Swivel base
Removable filter
Twin neon power-on lights
Non-slip feet
Thermal Cut-off
If you want to invest in an electric kettle that is sure to last with you for decades, this Delonghi kettle is your smartest choice.
Get the best price for Delonghi here.
Check The Best Price at Lazada
What's The Main Difference Between Electric And Non-Electric Kettle?
The main notable differences between the 2 kettles are energy efficiency and affordability. Yes, choosing a non-electric kettle is cheaper but you will end up spending more on it especially when using gas to boil water.
On the other hand, the electric kettle is a little expensive but it has more convenience and improved energy efficiency. You should be able to reduce your boiling time at least by half. Even better, electric kettles have safety features to avoid overheating and burning.
How an Electric Kettle Works?
What To Look For In A Good Electric Kettle
There are many brands of electric kettles in the market today. Here are a few things to help you choose the best one for your needs.
Water Capacity – How much water do you need to boil? Do you live alone or with family? Choose an electric kettle with the best water capacity to match your needs.
Design – Each manufacturer has their own designs of electric kettles. Therefore, you need to choose a good design that matches the rest of your appliances in your kitchen as well as the décor.
Energy Consumption – When buying an electric kettle, look for one that is energy efficient for the best results.
Here are our top picks on water kettle in Malaysia: