Last Updated on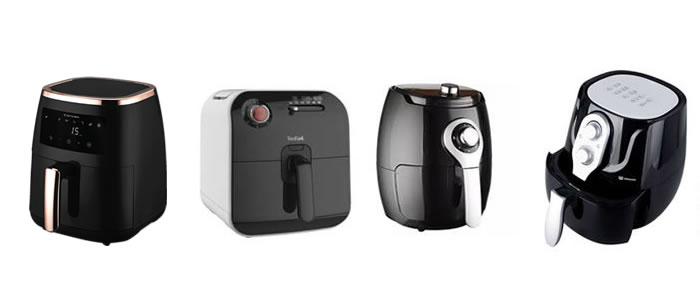 Air fryers are always a great addition to any kitchen. You can now enjoy your favorite food with a little less guilt. Air fryers use less oil and have been dubbed a healthier alternative to fried food. That's the reason why they have become very popular in Malaysia.
Most people living in Malaysia lead very busy lives. With an air-fryer in your home, you can enjoy well-prepared and healthy meals with very little effort. If you are looking for a good air fryer for your dining needs, here are the top choices to consider.
1. Corvan Air Fryer F50 XXL Full size 5L (Best Overall)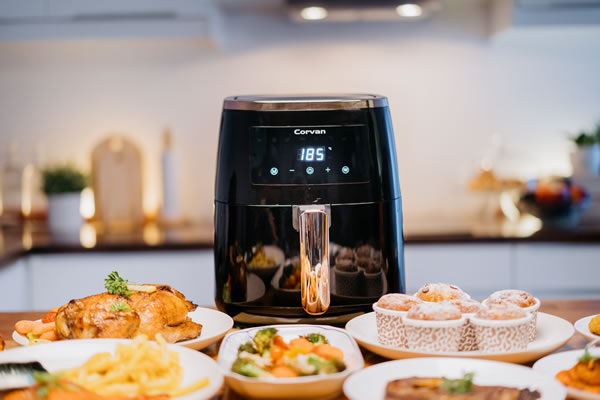 Cook a full meal with one sleek device
Fry your favourite foods with no oil yet full of taste, and (almost) none of the guilt! The Corvan Air Fryer F50 XXL is perfect for those watching their health yet want to indulge occasionally in their favourite fried chickens, pizzas, cookies, fries and more. This air fryer comes with 360 degree force air heating technology for more even cooking, 8 preset cooking programs (vsmanual types), and sleek digital soft touch control and display panel.
Besides the preset programs, the wide temperature range of 65 to 200°C allows you to cook endless recipes that can easily be found online. Of course, the most convenient one would be chucking in frozen food like drummets, fries, nuggets, onion rings right from your freezer, no defrosting required.
With a larger capacity frying pan than most air fryers in the market, you can cook more food for the family. The instant heating technology lets it cook 50% faster than a conventional oven.
Hate cleaning after cooking, like me? Cleaning is a piece of cake because there are only 2 parts to be washed and wiped – the non-stick frying basket and trivet.
Why buy this:
Healthier cooking for the whole family
Extra large capacity to serve large portions of food to 8 people
US, Europe and SIRIM approved safety standard
Easy to use and clean
Elegant and modern design that will fit into any kitchen
Strong local after-sales support
What we don't like:
This air fryer can only make food for up to 8 people.Need to cook in batches for a larger portion.
Customer Review:
"Second purchase from this brand. Love their product and service!😍😍 Already tested and i'm using it for my family's breakfast almost every day! The basket is really huge. definitely enough for family of 6. Will do a video review on this corvan air fryer if i have time"
2. Corvan Air Fryer F38 XL Full size (3.8L)
All of the cooking functions are combined into a single, compact device.
Step up your frying game with the Corvan Air Fryer F38 XL Full size. You can fry, grill, bake, and roast without using oil! The 3.8L frying basket is perfect for larger families or those you love to feed.
Get crispy and perfect results each time without sacrificing flavor with one-touch controls that adjust quickly and uniformly for a high-performance heat distribution—perfect for eggs, fries, seafood, steak, cakes, pizzas and much more. The Open Pan System ensures you can always check or stir your food while it is cooking, so everything is cooked to the perfection you have been dreaming of. Unlike most other brands, this Corvan air fryer comes with a 1 to 60 minutes preset cooking time and temperature range from 80-200 degrees Celsius, giving you practically limitless cooking possibilities.
With a steel cladded inner wall made for durability, the exterior is double insulated with an ergonomic cool-touch hand grip and body. The powerful 1400W and yet energy saving air fryer cook up to 50% faster than conventional ovens(due to instant heating). You don't have to worry about fat or grease either because all excess fat will be drained away from your foods automatically. This gives you all that satisfying crunch without any of that greasy taste! The pan and trivet is easily removable for easy clean-up every day, made entirely out of nonstick and dishwasher-safe materials, so there's always no mess to clean up!
Complete cooking from start to finish has never been easier as this air fryer takes just seconds to heat up and is so easy to clean as well! In fact, it's even hygienic as no oil needs to be used, which means keeping those cholesterol levels in check couldn't have been easier! So if you want a tasty yet healthy meal, whip out the Corvan today!
Why buy this:
Easy to clean with a nonstick material that is dishwasher safe
Easy to clean up with no mess
Pan is removable for the easy clean-up
Enjoy cooking healthier meals that are still just as tasty!
The full size 3.8 liter pan is equivalent to other brands that list 4.8 or 5 liters but usable capacity is the same 3.8 liter!
Corvan is a long established Malaysian brand with excellent service reputation.
What we don't like:
Air fryers aren't ideal for large groups. Some food has to be prepared in batches to serve more than six pax.
Customer Review:
"Tq seller for your excellent service….Local company with local office service centre. Items received in good condition with good quality….Will order their vacuum and mop during sale again 👍👍🏻👍👍🏻"
3. Russell Taylors Air Fryer AF-24 Large 3.8L
It is one of the most popular air fryers in Malaysia, having been featured on different TV shows. With this air fryer, you can enjoy fried chicken, French fries and other meals with less guilt.
The notable features on this air fryer include the following:
Pre-set cooking time of 30 minutes
Auto-off function with sound/alarm
Adjustable temperature
Large capacity
It's the perfect air fryer for preparing meals in a large family gathering. It's also a good choice if you want to try out some amazing fried recipes in your kitchen.
4. AMGO 3.8L Capacity Air Fryer [Malaysia 3-Pin Plug]
It's yet another favourite Malaysian air fryer. It has numerous online discounts for any interested buyers. It is affordable and very easy to use. It is produced by AMGO, one of the leading manufacturers in this niche.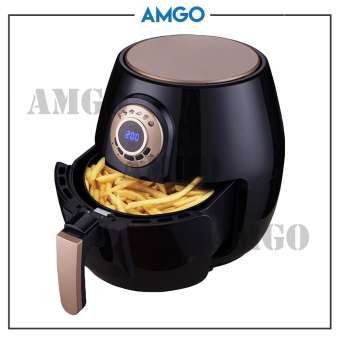 The features of this amazing air fryer include:
Cool-touch housing to prevent burn accidents
Has a serving tray so it's ready to serve
Non- stick frying basket
Adjustable timer and temperature
With this air fryer, you can prepare your favourite fried meal evenly. Even better, you can enjoy the amazing crisp on the outside and leave the inside part juice. If you don't have an air fryer, this should be your first choice.
5. Philips XL Air Fryer HD9240
This fryer has a large cooking capacity of 1.2 kilograms, which is enough to feed up to five people. Despite its large capacity, you can fry all you want with less fat and little to no oil. You can also control the temperature and time with the digital touch screen.
Key features we love:
Automatic shut-off
Dishwasher safe
Patented Rapid Air
220 230 V
You can even preset your fryer for your favourite dishes so that you don't need to set it always every time you prepare it.
This air fryer is available online now.
6. Birkeshire Air Fryer (Large 3.8L Pan) AF 260 M
It operates at 1400 watts. It is an efficient air fryer with a lot of safety features. One of the distinct features is odourless cooking. That way, you can prepare your favourite meals without the oil scent that's too tough to remove.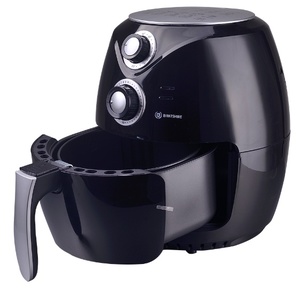 Other features of this air fryer include:
Adjustable temperature of up to 200 degrees Celsius
Cool touch body/housing
Removes at least 50% fat from the usual recipe
Malaysia SIRIM plug ready
It is a very versatile air fryer from Birkeshire. For instance, when preparing your favourite meal, you can choose between the grill, roast or bake settings for the best results.
7. Tefal Fry Delight Air Fryer – Meca White (FX1000)
Do you love preparing meals? Well, this is the right air fryer for your needs. You can use it to prepare your favourite fried meals or desserts effortlessly.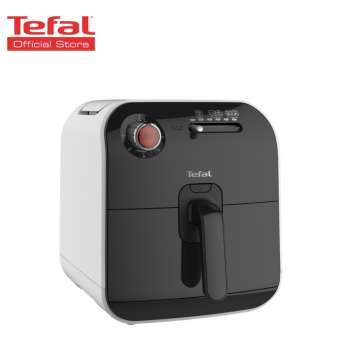 The features of this air fryer include the following:
Sleek and compact design
Adjustable timer and temperature
Controlled cooking
Dishwasher safe
It's a good way to prepare meals for up to 4 people. Telfal also comes in different color variations to match your kitchen décor effortlessly.
8. Haier 2.5 L Air Fryer- 4 Functions
Are you looking to shift to healthy eating habits? Well, this air fryer from Haier should be your trusted partner in the kitchen when preparing healthy meals. You can use it to reduce the amount of fat in your food and ensure it is fried properly.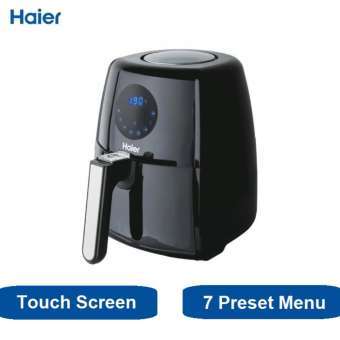 The features of the air fryer include the following.
Basket and pan
Timer enabled
Temperature control
Auto shut off
Integrated air filters
It is a smaller air fryer and perfect for people living in smaller apartments or condos. The air filters remove the oil scent in your home effortlessly.
9. Philips HD9216 Air Fryer
This fryer ensures that the food cooked is cooked evenly, with its rapid air technology that facilitates the air circulation on the fryer. And your choices are not limited to just frying; you can also roast, grill, and even bake with Philips HD9216 Air Fryer.
Key features we love:
Ready signal
Temperature control
Cool wall exterior
Cord storage
Owners of this fryer can also manually adjust the temperature and time up to 30 minutes and 390 Fahrenheit.
Get this air fryer at its best price here.
10. Morrison Air Fryer AF30 3.8L Large
If you want to prepare healthy meals at home, you can use this air fryer for the best results. You can prepare any meal and serve up to 3 people with this air fryer manufactured by Morrison.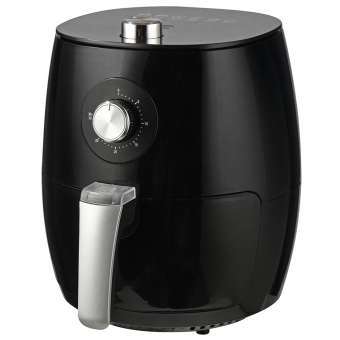 Some of the features of the fryer include:
Rapid air technology
Timer and temperature control
Heats up to 390 degrees
Multi cooker
It has a cool housing feature that prevents burns so it's safe to use in your kitchen. It also produces less smells when preparing food.
11. Philips HD9238 Air Fryer
For a crispy on the outside, tender on the inside fried food, this fryer is for you. It needs little or no oil and can have up to 80% less fat. It also has a unique design that circulates the air and optimal heating profile, giving you the ability to fry whatever food you'd like.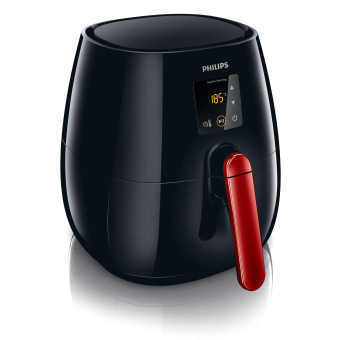 Key features we love:
Patented Rapid Air
Recipe book & App
Up to 60 minutes
Automatic shut-off
Safe and functional for every kitchen. Buy this here today.
12. Birkeshire XL Air Fryer (Large 4.2L Pan) AF 420 M
It is an efficient air fryer and has all the necessary safety features for easy use. One of the amazing features of this air fryer is the odorless cooking. That way, you can remove all the food smells in your home by using this air fryer.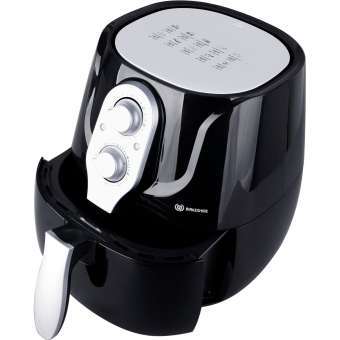 Some of the features of the air fryer include:
Adjustable temperature up to 200 degrees Celsius
Cool touch body/housing
Removes up to 50% of fat from the regular recipes
Malaysia SIRIM plug ready
It is very versatile and you can choose the grill, roast and bake settings.
Why Should You Use An Air Fryer?
Most people lead busy lives and it is very easy to eat fast food because it is conveniently available. However, most of these foods are unhealthy because they contain bad cholesterol, fat and a lot of calories because of the method of preparation that involves a lot of oil.
Air fryers offer a convenient alternative to prepare food without any health risks. They use electric heat and fans to fry the food. You can enjoy the crispy outside and the juicy insides of your favourite food without any worries. Some of the recipes you can make with air fryer include:
French fries
Bread toasts
Vegetable chips
Shrimp
Taquitos
Fillets
Chicken wings
Try out any of the air fryers mentioned above and enjoy the most amazing healthy meals and snacks right from your own kitchen!
Here are our top choices of air fryers in Malaysia:
FAQs
Are Air fryers worth it? 🤨
Yes. It makes your frying a whole lot healthier and faster, with less oil.
What are popular air fryer brands in Malaysia?
There are quite a few, such has Corvan, Russel Taylors, AMGO, Philips, and Tefal
How much does an air fryer cost?
The price usually starts at 200 RM, depending on the brand and model
This post was brought to you by Kimz House.
Disclaimer: The opinion is solely based on our testing or intensive research with customer feedback around the most popular shopping platform such as Shopee and Lazada. The products/services shown here are available and valid upon the publication date. It may change from time to time. Please email us at [email protected] if there is any discrepancy.