Last Updated on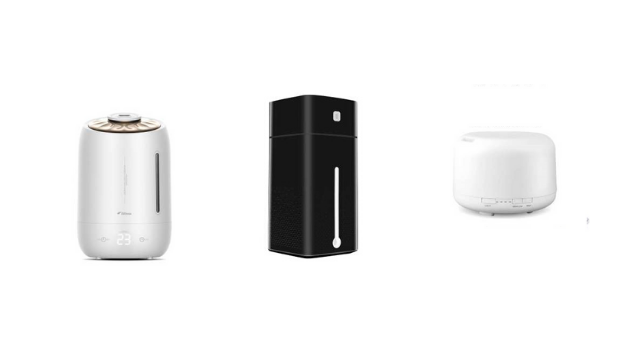 Global temperatures have increased all over the world, the poles included! It's no surprise, therefore that Malaysians are seeking a reliable method to calm their indoor temperatures for comfort at home and workplaces.
A convenient method is the use of air conditioners and humidifiers. Precautions should, however, be taken since staying in a clammy space could negatively affect the body, like cause stress. On the flip side, staying in a dry area that comes with the use of air conditioners could also be detrimental hence the humidifier solution.
To be on the safe side, therefore, avoid the use of air conditioners for long, especially at night. They affect the respiratory system, desiccate the skin, and could even change the eyes. Air humidifiers will also come in handy. This is especially so when working in tight air-conditioned spaces. This said, here are the leading types of humidifiers that every Malaysian should opt for:
1. Muji-Style Ultrasonic Humidifier And Aroma Diffuser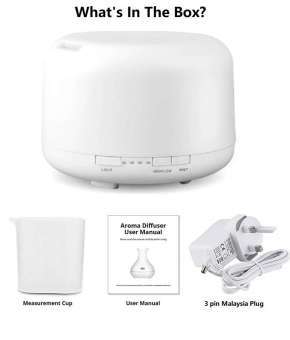 Besides humidifying the air, a suitable type of humidifier will offer other beneficial uses. Holistic treatments better the lives of those using them by providing optimal living space, for health and wellness. This one infuses essential oils into the air, which improves the skin. This Muji-style humidifier promotes better sleep and could, therefore, be used at night. With this, you can say good-bye throat irritation and dryness. Here are the features of this humidifier:
Accommodates the use of essential oils
Has an ornamental LED mood lighting options
It has a universal electric plus compatible with outlets in Malaysia.
500 ml capacity
2. The REDBUZZ Color Cup Home/Car USB Humidifier, Air Purifier, And Diffuser
Thanks to technology, even when you're on the move, you could have a humidifier with you to optimize the air you're breathing. This type of humidifier is suitable for homes and cars alike. These humidifiers add moisture to the car's atmosphere, which is quite prone to dryness, unlike the standard air-fresheners which make the air smell better. If you want an enhanced driving experience, get one of these. It will naturally improve the vehicle's smell without using artificial fresheners made of chemicals. Here are its features:
Comes in 3 beautiful pastel shades
It easily fits in a standard vehicle cupholder
When the water is exhausted, it automatically shuts down.
Accommodates the use of essential oils
Has an ambience LED light that could be used at night
3. Ultrasonic Air Humidifier, Air Purifier & Aromatherapy Diffuser For Essential Oils
Again, this comes with a lot of assortments. It can diffuse essential oils into the air, purify the air, and finally is an air humidifier. To add to this, it also quite affordable. Note that however, it does not purify the air as good as the stand-alone air purifier does. It will, however, be efficient for small spaces. Here are its features:
It has a universal electric plus compatible with outlets in Malaysia.
Accommodates the use of essential oils
On the 2019 model, it comes with 7 aesthetic LED lights
It comes in a compact, space-saving design
4. 500 ML Ultrasonic Air Humidifier
When looking for a simple humidifier that does not need constant refilling, this model is the ultimate option. It is suitable for offices and bedrooms thanks to its small compact size. It also has a built-in LED mode light to create a calm ambience. This is advantageous as it calms the mind, allowing you to sleep free of stress. The relaxing atmosphere is also perfect for people who struggle with insomnia. To top it all off, it is way affordable in comparison to other humidifiers! Here are its features:
Suitable for aromatherapy so it can be infused with essential oils.
Can be used with sleep-inducing oils for bedrooms. Avoid repeated use to avoid reliance
Constructed out of a PP material that is safe
Has built-in LED mood light
Very low power usage
5. Ultrasonic Air Humidifier With A 200 ML Capacity
Ultrasonic air humidifiers are generally better when planning to diffuse essential oil into your space since they mistify and distribute the oil better than other options. This one comes with a built-in control that allows you to set the required preference of mist. To avoid the fast depletion of essential oils, you can, therefore, set intermittent humidifying periods. You can, thus, control how much oil you are taking in, as well as moisture in your space. This makes this model the most popular amongst all. Here are its features:
Has a system that controls the amount of mist
A spillproof design that is ideal for use during the night
Built-in LED lights with a variety of options too
6. 1000 ML Aromatherapy Diffuser And Air Humidifier With Color-Changing Lamp
It has a higher capacity than either of the other options. This makes it the ultimate option for large rooms. It will run for 9/10 hours without the need for a refill and will run until the water is exhausted. At this point, it automatically shuts down, so no need for constant monitoring. As if that's not enough, this humidifier yields very fine mist and is extremely quiet. If you'd like to improve the quality of air in a large room or bedroom, this one will do the trick! Here are its features:
Very effective at humidifying due to the fine nano-mist function
Can be used as a lamp thanks to the built-in mood light
Accommodates the use of essential oils
Longer-lasting
Benefits of Using a Humidifier in Your Home
If you spend a lot of time in air-conditioned spaces, you'll notice the difference in air quality as soon as a week after purchasing an appropriate air humidifier.
Since air conditioners like fans dry out the air, a humidifier will counterattack this effect by bringing moisture back, which reduces skin dryness, respiratory issues, and allergies. Humidifiers are also advantageous in that they preserve the quality of building materials.
Our Top Recommended Products
This post was brought to you by Kimz House.
Disclaimer: The opinion is solely based on our testing or intensive research with customer feedback around the most popular shopping platform such as Shopee and Lazada. The products/services shown here are available and valid upon the publication date. It may change from time to time. Please email us at [email protected] if there is any discrepancy.