Last Updated on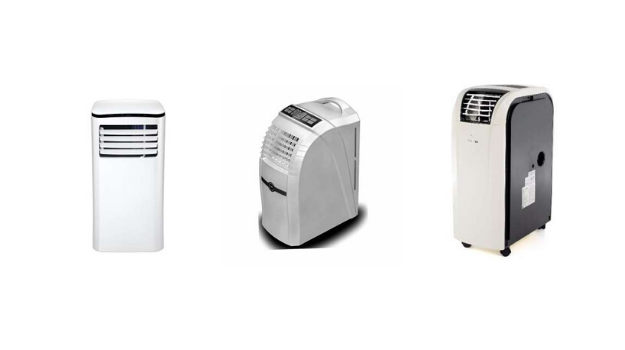 Malaysian weather has grown more erratic every year. Even if you have lived in this country for just a short while, you will have experienced how, in practically every city in the country and all around the year, the weather is humid. That is the reason why there is a demand for various ventilating and cooling electronic devices, a demand in Malaysia, that is only increasing.
When we were looking for ways to live in cold comfort in our KL living areas, we discovered portable air conditioners. These air conditioners make it possible to enjoy the comfort that airconditioned rooms provide, but do not have the hassle that comes with installing air conditioners. Of the portable air conditioners available in Malaysia, here are the ten which we would recommend.
1. Midea 1.5hp MPF-12CRN1 1.5HP
You will breathe cool and clean air when you use this portable air conditioner. Most portable ACs are noisy when they operate, a problem that this Midea AC solves with its sleep mode feature.
It also comes with an eco-friendly refrigerant, has a cooling capacity of 9000 Btu/h, and has an Omni directional caster and a silver ion filter.
This is a unit that is more suitable for larger rooms. The directional caster helps in the even distribution of the cooled air that gives you optimal comfort. You can purchase this Midea portable AC right here.
2. Acson Moveo C-Series 1.5HP A5PA15C
This C series from Acson comes with a cooling capacity of 12,00 BTUs per hour that provides quality cooling. Its eco-friendliness and energy efficiency are guaranteed.
This model comes with remote control, a touch screen panel, and a four-direction air swing.
The best feature of this portable air conditioner is that manual draining is eliminated. It also does away with the need to have any water tanks. You can look to getting a refreshing quality of air, even in big coverage areas. Ask for the best price here.
3. Morgan 1.0hp MAC-091 Feather Lite
When you are looking for a portable air conditioner, you must look for one that is versatile. This can help when you have to go through the hassle of dealing with the hose when you need to transfer the AC. Morgan's portable AC is multi-functional.
It has four roller casters, a timer, has a remote control, and four program settings that include sleep, cooling, fan, and dehumidify.
Of all the portable ACs that we tried out this is the lightest and is very easy to use. Even a room that is as large as 14 square meters is efficiently cooled. That is good for the price you pay for it. It can be purchased online.
4. EcoCooling Air Conditioner Model LH360V with an Air Cooler
If you are looking for portability and efficiency, this model is a cooling fan that can also work as an air conditioner. Its evaporative water feature makes it easy to transport.
This model has high-speed blowing, a water capacity of 40 litres, an air filter, and ABS material.
This unit does need water for cooling, but in its current innovation, both water consumption and energy requirements are lower. Check out this model here.
5. Midea MPH-09CRN1 1.0hp
This is a portable air conditioner, and it is a design that is bucket free, which saves you the problem of draining the water as it evaporates automatically.
It comes with auto swing, an ion filter, an omnidirectional caster that gives an improved distribution of the cooled air, and it also has a sleep mode feature.
This model comes with a flexible hose that makes it easy to set up in various rooms. Here is where you will find its lowest price.
6. Pensonic PPA-109 1.0hp
You will love the compact look of this AC and the ease with which it can be moved to any part of a house.
It comes with an LED display, timer setting, vertical auto swing and airflow, sleep mode and memory function, and the ability for self-diagnosis.
A remote control allows you to adjust any of its settings conveniently. Its minimalist design allows it to fit easily into any home interior. Here is where you will get it at a discounted price.
7. Hisense 1.5HP HAP-12JSN
If you are looking for a portable air conditioner that looks luxurious, this is the Hisense model for you. Other high-end features make it worth the higher investment.
These are an energy efficiency performance that is European A-class, an LED display, a 12000 BTU cooling capacity, and a sleep mode.
This is an AC that can be easily maintained because it has a washable filter. Ask here for the best price on this model.
8. EcoCooling Air Condition Model LH980V Air Cooler
This high-speed air cooler is recommended for bigger spaces like warehouses or offices. It has wide-angle blowing that allows all corners of a room to be cooled comfortably.
This cooler comes with high-speed blowing, has ABS material, an air filter, and a capacity fo 40 litres.
Water is needed for cooling, bit its present innovation ensures low energy and water consumption.
9. Trentios PC35-AME 12000btu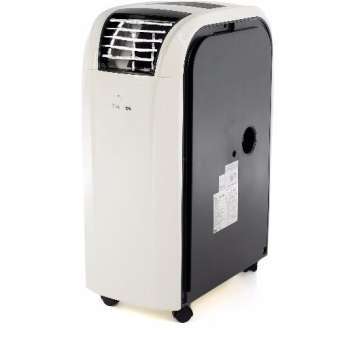 This Trentios model of an air conditioner is easy to install and use, which makes it perfect for condominiums. If at some point you need any heating, this model comes with a heating function as well.
The Trentios PC35-AME comes with a compact and innovative design for dehumidifying, a fan with an anti-corrosive coating, an R-410/a refrigerant, and cooling that has a class A energy rating.
This portable air conditioner has been designed to operate without a water tank and can work consecutively for 24 hours. Purchase it online here.
10. Elba R410a Model (EWS-9001C)
This air conditioner from Elba can be used for the bedroom as well as any other areas. Its design and a quiet mode of operation allow you to have a relaxed sleep.
It comes with a water tank on the inside, a handle that makes for the convenience of moving it around, allows easy movement, has powerful cooling, strong wind, and lower noise, as well as a three-speed fan control.
If you are starting with portable ACs, you will do well to begin with an Elba. Buy one online right here.
Is there a difference between portable air conditioners and evaporative coolers?
Both of them are portable and easy to use, with the major difference between them being in the cooling mechanisms that they use. Air coolers need large amounts of water or ice if you need to cool down a room. As a result, the space that is cooled will have more moisture.
Therefore, if the area where you want this cooling has high humidity, these air coolers may not be the best option. Portable air conditioners get their power from condensers, and thus do not need water for the cooling.
But unlike evaporative coolers, these air conditioners will require exhaust hoses so that hot air from the room can be vented out. This is a crucial point to consider when you are buying a portable air conditioner.
The top recommendations on our list are:
This post was brought to you by Kimz House.
Disclaimer: The opinion is solely based on our testing or intensive research with customer feedback around the most popular shopping platform such as Shopee and Lazada. The products/services shown here are available and valid upon the publication date. It may change from time to time. Please email us at [email protected] if there is any discrepancy.