Last Updated on
There are many different types of kettles on the market these days. But, which is the best electric kettle in Singapore? Here is a list of 10 of the best electric kettles on the market that you should consider buying. These kettles come with a variety of features that will make your life easier. So, what are you waiting for? Read on to find out more about these amazing appliances!
Table of Contents
10 Best Electric Kettle Quick Comparison Table

Electric Kettle Buying Guide
Best Brands of Electric Kettle in Singapore
FAQS
Quick Comparison Table
(scroll right for more)

1. Cornell Cool Touch Kettle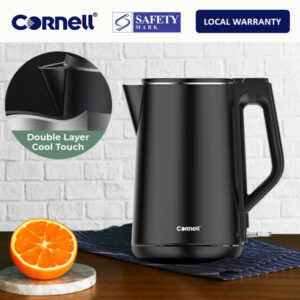 Cool-touch
Looking for a dependable and stylish kettle? The Cornell Cool Touch Kettle is just what you need. This electric kettle features British Strix thermostat technology and auto shut-off for user safety and energy saving.
The double wall system clad with stainless steel resists scratching and protects users from scalding. The wide spout and opening allow for easy filling and keeping the kettle clean. Boil a full 1.5L / 8 cups in only 6-7 minutes, and conveniently prepare hot tea, delicious cocoa, or any other hot beverage you crave.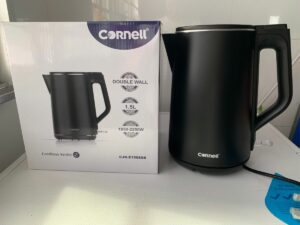 Pros:
Great for family use
Equipped with great safety features
Elegant design
Cons:
2. Russell Taylors Retro Kettle RK-10
360 base rotation
High-quality stainless steel
This high-quality kettle is made with the finest quality 304 stainless steel and heat-resistant co-polyester, so you can be sure your water will taste great. The high-quality thermostat controller ensures maximum safety, while the auto shut-off feature kicks in within 30 seconds after the water is fully boiled.
And if there's no water in the kettle, don't worry – the boil-dry safety feature will turn it off automatically. Plus, the LED lights on the control panel let you know when the kettle is heating up. For added convenience, the Russell Taylors Retro Kettle is completely cordless when off the base, so you can easily pour without any obstruction.
Pros:
With LED light panel
Can be used for pourovers
Easy on the hand
Cons:
Quite heavier than most electric kettle
Difficult to reach all side when washing
3. Simplus Electric Kettle 304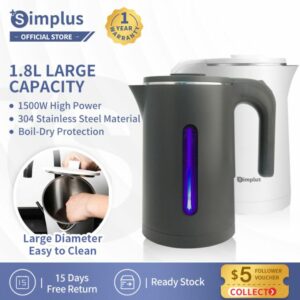 Large Capacity
This electric kettle is perfect for making your favorite hot drinks. It has a 1.8L capacity and features auto lid opening and a light indicator for easy use. The kettle is made of durable, food-grade stainless steel for long-lasting performance. It also has a 360° swivel base and dual insulated body for added convenience.
Pros:
Food-gade material
Large capacity
Easy to clean because of wide opening
Cons:
Not the best choice for frequent, small batches heating
4. TOYOMI Mini Travel Kettle WK 315
Travel-kettle
Do you love hot beverages but hate lugging around a bulky kettle? Meet the TOYOMI 0.5L Mini S.S. Travel Kettle Jug, your new best friend on the go!
Boil dry protection means you'll never have to worry about ruining your kettle. The flat bottom is easy to clean, and the firm handle grip ensures that your hot beverage will never spill. The brushed stainless steel body is durable and looks great, too.
Plus, the kettle comes with 2 cups so you can share your hot beverage with a friend. Whether you're at home or on the road, the TOYOMI 0.5L Mini S.S. Travel Kettle Jug is always there to keep you supplied with hot water.
Pros:
One of the best quality travel kettle in the market
Durable material, can withstand outdoor trips
Cons:
Body will easily scratch, but will nonetheless keep it heat retention feature
5. DQRGO Portable Electric Kettle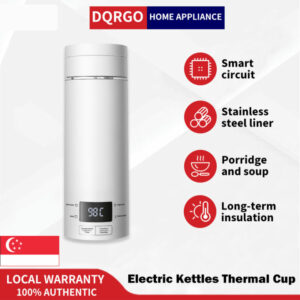 Portable
DQRGO's Portable Electric Kettle is the perfect choice for boiling water while on the go. The digital display screen lets you check the water temperature at any time, and the quick selection function makes it easy to choose the right temperature for your needs. The kettle is made of durable, safe, and environmentally friendly materials that are non-toxic and harmless to human health.
The double-layer heat insulation design keeps the kettle safe to use, and the Small size and light weight make it easy to take with you wherever you go.
Pros:
Can be used to store other liquids such us soup/porridge
Great insulation
With LED display for temperature
Cons:
No handle can be a challenge
6. Bear Electric Health Kettle (YSH-A15W6)
With pre-set functions
The Bear Electric Health Kettle multi-function Kettle Tea Office is your perfect choice! With 20 preset functions, a 360° controlling dial, and an 8-level heating system, this kettle can do it all. The detachable heating base and stainless steel heating plate make it easy to use and clean, while the 10-minute pitcher detaching memory and ABS lid-top handle make it safe and convenient to use.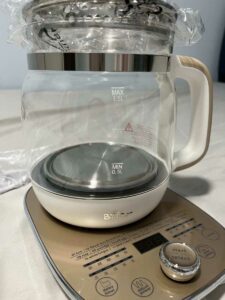 Pros:
Elegant glass design
Can be used as teapot
With heating base
Cons:
7. PowerPac Electric Kettle PPJ2008
Best value for money
Start your day off right with a hot cup of tea or coffee made with the PowerPac Electric Kettle. This kettle is made of 304 food-grade stainless steel and has a concealed heating element for safety. The automatic turn-off switch kicks in after the water boils, and the rocker ON/OFF switch makes it easy to use. You'll love being able to see the water level through the transparent gauge, and the removable filter and flip lid make it easy to fill and clean.
Pros:
Widely available in Singapore
Affordable but packed with features
Cons:
8. My Choice Electric Kettle Glass (MC7008)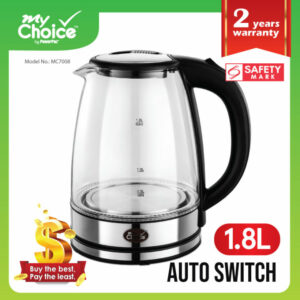 Glass kettle
This kettle features a stainless steel heating element that boiling water quickly, and an auto switch that turns off the kettle after the water has been boiled. The high-tempered glass jug is durable and features an LED light, so you can see your water boiling even in low-light conditions. The large open top makes it easy to fill the kettle and clean it after use.
Whether you're making tea, coffee, or instant noodles, the My Choice Electric Kettle Glass Jug is the perfect choice for boiling water quickly and easily.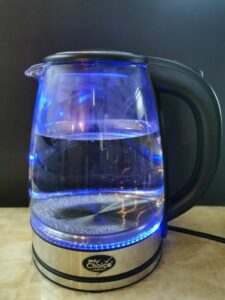 Pros:
Built in LED light
Large capacity
Sturdy design
Cons:
The glass can be quite tricky to maintain and keep clean and clear
9. MIUI Electric Kettle And Vacuum flask
Electric flask
Introducing the MIUI Electric Kettle and Vacuum flask – the perfect way to enjoy your favorite hot beverages on the go! Featuring double-layer insulation and a one-key switch, this kettle heats water quickly and automatically shuts off when it reaches the desired temperature. Made of durable, safe materials that are environmentally friendly and non-toxic, this kettle is also equipped with a waterproof design, non-slip bottom, and small size that makes it easy to take with you wherever you go.
10. Morries 1.7L Glass Kettle MS8080GK
Cordless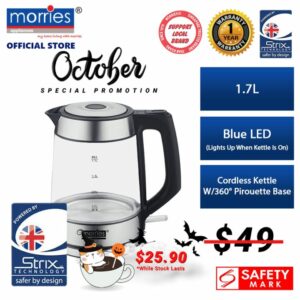 The Morries 1.7L Glass Kettle is a high quality, cordless kettle with a 360° pirouette base. It has boil-dry protection and overheat protection, making it a safe and reliable kettle. The premium SS304 stainless steel and concealed heating element make this kettle durable and easy to clean. The large opening on the lid makes it easy to fill and clean, making it the perfect kettle for your home or office.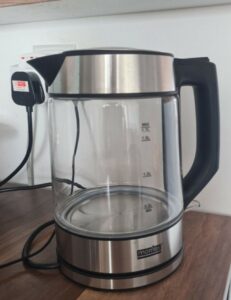 Pros:
With visible capacity levels
Great for small kitchens
Electric Kettle Buying Guide
An electric kettle is a kitchen appliance that many people use on a daily basis to heat water for tea, coffee, or instant soup. When choosing an electric kettle, there are several factors to consider, such as capacity, material, heating time, and price.
Capacity is important if you need to heat a large quantity of water at once. Most kettles have a capacity of 1-2 liters. If you only need to heat a small amount of water, then a smaller kettle may be more suitable. Material is another consideration. Kettles can be made from stainless steel, plastic, or glass. Stainless steel kettles are the most durable, while plastic and glass kettles are often cheaper.
Heating time is also an important factor to consider. Some kettles can boil water in less than 2 minutes, while others may take up to 5 minutes. Finally, price is another consideration when choosing an electric kettle. You can find kettles for as little as $20 or as much as $100. When choosing an electric kettle, it's important to consider your needs and find the best option for you.
Best Electric Kettle Brands in Singapore
If you're in the market for an electric kettle, you'll find that there are many brands to choose from. Here are three of the top brands available in Singapore:
1. Russell Hobbs is a UK-based company that has been making electric kettles since 1952. Today, Russell Hobbs kettles are known for their style and durability.
2. Morphy Richards is another UK-based company with a long history of manufacturing electric kettles. Morphy Richards kettles are known for their innovative design features and high quality.
3. Panasonic is a Japanese company that has been making electric kettles for over 50 years. Panasonic kettles are known for their precision engineering and advanced features.
When choosing an electric kettle, it's important to consider your needs and preferences. Different brands offer different features, so be sure to compare before making your final decision.