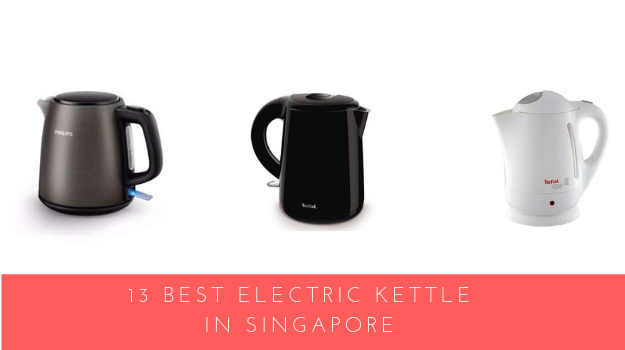 Electric Kettles have been one of those appliances that make life so much easier and faster. Boiling water even during the rush hours is now faster and safer. The good news is most of these affordable and portable kettles can also last for a couple of years if you find the good brand.
This is our buyers guide for the best electric kettles in Singapore today, which you can buy both from appliance centres and online shops.
1. Tefal Kettle Safe Tea KO2608 – 1.7L
How many times did you experience accidentally having your hands get burned from boiling water? Well, that's not going to be a problem with Tefal's heat barrier, ensuring that the body stays cold.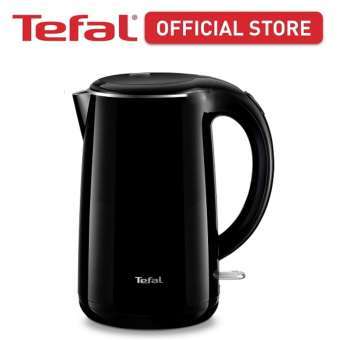 Here are the key features we love:
360 Cordless Base with Central Connection
Dual heat barrier
Stainless Steel
Own cord storage
This electric kettle is powerful at 1800 watts, which means that it boils 1.7 worth of water in a snap.
Get this kettle at its best price here.
Check The Best Price at Lazada
2. Philips Kettle HD9306 – Daily Collection 1.5L
This elegant looking kettle gives you everything you need in a Plihips electric kettle. Its cordless base adds to it's sleek and makes it easy to bring wherever.
Here are the features we love:
Hinged lid
Food-grade Stainless Steel
Steam sensor
UK Strix thermostat
For safe and easy boiling, Philips got you covered with this Daily Collection Electric Kettle.
Best price for Philips kettle here.
Check The Best Price at Lazada
3. Philips Kettle HD9349/12 – Daily Collection 1L
Whether it is an out of town trip or a kitchen stable, this Philips kettle will give you an easy time boiling with its 200 watts power.
Other features to check out
Boil dry protect
Non-slip base
Flat heating element
Auto-power off
You don't need to worry about overheating or other electronic related incidents since Philips has designed their kettles to be safe and worry-free.
Buy this Philips electric kettle here today.
Check The Best Price at Lazada
4. Morries Glass Kettle MS 2020GK – 1.7L
Beautiful and functional. These are two words that we can easily associate with this unique electric kettle that has captured our eyes and heart.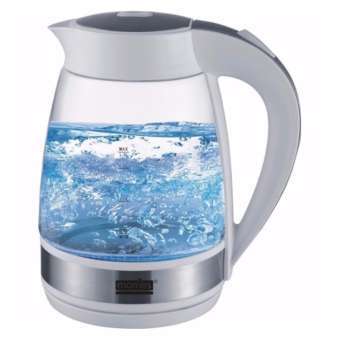 Apart from its appearance, it is nonetheless packed with great features for easy boiling:
High-temp resistant glass
Stainless steel heating element
Removable filter
Blue LED light when switched on
You will love this electric kettle at first sight! It offers almost similar safety features as its stainless counterpart, except you get to enjoy that glass view.
Get your now, for a discounted price here.
Check The Best Price at Lazada
5. Philips Kettle HD9316 – Viva Collection 1.7L
Philips basically outdoes itself when it comes to electronic technology, and this electric water kettle Singapore is no exemption.
Check out these features below:
Keep warm function
Spring lid for easy opening
Removable filter
UK Strix Thermostat for a more accurate temperature control
We love the upright body design of this kettle as well as its PTC technology which reduced the need for reboiling water.
You can purchase this model online here.
Check The Best Price at Lazada
6. Tefal Kettle BF2731 – Vitesse Diamond 1.7L
A no-fuss version of the Tefal electric kettles, this holds enough water for family use in no time. This is quite on the heavier side of electric kettles though, which makes it more appropriate as a kitchen mainstay.
Other features to check:
Powerful 2400 watts
Diamond Element
Auto power off the system
You can be assured of getting you value for money with this electric kettle that is currently one of the most affordable models in the market today. Check out its lowest price here.
Check The Best Price at Lazada
7. Philips Kettle HD4646/56 – Daily Collection 1.5L
When it comes to electric kettle brands, there is a reason why Philips has become a staple name in the market. This model, for instance, is packed with all the safety features including anti-boil-dry, auto switches off, cord winder.
Other features we love:
Jug appearance with easy-grip handle
Safety lid that stays cool
Hinged lid
Easy to wash
For a more playful look for your electric kettle, this is your best choice from Philips.
Buy this kettle/jug here.
Check The Best Price at Lazada
8. Morries Electric kettle MS-CJ608
Morries never disappoints when it comes to design, and this electric kettle definitely tops our choice for electric kettle aesthetics. Fortunately, it also does not fall short on these features, either;
Drip-free pouring
Double-wall structure
Bristish Strix controller
360-degree cordless interface
Buying this kettle will not only make life easier, it is also guaranteed to add the much-needed personality to your pantry.
Get yours here now!
Check The Best Price at Lazada
9. Philips Kettle HD9303 – Viva Collection 1.2L
It's a small but terrible package that also comes with similar features as the larger versions. This model, however, makes it easier for you to take anywhere.
Here are the features we love.
Wide opening for easy filling and cleaning
Overheating Protection and Steam Sensor
Wide opening for easy filling and cleaning
Food grade stainless steel body.
You can buy this Philips electric kettle in Singapore here.
Check The Best Price at Lazada
10. Tefal Kettle Safe Tea KO2618
Here's another top of the game design that we love from Tefal. Comes in a sleek back body with LED light illumination. It also comes with these features:
Dual heat barrier layers to better protect your hands
Ready for tea preparation
Assisted opening lid for convenient filling and cleaning
Auto switches off for both light and heater.
Don't miss the best price for this heater available here.
Check The Best Price at Lazada
11. Philips Electric Kettle HD9322 – 1.7L
Poised to be your lifetime electric kettle, this UK-designed technology of Philips ensures fast, efficient, and safe boiling for every home. Check out these features below: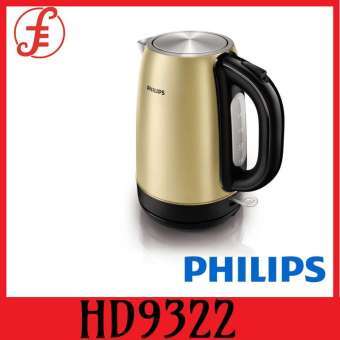 Rustproof stainless steel, safe, durable
Anti-calc filter for a clear cup of water
Easy lid and spout filling
Flat heating element
This is a game-changer in the electric kettle but comes with a relatively low price. You can buy this kettle online here.
Check The Best Price at Lazada
12. Cornell Electric Kettle CJKE171SSB – 1.7L
We love this stainless steel and sturdy look of the Cornell electric kettle. It looks both elegant and preppy and will easily match almost any kitchen. This goes without saying that this water kettle also offers the best features for its price:
Concealed heating element
Safety lock lid
304 stainless steel body and Strix control
Automatically turns off when water boils
Cornell is also a trusted brand in water kettle. These features are surely worth your spending, as well.
Buy this Cornell Electric Kettle here.
Check The Best Price at Lazada
13. Delonghi Argento Flora Kettle KBX2016
Luxurious and extremely functional, this electric kettle is a dream. We've checked out its features, too, and they surely do not disappoint.
Swivel base
Removable filter
Twin neon power-on lights
Non-slip feet
Thermal Cut-off
If you want to invest in an electric kettle that is sure to last with you for decades, this Delonghi kettle is your smartest choice.
Get the best price for Delonghi here.
Check The Best Price at Lazada
Difference between electric and non-electric kettle
The main difference between the two all boils down to affordability and energy efficiency. While it definitely is cheaper to go for a non-electric kettle, this will, in the long run, require more expenses on your part since you'll usually have to spend for gas or electricity to boil your water.
The electric kettle comes at a higher price but offers convenience and energy efficiency. You can cut down boiling time in almost half. Most of these electric kettles also come with their safety features, avoiding burns and overheating.
How an Electric Kettle Works?
What to consider when buying an electric kettle
With the many options available in the market today, it can be difficult to pick your choice. Here are some of the top considerations to have before buying your own electric kettle:
Water capacity – how much water do you usually boil? Do you live alone, or do you share your space with your family? Electric kettles come in varying water capacity that fits your needs.
Design – you will be amazed by the many designs of electric kettle these days. Pick one that will easily match your kitchen interior.
Energy consumption – always look for electric kettles that are guaranteed energy-efficient.
Here are our top picks on water kettle in Singapore:
Tefal Kettle Safe Tea KO2608 – 1.7L
Philips Kettle HD9306 – Daily Collection 1.5L
Philips Kettle HD9349/12 –  Daily Collection 1L