Last Updated on
We all want to save time and money, but sometimes it's just not possible. There are some things that you can do to help make your life easier and less stressful. One of the easiest ways is by using a rice cooker in your kitchen! Rice cookers allow for easy cooking of rice, as well as many other dishes such as soups, porridges, etc. They also offer a variety of functions depending on what type of dish you're cooking; from white or brown rice to sushi rolls! You can use one machine for multiple purposes which saves you time and space when looking for storage in the cupboards/drawers.
With a wide range of models on offer, we've found twelve of the best rice cookers sure to make your life easier.
12 Best Rice Cookers in Malaysia
1. Tefal Fuzzy Logic Rice cooker 1.8L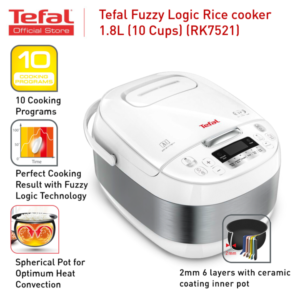 Best mess-free cooker
This rice cooker comes with three settings: white, brown and mixed. You can use it for cooking soups or even yoghurt making! There are two options for the temperature which you can choose from depending on what type of food you're cooking.
There's no need to worry about overcooking your food with this model that switches on automatically when it senses the pot is full–or pull out early if you're following another recipe. It has an anti-overflow system: simply add power back in and keep going without stopping midway through! Other features include 6 layers of ceramic coating in the inside pot for higher quality heat distribution, allowing different types of foods cooked together.
Why buy this:
Allows you to cook multiple food at once
Smart technology, makes rice cooking easier and safer
No more overflow mess
2. HETCH 8 in 1 Rice Cooker MTC-1723-HC
Best keep multi-functional rice cooker
This electric rice cooker has 8 functions, so there is no doubt that your family will love what you can do with it. You can cook rice in different styles and set the timer so there's less dishes to do after dinner. Once you start getting into food like porridge or yoghurt, the translucent viewing window lets you keep track of progress without having to open the lid which preserves heat and flavour better than an open pot!
Dishwashable parts make this machine easy to clean, and it comes with an automatic keep warm function that keeps your food hot for up to 24 hours after cooking.
Why buy this:
Cooks other food than rice (yogurt, porridge)
Easy to clean and maintain
No burning keep warm system
3. Tefal Mini Spherical Bowl Rice Cooker – 0.7L (RK6011)
Best mini rice cooker
Saving space has never been easier with the Tefal Mini Spherical Bowl Rice Cooker! With a capacity of 4 cups, you'll be able to cook for smaller households without having one less appliance cluttering your countertop. This rice cooker also features fuzzy logic technology and will take charge of your cooking while providing 7 different programs: rice, soup, porridge, congee, etc.
The 24-hour preset and timer functions can ensure that you always have something warm and delicious on hand whenever the mood strikes—without spending hours in front of the stove. Whether you're making an intimate meal or just enough food for yourself to last throughout the day, this product's generous size is perfect for any occasion!
Why buy this:
Portable, space-saving size
24-preset function
Lots of cooking programs in a small package
4. Sinshiro Ceramic Rice Cooker
Best ceramic rice cooker
This ceramic rice cooker is durable and compact. At 220 watts, it heats up quickly to ensure that your food is cooked thoroughly and efficiently while still retaining the natural flavor of ingredients. It's specially designed to facilitate the cooking procedure by keeping water from evaporating too fast or stewing on low heat for a long time, which preserves nutrient levels in some cases without compromising taste or texture. The tempered glass lid lets you keep an eye on what's happening inside as well as eliminating the need for constant stirring.
Less sugar in your food could be just one push of the button away! We'll often find ourselves grasping for anything hot when feeling cold, this anti-scalding handle gives you peace of mind as you cook up fragrant jasmine rice or prepare a heaping potful on vegetarian chili full of assorted veggies. The sleek design looks perfect next to any kitchen décor.
Why buy this:
Unique sugar content reducer with its cooking settings
Portable and easy to use
Cooks the best, fluffiest rice
5. Primada Smart Rice Cooker PSCL301
Best for its innovation
Rice is an integral part of many cultures and cuisines. The Primada Smart Rice Cooker can accommodate your needs for rice no matter what the type you're cooking or how much you need with its 3-liter capacity, 1.2 liter rice capacity, and 7 stage heating to ensure that your food stays warm throughout the process. The 304 stainless steel inner pot ensures healthy cooking as it doesn't contain mercury and cadmium, unlike other pots which emit toxic fumes in less expensive nonstick versions (known carcinogens). So take a few minutes out today to give yourself something worth bragging about with a beautiful home-cooked meal using the Primada Rice Cooker!
Why buy this:
Durable exterior and interior body
Multifunctional cooker
One touch button feature
6. TOPFINE Mini Rice Cooker 1.2L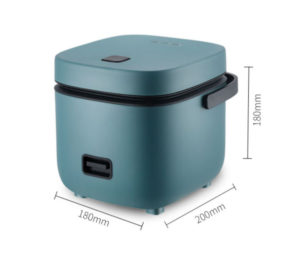 Best compact rice cooker
The TOPFINE Mini Rice Cooker is a reliable cooking device for perfect rice. With its 1.2L large capacity, the cooker can hold up to 4 servings of cooked rice and features an anti-slip base that stays firmly seated on any surface or table top when in use. This durable little cooker has 200W low power that requires less work from you at pot washing time 120°C powerful cooking heater, which also helps reduce energy consumption.
To prevent spills, this cookware features a square button for easy one-button operation and stylish design with steel plate material exterior.
Why buy this:
Aesthetic design but also fully functional
Small but can serve up to 4 people
Low energy consumption
7. Trio 0.3L Mini Rice Cooker TJC-030
Best for small spaces
The new Mini Rice Cooker has it all! It features a 0.3L capacity, one push operation with instant cooking, auto keep-warm function for any time of the day and is dishwasher safe. The detachable cover features a convenient safety carry handle to go from pot to plate easily without worry about burning your fingers (say goodbye to painful chili burns!). With its convenient rice scoop and measuring cup this little cooker can cook up more than just rice!
Why buy this:
Best for dormitories
Safety cover and handle
One switch operation
8. Milux 0.3L Mini Electric Rice Cooker MRC703
Best traditional rice cooker
The Mini Electric Rice Cooker MRC-703 , perfect for preparing to make a quick and tasty food dish, is just what you need in the kitchen. Thanks to its convenient handle design, it's easy to store away when not in use! Its elegant design with transparent glass lid offers crystal clear viewing of your rice cooking while also providing safety with its tempered glass lid. With an inner pot that is nonstick for easy cleaning and maintenance, this portable cooker does great things at home or on the go!
Why buy this:
Easy storage and maintenance
User-friendly as it works like the traditional rice cookers we're used to.
9. Panasonic Rice Cooker 1.8L SR-Y18G
Best energy-saving rice cooker
The Panasonic Rice Cooker 1.8L SR-Y18G is perfect for a small to medium-sized family with its 1.8-liter capacity. You don't need to worry about wasting electricity on this cooker because it only consumes 600 watts during normal cooking times and only 51 watts in Keep Warm mode! It's a long-lasting and reliable product that will fit seamlessly into your kitchen without taking up too much space.
The non-stick coating inside makes it easy to clean up after cooking while still maintaining its beautiful exterior design–a clear tempered glass lid means nothing will go wrong in this pot. Switch on the power button and watch as this little machine does all of the work for you with delicious results every time!
Why buy this:
Energy saving rice cooker
Simple to use
Easy to store
10. Mijia Youpin DFB201CM
Best smart rice cooker
The Mijia Youpin DFB201CM is a portable induction cooktop with 400 watts of cooking power. The heating surface offers 680 square inches, ideal for cooking for larger families or groups. Its variable temperature settings offer you the ability to choose from 100°C (212°F) up to 300 °C (572°F). The app-controlled design features small buttons and a touchscreen display panel that makes setting your desired mode as easy as touching it on your smartphone screen.
The device even provides suggestions about what type of pot and pan to use depending on the heat setting selected, making it quick and easy to get started so you can spend more time when actually cooking rather than fussing over pre-preparation!
Why buy this:
Best for modern and smart houses
Small but packs good amount of rice (up to 6 cups)
Portable and ready app control
11. Faber Rice Cooker (1L) FRC210
Best for large families
This Faber Rice Cooker (1L) is an excellent, durable product that can hold up to 1.0L of rice! In addition, it has a cool-touch handle and stainless steel lid which helps prevent burns during use. It also features a steam release hole for those who like the occasional side dish or dessert! The cook/warm mode allows you to choose whether you want this cooker on display or in regular storage until it's needed again. This reliable cooker will not disappoint with its certifications in safety and dependability! If cooking up delicious meals is your passion, then this is the cooker for you – be sure to get one before they sell out again!
Why buy this:
Large capacity
Safe and mess-free cooking
Durable
12. TOSHIBA 1.8L Digital Rice Cooker 2.2MM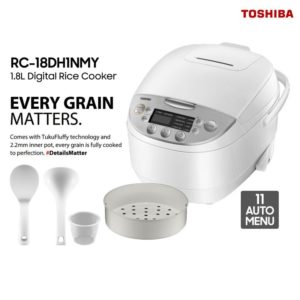 Best digital rice cooker
If you're hoping for a quick meal, look no further. Simply measure out the rice and water then press start to steam your perfect dish in just minutes. With the included steam rack, you never have to worry about dirtying that messy pot again! The 24-hour timer makes whipping up delicious meals even easier with preset cooking cycles for Lo (White Rice), Hi (Brown Rice) and Mixed Grain. And of course, they've included our patented keep-warm technology™ so dinners stay fresh until it's time to dig in!
Why buy this:
Great addition to your pantry with its sleek appearance
Scalding-free
Easy to operate
Why Invest in a Rice Cooker
If you're looking for ways to make your life easier and less stressful, one of the easiest things you can do is invest in a rice cooker. Not only will it help save time by cooking up rice so quickly, but it also has many other uses that may come in handy down the road. For instance, if you need to cook something else while making rice or want to use leftover grains from another dish as an ingredient-a rice cooker is perfect!
Check out these top recommended electric cookers below before deciding which model best suits your needs:
Tefal Fuzzy Logic Rice cooker 1.8L
HETCH 8 in 1 Rice Cooker MTC-1723-HC
Tefal Mini Spherical Bowl Rice Cooker – 0.7L (RK6011)
FAQs
What are the popular rice cooker brands in Malaysia?
Among the popular brands of rice cookers in Malaysia are Tefal, Panasonic, Milux, and Toshiba.
How much does a rice cooker cost in Malaysia?
A conventional rice cooker can cost between RM95.00 to RM150.00
Are rice cookers portable?
Yes, many of the rice cookers are meant to be portable, even the conventional ones. You can also buy mini rice cookers if you are looking for something you can conveniently bring outdoors.
How long does keep warm function in rice cooker last?
Depending on the brand, keep warm function can last between 5-8 hrs.