Last Updated on
The kitchen is the heart of a home and so it's important to have an oven that can do all the cooking tasks. When you're looking for an electric oven in Malaysia, it's best to know what features are most important to you. Be sure not to forget things like size, energy efficiency, and capacity as these will be some of your deciding factors when making your purchase!
The number of types of ovens, sizes and features available can be overwhelming. Whether you're looking for an oven to cook your favorite dish or one that will fit in your kitchen space, there is a perfect appliance for you. Here are 12 best electric oven models in Malaysia.
1. MORGAN 20L MEOHC22
Assurance for a perfect cook
Simply plug in the Morgan MEO-HC22 Electric Oven (20L) and wait for desired heat. Allow yourself some free time to clean your house, walk your dog, or watch TV while you relax with an oven that does the hard work.
When it's finally done cooking on its self-cleaning function, you'll be able to expect even and consistent results from pies, pizzas, biscuits, cakes – you name it! Investing in a high-quality oven like the Morgan MEO-HC22 means getting a great product built for everyday use.
With a 60-minute timer switch-off function, this oven makes baking easy as pie – pun intended! You won't have to worry about overbaking by having restrictions.
Why buy it:
The stainless steel heating element ensures the heat is properly distributed around the oven, ensuring a proper cooking and baking outcome.

This oven is very flexible as you can bake, toast and even grill with this oven.
2. Khind 52L Oven Toaster OT52R
Most versatile oven
This electric oven can do it all. It toasts breads and bakes pies, muffins, biscuits and more with just the push of a button. You'll be able to cook anything from breakfast items like eggs or sausages by pre-heating your oven first. Want something sweet? Make some desserts! Cake pops are always an excellent choice for family members who don't want cake but still enjoy dessert during holiday events, or make some doughnuts using eggless dough recipe in conjunction with yeast; that way no one will feel left out when you offer this time-saving convenience food. When it comes to cooking versatility (this is great for roasting, soup, pastries and bagels!), we've got you covered. Keep your dishes at the perfect temperature while preventing pesky spills with our oven-toaster combo!
Why buy it:
Because of the 120 minutes timer, you can ensure that you won't forget about whatever you are cooking.

If you prefer to not have the oven turned off after the timer, there is also a stay ON selection.
3. Pensonic 23L PEO-2305
Flexible and customizable cooking
With a 23 litre capacity and 1500 Watt of power, this oven packs the punch required to roast meats or bake tasty treats. The 60-minute timer with chime allows you to keep track of your cooking time without continuously jumping up to check on what's happening–though we recommend taking adequate precautions when opening the door! Easy-to-grasp tray and handle provide safe carry, while additional functions allow for toastier bread or grilled cheese if desired. Our Pensonic oven is sure to be a necessity for both culinary enthusiasts and busy working professionals alike!
Why buy it:
You can bake, grill or even just toast food with this oven. There are a lot of customization depending on what you want to do.

Ability to select whether you want lower heat, upper heat and both up and down. To ensure that no food gets burnt or over cooked, the oven automatically turns OFF after the timer.
4. FIRENZZI TO-3035 35L
Luxurious design with optimal performance
The TO-3035 35L Electric oven by Firennzzi is the perfect addition to any modern kitchen. This model has a capacity of 35 litres, and can cook an impressive range of dishes from light snacks right through to succulent roasts.
This versatile appliance features six different cooking functions, ensuring it's suitable for all occasions no matter how large or small. Thrill your guests with the rotisserie function; making roast beef or chicken an easy family favourite everyone will love! The reliable knobs on this electric oven are designed with shiny aluminium covers – providing you a streamlined look that can accompany any luxurious kitchen style. These fantastic home appliances also come supplied with 2 separate thermostats, which enable you to control both lower and upper heaters.
Why buy it:
Not only is this oven designed for optimum performance, FIRENZZI also focuses on the sophisticated look of the oven in order to help you complete the look of your kitchen!
5. Butterfly BEO-5246 Electric Baking Oven
Best heat distribution
The Butterfly BEO-5246 Electric Baking Oven is perfect for making delicious cakes, baking bread and pizzas, and even cooking a Thanksgiving turkey. With 60L of space inside the oven cavity, this versatile cooker provides 46-litre capacity that can be used to cook traditional items as well as unconventional dishes.
The fan that surrounds the oven ensures even heat distribution and reduces drying time — from 30 minutes to just 5! Grill your favourite sandwich or cook some fresh vegetables on our rotisserie function for an easy meal with no fuss. And if you're in need of more storage when cooking large meals at once, don't worry: there are two racks inside it too! Now get cooking with one simple appliance.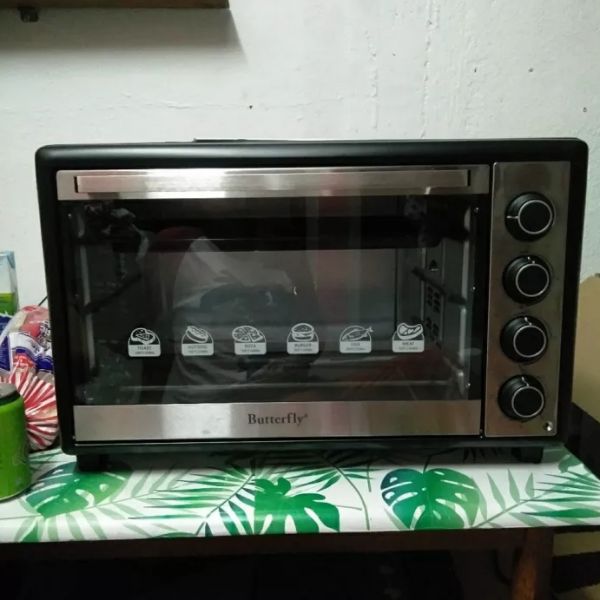 Why buy it:
For peak convenience purposes, there is a built-in timer.

The oven is very easy to clean, especially because grease dripping when using an oven can be very common.
6. Cornell CEO-SE50L
We are proud to introduce the new CEO-SE50L electric oven from Cornell! Providing a 50-cup capacity, this oven is great for all of your cooking needs. With adjustable thermostat settings that range between 100ºC and 250ºC and 60 minutes of timer programming, we have you covered. Their six heating modes will satisfy all temperature requirements; four stainless steel heating elements provide even heat spread throughout the whole of the appliance's interior space.
This 48-inch wide designer oven features specialized functions such as Rotisserie & Convection Functions in order to fully maximize its function capabilities allowing you to cook any kind of dish with both flavour and ease!
Why buy it:
The spacious 50L capacity, there is a bigger space for you to cook bigger amounts of food and makes everything more convenient.

The 6 heat setting will allow you to have the precise heating setting.
7. Panaletrik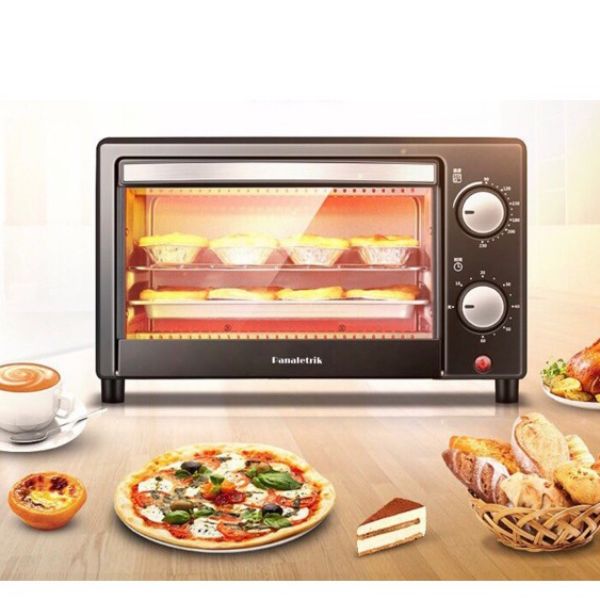 The Panaletrik Electric Oven is our latest innovation in home appliances. This oven not only heats your food up to 240 degrees Fahrenheit, but it also has a timer that gives you an automated 60-minute off signal. With the electric oven's strong glass door and multiple accessories like the baking tray and wire rack, this appliance is perfect for any kitchen! Or you can pick it up in a 6-piece kit when you need something more comprehensive!
The 100% satisfaction guarantee on the product will have you feeling secure with your purchase decision. No matter what happens with the installation or maintenance of your new stove, we are here to help get it working as quickly as possible so that you can return to cooking delicious treats indoors during these cooler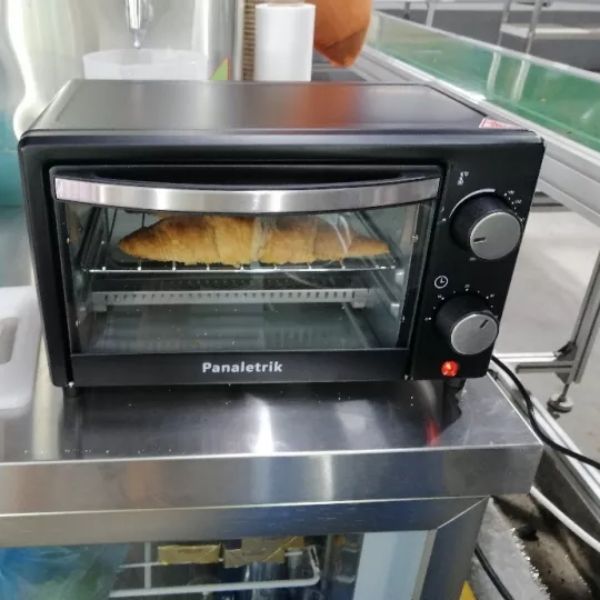 Why buy it:
For sure you won't overcook and forget about whatever you're cooking in the oven with the automatic switch-off timer with an ending signal bell to alert you that your cooking is done.
8. Khind 30L Baking Oven
Khind is an ingenious new way to bake, with a host of features and functions. With its cleverly designed shape and expandable size- allowing bakers to whip up anything from tiny biscuits to loaves of bread – the Khind truly is your one-stop baking station!
Alongside this, the Khind's double insulated panels keep both heats in making cooking quicker while also reducing power consumption meaning you can get on with preparing for when it's ready without waiting hours for it to cool down first. The interior has been designed with a non-stick coating so no more scrubbing out burnt food every week like other ovens. There are also preheat functions which means there's never any need to use conventional methods to cook again!
Why buy it:
There is a very versatile heat source allowing you to roast, broil and most especially bake within this one appliance.

This oven comes with a rotisserie that can turn 360 degrees for the perfect roasting.
9. Rubine Built-In Oven RBO-LAVA-70SS
Created for busy professionals, this oven's time control system makes it easy to customize cooking times from 10 minutes to 12 hours. Powered exclusively by natural gas and offering an energy efficiency class of A+, our built-in ovens are designed with professional chefs in mind – so whether you need an oven on a budget or want something that can meet all of your demands, we've got you covered.
Make meal prep easier than ever before with 2 layer doors that provide more accessibility and allow kitchens to stay cleaner without risking accidents while pulling out trays or cutting board slots for breadboards. And as a final touch, cool air is circulated so temperatures don't rise inside while waiting between steps.
Why buy it:
Because of the triple glazed glass doors that will allow the outside of the oven to be cooler to avoid burns.

There is also a cooling system that allows air in the oven to flow to make cooking safer.
10. Midea 10L Electric Toaster Oven
The Midea 10L Electric Toaster Oven is the perfect kitchen appliance for anyone in need of a new toaster. This small-sized toaster oven cooks bread, buns, brownies and other delicious treats with ease that'll rival any type of stove or oven. Make toast as many times as you like in 1 go with this innovative 2 rack location and dual heating system. There's also a timer so you know when it's time to wake up from your slumber and start making those scrumptious breakfast items!
A sleek yet functional design means that this product will never get dirty like typical toasters often do, which leaves more time for cooking what actually matters – food. The easy-to-clean interior.
Why buy it:
This oven is perfect for smaller units or anyone that leaves alone and prefers to cook a smaller amount of food. This Midea oven is also perfect for making ready to-go food.
What we don't like:
Because this oven is specifically designed to be a toaster oven, hence the functionality is not as versatile compared to the previous one on this list.
11. BSBOSS 29-1 3-IN-1 Multi-Function
Before you get the BSBOSS 3-in1 oven, a good question to ask yourself is whether you're looking for an all-purpose appliance. We know how many things can go on your countertop these days: coffee maker, microwave, tea kettle, stovetop – the list goes on and on. Tired of this electrical equipment jumble? Then take a look at the 28BM1612BBSS 29-1 3 in 1 Multifunction Oven!
The multifunctional functions make it possible to do everything from preparing breakfast to heating up dinner or simply brewing some iced coffee with one machine as opposed to three separate appliances strewn across your kitchen countertops. Its specially designed cooking settings allow easy food on the go.
Why but it:
This is a toaster oven that also has other attachments, because of this, you can easily create your breakfast with just one appliance. Breakfast meals including orange juice and even a coffee maker.
What we don't like:
The clean up is not as easy because you can't use steel wool to clean the interior.

Because it is a toaster oven, this isn't as versatile compared to the previous ovens.
12. Trio Extra Large 120L
Boasting a large 120L capacity, the Trio Extra Large 120L Electric Oven has dual temperature control and 12 pre-programmed functions that are easy to use. This oven boasts a low-temperature fermentation function as well as a rotisserie function. With a 5-function heating selector, knob operation is possible anywhere in the handle area on the appliance door and inside light for excellent precision when baking. Incredibly powerful at up to 250°C maximum temperature setting, this oven can extract food with high-efficiency rates of lower heat which preserves its natural minerals or vitamins (ex: milk). Ideal for restaurants or back of house kitchen workstations, this machine boasts an M-shaped heating element and will bring your creations out of cold storage fast!
Why buy it:
This oven has a 120L capacity making it very convenient for bigger volumes of cooking.

The powerful 250°C maximum temperature allows you to cook whatever you desire.
What we don't like:
Since this oven is 120L, the larger body may not be suitable for every household.
FAQs
What is an electric oven?
An electric oven or cooker is an appliance that cooks food by applying heat from a source of electricity. Electric ovens are mainly used for cooking large meals for big families and can also be used when grilling, baking, broiling, roasting or smoking foods.
How to choose the best size of electric oven?
Oven sizes are generally measured in cubic feet. If you're looking for a standard sized oven, then look for at least 3 cu ft. You will need to measure your kitchen space before making any purchase as smaller models may not necessarily fit into larger countertops and cabinets.
What are the types of electric ovens?
There are two types of electric ovens: conventional and countertop. Conventional ovens have a separate compartment for heating and cooking food. Countertop units, on the other hand, can be placed directly onto your kitchen's work surface where you can easily use it. Most countertop units come in either microwave or toaster oven varieties.
What is the best energy efficient electric oven?
Energy efficiency is a major consideration when buying an electric oven because they can use up a lot of energy depending on their size and features. LED and ceramic top models are two of the most energy efficient appliances out there.
Conclusion
When it comes to purchasing an electric oven in Malaysia, there are a lot of things you need to consider. For example, the size and capacity may be important for your cooking style or family needs. You also want one that is energy efficient so it will save money on electricity bills! There are many different types of ovens available these days but when looking at them all, choose what features matter most to you.
If you're looking for a new oven and don't know where to start, this list of the 12 best electric ovens in Malaysia should help. Whether you need an appliance that can cook your favourite dish or one that will fit into your kitchen space, these appliances have something to offer. We hope this article has been helpful in finding the perfect product for your needs!
This post was brought to you by Kimz House.
Disclaimer: The opinion is solely based on our testing or intensive research with customer feedback around the most popular shopping platform such as Shopee and Lazada. The products/services shown here are available and valid upon the publication date. It may change from time to time. Please email us at [email protected] if there is any discrepancy.