Last Updated on
Coffee is slowly becoming a staple in different households whether that may be to start the day or just to have an afternoon. Good coffee is greatly possible with the perfect coffee machine. Choosing the suitable coffee machine for you can up your coffee game by a lot and is a great starting point for an at-home cafe, perfect for work-from-home days. Save your money from buying overpriced coffees from cafes. The list below has the best 10 coffee makers machine Malaysia, whether that'd be an espresso coffee maker, coffee brewing, or pod system.
Table of Contents
10 Best Coffee Makers Malaysia Comparison Table

FAQs
Conclusion
Quick Comparison Table
Top 10 Best Coffee Makers in Malaysia
1. Giselle KEA0330RD


Get the perfect coffee in one appliance
The Giselle KEA0330RD Espresso Maker is a great choice for coffee lovers who want to make barista-quality espresso at home. This machine has an impressive 800W power rating and 1200w power capacity, allowing it to brew espresso quickly and efficiently. The automatic filter eliminates the need for manual grinding, straining or pressing of coffee grounds before brewing – saving time and energy when you're in a hurry. Plus, the adjustable steam nozzle lets you easily create fine milk froth to take your latte and cappuccino up a notch!
In addition to convenience, this best espresso maker also offers safety features like its built-in relief valve. This ensures peace of mind by preventing excess pressure from building up inside the machine during operation so that everything runs smoothly every time you use it.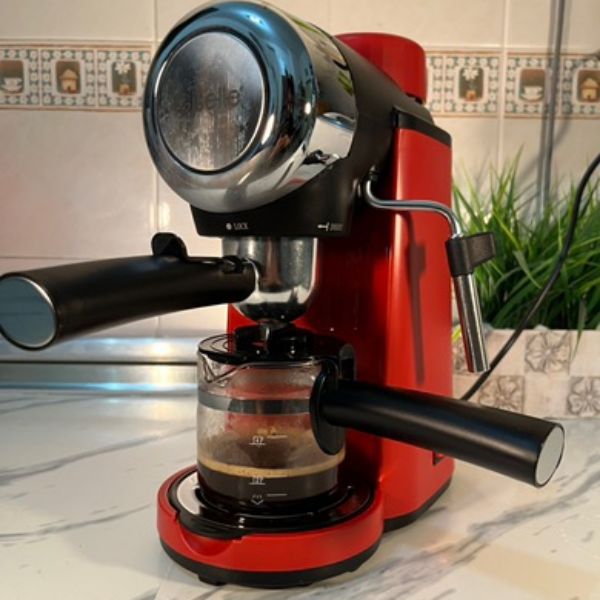 If you're looking for an easy way to make delicious barista-style coffee drinks right in your kitchen, then this Giselle coffee maker should be at the top of your list! This is easily the best espresso machine in the market, with its high-powered motor and adjustable settings designed to suit all skill levels, this machine will surely provide excellent results each time without breaking a sweat (or breaking the bank with its affordable price!). So what are you waiting for? Get yours today before they run out!
Pros:
Create a top-notch coffee in 6 easy steps

Coffee maker with a milk frother

Sleek and elegant design
Cons:
The espresso result might be intimidating for beginners.
2. Pensonic PCM-1902 Coffee Maker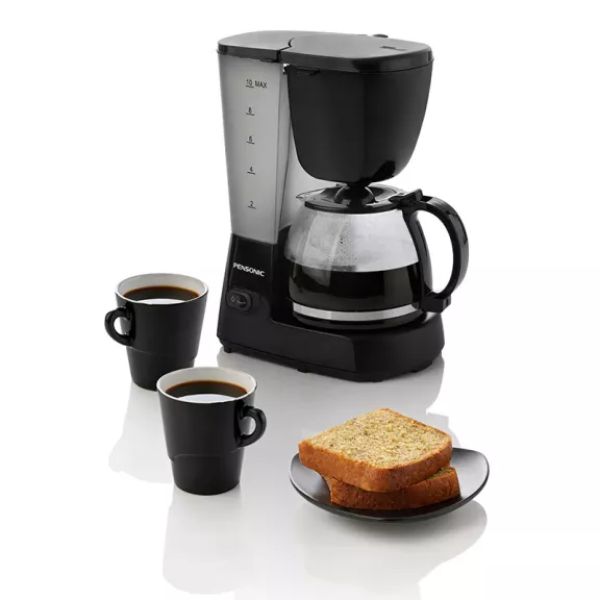 Easy to clean and operate
The Pensonic PCM-1902 Drip Coffee Maker is an excellent choice for anyone who loves to enjoy a warm cup of coffee at home. One great feature of this coffee maker is its anti-drip design, which helps ensure that your coffee remains as fresh and flavorful as possible. Additionally, the translucent water tank provided with the machine allows you to easily check on how much water needs to be added, so there's no guesswork involved in preparing your beverage.
Other handy features include a measuring spoon for precise amounts of ground coffee and a removable filter holder for easy cleaning. The warming plate keeps drinks warm until it's time to enjoy them. With these useful additions, making delicious cups of java at home will be effortless and enjoyable!
If you're looking for an efficient and reliable way to make perfect homemade coffee every time, then the Pensonic PCM-1902 Coffee Maker should be at the top of your list, this is easily the best home coffee maker Malaysia has to offer also with the price that does not break the bank! Its combination of convenience, safety features, and affordability makes it clear why this appliance can elevate any kitchen or office break room set-up into something truly special. So don't wait any longer – try out this amazing product today and experience what freshly brewed pleasure feels like!
Pros:
Removable filter holder for easy cleaning
Keep warm feature to keep the coffee pot warm
Translucent water tank to monitor the level of water easily
On/off switch and indicator light to conserve power usage
Cons:
Does not produce specialized drinks like cappuccino or espresso
Can take a long time to heat up and brew coffee
3. BSboss 7-01 Coffee Maker Machine
Multi-purpose coffee maker
The BSboss 7-01 Coffee Maker Machine is a great way to make espresso-quality coffee and tea quickly and easily. With a professional heat prevention design, stainless steel double filters, and an aluminium shell for maximum comfort – this machine ensures you get the best out of your coffee or tea every time. Its one-click operation makes it super easy to use – press a button, and you'll be well on your way!
This top-of-the-line machine offers 20 bar pressure for a truly delicious espresso drink every time. You can make up to two cups at once, so if you're in a rush but still want something tasty, this is the perfect solution. The sleek design also fits nicely into any kitchen countertop with its modern aesthetic appeal.
If you're looking for an easy yet delicious cup of coffee or tea, look no further than the BSboss 7-01 Coffee Maker Machine! With features mentioned in this Bsboss coffee machine review— like professional heat prevention design, one-click operation and 20 bar pressure – you won't regret investing in this amazing product today! So what are you waiting for? Get yours now before they're gone!
Pros:
Professional Heat Prevention Design for maximum heat protection

Includes stainless steel double filters and an aluminium shell

Can make 1 or 2 cups of coffee/tea at a time

Easy to use with one-click operation & 20 Bar pressure
Cons:
Require a larger counter space
4. Donlim DL-KF6001 Coffee Maker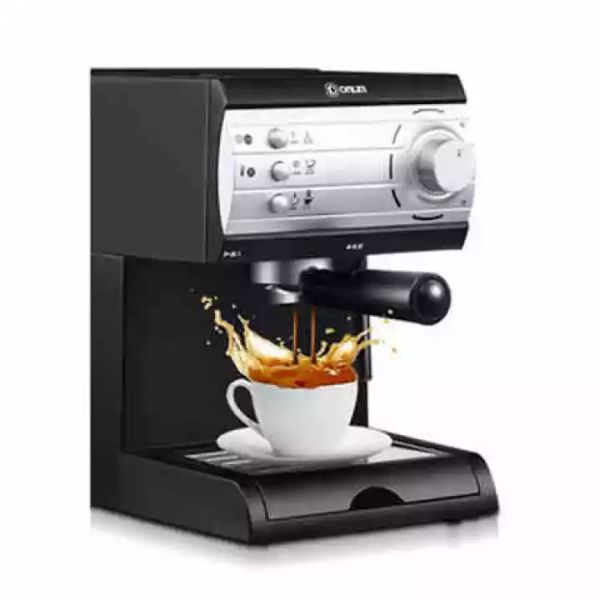 Overheat Protection
This Donlim DL-KF6001 coffee maker is an outstanding appliance for coffee lovers. It has a double temperature control system, ensuring that your coffee will not be overheated and burned. The 20-bar pressure settings for espresso allow you to tailor your espresso experience exactly as you like it. Additionally, this machine can brew two cups of coffee simultaneously, so you can immediately get your second cup!
With its overheat protection and overpressure release valve protection features, this product offers superior safety when making hot beverages. Furthermore, the Italy import water pressure pump guarantees high-quality results every time without compromising on flavour or strength.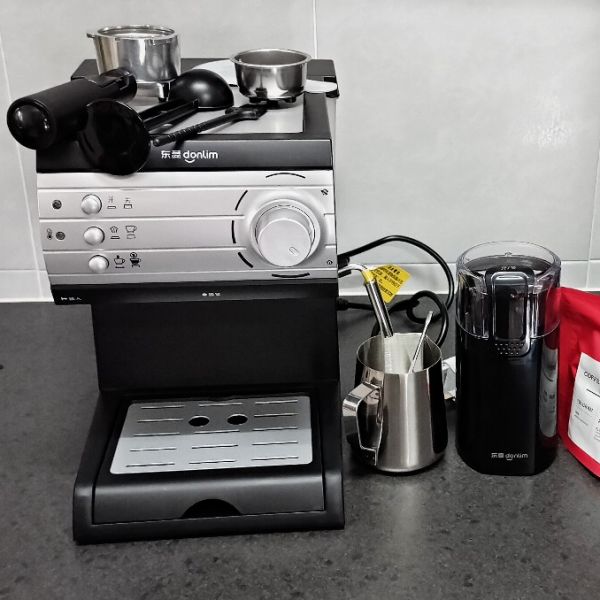 If you're looking for a great way to enjoy cafe-style fresh coffee in the comfort of your home, then I highly recommend the Donlim DL-KF6001 Coffee Maker. With its numerous features and efficient performance, this product will make drinking delicious homemade coffee an enjoyable experience!
Pros:
Easy to use and clean

High standard quality

20 bar for greater pressure
Cons:
Relatively limited water tank capacity
5. DeLonghi EC685 Coffee Machine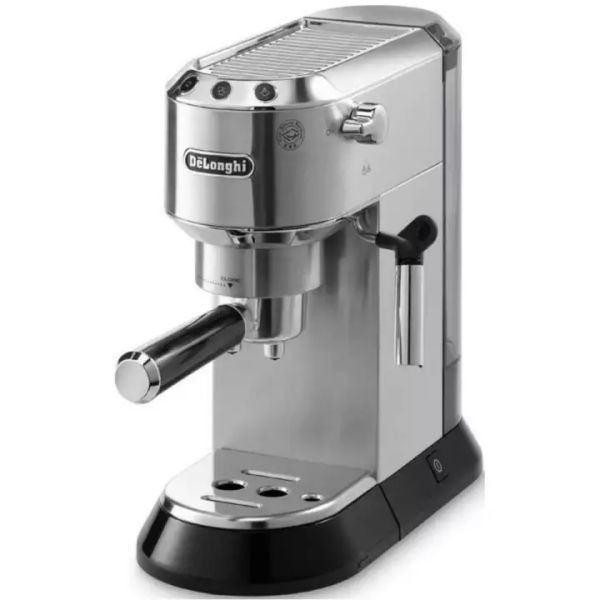 Professional Level Coffee
The DeLonghi EC685 Coffee Machine is an excellent choice for any coffee enthusiast looking to brew quality drinks. With its 15 bar pressure, you'll get a perfectly flavoured and aromatic cup of coffee every time. The stainless steel extra-long brewing arm can accommodate large mugs or glasses, so you won't be limited in size options while making your beverage of choice.
The flow stop function lets you personalize the amount of coffee you make at once, which allows for variety when crafting unique beverages like cappuccino or latte. Also included with this machine is a double drip tray that will allow two cups to be brewed simultaneously and save time compared to traditional models. Lastly, the user-friendly control panel features illuminated buttons and easy-to-read graphics for quick navigation to create interesting and complex coffee shots without hassle.
With all these features in mind, it's clear that the DeLonghi EC685 Espresso Machine is superior to other similar models today, making it ideal for those who want fast results without compromising on quality drinks. Check out more about this amazing product now – there's something here for everyone!
Pros:
Makes espresso and coffee at the perfect temperature

You can drink coffee quickly and easily in the morning

User-friendly control panel
Cons:
Limited options for serving size adjustments
6. Lebensstil Kollektion Espresso Coffee Machine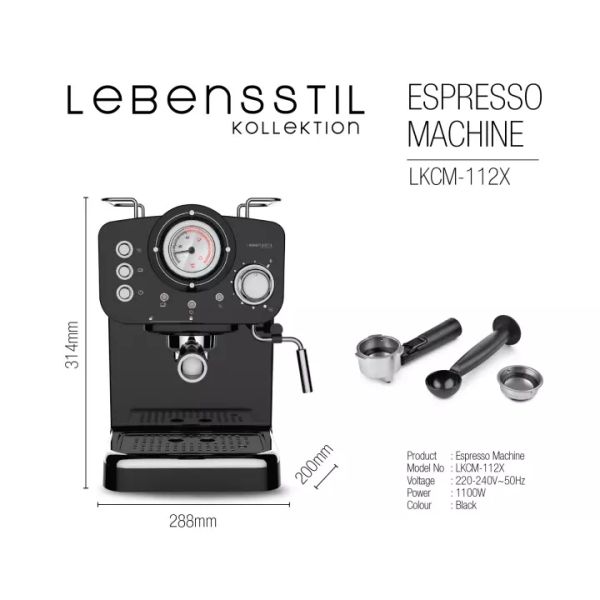 Automatic Shut-off
The Lebensstil Kollektion Espresso Coffee Machine is the perfect fit for making quality espresso drinks at home. With 15 bars of a pressure pump, you can make coffee that tastes just like a professional barista-made single serving cup every time. It has an impressive die-casting aluminium alloy boiler, so your espresso won't be cold or watered down. The machine also comes with a 25L detachable transparent water reservoir and a high-pressure frothing function for the perfect milk foam design on top of your favourite drinks. Plus, it includes an overheating & overpressure-protected system for an effortless operating experience right out of the box – you don't have to worry about any safety flaws with this device!
Not only does the Lebensstil Kollektion Espresso Coffee Machine look great in your kitchen, but it also offers exceptional performance and convenience! You can make delicious café style drinks easily using its various features such as adjustable temperature control, energy saving mode, and automatically shut off after 30 minutes of inactivity – all without burning through electricity bills! Its slim design makes it highly space efficient and easily fits into even the most cramped countertops!
If you want an excellent addition to your espresso bar, look no further than the Lebensstil Kollektion Espresso Coffee Machine! Its unbeatable combination of modern convenience, sophisticated aesthetic appeal and outstanding performance just like mentioned in this Lebensstil coffee machine review will keep you satisfied from morning 'til night; why not get your own Lebensstil espresso machine out today?
Pros:
Creates freshly brewed coffee

Easy to clean and fix around

Powerful steam wand
Cons:
Can require a substantial amount of counter space
7. KONKA KCF-CS2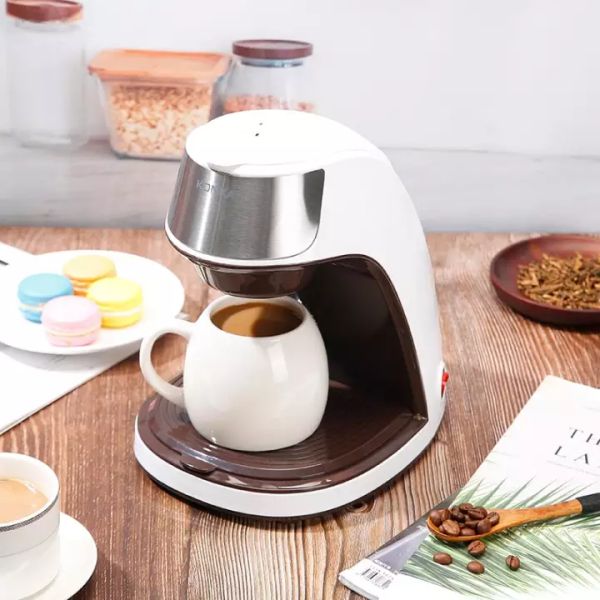 Temperature Control
Everyone knows the perfect cup of coffee starts with the right temperature and extraction time. With the KONKA Home Office Special American Coffee Machine, those two criteria are met in style! The gentle 37ºC to 65ºC extraction range is ideal for all types of coffee beans, while the four-minute brew time ensures a robust and flavourful fresh coffee cup every day. Add to that its compact size that helps maximize counter space, fully automatic machine, and you've got a winner.
Not only does this Coffee Machine look fantastic, but it also offers incredible convenience when cleaning up afterwards too! Its patented nylon netting allows for effortlessly filtering out any grounds or debris – no more mess after making your morning brew making this one of the best pot coffee makers on the market! Plus, its ease of use means anyone can become an expert barista in their home without prior experience.
So if you're looking for a great value way to upgrade your morning caffeine routine, then there's no doubt that the KONKA Home Office Special American Coffee Maker is a must-have item on your shopping list, don't worry this is also cheap in price, but not in quality! Take advantage of this amazing opportunity – grab yours today while stocks last before they're all gone!
Pros:
Brews coffee evenly

Cafe experience at home

Every drop tastes mellow and delicious
Cons:
Time-consuming for cleaning and maintaining
8. OSUKI HCM3N Capsule Coffee Maker
Best Capsule Maker
The OSUKI Coffee Machine 3 in 1 Capsule Maker is a great choice for coffee lovers. With its 19 bar high pump pressure, you can now enjoy delicious espresso with a touch of a button. One of the greatest features of this machine is its automatic power-off feature after 15 minutes of inactivity so that your safety is always being taken care of and energy saving simultaneously. In addition, it has a 5-second pre-heating preparation time which cuts down on wasted time while trying to get your brew started.
This coffee maker also comes with three capsule adapters, including Mespresson, Dolce Gusto and Powder Capsulate, allowing you more variety when making your cup of joe. It also includes a BPA-free 600ml detachable water tank for easy cleaning and refilling after each use and enough space for multiple coffees prepared at once. It's made with stainless steel, ensuring it will last many years, even through rigorous daily usage!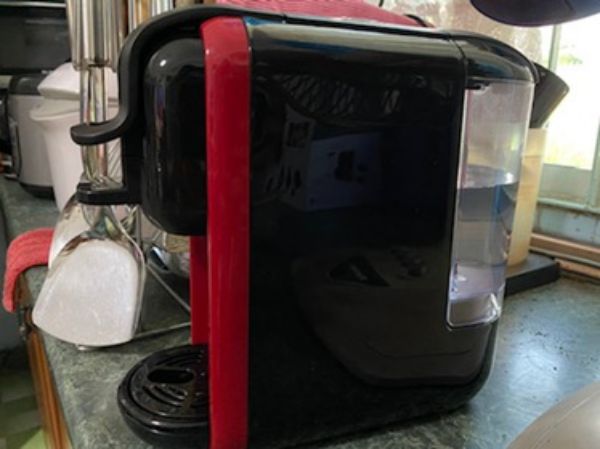 This coffee machine is highly recommended, especially if convenience is what you need from your morning or afternoon cup of coffee, because not only does it provide excellent quality drinks, but thanks to all these amazing features, you'll save both energy and money by having an environmentally friendly product that's designed deliver perfection every single time! So take advantage of owning this amazing product as soon as possible!
Pros:
Friendly user with only one button to press before starting

Very quick and easy to create

Three types of capsule sizes

No need to bust out your coffee grinders
Cons:
Capsules can be expensive compared to coffee beans
9. Khind Coffee Maker CM1215
Best for Offices
The Khind 5L Coffee Maker CM1215 is the perfect addition to any kitchen, offering a range of features that make brewing drip coffee easy and convenient. With an impressive 5L capacity and digital timer functionality for hands-free timing, this coffee machine allows you to prepare up to 12 cups of freshly brewed coffee in one go – ideal for hosting guests or larger groups of people. The permanent filter basket ensures no need to replace filters time after time, while the removable filter makes cleanup straightforward.
The Khind 5L Coffee Maker CM1215 does take all the hassle out of preparing freshly brewed coffee – its automatic shutoff feature means you can sleep soundly, knowing it will switch off as soon as your brew is complete. At the same time, the user-friendly digital display allows you to easily set your preferred brewing time with just a few clicks of a button before letting you kick back and wait until your drink is ready. Khind's coffee machine is also remarkably energy efficient – what's not to love?
So if you're looking for an easy way to enjoy delicious hot drinks whenever you like without lifting a finger, then look no further than the Khind 5L Coffee Maker CM1215! Not only does it guarantee great tasting beverages every time, but thanks to its expansive capacity, it could even help save on trips down your local café – why pay more when making better quality drinks at home couldn't be simpler? Try it today!
Pros:
Removable filter and easy to clean up

Digital timer for easy control

Makes 12 cups with one round for bigger events.
Cons:
Needs a big counter space
10. BS BOSS Espresso Coffee Machine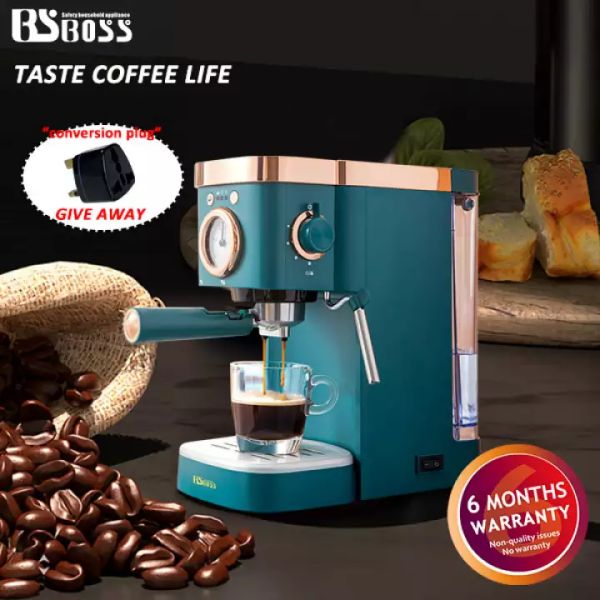 Easy Clean Up
The BS BOSS Espresso Coffee Machine is the perfect solution when you want a high-quality espresso at home. Created with 20 bar pressure and a stainless steel wand for steaming milk quickly and easily, this machine ensures that each cup of espresso is made to perfection. The compact design effortlessly fits on any countertop, making set-up simple and easy. Its visual temperature gauge allows users to monitor brewing progress while the built-in cup warmer keeps your coffee warm throughout your coffee break.
The key features make it easy for anyone to brew authentic Italian espresso like an expert barista in their own home! With just one button press, you can enjoy creamy cappuccinos or flavorful latte macchiatos anytime you'd like without stepping out of the house! Cleaning up is even easier, too – thanks to its removable water tank, which can easily fill from the top or bottom.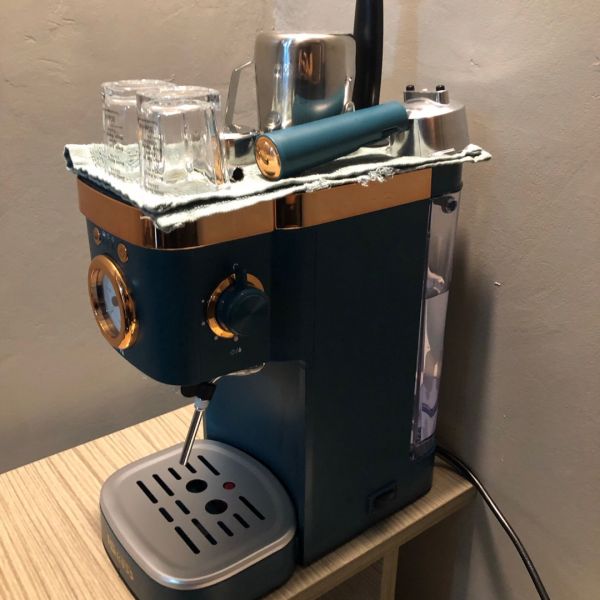 Whether you're aficionado or not, all coffee lovers will appreciate how effortless yet delicious this coffee machine makes every cup of espresso – all within minutes! So why don't you upgrade your kitchen today by investing in this beautiful design piece and great-tasting drink maker? Get ready for some great cups of espresso tomorrow morning when you add this home coffee brewer to your shopping list!
Pros:
Can create 2 espresso cups at a time

Visual temperature so that you would know what temperature the coffee maker is in

Cup warmer so that the cup keeps warm when having coffee
Cons:
Expensive budget compared to other coffee makers on the market
FAQs
Can it make more than just coffee?
Yes, there are all-in-one machines that can steam milk but also brew coffee. Some can even extract ground coffee beans to prepare a cup of good drip coffee.
How do they work?
Coffee makers work on pumping pressure through the machine to extract the full flavour of the ground beans into your cup. It is somewhat similar to espresso machines with some variation in how it functions.
What are some benefits to having a coffee machine?
With it being so accessible now, there is no need to go out and buy coffee from expensive cafes daily. Save yourself time and money by brewing yourself a cup right at home. Coffee machines also help in producing consistent flavourful cups of coffee- whether it be an espresso shot or pour-over-drip coffee.
Conclusion
The best way to introduce coffee into your life is by finding the right machine that suits you. You can find a great deal of information on any type of coffee maker, whether you are looking for bean to cup coffee, sophisticated espresso machines, drip coffee machines, or pod coffee machines, but if you're not sure where to start, this list should be able to help! We hope this article helped out! Have you decided on which one to purchase?
This post was brought to you by Kimz House.
Disclaimer: The opinion is solely based on our testing or intensive research with customer feedback around the most popular shopping platform such as Shopee and Lazada. The products/services shown here are available and valid upon the publication date. It may change from time to time. Please email us at [email protected] if there is any discrepancy.