Last Updated on
A home without an air conditioner is a dream for some, but a nightmare for others. In Malaysia, the weather can be unbearable and unbearable, so it's important to have an air conditioner that can handle those conditions. You may not think you'll need one until you live through your first hot day in KL! This list of the 12 best air conditioners in Malaysia will come as good news to you. We've sourced the best air conditioners in Malaysia by looking into great reviews and affordable prices so that everyone has access to cooling relief within their budget. Happy reading!
Best Air Conditioner Malaysia
1. Hisense Air Conditioner AN09CBG
Provides clean cool air
We can't miss out HiSense when it comes to best air conditioners in Malaysia. This unit has dozens of features that you will love. Not only is it completely quiet, but the air is purified and monitored so your home stays fresh and clean. Heavily-polluted areas? No problem! This air conditioner runs on real-time monitoring tech so the tech will automatically adjust to stay safe for everyone in your particular area. This is actually one of the latest considerations to have when looking for air conditioners in Malaysia, especially if you live within the urban district. Go for an air conditioner that comes with a great pollution filter, without compromising its air conditioning mechanism.
With a sleek, high-tech design, and superb cooling performance that would be at home next to any new gadget or appliance, this product is perfect for apartments and homes of all sizes.
Why buy it:
Ensures that only healthy air gets in the room

Quick and easy to replace PCB

Bring comfort and peace of mind
2. Midea 1hp Portable Air Conditioner MPH-09CRN1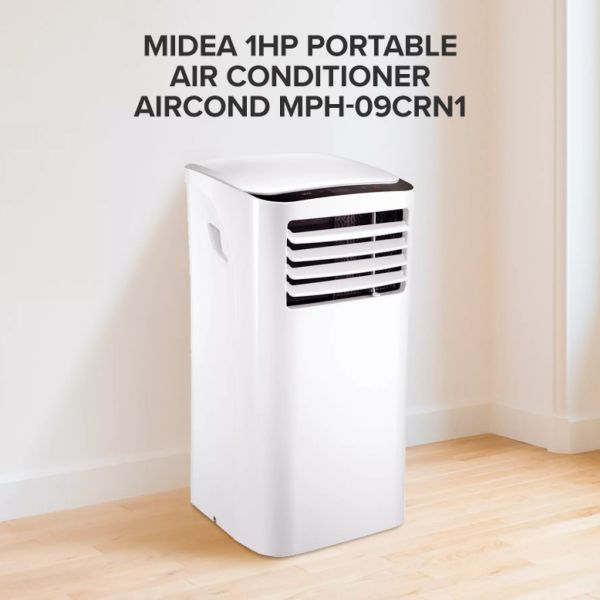 User-friendly air conditioner
The Midea Portable Air Conditioner is a great alternative to barrels of water for cooling your space. You can enjoy bucket free peace-of-mind knowing that this air conditioner will remove odor from the room, kill bacteria on contact, and keep you cool throughout the day.
The compact design fits well in any size of home or office, making it perfect for locations too small for large AC units. Sleep easy with 24 hours of automatic operation time without interruption or worry about manually turning it off before heading into work the next morning!
Midea is no doubt one of the best brands for air conditioners in Malaysia, as well. They offer the best balance of price point and quality.
Why buy it:
Eco-friendly cooling system with lesser CFC release

High capacity cooling system

Constantly removes bacteria from the room
3. PANASONIC AIRCOND CS-PN9WKH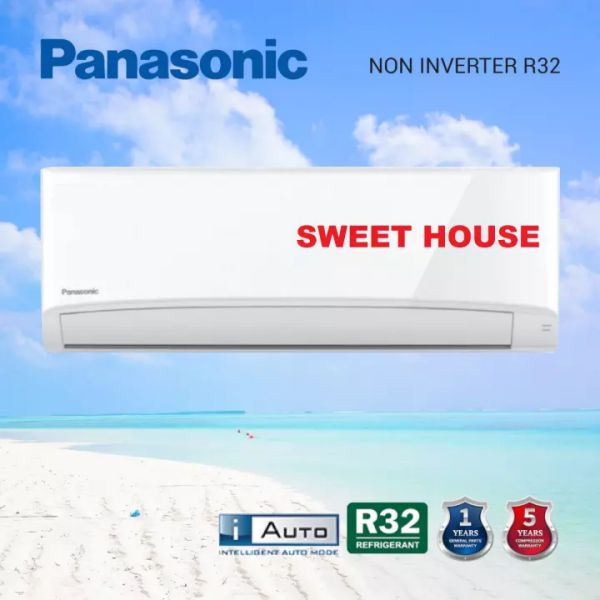 Eco-friendly non inverter air conditioner
Here's a home appliance designed to help you save on electricity costs, reduce your environmental impact, and cool down your space for those muggy summer days. The Panasonic Air Conditioner CS-PN9WKH is a non inverter air conditioner that consumes less energy as it deflects how much power it requires to run from the maximum possible amount at the maximum setting. This is one of the most top-ranked air conditioners in Malaysia in terms of energy efficiency.
Take control of the temperature in every room with this air conditioner with up to 14 different fan speeds and an easy-to-adjust thermostat, or grab a window kit attachment that will turn any window into a customizable AC unit. And because this aircond is super durable and powerful enough for any climate, you can rest assured knowing it's going to be ready when you need it.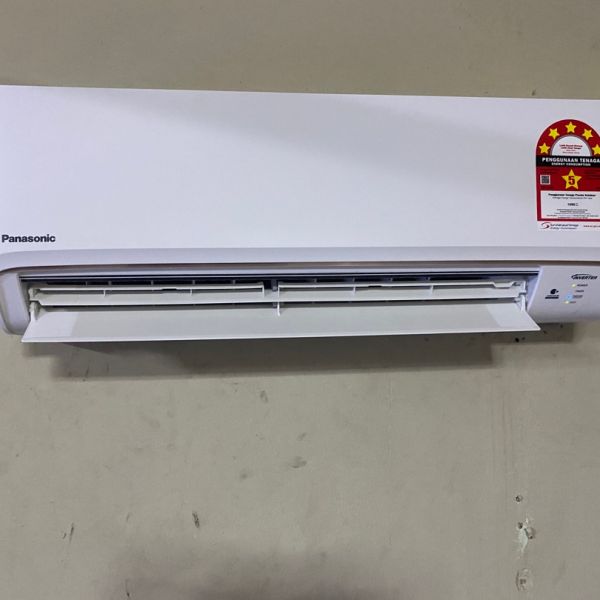 Why buy it:
Perfect for any weather and climate

Consuming lesser energy for smaller electricity

Larger airflow
4. Morgan Portable Aircond MAC-093
Best portable air conditioner
The Morgan Portable Aircond MAC-093 is a 3-in-1 air conditioner! It refreshes and cools both the indoor and outdoor surfaces and to widen the scope of its benefits, it saves on power consumption as well. The best features? Low fan speeds for hot days or an early morning cooldown, high fan speeds that switch from cooling to the dehumidifying mode when the set temperature is reached by activating operation in this mode, an oscillating function that will allow you to create a chilly breeze around your entire place – all with only one machine.
When looking for best air conditioners in Malaysia, remember that it does not always need to be expensive nor fancy. And Morgan has proven just that even with their portable air conditioner models.
Why buy it:
Portable so can easily use it wherever you want

More improve cooling efficiency

An aircon, dehumidifier, and a fan in one appliance
5. Hisense Standard Air COnditioner R32 AN12CBG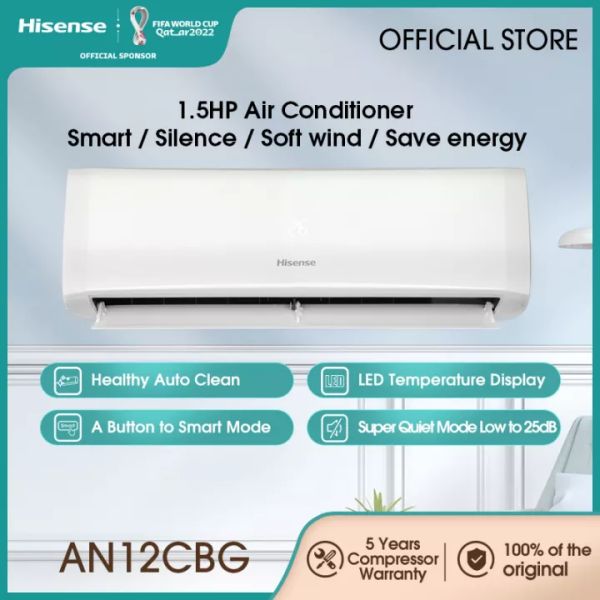 Easy to use "Smart" air conditioner
Ain't no Air Conditioner like a Hisense AC. And this ain't just any air conditioner. With its "One button, Auto Clean" feature, the CB Series refrigerates your room with 5 convenient steps: frosting, penetration, stripping, defrosting, and drying. The Smart Mode provides optimum comfort by automatically adjusting to the best mode according to the temperature in your room—from the silent mode for chillier weather or high-cool mode for warmer days.
Exclusively designed air channels and advanced control technology make our air conditioner so quiet you can barely even hear it running! Just press "Smart", and enjoy a clean cool breeze at a touch of a button anytime day or night for a seamless air conditioning experience !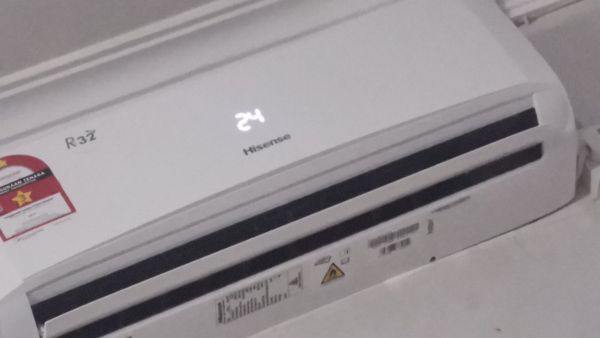 Why buy it:
Very convenient to use

Full display LED for easy control

Auto-cleaning for easier maintenance
6. GREE Lomo32 1.0HP R32 Air Conditioner
Best quiet mode function
Many of us have trouble sleeping during a hot summer night. But not if you have a GREE Lomo32 Air Conditioner in your bedroom! At just 32 decibels, this air conditioner won't keep you awake at night with its soothing gentle hum.
The energy efficiency rating on this model is 3 stars and it has an Auto Clean function that sprays out positive ions to neutralize bacteria and viruses without chemicals but while still eliminating dust particles (like allergens) which can aggravate allergies, asthma, bronchitis, etc.; making for healthier sleep environment. With all these features combined into one modernistic design machine, there is no doubt that Gree belongs to our best air conditioners in Malaysia list.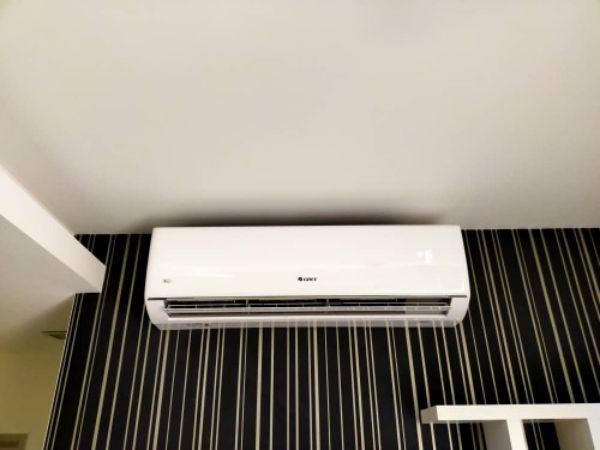 Why buy it:
Creates a healthier environment

Self-diagnosing for easier maintenance

Provides a comfortable sleep environment

Superior quiet mode option
7. DAIKIN R32 AIRCOND FTV-P SERIES
Best air conditioner for cooling performance
Daikin brand values quality and customers. With the sleek TFT touch screen, customers are able to choose their desired temperature faster with this product. Saranet air filters are installed in order to improve indoor air quality, having it come out better clean than before. The Daikin R32 Air conditioners has an automatic timer with 24-hour settings that can be set up within 30-minute intervals for even more convenience!
One of the newest features is the turbo airflow which allows the users to achieve their desired temperature quicker especially in larger spaces where it would take longer periods of time. Daikin has been known for their extra cooling function, so this your best choice for air conditioner brand in Malaysia.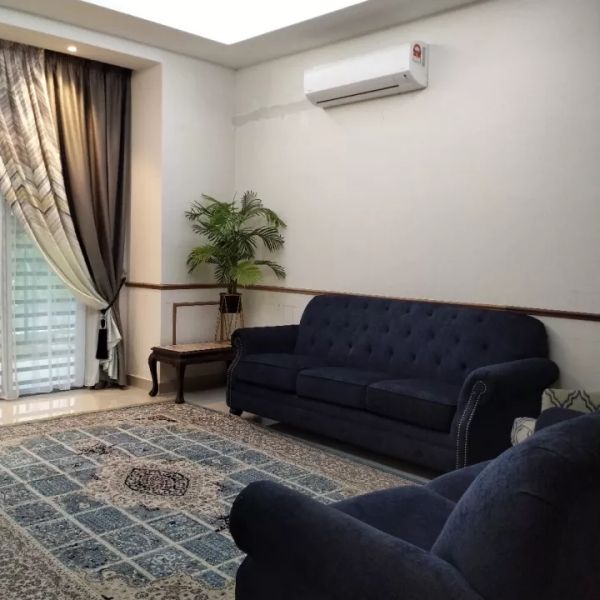 Why buy it:
Easier to control with smart app

Healthier air for the room

Perfect sleep settings

Great cooling performance
8. Midea 1.5hp MPF-12CRN1 1.5HP
Best budget-friendly, portable air conditioner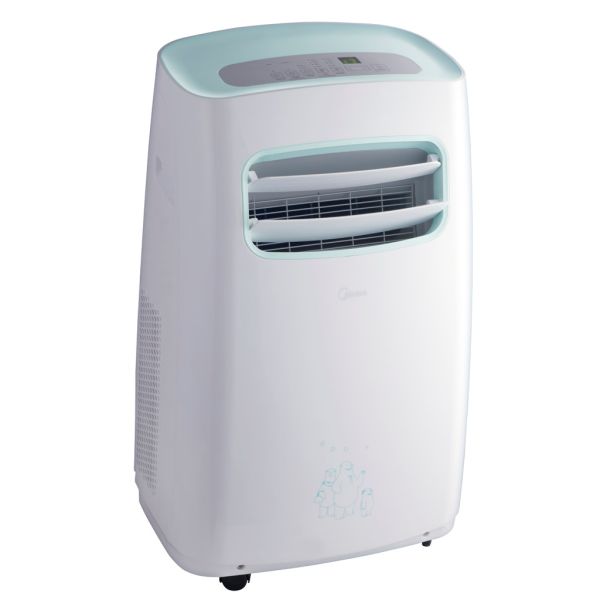 The Midea 1.5hp MPF-12CRN1 1.5HP appliance has a lot of great features, like air purification and ionization for heating in cold climates where the air is too dry. It also includes an auto-restart function so if your power goes out, you can put it on when your power comes back on with no problem! Going for a portable air conditioner is actually also a better option than buying air coolers. Air conditioner will naturally have wider cooling reach than coolers.
This highly durable machine has multiple directions to pivot in so they escape easily when moving them around rooms or buildings, all while still keeping that sleek design aesthetic that always puts even the pickiest homeowner at ease. Best of all though? The self-diagnosing mechanisms will keep everything running smoothly until people are 100% satisfied without any worries!
Why buy it:
Compact and portable

Perfect for smaller rooms

Easy installation
9. Mitsubishi 1.0hp R32 Non-Inverter Air Cond SRK09CXP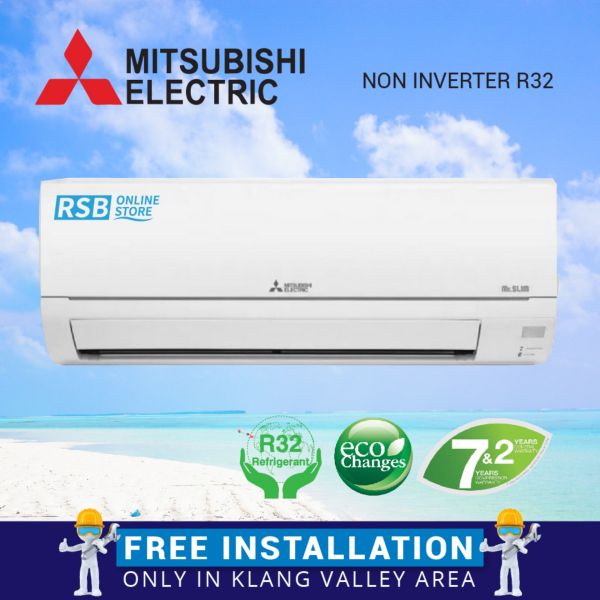 Mitsubishi's CXP range is aptly named Cooling Expert because of its functionality and efficiency. This model features an R32 non-inverter, making it the perfect purchase for those looking to save on energy costs while staying cool. SRK09CXP has a cooling capacity of 9,000Btu, giving you plenty of room for tranquility thanks to silent operation.
The unit also self cleans without any downtime thanks to self-clean operations as well as an auto-restart feature. What makes this product extra special? With luminous buttons and a wireless remote controller with timer setting capabilities, there's no need to be hot under the collar when summer rolls around again!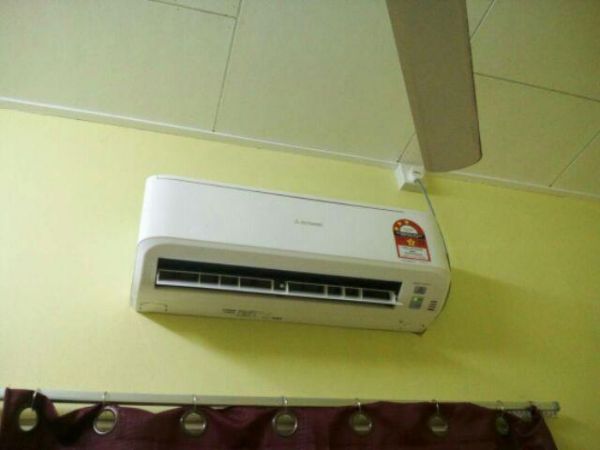 Why buy it:
Easier maintenance due to self-cleaning operation and self-diagnosing

Silent operation perfect for sleeping or even online meetings

Wireless remote control for more convenience
10.SHARP 1HP / 1.0HP INVERTER AIR CONDITIONER AHX9VED
Best inverter wall mounted air conditioner
This product is your solution for a quick-cooling operation that keeps the environment gentle with an even airflow. Turn on Eco Mode to reduce electricity costs without compromising cooling quality, or switch it off if you need cooler temperatures!
The long airflow slides across the room up toward the ceiling, keeping cool air flowing evenly rather than directly at your body. 14°C settings are one of the lowest in the industry and will keep everyone feeling comfortable regardless of their preferences.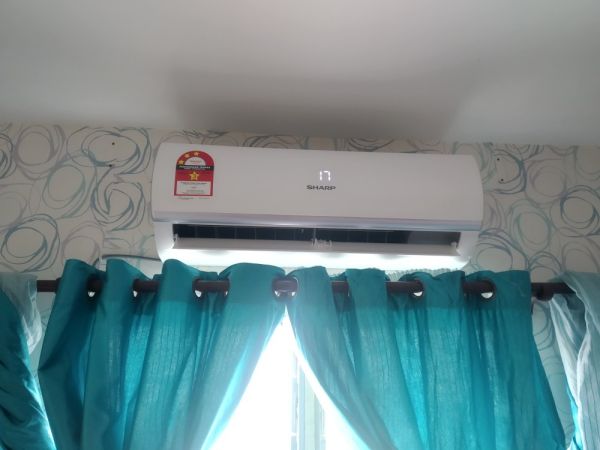 Why buy it:
Cools the room in no time

Up to 12 hours timer for convenience

Anti-mold and anti-bacteria mesh filter
11. Hisense 1.0HP AN10DBG R32 AN10DBG
Best air conditioner for modern interiors
Stay cool and comfortable all summer long with this cooling unit from Hisense that's built for the modern homeowner. This AN10DBG air conditioner amps up to 9,500 Btu of cooling power, attacking your home's climate with a high-density filter and ionizer filter-—that means more clean air for you!
It even has an LED display so you can see what the temperature looks like outside your window any time you want. With a new 3-star rating (rated as of 2019) it runs low on energy consumption but still circulates 600 cubic meters per hour to ensure optimum airflow movement in all rooms.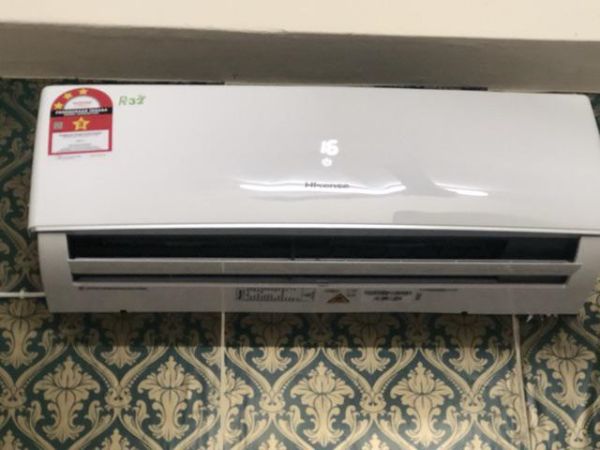 Why buy it:
Top-notch filters for cleaner air

Clear LED display

Efficient energy consumption
12. Sharp R32 J-Tech Standard Inverter Aircond AHX9VED2
Best inverter air conditioner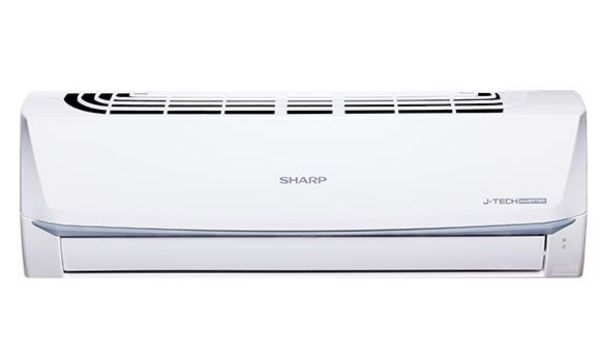 Want to save money on your electric bill? The Sharp R32 J-Tech Standard Inverter Aircond is for you! This technology not only helps reduce water and energy loss but also improves airflow performance by up to 300%. With our patented Coanda Airflow system, the hot air will be pulled away from furniture during warm days. You can feel confident that this product has everything you're looking for.
Why buy a product that doesn't have the latest cutting-edge technology when it's time to replace yours? Get the power of eco mode in your home with an R32 refrigerant gas replacement heat pump. Inverter air conditioners are generally more energy-efficient, too.
Why buy it:
Energy saving

Perfect cold airflow

Long airflow for bigger rooms
Check out our top 3 best air conditioners in Malaysia below:
1. Hisense Air Conditioner AN09CBG
2. Midea 1hp Portable Air Conditioner
3. GREE Lomo32 1.0HP R32 Air Conditioner
FAQs
How does an air conditioner work?
Air conditioners are made up of two main components: the outdoor unit and the indoor unit. The outdoor unit is installed outside your building, usually near where electricity enters or exits. The indoor unit of the air conditioner is inside your room and extracts warm air from inside your room and discharges it outside, freeing up space in your room for cooler air to take its place. This cycle continues until you desire to lower/stop the temperature or there's no more cold air.
Do I need professional help with my air conditioner installation?
It depends on how handy you are. If you're an expert DIY-er then you'll be just fine. If you've never installed an airconditioner before, then it's best to hire someone who's gone through the training and knows exactly what they're doing because improperly installed air conditioners can cause damage to your home or even injury.
Will the air conditioner affect my electricity bill?
It depends on which air conditioner you purchase. Some of our recommendations here are more energy-efficient than others, so it's important that you consider your budget and determine how much extra money you're willing to spend every month on cooling. Keep in mind that there are rebates for purchasing high-efficiency air conditioners, too!
Conclusion
Have you found your perfect air conditioner yet? If not, this list of Best Air Conditioners Malaysia may give you some more ideas. We hope that reading these reviews has helped convince you to invest in a good air conditioner for yourself or your loved ones who need it! There are plenty of options available and we're confident that our curated selection will help find what is right for you. Take care out there – stay cool and hydrated!
This post was brought to you by Kimz House.
Disclaimer: The opinion is solely based on our testing or intensive research with customer feedback around the most popular shopping platform such as Shopee and Lazada. The products/services shown here are available and valid upon the publication date. It may change from time to time. Please email us at [email protected] if there is any discrepancy.