Last Updated on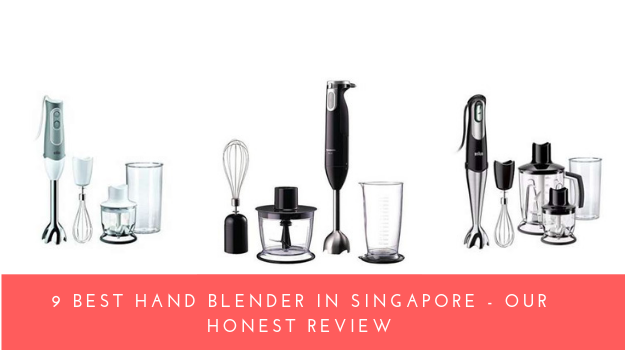 With healthy eating and living becoming more of a mainstream idea these days, fruit or smoothie blenders have predictably been in demand. These blenders come in different varieties and depending on the time and effort that you are willing to do for the sake of eating clean, there is always the right blender for you.
As for me, I found hand blenders as my go-to for preparing my juices and smoothies, and almost all recipes, including pancakes and fluffy omelettes.
I like the traditional smoothie maker because they are easy to use but delivers the same consistency, nonetheless. The key is to actually make healthy eating a breeze so we won't have to dread doing it, right?
Safe to say though, I've tried a couple of hand blenders throughout the years.
Table of Contents
9 Best Hand Blenders in Singapore

What can you use a hand blender for?
How to care and wash for a blender?
Our top hand blender Singapore recommendations:
FAQs
9 Best Hand Blenders in Singapore
I've listed down some of my favourites here so far. Here are the 9 best hand blenders that you can find in Singapore:
1. Panasonic MX-SS1 Hand Blender
Best of all
Panasonic has been known for its sleek designs of their electronic devices, but what sets apart the MX SS1 blender is its ergonomic design. This makes the hand blender easy and comfortable to use without compromising on power.
Why buy this:
Dishwasher safe accessories
Stainless steel shaft
Non-slip
210W motor power
Comfort and Power. This Hand blender Singapore provides both support for the hands, and excellent blending power allowing you to make smoothies out of a variety of ingredients including nuts, fruits, and chocolates.
Check out this hand blender model at a discounted price here today.
2. BRAUN – Multiquick 5 Hand Blender, MQ 535 Omelette
BPA-free light blender
This blender boasts of helping you create that perfect fluffy omelette, and true to its name, it really does do wonderful whisking. It's perfect both for mixing and blending, which I happen also to find convenient for smoothie making.
Why buy this:
600W Motor
BPA-free beaker
Dishwasher safe
Powered by Powerbell technology
Value for Money. Definitely not the cheapest in the market today but offers a really great deal of features for its price. Braun blenders always give you more than what you pay for.
Get this 5-way Braun blender here.
3. PowerPac Mix Hand Blender with Stainless Steel Blade
Light and portable Hand Blender
It's for the go-to people who want to use something light on the hands but works hard on your fruits. You can use this for egg beating, blending soups, and juicing.
Why buy this:
200 W Power
Plug and Use, hassle-free usage
High-quality stainless steel blade
Light and portable
Versatility. There are just so many things to love about this Hand blender Singapore from its safety features to its versatility. You can literally create your recipe with one hand!
Check out more details about the product here.
4. BRAUN – Multiquick 7 Hand Blender, MQ 745 APERITIVE
Best multi-tasker blender
For those who are looking for a multi-tasker blender that does not compromise the quality of the food, this Multiquick hand blender is the solution. It achieves blending results due to its bell-shaped shaft. The technology of this Braun model is really well thought. You can adjust the power depending on how tight your grip is. The refined blades make for fluffy, consistent results, as well.
Why buy this:
Easy click for all the accessories
20 oz beaker
Powered with the smart speed technology
Power Bell technology
Buy this Multiquick Blender here.
5. Bosch MSM67190GB Hand Blender (Black/Grey)
Stainless steel blade
Food preparation has never been easier and safer with this hand blender. Made with safety and convenience in mind, Bosch Handheld blender is your friend when it comes to making your smoothies or soup bowls.
Why buy this:
12-speed settings
Comes with a mini hand blender
Quattro blade made from stainless steel
Multifunctional (blend, chop, juice)
Multi-functional. We like the multi-functionality of this blender. You can also adjust the power with one button, depending on your recipe for the day.
Catch its discounted price here today.
6. Braun MQ9037X Multiquick 9 Hand Blender (Black)
Premium multi-task hand blener
If you are the type to basically blend almost all types of ingredients, including harsh ones, then go for this hand blender. Its extra milling blade provides you with more result options from simple slicing to puree.
Why buy this:
Advanced Splash control technology
Easy click control
Smooth start feature
Comes with 20 Fl. Oz beaker
This is for the serious people in the kitchen who have a lot of recipes in the store. Its advanced tech and design make it a reliable companion for preparing quick smoothies and even full-blown healthy meals.
You can buy this handheld blender Singapore from this site.
7. Philips HR1600 Hand Blender HR1600/01
Affordable hand blender
Your partner for easy meal preparations. Philips blender aims to make making healthy meals more convenient and of high quality.
Why buy this:
Single switch for fast and easy use
550 W plastic bar
1 speed feature
Slim-grip
Work with ease. Its slim grip feature makes it a worthwhile investment! It's the real handheld blender; you won't feel any pressure on your hands even after an extended time.
Get your Philips hand blender here.
8. Tefal Hand Blender Optitouch HB8338
Blender with Soft-Grip Blender
This ergonomic handheld blender provides you with a lot of mixing and blending options. This blender is made from quality materials, which guarantees you with a durable device for meal preparations.
Why buy this:
Anti-splash
Active Flow Technology
Optimal texture control
Soft-touch
Soft grip. I particularly liked its soft-grip feature, which is not so common among other brands.
You can buy this blender here.
9. Bosch MSM66150 Hand Blender (White/Grey)
Best for compact used
Here's another model that introduced soft touch to hand blending. Bosch offers a quite good number of accessories too including a chopper and a whisk.
Key features we love: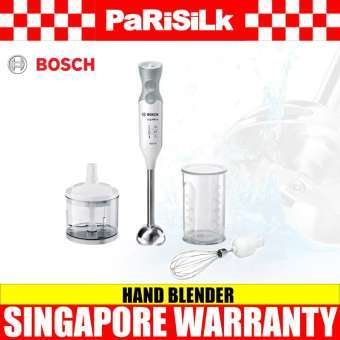 Why buy this:
Ergonomic and soft-touch design
600 Watt power
12x speed
Quattro Blade technology
Advanced Technology. Bosch is one of the trusted brands of blender in Singapore these days, and I like how their technology is always ahead of the rest.
Buy a Bosch blender here today.
What can you use a hand blender for?
These blenders are perfect for your everyday meal preps. Most health-conscious people now turn to blenders to help them make healthy meals without spending too much time and efforts.
With the innovation infused in most handheld blenders nowadays, you can now use it to make the following:
Smoothies
Fruit Shakes
Soups
Omelettes
Purees
How to care and wash for a blender?
So, you've finally decided to invest in your own handheld blender. Now, you're worried about how to keep it sparkly clean and functional.
A blender may seem intimidating to clean at first, but rest assured that most if not all brands of blenders now come with dishwasher safe materials and accessories. There are also features in blenders that make it easier to assemble or disassemble the parts for more thorough cleaning.
Our top hand blender Singapore recommendations:
If you don't already have one, I definitely suggest you should! It will be one of your favourite kitchen tools pretty soon.
1 – Panasonic MX-SS1 Hand Blender – Budget
2 – BRAUN – Multiquick 5 Hand Blender, MQ 525 Omelette – Mid Range
3 – Bosch MSM67190GB Hand Blender (Black/Grey) – Top Quality
FAQs
What are popular brands of hand blender?
Some of popular brands are Panasonic, Braun, PowerPac, Bosch, Tefal, and Philips
How much does a hand blender cost? 😄
Depending on the brand and model, the price usually starts at $70
Why should I buy a hand blender?
Hand blenders are handy when it comes to your meal prep needs. From smoothies, to purees and even on preparing soups and omelets
This post was brought to you by Kimz House.
Disclaimer: The opinion is solely based on our testing or intensive research with customer feedback around the most popular shopping platform such as Shopee and Lazada. The products/services shown here are available and valid upon the publication date. It may change from time to time. Please email us at [email protected] if there is any discrepancy.