Last Updated on
Welcome, health enthusiasts! If you're looking to get some of the best personal blenders and smoothie makers in Singapore, then you've come to the right place. We have compiled a review of the top 7 models available in 2023 so that you can make an informed decision when deciding on your new purchase. In this article we will explore each model separately and look at their details, benefits and negatives so that you can decide which one is perfect for you. So if getting healthy smoothies in no time is important for your lifestyle, read on because these blenders are just what you need! Read further to find out which one best suits your needs with our 2023 Smoothie Blender & Maker Review!
Blenders are used for making tasty smoothies in your home. These machines have enough power to crush ice and make a nice consistency in your drink.
Table of Contents
Personal Blenders vs Blenders
Should I Get a Smoothie Blender?
Smoothie Blender Maintenance
Top Smoothie Blender Brands
FAQs
Quick Comparison Table
(scroll right for more)
You can use them to mix all kinds of ingredients from nuts, fruits, and vegetables. Here are some of the best smoothie maker and blenders in Singapore
1. Kenwood Blend Xtract Sports Smoothie Maker

Best for making smoothies-on-the-go
The Kenwood Blend-Xtract SMP060WG is a great personal blender for health enthusiasts looking for a powerful yet small countertop appliance. This blender not only looks stylish with its silver and black design but also comes with lots of features like preprogrammed settings, pulse function, an ice crushing feature, plus two specially designed blending cups that are perfect for making single serving drinks and smoothies on the go.
This machine's powerful 1000 watts motor helps you create creamy smoothies or shakes easily without compromising time and effort. It comes with multiple speed settings from low to high so that you can get the consistency of your drink just right every time. The included pusle function gives you greater control over the texture of ingredients such as nuts or seeds when using them in your concoction. Additionally, there's an added safety switch off facility which prevents accidental starting up while cleaning or changing blades – giving you peace of mind while doing so!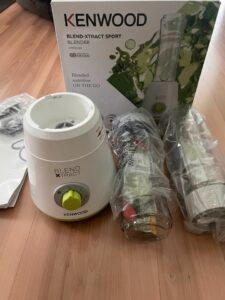 In addition to all these impressive features, what makes this unit stand out even more is its top-notch durability – thanks to its stainless steel blades & robust ABS plastic body construction which ensures longevity ? So if you're looking for a quality smoothie maker/blender then look no further than the Kenwood Blend-Xtract SMP060WG!
Pros:
Detachable stainless steel blades
Professional design
2-speed + pulse control
Cons:
Pieces need to be in smaller cubes before blending
2. Ninja HB150
For Multiple Servings

The Ninja HB150 is a powerful and affordable blender perfect for health enthusiasts who love to make smoothies. It has a 1100-watt motor and comes with four adjustable speed settings, which allow you to adjust the consistency of your smoothie depending on your preferences. The blender also features an extra-large 72 Oz pitcher that can contain enough ingredients for three to five servings in one go. Additionally, it includes two sets of blades made from stainless steel that allows you to chop ice effortlessly as well as blend frozen fruits and veggies smoothly.
This versatile appliance also doubles up as a food processor so you can easily prepare baby food, sauces, dips, or dressings while working on other recipes at the same time with it's food processor attachment! With its durable construction and quick cleaning cycle, this trusted kitchen essential should be part of any health enthusiast's arsenal!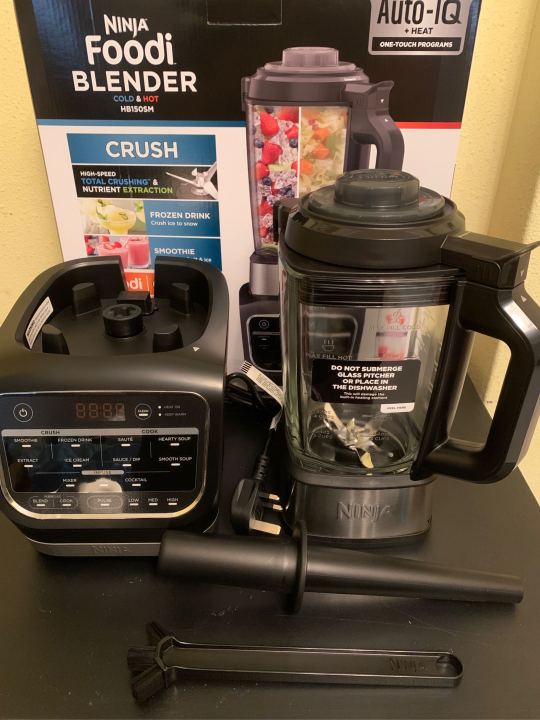 Pros:
With 800-watt precision heating element
1000-Watt Motor
Glass pitcher with non-stick coating
Cons:
3. Silvercrest SC-1589
Large Capacity

The Silvercrest SC-1589 is one of the latest and most innovative smoothie makers and immersion blenders on the market. It comes with a powerful 500 watt motor and two speed settings so you can adjust it to your needs. The body of this product is made from BPA free plastic, which ensures that no harmful chemicals get into your food while blending. Additionally, there are two stainless steel blades included in the package, making it easy to chop up ingredients quickly and efficiently.
The Silvercrest also has an auto shutoff feature for safety purposes, ensuring that you don't accidentally end up burning out your blender. This model also has a handy 1L capacity container complete with measurements marks so you always know how much liquid or powdered ingredients have been added during each blend session. The lid itself is designed to be leak proof too – so all those delicious smoothies won't go pouring everywhere when being blended!
For health enthusiasts looking for a great new blender, the Silvercrest SC-1589 should definitely rank high on their list due its cost effective approach without sacrificing quality performance in return. With its impressive power levels, easy clean design as well as additional security elements like overheating protection and secure lid closure mechanism – this blender undoubtedly offers plenty of bang for buck value overall!
Pros:
Variable Speed Control
Pulse Feature
6 Sided Hardened Stainless-Steel Blades
Cons:
A bit of space taker in your kitchen counter
4. Severin SM 9479
Great safety lock system
The Severin SM 9479 is a great option for those who are looking for an all-rounder smoothie maker. With its powerful motor and adjustable speeds, this blender can easily blend frozen fruits, leafy greens and more to create the perfect combination of healthy ingredients for your smoothies. It also has several different stainless steel blades that make preparing a variety of drinks easier than ever before. The jar is large enough to hold up to 1.75 liters of liquid, so you can make plenty of delicious beverages with ease! Moreover, it comes with multiple functions such as 'pulse' and 'turbo', allowing you to customize the blending speed according to your desired consistency and texture.
In addition, the Severin SM 9479 features a safety lock system that prevents accidental start-ups during operation, ensuring safe use every time. All in all, this blender provides excellent value at its relatively low price tag and definitely deserves a spot on our list when it comes best blenders in Singapore – 2023 review!
Pros:
Blender & drink container in one
Removable stainless steel blades for easy cleaning
Glass blender suitable for crushing ice
Cons:
Motor can make too much noise
5. Xiaomi Pinlo
Compact and Lightweight

The Xiaomi Pinlo is a personal blender and smoothie maker that health enthusiasts can rely on. It is designed to make all types of blended drinks, whether they are smoothies, milkshakes, or something in between. This blender features a 2L container with ninja blades powered by 1200W motor to ensure all ingredients are evenly blended for delicate and consistent textures.
With its one button operation design making smoothies suddenly becomes simpler than ever before – just press the start button once you have placed your desired ingredients into the cup – it can blend up some delicious frozen fruits in no time! Additionally, this model comes with 4 preset functions including pre-programmed Auto-Blend as well as manual control settings so you will be able to adjust blending speed levels depending on how thick or thin your drink should be.
Another key feature about the Xiaomi Pinlo is its safety lock system which consists of two parts that need to be assembled before use. This ensures that users do not accidentally open their blenders when still running from their last session. Its anti skid base also adds extra stability when used on slippery surfaces for peace of mind usage every time you want to make yourself a nutritious drink!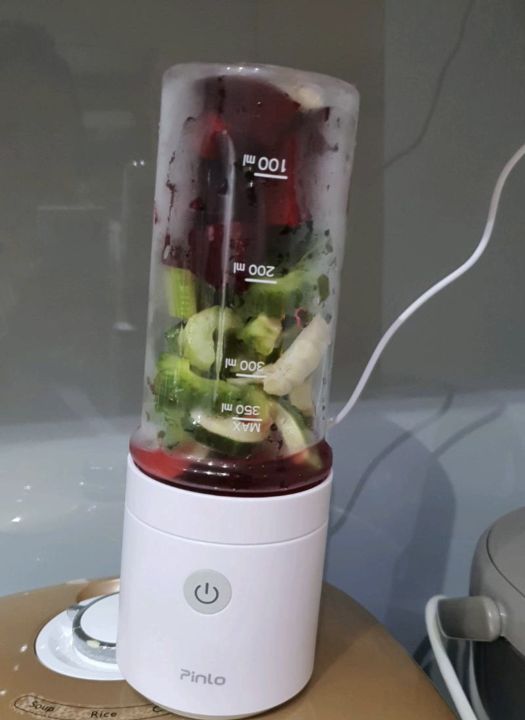 Pros:
High capacity rechargeable batteries
Perfect balance of power and portability
Stainless steel blender design
Cons:
6. Nutribullet 1000
Easy to Clean

The Nutribullet 1000 is a powerful and versatile personal blender and maker that's sure to please health enthusiast in Singapore. It has an impressive 1000 watt motor, with two speeds plus pulse, allowing you to create the perfect healthy smoothie or shake with ease. The distinctive Crossblade blade system created by Nutribullet allows for blending of even tough ingredients like seeds, nuts or ice cubes while maintaining optimal nutrition levels. You also get the option of three different cup sizes so whether you're making a small snack for yourself or larger portions for your family, this machine has got you covered!
In terms of design and function, it holds up well too – thanks to its durable stainless steel blades which are specially designed to extract more from fruits and vegetables than regular blenders. It comes equipped with a non-slip rubber base ensuring reliable stability on any surface so that your blend stays where it should be no matter how intense the job gets! Plus it fits easily into most kitchen cabinets meaning storage will never be an issue! Finally cleaning is incredibly easy due to its dishwasher safe cups making upkeep hassle free – just top marks all round then!
Pros:
Easy operation at just a touch of a button

Sleek countertop design

Multiple blade options
Cons:
7. Arden BJY69
Simple Speed Regulation

Arden BJY69 is an excellent blender & maker that delivers power, precision and convenience. With a unique stainless steel body, this model offers high performance blending features in the form of a 35000 RPM motor and powerful knife blades, perfect for crushing ice. The Arden BJY69 helps you whip up delicious smoothies quickly and easily with no effort or mess. Aside from smoothie making, this appliance can also blend soups, crush ice cubes into powdery snowflakes and even knead dough to make homemade bread.
Its 2L capacity is perfect for families as there's enough space to prepare large batches at once. Moreover its large 3D mixing system ensures that all ingredients are evenly blended for maximum nutritional benefit from each serving of your smoothie concoction!
Pros:
Powerful motor
Large Capacity
6-Tip Stainless Steel Blade
Cons:
Some materials are a bit filmsy
Personal Blenders vs Blenders
When it comes to smoothie blenders, there are two main types of blenders available: personal blenders and full-size blending machines. Personal blenders offer convenience and portability; they're great for making small batches of smoothies or single servings of drinks without taking up too much counter space. Full-size blenders on the other hand, have more power, come with larger containers and usually have more accessories like a tamper or chopping blade that allow you to process ingredients into finer textures.
Personal blenders can range from small travel mugs with blades at the bottom all the way up to powerful models that have multiple speeds settings. While these compact models save valuable kitchen countertop space, their biggest drawback is that many do not have as powerful motors as full size blender so if you're looking for something to quickly blitz hard nuts, seeds or chunks of frozen fruits then an ordinary blender may be better suited. This also means finding jugs large enough might prove difficult unless your personal blender model supports interchangeable cups/jars.
On the other end we find full sized immersion blender which should hold plenty in terms of horsepower ratings which could make quick work out of chunkier items than personal varieties offer but since they are quite bulky compared to personals they may take up quite some room in addition being heavier thus less portable than personals when needed away from say home kitchens etc…
Should I Get a Smoothie Blender?
Smoothie blenders are relatively affordable and convenient to use. They give you more room for healthy meal preparations so you will have no excuses to skip your fruits and veggies.
Smoothie Blender Maintenance
The best way to make sure your blending machine is clean and fresh for every use? Clean it after every single job! That means unplugging, wiping down with a damp cloth (or sponge), then putting away dry. For those of us without access or time on our hands this might seem like too much work but you'll thank yourself later when everything tastes as good home-made instead low quality store bought ingredients
Top Smoothie Blender Brands
Kenwood
Kenwood leads the way in kitchen appliance design, quality and innovation with an unparalleled reputation for delivering reliable products. If you're looking to make your home cooking experience a little easier or improve on what's currently available within this category then look no further than our wide range of options which are sure not only satisfy but also exceed all expectations!
Midea
Midea is a brand that has been providing unexpectedly friendly solutions to those who treasure their tiny moments at home. Recently, they launched their new motto: "Midea – make yourself comfortable anywhere you are".
Xiaomi
With anything "smart", we run to Xiaomi, and this is not any different when it comes to any kitchen appliance! Xiaomi's innovation in technology provides consumers with a more convenient way of living, which includes making your kitchen hobbies easier.
FAQs
What are smoothie blenders? 🙂
Smoothie blenders are used for processing ingredients, crushing ice, and mixing drinks
Why should I get a smoothie blender?
They are convenient to use and is relatively affordable
What is the difference between a smoothie blender and a regular blender?
The primary distinction between a smoothie maker and a blender is that the former, usually referred to as "personal blenders," are made to produce smaller quantities, hence reducing food waste.
Conclusion
After going through the different products and their features, we have come to the end of our search for the best smoothie blender & maker in Singapore. The top three blenders that made it to our list are: Kenwood Blend-Xtract SMP060WG, Philips Daily HR2106/02, and Panasonic MH-TX2000B. All of these options have powerful motors that can crush ice and process ingredients quickly. They also have multiple speed settings that give you more control over the consistency of your smoothie. Choose the one that fits your budget and needs so you can enjoy making delicious smoothies at home any time you want!
This post was brought to you by Kimz House.
Disclaimer: The opinion is solely based on our testing or intensive research with customer feedback around the most popular shopping platform such as Shopee and Lazada. The products/services shown here are available and valid upon the publication date. It may change from time to time. Please email us at [email protected] if there is any discrepancy.