When it comes trusted blenders in Singapore, we are always wary with the history and performance of the brand that makes it.
New brands are being introduced every year, with fascinating features and offers, but when it comes to a reliable blender there are just a few names that we turn to, and Philips is unsurprisingly one of those.
The brand has introduced a couple of blender options for different lifestyles, and we rounded up our favourites here and quick, honest reviews.
1. Philips Mini Blender – HR2874/01
Philips mini blender design is always neat and elegant, and this mini blender is hard to resist in terms of aesthetics and performance.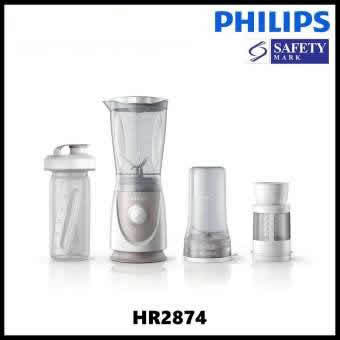 Key Features:
To-go bottle accessory
350W power
Blend and go, mess-free
Comes with its own mini-chopper
It's easy and neat to use and is guaranteed safe with its break-resistant beaker. This is perfect for travellers, with the cooler bag keeping everything fresh.
Buy the Philips Mini Blender with cooler bag here.
2. Philips HR3652 Avance Collection Blender 2L Glass Jar 1400w
A must-have in every home, this blender comes with a two-litre glass jar perfect for recipes for the entire family or guests.
Key Features:
Comes with 1400w power for fine blends
ProBlend 6 3D blending technology
Led display for controls and functions
Auto shut-off feature
Pre-set program dedicated for smoothies
This can be your dedicated blender at home, meant to deliver more with high efficiency. Its detachable blades also allow for easier and safer cleaning of the blender.
You can buy this blender here today.
3. Philips Daily Collection Blender – HR2059/90
This Daily Collection Blender gives refreshing drinks straight out of your kitchen, as it boasts to blend up to 8 ice cubes within a minute finely.
Other key features to check out:
450w strong motor
Safe for hard ingredients (iced, seeds, and fruits)
Break-resistant (comes with additional jar)
4-star stainless blade
The safe and practical choice for those who love to create new recipes that are smoothly done. It comes with overheating protection, as well so you can be assured of safe usage.
Check this out here.
4. Philips HR1600 Handheld Immersion Stick Blender
Your partner to easy meal preparations. Philips aims to make making healthy meals more convenient and of high quality.
Key Features we love:
Single switch for fast and easy use
550 W plastic bar
1 speed feature
Slim-grip
Work with ease. Its slim grip feature makes it a worthwhile investment! It's the real handheld blender, you won't feel any pressure on your hands even after an extended time.
Get your Philips hand blender here.
5. Philips HR7627 Blender (HR7627/01)
Whether you need a quick chopper, a smooth blender, or a fine smoothie, this blender truly delivers.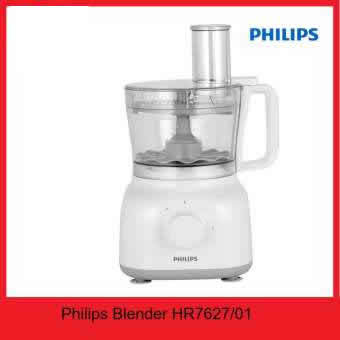 Check out these full-packed features:
40% larger feeding tube
2-speed settings
Powerful food processing
Powerchop technology
Makes 5 portions in one
This blender is really all about doing less effort, but creating more, for you and for your family. It does so many things in one compact design.
6. Philips HR2118 Blender
A small but powerful blender that comes with sharp, durable blades for easy food preparation.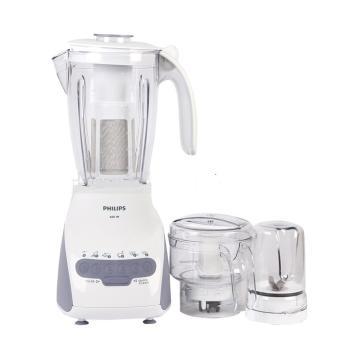 Key features:
Jar capacity of up to 2L
600w motor power
Multiple speed settings
Serrated blades
There are so many things you can do with this blender, giving you high value for money. Whether it's a smoothie, vegetable soup, you can count on this blender to deliver.
What Philips blender to choose?
Philips has created almost all possible kinds of the blender to fit every lifestyle. You can even have one of each type if you are into quick meal preparations.
Visit our latest home appliances reviews here.
Here are our top recommendations for Philips blenders:
1 – Free Venes Cooler Bag with Philips Mini Blender – HR2874/01
2 – Philips HR3652 Avance Collection Blender 2L Glass Jar 1400w
5 – Philips HR7627 Blender (HR7627/01)
FAQs
Is Philips a good fruit blender brand? 🤨
Yes. They are one of the most reliable blender brands there is.
How much is a Philips fruit blender?
Depending on the model, it usually ranges between 100 – 200 dollars
How do I choose the best Philips fruit blender?
You should choose the blender that complements your lifestyle.
This post was brought to you by Kimz House.
Disclaimer: The opinion is solely based on our testing or intensive research with customer feedback around the most popular shopping platform such as Shopee and Lazada. The products/services shown here are available and valid upon the publication date. It may change from time to time. Please email us at hello@kimzhouse.com if there is any discrepancy.