Here we round up some of the best fruit blenders in Singapore based on their performance and value for money. Some of these brands are highly popular fruit blenders, while some are real discoveries for us, as well.
One thing is for sure, these blenders have been a massive part of our switch to a healthier eating habit. It is also a must-have appliance in our food processor list.
Here is our top 5 recommendations juice blender Singapore review for every smoothie and fruit shake fans out there.
1. PowerPac Personal Juice Blender with 2X BPA Free Jugs (PPBL100)
PowerPac is one of our newer discoveries, and this personal, portable blender is a steal, especially that it comes with storage jugs for all those fruit shakes.
Here's what we love:
Portable, slender design
Detachable blades
One-touch control/switch
Hazard-free materials
Powerful motor
If you are like us who can make smoothies anytime, anywhere, then this would be a good investment for you.
You can purchase this online now.
2. Odette Juice Blender Portable Blender 300W 2 Speed
This is perfect for making fruit shakes and other cold drinks. Its 300W speed makes it safe to blend ice and other harsh ingredients finely.
Here's what we love:
Hand reset function
Pulse feature for blender control
Removable juicer
Stainless steel blade
 
It's an ode to your traditional blenders but comes in 550ml packaging only. The sports caps quickly turn this into drinking bottle, as well.
Get this affordable blender here.
3. PowerPac 4 In 1 Electric Multifunction Hand Blender Set (PPBL383)
Now, if you are looking for a stay-in blender for your kitchen, then this versatile hand blender is for you. Here's what we love: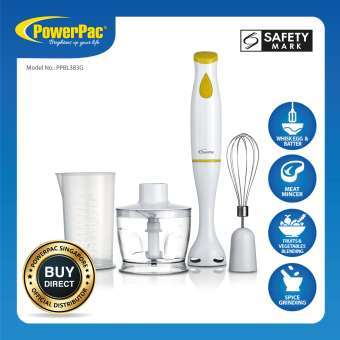 Here's what we love:
Sleek design
ABS Plastic Housing
Dishwasher safe
Comes with a beaker, whisk, stick, chopper
It basically and plug and use a blender that is easy on your hands. This is perfect for your quick breakfast preparations since it works double-time with less effort.
Buy it here today.
4. PowerPac Mix Hand Blender with Stainless Steel Blade (PPBL181)
It's for the go-to people who want to use something light on the hands but works hard on your fruits. You can use this for egg beating, blending soups, and juicing.
Here's what we love:
200 W Power
Plug and Use, hassle-free usage
High-quality stainless steel blade
Light and portable
There are just so many things to love about this Hand blender Singapore from its safety features to its versatility. You can literally create your recipe with one hand!
Check out more details about the product here.
5. 6 Blades Portable & Rechargeable Battery Juice Blender 380ML
Nothings defines portable blender than this blender that comes with a recharger battery and looks like your regular sports bottle.
Here's what we love:
Eco-friendly materials
Multifunctional
Strong power system, with 6-blades for fine food results
Easy to use and bring around
This is one of the most affordable blenders out there. So make sure not to miss this.
You can buy this online here.
How do I choose the best blender for fruit & vegetables?
Not all blenders are created equal, that's for use. So make sure that you choose those with high-power but also pays attention to comfort.
The whole point of having the best blender with you is to make meal preparation a lot easier. So if the blender is tiring your hands like manually chopping your food, then, it's time to try a new one.
If you are looking for the best blender for smoothies, check out our 5 best smoothie blender reviews.
Check out these top recommendations that are surely equipped with multifunction power in small, portable packages:
1 – PowerPac Personal Juice Blender with 2X BPA Free Jugs (PPBL100)
2 – Odette Juice Blender Portable Blender 300W 2 Speed
FAQs
How do I choose the right blender?
You should check if it is high power and still pays attention to comfort.
What are the top blenders in Singapore?
- PowerPac Personal Juice Blender with 2X BPA Free Jugs (PPBL100)
- Odette Juice Blender Portable Blender 300W 2 Speed
- PowerPac 4 In 1 Electric Multifunction Hand Blender Set (PPBL383)
- PowerPac Mix Hand Blender with Stainless Steel Blade (PPBL181)
- 6 Blades Portable & Rechargeable Battery Juice Blender 380ML
How much does a juice blender cost? 🤔
Depending on the model and brand, the cost usually starts at $20