Last Updated on
If you enjoy a good glass of juice now and then. The problem is that making your own juice can be a lot of work, especially if you don't have the right equipment. That's where juicers come in – they make it easy to make your own juice without all the hassle.
If you're in the market for a new juicer, check out our list of the 8 best juice blenders in Singapore. We've got something for everyone, so no matter what your needs are, you'll find the perfect juicer on our list!
Table of Contents
8 Best Juice Blender Quick Comparison Table

Benefits of Buying a Juicer
FAQs
Quick Comparison Table
(scroll right for more)

Best Juice Blender in Singapore
1. USB Portable Electric Mesin Fruit Juicer
Portable and electric
Small in size and incredibly portable, the USB Portable Electric Mesin Fruit Juicer can be used as a common cup or juice blender. It can quickly and easily mix all kinds of fruits and vegetables, making it a healthy and environmentally friendly choice.
The USB Portable Electric Mesin Fruit Juicer is made from nontoxic PP/PC material and is quick and easy to use. Simply charge it up, add your favorite fruits and vegetables, and blend away! In just a minute, you can have a delicious, nutritious cup of juice that will help you stay energized all day long.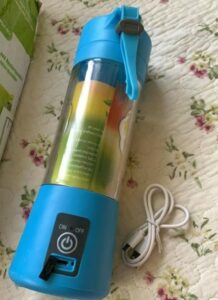 Pros:
One of the most affordable juice blender in the market
Easy to use and portable
Cons:
No clear customer support in Singapore
2. MIUI Slow Juicer 2022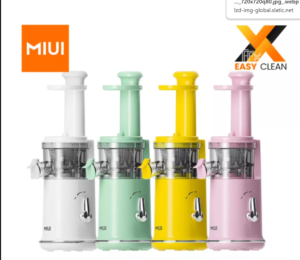 Slow juicer
Looking for a juicer that is easy to assemble and store? Look no further than the MIUI Slow Juicer 2022. This juicer is lemon suitable and filter-free, making it a great choice for those who want a more efficient juicing experience. The patented micro-tilt design ensures that more juice is extracted from your fruits and vegetables, making it a more nutritious option for you and your family.
With its sleek design and easy-to-use features, the MIUI Slow Juicer 2022 is the perfect addition to your kitchen.
Pros:
Affordable slow juicer
Portable
Cons:
3. Mini Juicer Cup Extractor Smoothie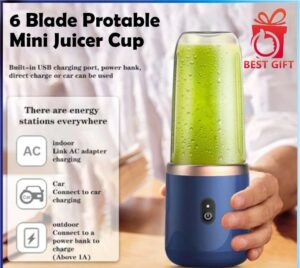 Best for smoothies
No need to lug around a heavy juicer or waste time cleaning it–with the Mini Juicer Cup Extractor, you can make delicious juices and smoothies on the go! This personal juicer is powerful yet small enough to fit in your purse or backpack, making it perfect for busy people who want to enjoy fresh, healthy juices wherever they are. Made of food-grade material, it's as safe as a baby bottle–so you can feel good about what you're putting into your body.
The non-slip cup makes it easy to use, and clean-up is a breeze–just blend with some water after use. So ditch the sugary drinks and get yourself a Mini Juicer Cup Extractor today!
Pros:
Easy cleaning
Portable
Food-grade material
Cons:
4. Mijia Portable Fruit Juice Blender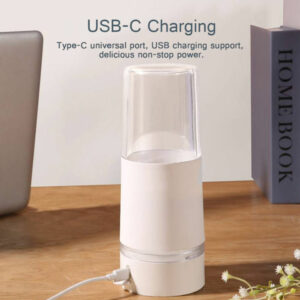 Fast mini blender
Whether you're at home or at the office, this handy little appliance can blend up to 12 cups of fresh juice with just one charge. Made from durable and safe Tritan material, it's able to create delicious smoothies in as little as 35 seconds. Plus, it comes with an Authentic Xiaomi guarantee for quality and performance you can trust.
Pros:
Fast blending
Thick, well-blended smoothies
Long battery life
Cons:
5. Philips Viva Collection Juicer HR1832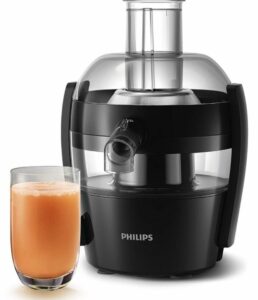 Large capacity
The Philips Viva Collection Juicer HR1832 is a compact and easy-to-use juicer that makes it quick and easy to get your daily dose of fruits and vegetables. The QuickClean technology and integrated pulp container make it easy to clean, while the see-through design lets you see how much juice you're getting with each use. The juicer can make up to 1.5L of juice at a time, so you can always have enough on hand for your family or guests.
Pros:
One of the best quality juicers in the market
Large capacity making it perfect for family use
Cons:
Expensive and not portable
6. Bingo Electric Juice Cup
Durable glass body
The Bingo Electric Juice Cup is the perfect way to get your daily dose of fruits and vegetables. The sharp double leaf blade make short work of even hard fruits and vegetables, and the powerful motor ensures that you get a smooth and delicious cup of juice every time. The best part is that the Bingo Electric Juice Cup is USB-powered and rechargeable, so you can take it with you on the go. Durable body ensures that you'll be able to enjoy fresh, delicious juices for years to come.
Pros:
Portable and easy to use
Powerful motor that can process hard fruits
Cons:
7. Konka Juice Blender
Best value for money
The Konka Juice Blender is perfect for on-the-go lifestyles. It's lightweight and portable, so you can take it with you wherever you go – whether that's to the office, the gym, or on a weekend getaway. And since it charges via USB, you can easily keep it powered up whether you're at home or on the road.
But don't let its small size fool you – this blender packs a big punch! The stainless steel blades make quick work of fruits and vegetables, so you can enjoy a healthy juice or smoothie in no time flat. And with a long-lasting battery, you can make up to six juices or smoothies on a single charge.
Pros:
Accessible service center in Singapore
Can be charged in car
Portable
Cons:
Blade does not finely blend harder fruits
8. Hiterter Portable Juicer Cup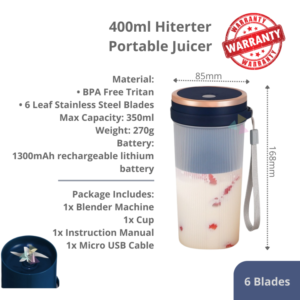 Lightweight
This little powerhouse is USB rechargeable, so you can charge it up at home, in the car, or using a power bank. It's super easy to use with one-touch operation and has a safety mechanism that only allows it to be powered up when the lid is tightened and secure. The stainless steel blades make short work of any ingredients you throw in, and it's even powerful enough to blend ice.
Plus, it's made from food-grade material so you know it's safe to use. And cleanup is a breeze thanks to the one-click cleaning function. Best of all, it's leakproof and comes with a non-slip sleeve for easy carrying.
Pros:
One of the lightest juicer, best for bringing around
Rechargeable
One-click cleaning function
Cons:
This feels a bit more fragile than other juicers.
Benefits of Buying a Juicer
Juicing is a great way to add more fruits and vegetables to your diet. It can also help you to get the most out of your produce by extracting all of the nutrients in a form that is easy for your body to absorb. juicers can range in price from less than $100 to several hundred dollars, but there are a few things that you should keep in mind when choosing one.
The type of juicer you choose will largely depend on what you want to use it for. If you plan on juicing mostly fruits and vegetables, a centrifugal juicer will be sufficient. These juicers are relatively affordable and easy to use.
However, if you want to juice leafy greens or wheatgrass, you will need a masticating juicer, which is more expensive but will give you a higher quality juice. Another thing to consider is how easy the juicer is to clean.
Some juicers have more parts that need to be disassembled and cleaned by hand, while others have fewer parts and can be easily cleaned in the dishwasher. Finally, think about how much time you are willing to spend making juice. If you are short on time, look for a juicer that has a wide feed chute so that you can juice larger pieces of fruit and vegetables without having to cut them into small pieces first.
FAQS
1. What are some of the most popular juicing recipes?
There are a wide variety of juicing recipes available, depending on your preferences. Some of the most popular include combinations of fruits and vegetables such as carrots, apples, and spinach; beet, ginger, and apple; or cucumber, lime, and mint.
How long do homemade juices last?
It is best to consume freshly made juice within 24 hours. However, if you need to store it for longer, it will keep in the fridge for up to 3 days. Be sure to use a airtight container to prevent it from going bad too quickly. When in doubt, throw it out and make a new batch.
Can I use any type of blender to make juice?
While you can technically use any type of blender to make juice, we recommend using a dedicated juicer for best results.
Now that you know more about juicing, we hope you'll give it a try! If you have any further questions, feel free to contact us at any time. We're always happy to help.