Last Updated on
Cleaning your home with a vacuum cleaner is one of the best ways to keep it looking and feeling its best. However, having to constantly drag around a cord can be cumbersome, inconvenient and even dangerous at times. That's why cordless vacuum cleaners are becoming increasingly popular for Singapore homeowners. With no power cords or bulky machines to maneuver, you can easily take them from room to room or outside without hassle or risk of injury. In this blog post we have researched the 10 Best Cordless Vacuum Cleaners Singapore has to offer in 2023 so that you can find the perfect device for your needs! Read on for some great tips and advice on which model will work best for you and your home. So if you are looking for convenience and efficiency in your home cleaning, read on to find the best cordless vacuum cleaner right here!
What is a Cordless Vacuum Cleaner?
Cordless vacuum cleaners are the latest innovation in home cleaning technology. Unlike traditional vacuums, cordless models are powered by rechargeable batteries and do not require a power outlet to operate. This means that they can be used anywhere without having to worry about being tethered to an electrical outlet.Cordless vacuums come in two main types: upright and handheld cordless vacuum cleaners. Upright cordless vacuums are the most popular type and offer strong suction power for deep cleaning carpets, floors, upholstery, and more with ease. Handheld versions usually have smaller motors and are best suited for smaller jobs such as cleaning stairs, upholstery, or cars.
Table of Contents
Airbot VS Dibea Vacuum Comparison
Dibea VS Dyson – Which Is Better?
Cordless Vacuum Cleaner vs. Robot VACUUM Cleaner
Benefits of Cordless Vacuum Cleaner
Top Cordless Vacuum Cleaner Brands in Singapore
Conclusion
FAQs
Quick Comparison Table
(scroll right for more)
Here, we list down the top-performing brands of cordless vacuum cleaners in Singapore, that we're sure to make you want to switch from your tradition vacuum cleaners.
1. Airbot Supersonics 3.0
Best Handheld Option
The Airbot Supersonics 3.0 is a cordless vacuum cleaner that offers great cleaning power and convenience. It is powered by a powerful rechargeable lithium-ion battery and can run up to sixty minutes on its highest setting. Through Auto Mode, it can automatically adjust the suction according to the type of floor you're vacuuming for optimal performance. The flexible wand allows you to clean under furniture easily while the washable filters are designed for long-term use with minimal maintenance needed over time.
Additionally, this model comes with an adjustable multi-angle brush head that adapts to different surfaces so dirt won't accumulate in corners or edges as much as it would if using regular vacuums. Finally, the lightweight design makes it easy for Home Buddies to carry around from room to room when needed without feeling too tired from lugging it around all day!
Pros:
New slim handheld design is more comfortable to grab
Top smart LED provides real time feedback on battery status
New dust cup design allows for smooth gliding to lock or unlock
Cons:
The motor may not be powerful enough for some users
2. Dibea F20 Max
Great Value for Money
The Dibea F20 Max cordless vacuum cleaner is a powerful, lightweight multi-function cleaner that's perfect for busy households. The highly efficient motor and extended run time make it ideal for deep cleaning carpets and hard floors. Plus, the adjustable brush head lets you clean efficiently in tight corners, while its detachable design gives you access to hard-to-reach areas. With a dustbin capacity of 0.6L, this model has plenty of room to contain dirt and debris without constantly having to stop and empty it out.
With up to 35 minutes of cleaning power per full charge, the Dibea F20 Max allows you handle all your regular vacuuming needs with ease! Whether it's picking up pet hair or removing stubborn messes from furniture surfaces—this machine easily handles them all with great agility!
Pros:
3 Speed Mode for different cleaning needs
Roller floor brush with LED headlights for improved visibility
Large capacity dust bucket for less frequent emptying


Cons:
Could use more battery life
3. Dyson V8™

Best Premium Choice
When it comes to cordless vacuums, look no further than the Dyson V8™. This powerhouse of a vacuum cleaner is powerful enough to clean carpets and rugs with ease thanks to its direct-drive motor head which generates up to 115 airwatts of suction power. Aside from that, it has twice the capacity of a conventional cordless vacuum and four times the life span with battery running for up 40 minutes on constant suction mode or 25 minutes when used on max power mode.
The ergonomic design makes maneuvering around furniture particularly effortless while its wall mount storage allows you save space in your home while keeping it organized at all times. The removable dust compartment can be easily emptied; just detach and pick up directly into bin liner without touching the dirt inside so you won't have any mess! What's more, this device also comes with an extension hose, attachment tool kit as well as other essential accessories such as crevice tool and soft dusting brush for hard-to-reach areas like crevices in your couch or bed frame.
If you're looking for an efficient yet convenient cleaning solution, then Dyson V8™ should definitely be one of your picks for best cordless vacuum cleaners in Singapore. This impeccable product will make light work out of cleaning homes or apartments with its lightweight form factor combined high performance capabilities ensuring that whatever surfaces you'll need cleaned will come out spotlessly clean every single time!
Pros:
Comes with HEPA Filtration
Dyson Digital Motor V8
Fade-free suction of up to 40 minutes running time
Cons:
Battery doesn't last that long
4. Xiaomi Mijia G10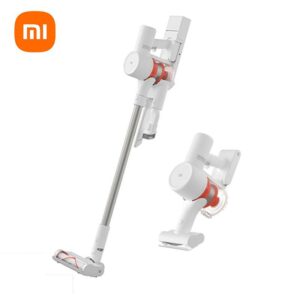 Interactive LCD Display
The Xiaomi Mijia G10 is a fantastic cordless vacuum for all the home buddies out there who are looking for an exquisite cleaning experience. This latest model of cordless vacuum from one of the most trusted names in electronics and appliances has made quite an impression among those seeking to make their daily routine easier and hassle-free. It comes with a powerful brushless motor that lets you easily clean up any mess without taking much time or effort from your side. The included dustbin will allow you to collect all kinds of dirt, dust, pet hair, etc., while its lightweight design makes it easy to move around anywhere in the house.
Additionally, it also features multiple modes including Strong Suction Mode; Gentle Cleaning Mode; Eco-Friendly Mode; Sweeping & Mopping mode and more. Its 2000mAh lithium battery provides 50 minutes power working time on default mode for maximum convenience when using this device as well as its wide head gives you better coverage in less time than ever before!
Pros:
Detachable Dustbin
Multi-layer Filtration
Smart Suction Power Adjustment
Cons:
A bit on the heavier side
5. Dyson V12 Detect ™ Slim
Anti-tangle Conical Brush
The Dyson V12 Detect™ is the latest cordless vacuum cleaner from Dyson, and it packs a punch. This powerful little device has been designed to make cleaning your home faster, easier and more efficient than ever before. With its powerful 12-amp motor, this machine can handle heavy-duty cleaning jobs with ease. The suction power offered by this cleaner is so strong that it can pick up pet hair effortlessly.
This vacuum cleaner also comes equipped with advanced sensors like BounceBack Technology which helps the machine detect objects in its path and immediately adjusts speed accordingly to avoid collision or damage to surfaces. It also provides an obstacle avoidance mode which resists entanglement of furniture legs and other obstacles while vacuuming around them. Additionally, the dustbin capacity of 0.77 liters ensures you do not have to empty frequently during larger cleaning tasks.
Other features include HEPA filtration for better air quality throughout your home; LCD readouts on handheld units provide real-time feedback on filter performance; three power modes offering maximum efficiency even when dealing with heavier dirt; LEDs offers visibility in dim places; automatic shutoff feature keeps battery life at optimal level; four head accessories allows you to clean all types surfaces easily without needing any additional tools or extensions; wall mount allows convenient storage of charger and hose etcetera! Finally, this lightweight device comes complete with a 4 year warranty – giving you peace of mind every time you use it!
Pros:
Laser detects particles you can't normally see
Piezo sensor continuously sizes and counts dust particles
Powerful Dyson Hyperdymium™ motor
Cons:
6. Black and Decker SVA420B

Best for Small Storage Areas
The Black and Decker SVA420B is a powerful cordless vacuum cleaner that can help make your cleaning chores easier. With its 20-volt Lithium-Ion battery, it has enough power to clean for up to 30 minutes on one charge, allowing you to tackle multiple rooms in the home without having to worry about running out of juice half way through. The lightweight design of the SVA420B makes maneuvering around furniture and tight spaces much easier as well, so you won't have to worry about pushing too hard or lifting too heavy items when vacuuming.
This model also features a high-powered suction system with multiple attachments for vacuuming different surfaces like carpets and rugs. This allows you to pick up large debris as well as fine dust particles with equal ease, making the job quicker and more efficient. The cyclonic action helps separate dirt and dust into small particles which are then collected by the filter located at the base of the machine – this ensures there's minimal mess created while vacuuming!
Additionally, there's an easy empty bin that gets rid of all surface dirt quickly – plus emptying it couldn't be simpler; simply open up the cupboard door at bottom of unit and release away all clogged up materials inside – no extra tools required here! And if you wish not to carry around your vacuum cleaner downstairs every time its needed? Not a problem since this model comes equipped with wall mounting bracket which can store your appliance upright until next use; leaving more livingroom space available for other uses.
Pros:
Control on/off the brush bar
2 in 1 removable hand vacuum
Self-standing design for easy use and storage
Cons:
Battery life could use an improvement
7. Electrolux WQ61-1EDBF

Best Suction Feature
The Electrolux ZB-3314AK cordless vacuum cleaner is an ideal choice for those who want to keep their home spotless. It's lightweight, yet powerful motor can easily clean different surfaces quickly and thoroughly. It also has a wide range of attachments including an upholstery brush and crevice tool that makes it perfect for hard-to-reach areas. Its soft roller accessory helps you get rid of even the smallest dust particles, while its digital torque setting allows you to adjust the suction power according to your needs. With its 28 minute battery life and easy handling, this reliable machine can be used anywhere in your house or car with ease.
The Electrolux ZB-3314AK comes with a four-stage filtration system that traps 99.97% of dirt particles as small as 0.3 microns in size, which ensures superior air cleaning performance indoors. What's more, it's equipped with LED indicators on both sides so you know how much battery life is left without having to lift it up from the floor every time cannot monitor it closely during use—giving you peace of mind if you need to focus on other things around your home at the same time! The dust container capacity is 0 12 liters so chances are unlikely that you will have to empty before each vacuuming session completes making it really convenient seen within Singapore homes today.
Pros:
Dust spotted LED
BrushRoll Clean Technology
Double Filtration System
Cons:
8. Eluxgo ALT1019
Lightweight Option
If you're looking for a powerful cordless vacuum cleaner but don't want to spend a fortune, you should look no further than the Eluxgo ALT1019. It is designed for thorough cleaning and offers excellent suction power so that it can easily tackle pet hair and dust mites. The dual-action brush head of this unit makes it easier to clean carpets and rugs by brushing off their dirt deep down into the fibers.
The ALT1019 provides up to 4 hours of continuous cleaning thanks to its large capacity Lithium battery. You've got ample time even if your home is bigger in size! As an added benefit, users also get different attachments including crevice tool, motorized floor brush, mini motorized brush along with 2-in-1 extension tube which are ideal for upholstery, furniture or tight spaces like stairs and corners.
In terms of design, the Eluxgo ALT1019 is incredibly lightweight at just 2 kg (4 lbs), making it highly maneuverable around furniture pieces. This beast also comes with anti-scratch filters that help trap dirt particles while preserving healthy air quality in your living space as well as low noise levels from 68 db(A) – creating a more pleasant experience when vacuuming each room!
Pros:
Silent Operation
With a classic floor brush
Very lightweight
Cons:
9. Dibea FC20
Strong wiping system
The Dibea FC20 cordless vacuum cleaner is a top-end model that's ideal for home buddies. It has powerful suction capabilities and excellent filtration systems, so it can make short work of even the toughest messes in your home. Also, with its long run time and lightweight design, you'll be able to clean for hours without feeling exhausted.
It features two speed settings which are great for different types of surfaces – from carpets to hardwood floors. Additionally, the bumpers won't leave scratches or marks on any surface as you move around your house cleaning up dust and debris shedding from pets or kids' activities. Plus, there's a one-button empty system that makes emptying out the dustbin an easy job to do when needed.
The Dibea FC20 also comes equipped with several attachments including multiple brushes like a crevice tool and soft brush heads designed specifically for delicate areas such as curtains or upholstery fabrics; plus an LED headlights feature helps create visibility when cleaning dark corners or under furniture pieces in low light conditions at home too!
Pros:
New design Roller floor brush
Bagless design
Advanced filtering system
Cons:
10. Dibea D18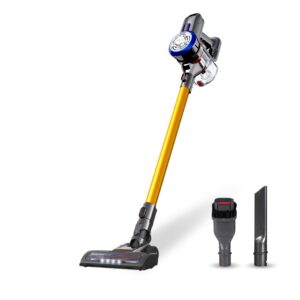 Wide Floor Brush
The Dibea D18 is an awesome cordless vacuum cleaner for the Home Buddies who are looking to keep their house spic and span with minimal effort. This powerful cleaner has a 2200mAh lithium battery that can run up to 25 minutes, and provides a deep clean on carpets and hard floors alike. Its motorized brush head picks up all kinds of dirt, dust, pet hair and other messes around your home rigorously while providing quiet operation so you don't have to worry about disturbing anyone in your home or bothering your neighbours.
With its LED headlights included on the charging base, it makes it easier than ever before to spot any hidden dirt spots in dark corners of your house or under furniture too! The swivel neck also getting into tight spaces a breeze as well–it's able to maneuver around furniture easily without having much difficulty at all. Plus its lightweight design lets you bring from room-to-room effortlessly which helps when cleaning bigger areas quickly!
The filtration system inside this machine is just as impressive too; its 4-level anti-allergy HEPA filter completely captures fine pollutants like pollen grains, dust mites among other allergens down to 0.3um size for maximum tranquility especially if you're prone to allergies! All these features combined make this one of the best cordless vacuum cleaners Singapore currently has available today that'll help you maintain impeccable hygiene without causing too much disruption in your environment either – making it ideal for Home Buddies out there who need an efficient solution each time they plan on doing some tidying up duties around their homes soon.
Pros:
Multi-stage cyclone separation system
Large capacity dust bucket
Hand washing filter cotton design
Cons:
Airbot VS Dibea Vacuum Comparison
This section will compare the Airbot Supersonics vacuum cleaner with the Dibea F20 MAX vacuum cleaner. Two of the best cordless vacuum cleaners brands out there.
The Airbot Supersonics vacuum cleaner is equipped with powerful suction and three types of cleaning modes to suit different needs. It also offers remote control for convenience. The Dibea F20 MAX vacuum cleaner is no pushover either; it's equipped with 5 interchangeable tools that can be used to clean anywhere in your house. This vacuum cleaner is lightweight and easy to move around with its carry strap, making it perfect for any home space!
So, which vacuum cleaner is the best? In our opinion, the Airbot Supersonics cordless vacuum cleaner is the better choice. It has more suction power and offers more features than the Dibea F20 MAX vacuum cleaner. Plus, it's easier to move around your house with the carry strap. If you're looking for a high-quality vacuum cleaner that offers great value for money, then we highly recommend the Airbot Supersonics vacuum cleaner!
Dibea VS Dyson – Which Is Better?
There are many different brands of vacuum cleaners on the market, but two of the most popular ones are the Dyson and the Dibea. This section will compare these two brands and help you decide which one is best for your needs.
Dyson vacuum cleaners are known for their high suction power and durability. They are perfect for people with large homes or lots of carpeted areas. However, they can be a bit expensive compared to other brands.
On the other hand, Dibea vacuum cleaners are great for hard surfaces because they don't lose suction when used on them. They are also lighter and more affordable than most brands.
Both these brands have their pros and cons, from price to ease of use. If you need a higher suction power to clean large carpeted areas in your home, then definitely go with the Dyson vacuum cleaner. On the other hand, if you would like something lightweight that does not lose suction when used on hard surfaces, go with the Dibea vacuum cleaner instead.
Benefits of Cordless Vacuum Cleaner
Portability:
Cordless vacuums are more portable than their corded counterparts because they do not require a power outlet to operate and can be taken anywhere with ease. This makes them ideal for spot-cleaning hard to reach areas or taking along on trips.
Time Saving:
Everyone needs to be constantly in a go, which means keeping the house tidy also requires efficient appliances that work double time. Cordless vacuum cleaners in Singapore make cleaning the house or apartment way faster since they can be converted as a stick or handheld cleaner, depending on the area of the house that needs to be cleaned.
Efficient Cleaning:
Cordless vacuums come with powerful suction and rotating brushes that help deep clean carpets, upholstery, and other surfaces quickly and effectively. The cordless vacuum cleaner will not limit you to the distance that the wire allows, plus it already looks way neater with the recent storage mechanisms available, including magnetic wall stacking.
Low Maintenance:
Cordless vacuums require minimal maintenance since there are no cords or bags to replace. This makes them an ideal choice for busy households who need a quick and efficient way of keeping their home clean.
Cordless Vacuum Cleaner vs Robot Vacuum Cleaner
When it comes to cleaning your floors, choosing the right vacuum is essential. There are two main types of vacuums available – cordless vacuum cleaners and robot vacuums. Both offer different advantages depending on your lifestyle and what kind of messes you need to clean up.
Cordless Vacuum Cleaner
Cordless vacuum cleaners offer a great balance between power and portability. They are lightweight, easy to maneuver and come with powerful suction capabilities that can tackle even the toughest dirt and dust particles with ease. The only downside is that these vacuums require regular charging, so it's important to make sure you always have a spare battery on hand.
Robot Vacuum Cleaner
Robot vacuums are the perfect choice for those who want an effortless cleaning experience. These robots can navigate around your home autonomously and use sensors and mapping technology to find their way around obstacles and corners. While they don't offer as much suction power as cordless vacuum cleaners, they are ideal for quick daily maintenance or spot cleaning.
Top Cordless Vacuum Cleaner Brands in Singapore
Xiaomi
Xiaomi handheld vacuum cleaners are high-quality devices which will help you keep your home clean. It has super effective power and light weight, making it easy to use around the house without difficulty!
Dyson
Dyson is a company that specializes in vacuum cleaners, air purifiers and fans. They offer both stick/handheld models as well as more conventional upright ones for your home or office needs!
Dibea
Dibea's goal is to make home cleaning easier and more efficient with their line of high quality products. Their innovative technology allows them not only create a better product but also provide consumers access when they need it most!
Conclusion
If you're in the market for a new vacuum, there are many factors to consider. But one thing is for sure – gone are the days when you have to adjust your cleaning routine around your corded vacuum cleaner. With the rise of popularity in cordless vacuum cleaners, you can easily spot clean even those hard-to-reach corners of your house. So if you're looking for a new level of convenience in your vacuuming experience, go cordless! Have you made the switch to a cordless vacuum cleaner?
FAQs
What are the to cordless vacuum brands in Singapore? 🇸🇬
Top brands for cordless vacuum cleaners in Singapore are Dibea, Dyson, Black and Decker, Electrolux, Xiaomi, and Bosch.
What is the advantage of cordless vacuum cleaners?💯
Cordless vacuum cleaners in Singapore make cleaning the house or apartment way faster since they can be converted as a stick or handheld cleaner, depending on the area of the house that needs to be cleaned.
The cordless vacuum cleaner will not limit you to the distance that the wire allows.
How does a cordless vacuum cleaner work? 🧐
It works like the traditional vacuum cleaners, which means it has a suction mechanism to remove all dirts and other pollutants on the surface. However, instead of relying on an electricity source to function, cordless vacuum cleaners can run on batteries, thus allowing you to conveniently clean sans the wires.
Are cordless vacuum cleaners expensive? 💵
In Singapore, cordless vacuum cleaners can cost up to 200 SGD.
This post was brought to you by Kimz House.
Disclaimer: The opinion is solely based on our testing or intensive research with customer feedback around the most popular shopping platform such as Shopee and Lazada. The products/services shown here are available and valid upon the publication date. It may change from time to time. Please email us at [email protected] if there is any discrepancy.