Last Updated on
Coming home to a clean house helps you feel good, especially when you're tired from work. However, a busy schedule might keep you from cleaning because you're too tired to do it. A reliable vacuum cleaner will make the job easier. Vacuum cleaners are a must-have for any home. They keep your floors clean and free of dust, dirt, and other debris. If you're in the market for a new vacuum cleaner, there is a variety of options to choose from. To help make your decision easier, we've compiled a list of the 10 best vacuum cleaners available in Singapore today. Read on to learn more!
We've provided a list of vacuum cleaners in Singapore and reviews on why we think they're the best.
Table of Contents
Types of Vacuum Cleaner
Top Vacuum Cleaner Brands in Singapore
Conclusion
FAQs
Quick Comparison Table
(scroll right for more)
1. Eluxgo ALT1020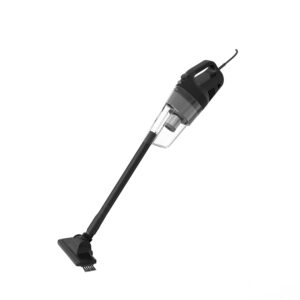 Lightweight
Looking for a powerful, yet lightweight bagless vacuum cleaner? Look no further than the Eluxgo ALT1020! This amazing vacuum cleaner has strong suction power that will pick up all dirt, dust and crumbs from every corner of your home – giving you a cleaner and healthier environment for your loved ones. The best part is that it's so light, you won't have any trouble moving it around the house – making vacuuming a breeze!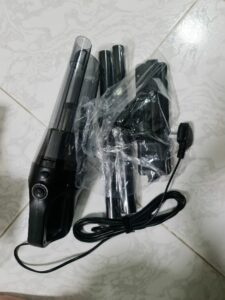 Pros:
Affordable
Pro Cyclone System
Easy to clean
Cons:
2. Dibea D18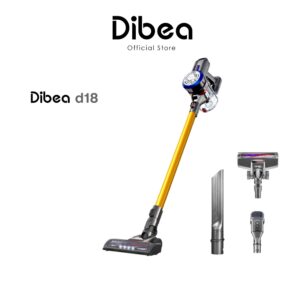 Wide Floor Brush
The Dibea D18 is a powerful and easy-to-use vacuum cleaner that is perfect for cleaning any home. With its light handle, it can be used at different angles, making it easy to reach tight spaces. The long-lasting 45 minute run time ensures that you can clean a large area, and the easy maintenance with exchangeable accessories makes it simple to keep your D18 in good condition.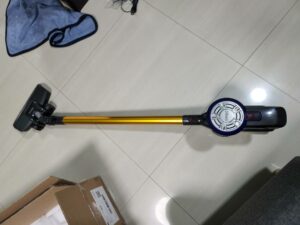 Pros:
2-in-1 soft brush function
Large capacity dust bucket
Multi-stage cyclone separation system
Cons:
3. PowerPac Wet & Dry PPV1300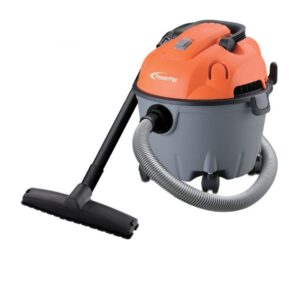 High Capacity
The PowerPac PPV1300 is a powerful wet and dry cleaner that features effective air cleaning technology. It has a 12L dust capacity and high performance with blower function. The swivel hose allows you to reach corners and tight spaces.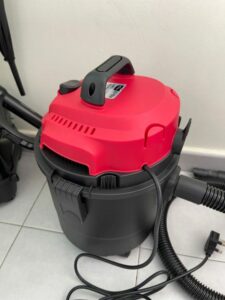 Pros:
12L dust capacity
High Performance with blower function
Strong suction power
Cons:
4. Electrolux 18V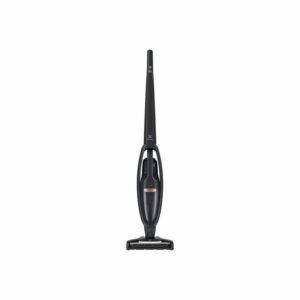 HEPA Grade Filtration System
The Electrolux 18V WQ61-1OGG is the perfect choice for quick, thorough cleaning. Featuring a five-fold filtration mechanism, this vacuum can filter out 99.99% of 1 μm fine dust particles – making it ideal for homes with allergies or pets. And with its unique BrushRollClean™ Technology, you can easily remove entwined hairs and fibres from the brush roll with the push of a button – no more scrubbing by hand! The ergonomic design make it comfortable to use, while the easy access to the hand unit and onboard accessories means you can switch from cleaning the floor to those hard-to-reach areas in an instant.
Pros:
Powerful and adaptable
Two-stage suction adjustment
Upgraded BrushRollClean™ Technology
Cons:
A bit bottom heavy, which may not be for everybody
5. Dyson Cyclone V10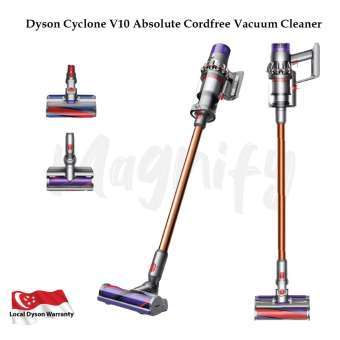 3 Power Modes
The Dyson Cyclone V10 is the latest and greatest cordless vacuum from the trusted name in home cleaning. This powerful little machine has a digital motor that provides incredible suction, making it perfect for removing hidden dirt and debris. Additionally, the 14 concentric array cyclones make sure that all the dirt and dust is trapped inside the vacuum so you can breathe easy. And if that wasn't enough, the V10 also comes with a handy point-and-shoot feature for easy and hygienic bin emptying. Plus, it quickly transforms into a handheld vacuum for those hard-to-reach places.
Pros:
Cord-free
Powerful Dyson V10 motor
Clean operations
Cons:
6. Philips FC9350/61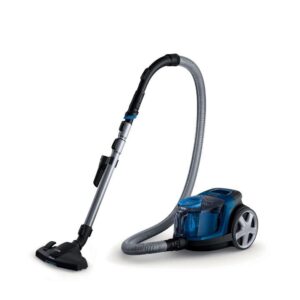 Compact and Lightweight
Looking for a powerful and compact vacuum cleaner that can handle all of your cleaning needs? Look no further than the Philips FC9350/61. This powerful little machine features PowerCyclone 5 Technology for powerful suction, and comes with a new Multi Clean nozzle that is perfect for thorough cleaning on all floors.
Pros:
High suction power
Allergy H13 Filter System
MultiClean Nozzle
Cons:
7 .
Airbot Supersonics 3.0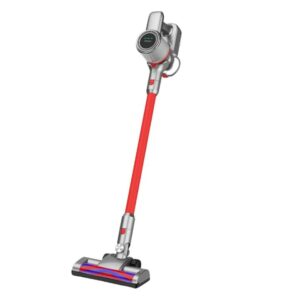 E-grade HEPA filter
The Airbot Supersonics 3.0 is the latest and greatest handheld vacuum. It's designed for quick and easy cleanup, with a new slim design that's more comfortable to grab and a top smart LED that gives you real-time feedback on battery status. The dust cup is also new, gliding smoothly to lock or unlock, and the latest 3rd generation cyclonic technology quickly compresses dust and hair, leaving behind cleaner air.
Pros:
New slim handheld design
5 layer top cone filtration
Consistent vacuum power output
Cons:
Cord limits your mobility
8. Philips PowerPro FC9728/61
Best for Preventing Allergy
This powerful bagless vacuum cleaner uses Philips' PowerCyclone 8 technology to deliver an impressive 2000W of suction power, making it more than up for the task of keeping your home clean. The large 2L dust capacity means you won't have to empty the vacuum as often, while the TriActive nozzle ensures that every nook and cranny is clean. Plus, with onboard accessories and an integrated soft brush, cleaning those hard-to-reach areas is a breeze.
Pros:
TriActive nozzle
PowerCyclone 8 technology
2L dust capacity
Cons:
9. PowerPac PPV600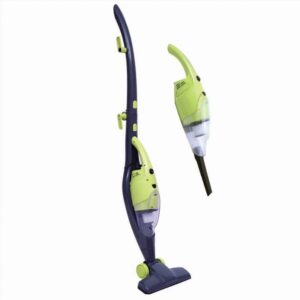 Affordable
The PowerPac PPV600 is the perfect tool for tackling both big and small jobs around the house. Its dual usage means that you can use it as a handheld vacuum for quick touch-ups, or as a full-sized vacuum for bigger messes. Plus, its easy storage design means that you can keep it in a closet or under the bed when not in use.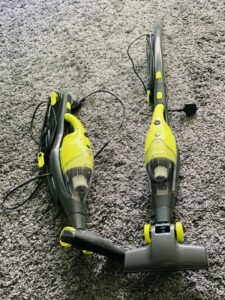 Pros:
Dual usage
Easy storage
Hepa filtration
Cons:
10. Tefal TW2947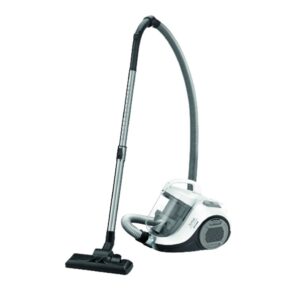 Bagless and Easy-to-clean
Featuring advanced cyclonic technology, this vacuum produces a high level of air and dust separation for optimal cleaning performance. Additionally, the Effitech motor ensures optimum cleaning efficiency and dust pick-up on hard floors. And with its easy-to-clean 1.2L dust container and 3 layers of high efficiency filter, you can be sure that your vacuum will deliver exceptional results time after time. Plus, with its easy storage options and parking position, the Tefal TW2947 is perfect for any home.
Pros:
Strong performance on hard floors
Advanced cyclonic technology
Easy storage options
Cons:
Types of Vacuum Cleaner
Thinking of the best type of vacuum cleaner for you? We also list down here some of the key features of each type.
Bagless Vacuum Cleaner – this is currently one of the most in-demand types of vacuum cleaners, which is like an upgrade of the traditional bagged versions. Instead of the typical bag, this is replaced by a specific chamber within the vacuum which you can empty and reuse after that. Bagless vacuum cleaners are also considered as the more eco-friendly option.
Bagged Vacuum Cleaner – this is the original design of most vacuum cleaners, and remain to be one of the most hygienic options in terms of getting rid of all the dirt. There is no risk of the dust and dirt spilling because they are conveniently stored in one bag. The bag can be replaced every time/
Cordless and Handheld Vacuum Cleaners – this is your best option for cleaning hard-to-reach areas of the house including window screens, curtains, and even small corners that cannot be easily reached by the traditional vacuum cleaner. These vacuum cleaners are rechargeable so that you can use it at any time.
Robot Vacuum Cleaners – the advent of smart technology has likewise reached home appliances, vacuum cleaners included. This type of vacuum cleaners is basically cordless, rechargeable, and some products can dispose of its collected dirt independently. This, of course, comes at a hefty price.
Top Vacuum Cleaner Brands in Singapore
Philips
One of the first brands that come to mind when it comes time for a new appliance is Philips. The company has been in Singapore since colonial days, and they're still going strong with their line-up today!
Dyson
Dyson is a world-renowned manufacturer of vacuum cleaners, air purifiers and fans. They offer an extensive selection to suit your needs whether you're looking for stick or upright models – they've got something suitable!
Conclusion
Vacuum cleaners are an essential appliance for any home. They help you keep your floors clean and free of dust, dirt, and other debris. When shopping for a new vacuum cleaner, there is a wide variety of options to choose from. Consider factors such as the type of flooring in your home, the size of your home, and your budget when selecting a vacuum cleaner. With so many choices on the market, you're sure to find the perfect vacuum cleaner for your needs.
FAQs
What are the best brands of vacuum cleaners in Singapore? 🇸🇬
Best brands of vacuum cleaners in Singapore are: Hitachi, Dyson, Xiaomi, Philips, Ecovacs, Electrolux, and Tefal.
What are the types of vacuum cleaners? 👀
Types of vacuum cleaners include:
-Bag vs. bagless vacuum cleaners
- Cord vs cordless vacuum cleaners
- Robot Vacuum Cleaners
How do I choose vacuum cleaners? 🤷🏽‍♂️
It will greatly depend on the available space in your house, as well as the budget that you have for a vacuum cleaner. Other factors to consider include:
- Suction power
- Portability
- Power consumption
- Maintenance
How much does vacuum cleaner cost? 💵
A traditional vacuum cleaner with bag and cord may cost up to 200 SGD, while robot vacuum cleaners may cost up to 800 SGD.
This post was brought to you by Kimz House.
Disclaimer: The opinion is solely based on our testing or intensive research with customer feedback around the most popular shopping platform such as Shopee and Lazada. The products/services shown here are available and valid upon the publication date. It may change from time to time. Please email us at [email protected] if there is any discrepancy.