Last Updated on
Coming home to a clean house helps you feel good, especially when you're tired from work. However, a busy schedule might keep you from cleaning because you're too tired to do it. A reliable vacuum cleaner will make the job easier. Vacuum cleaners are a must-have for any home. They keep your floors clean and free of dust, dirt, and other debris. If you're in the market for a new vacuum cleaner, there is a variety of options to choose from. To help make your decision easier, we've compiled a list of the 10 best vacuum cleaners in Singapore today. Read on to learn more!
We've provided a list of the best vacuum cleaners in Singapore and vacuum cleaner reviews on why we think they're the best. All of these choices are easily available online, hence, you can just easily have your desired vacuum cleaner appear on your doorstep with the convenience of courier delivery.
Table of Contents
Types of Vacuum Cleaners
Top Vacuum Cleaner Brands in Singapore
Conclusion
FAQs
Quick Comparison Table
(scroll right for more)
Top Vacuum Cleaners in Singapore 2023
1. Eluxgo ALT1020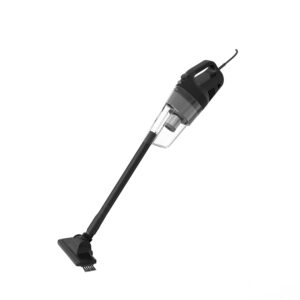 Lightweight
The Eluxgo ALT1020 Vacuum is a powerful and convenient tool that makes clean-up a breeze. It has the extreme suction power to easily remove dirt, dust, and other debris from carpets, hardwood floors, or furniture. The ergonomic handle makes it easy to move the vacuum around your home, while the lightweight design allows you to access tight spaces quickly and efficiently. The large dustbin can be emptied easily after use and is designed for minimal mess when disposing of dirt.
Thanks to its low-noise operation, this vacuum does not disturb innocent bystanders as it cleans up your home and other people in the house won't need headphones to cancel out the vacuum operation noise. This makes it possible to clean without worrying about waking anyone up in the process! It also features a HEPA filter which helps collect small particles to improve air quality within your living space , and most importantly, a one-year warranty.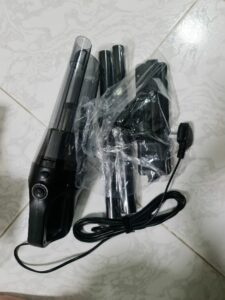 If you are looking for an efficient yet cost-effective vacuum solution, then look no further than the Eluxgo ALT1020 Vacuum – perfect for any size cleaning job! With mighty suction power and several additional features and accessories like ergonomic handles and low noise operations available at affordable prices, this product surpasses all expectations regarding performance! So what are you waiting for? Get yours today and experience hassle-free cleaning in no time!
Pros:
Affordable
Pro Cyclone System
Easy to clean
Cons:
2. Dibea D18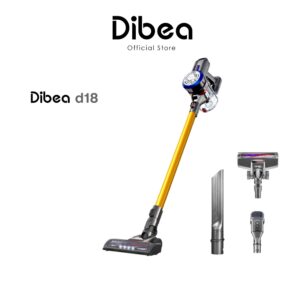 Wide Floor Brush
The Dibea D18 Vacuum cleaner is an excellent choice for anyone looking for a reliable, high-quality vacuum cleaner that won't break the bank. This lightweight, the cordless model offers powerful suction and has two speeds which can be adjusted with the simple push of a button. The large dirt cup and HEPA filter give you maximum cleaning power while minimizing dust in your home, making it perfect for allergy sufferers. The battery life on this model is excellent, too—it runs up to 40 minutes on one charge!
What makes this vacuum cleaner stand out from the competition? For starters, it has several attachments, including a crevice tool, duster brush and furniture nozzle so that you can easily clean hard-to-reach places with full care for your home. You don't have to worry about switching plugs or struggling with cords either—the D18 operates wirelessly. Plus, its compact design allows you to store it away quickly when not in use!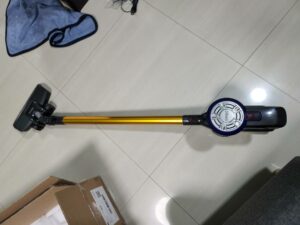 In conclusion, if you are looking for an affordable yet effective solution to keep your floors spotless, look no further than the Dibea D18 Vacuum Cleaner! A tremendous all-around product suited to homes and workplaces alike. What are you waiting for? Get your hand on the best cordless vacuum in Singapore now!
Pros:
2-in-1 soft brush function
Large capacity dust bucket
Multi-stage cyclone separation system
Cons:
3. PowerPac Wet & Dry PPV1300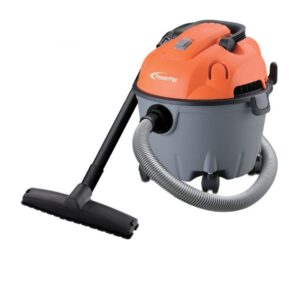 High Capacity
The PowerPac Wet & Dry Bagless Vacuum Cleaner is the best wet and dry vacuum cleaner in Singapore. This vacuum cleaner is an excellent choice for a practical yet quiet vacuum. This powerful machine boasts blower and swivel hose functions to easily tackle hard-to-reach areas, while its large dust capacity of up to 12L ensures powerful suction on all surfaces. And with a noise level of only 80+2dB, you no longer have to worry about the disruption of loud vacuums when cleaning your home or office space.
The PowerPac Vacuum also comes equipped with ultimate care for your household with a Hepa Filter system, which helps filter out dust particles and other allergens from the air in your living spaces – making it perfect for anyone who suffers from allergies or asthma! Plus, its long 3m/5m cable length gives users greater reach when tidying up hard-to-reach places around the house.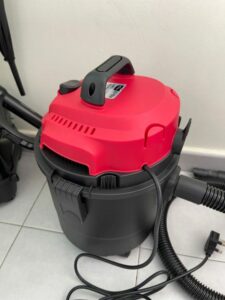 Whether looking for an efficient way to keep your home free of dust and debris or want something reliable that won't cause too much disruption during cleaning time, then this product, PowerPac Wet & Dry Bagless Vacuum Cleaner will provide everything you need! So why wait? Try one today and see what this powerhouse bagless vacuum can do!
Pros:
12L dust capacity
High Performance with blower function
Strong suction power
Cons:
4. Electrolux 18V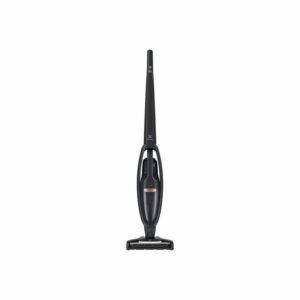 HEPA Grade Filtration System
The Electrolux 18V Vacuum Cleaner is an excellent choice for a powerful and efficient cleaning solution. Its five-fold filtration system helps to filter out 99.99% of 1 μm fine dust particles, making it highly effective in removing the toughest dirt and grime from any surface. Its BrushRollClean™ Technology removes entwined hairs or fabrics, while its ergonomic design makes your hands comfortable during extended cleaning sessions.
Its onboard accessories make transitions between surfaces quick and easy, thanks to the included dusting brush and crevice tool that store inside the hand unit. The lightweight and compact design also make it perfect for taking with you on trips — no need to lug around a bulky vacuum again! On top of all this, its powerful suction offers superior performance compared to many other cordless vacuums today.
If you're searching for an all-in-one vacuuming solution that works great at home or on the go, look no further than the Electrolux 18V Vacuum Cleaner! Not only does it come with features designed specifically for fast and thorough cleaning results, but its intuitive design makes it simple enough for anyone to use right out of the box. Show your care for your friends and family as this product is perfect as a gift idea too! So what are you waiting for? Grab yours now before they run out!
Pros:
Powerful and adaptable
Two-stage suction adjustment
Upgraded BrushRollClean™ Technology
Cons:
A bit bottom heavy, which may not be for everybody
5. Minihelpers SGP18 Pro+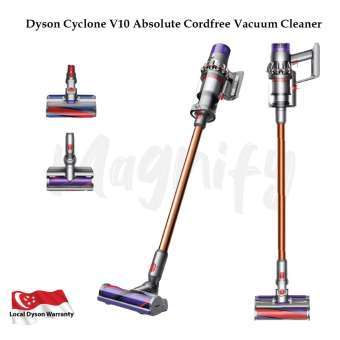 Dual Modes
The Minihelpers SGP18 Pro+ Vacuum Cleaner is the perfect device to tackle any cleaning job in your home. With its powerful 25KPa Max Force suction and lightweight 2kg design, it can easily clean deep into carpets and upholstery while being easy to manoeuvre. 2500 mAh Li-ion Battery gives you 45 minutes of runtime, so you can do several rooms before needing a charge. Plus, at only 150W of power, it's much quieter than other models on the market!
The SGP18 Pro+ is also very user-friendly due to its two operation modes: normal and low spin. Normal mode allows for deep cleaning with maximum power, while low spin mode helps minimize noise if you're trying to clean during nap time or when someone is sleeping in another room. The ergonomic handle makes this vacuum cleaner easy to use, even for those with joint issues or smaller hands.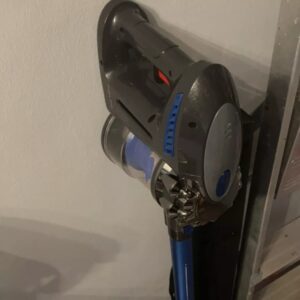 With all these features combined, the MiniHelpers SGP18 Pro+ vacuum cleaner stands out from the competition as an excellent choice for anyone looking for a reliable yet affordable robotic assistant that won't take up too much space in their home! So what are you waiting for? Schedule your MiniHelpers vacuum cleaners delivery and experience first-hand why this revolutionary product has become one of the top choices among users everywhere!
Pros:
Cord-free
Powerful Dyson V10 motor
Clean operations
Cons:
6. Philips FC9350/61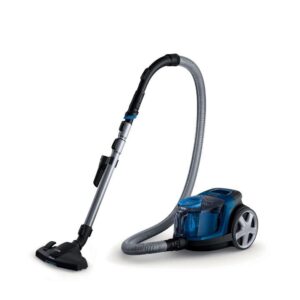 Compact and Lightweight
The Philips FC9350/61 Vacuum Cleaner is an incredibly powerful, reliable and efficient vacuum cleaner that would be a great addition to any home. This vac packs quite a punch with its 1800W motor and 350W suction power, making it easily capable of tackling even the most stubborn dust and dirt particles. This product also comes equipped with an extra-efficient EPA 10 filter, which helps to remove unpleasant odours and excess dust and pollen from your living environment.
A major bonus of the Philips FC9350/61 Vacuum Cleaner is its Multi Clean nozzle feature – which can be adjusted to different heights to ensure that every surface gets cleaned thoroughly. Whether on carpets or hard floors, this advanced technology ensures that no dirt will go unnoticed! Not only does this make cleaning quicker and more effective, but it also saves you precious time throughout each cleaning experience.
If you're looking for a fuss-free yet highly effective vacuum cleaner, look no further than the Philips FC9350/61 Vaccum Cleaner! With its full power delivery, advanced filtration system and versatile cleaning features – all at an affordable price point – it's worth considering when shopping around for appliances like these. Make sure to take advantage of this opportunity and purchase yours today!
Pros:
High suction power
Allergy H13 Filter System
MultiClean Nozzle
Cons:
7 .
Airbot Supersonics 3.0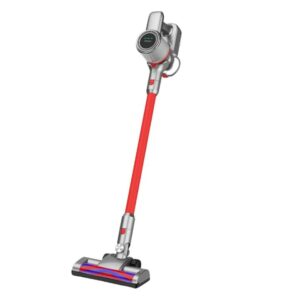 E-grade HEPA filter
The Airbot Supersonics 0 Vacuum Cleaner is an excellent choice for any household looking to keep their home spick and span. Built with a powerful suction unit, this vacuum cleaner can effortlessly lift the toughest dirt and dust particles from carpets, hardwood floors, upholstery, curtains and more. Its specialised nozzle allows easy access into tight spaces between furniture and under appliances. The thoughtful design also makes it lighter than traditional vacuums, so you can easily manoeuvre it around your home without breaking a sweat!
This cordless vacuum cleaner is powered by an advanced Lithium-ion battery which gives you at least 60 minutes of continuous cleaning before needing another recharge; perfect for those extensive spring cleans! Moreover, its cyclonic technology helps capture even the finest of dust particles giving that unbeatable profound clean result every time! It's worth investing in if you want quality results on your flooring and upholstery.
If you're still trying to get Airbot Supersonics 3.0 Vacuum Cleaner over other models, feel free! With its sleek design, strong performance capabilities, and long-lasting battery life, this device will give you spotless results each use without fail. There is also a warranty that covers the major electricity and motor components. So if you are looking for the best handheld vacuum cleaner in Singapore, this is your perfect match!
Pros:
New slim handheld design
5 layer top cone filtration
Consistent vacuum power output
Cons:
Cord limits your mobility
8. Philips PowerPro FC9728/61
Best for Preventing Allergy
The Philips PowerPro FC9728/61 Vacuum Cleaner offers powerful cleaning performance and optimal convenience. With up to 1000 watts of power, this vacuum cleaner can easily suction up dirt and debris from carpets, hard floors, and other surfaces alike. Additionally, the 3-in-1 nozzle feature makes it easy to switch between carpeting, hard-floors or curtains without having to change heads. The extra-long 10 meter cable means that you won't have to keep unplugging and plugging in as you make your way around your home.
The Philips PowerPro also offers superior filtration capabilities with its triple-layer dust system which helps prevents allergens from being released into the air while cleaning – a must for those with allergies or asthma! Furthermore, the handy lift-off storage system allows for quick access when needed; plus it doubles as an upright hand vac for spot-cleaning furniture or staircases. Lastly, the large 2L capacity dust bin ensures less frequent emptying even on big jobs!
For those times when cleaning smaller areas such as stairs or furniture, this model even doubles as an upright hand vac so that no corner goes untouched! What's more, is that its large 2L capacity dust bin means less time spent emptying after every use – ultimately saving time that could be better spent doing something else around the house and of course a 2-year warranty! So why wait? Treat yourself today and enjoy all these features plus many more with a Philips PowerPro FC9728/61 Vacuum Cleaner!
Pros:
TriActive nozzle
PowerCyclone 8 technology
2L dust capacity
Cons:
9. PowerPac PPV600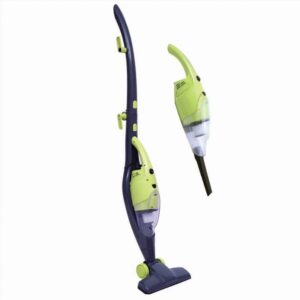 Affordable
The PowerPac PPV600 Vacuum Cleaner is the ultimate all-in-one vacuum cleaner for a price that won't hurt your pockets. Its dual usage feature allows it to be both an upright and a handheld for cleaning hard-to-reach areas in your home. The easy storage option makes storing this device stress-free since you won't need extra space to keep it away after use.
This vacuum cleaner also features Hepa filtration, which helps maintain your air quality by filtering out dust, pollen and other allergens from the air while cleaning up dirt particles that spread throughout the room while vacuuming. It has a 5m cable length, so you don't have to worry about constantly unplugging and replugging when moving to another part of the house during cleaning sessions. Additionally, its cyclone system effectively separates dust particles, trapping them into its container once they are sucked up, ensuring top-notch suction power every time with minimal loss in performance over time due to clogging. With 600W of power under its belt, this device proves time and time again that it deserves its spot at the top of any vacuum comparison list!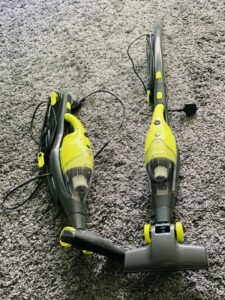 So if you're looking for an efficient vacuum cleaner with multiple features such as those mentioned previously and versatile accessories, look no further than the PowerPac PPV600 Vacuum Cleaner! Investing in one now will save you money and effort in maintaining a clean home environment for years down the line!
Pros:
Dual usage
Easy storage
Hepa filtration
Cons:
10. Tefal TW2947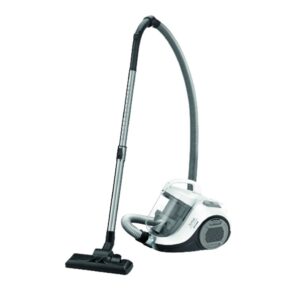 Bagless and Easy-to-clean
The Tefal TW2947 Vacuum Cleaner is an excellent choice for those looking for an efficient and effective way to keep their home clean and dust-free. This vacuum cleaner features a powerful motor, adjustable suction power and energy-saving mode, making cleaning more accessible than ever. It's also designed with high-quality filters that capture even the tiniest particles, ensuring your house stays spotless all year round.
On top of being highly efficient and powerful, this vacuum cleaner is surprisingly lightweight, making it easy to manoeuvre around tight spaces or hard-to-reach places in your home. Furthermore, its cordless design eliminates the need for dragging a cord around while you're vacuuming, so no additional time is wasted on tidying up afterwards!
The Tefal TW2947 Vacuum Cleaner is perfect for keeping households with pets free from pet hair and dander and providing clean air indoors due to its advanced filtration system. With all these fantastic benefits in one device, you'll be glad you invested in this product – so why wait? Get the best bagless vacuum cleaner in Singapore, Tefal TW2947 Vacuum Cleaner and experience hassle-free cleaning at its finest!
Pros:
Strong performance on hard floors
Advanced cyclonic technology
Easy storage options
Cons:
Types of Vacuum Cleaners
Thinking of the best type of vacuum cleaner for you? We also list here some of the key features of each type.
Bagless Vacuum Cleaner – this is currently one of the most in-demand types of vacuum cleaners, which is like an upgrade of the traditional bagged versions. Instead of the typical bag, this is replaced by a specific chamber within the vacuum which you can empty and reuse after that. Bagless vacuum cleaners are also considered as the more eco-friendly option.
Bagged Vacuum Cleaner – this is the original design of most vacuum cleaners and remains to be one of the most hygienic options in terms of getting rid of all the dirt. There is no risk of dust and dirt spilling because they are conveniently stored in one bag. The bag can be replaced every time/
Cordless and Handheld Vacuum Cleaners – this is your best option for cleaning hard-to-reach areas of the house including window screens, curtains, and even small corners that cannot be easily reached by the traditional vacuum cleaner. These vacuum cleaners are rechargeable so that you can use it at any time.
Robot Vacuum Cleaners – the advent of smart technology has likewise reached home appliances, vacuum cleaners included. This type of vacuum cleaner is basically cordless, and rechargeable, and some products can dispose of their collected dirt independently. This, of course, comes at a hefty price. (Related Read: Singapore's Best Robot Vacuum Cleaners)
Top Vacuum Cleaner Brands in Singapore
Philips
One of the first brands that come to mind when it comes time for a new appliance is Philips. The company has been providing Singapore with its top-notch products since its colonial days, and they're still going strong with its line-up today!
Dyson
Dyson is a world-renowned manufacturer of vacuum cleaners, air purifiers, and other household appliance products. They offer an extensive selection to suit your needs whether you're looking for a stick or upright model – they've got something suitable!
Conclusion
Vacuum cleaners are an essential appliance for any home. They help you keep your floors clean and free of dust, dirt, and other debris. When shopping for a new vacuum cleaner, there is a wide variety of options to choose from and it can be a challenge to find a good vacuum cleaner. Consider factors such as the type of flooring in your home, the size of your home, and your budget when selecting a vacuum cleaner. With so many choices on the market, you're sure to find the perfect vacuum cleaner for your needs.
FAQs
What are the best brands of vacuum cleaners in Singapore? 🇸🇬
Best brands of vacuum cleaners in Singapore are: Hitachi, Dyson, Xiaomi, Philips, Ecovacs, Electrolux, and Tefal.
What are the types of vacuum cleaners? 👀
Types of vacuum cleaners include:
-Bag vs. bagless vacuum cleaners
- Cord vs cordless vacuum cleaners
- Robot Vacuum Cleaners
How do I choose the best vacuum cleaner Singapore? 🤷🏽‍♂️
It will greatly depend on the available space in your house, as well as the budget that you have for a vacuum cleaner. Other factors to consider include:
- Suction power
- Portability
- Power consumption
- Maintenance
How much does vacuum cleaner cost? 💵
A traditional vacuum cleaner with bag and cord may cost up to 200 SGD, while robot vacuum cleaners may cost up to 800 SGD.
This post was brought to you by Kimz House.
Disclaimer: The opinion is solely based on our testing or intensive research with customer feedback around the most popular shopping platform such as Shopee and Lazada. The products/services shown here are available and valid upon the publication date. It may change from time to time. Please email us at [email protected] if there is any discrepancy.