Last Updated on
Whether you're a homeowner who's always busy and doesn't have time to vacuum, or you're someone who's looking to buy their first robot vacuum cleaner, this list is for you. It features the 10 best robot vacuum cleaners in Singapore as of 2022. We'll review each one and let you know what makes them stand out from the rest.
So whether you're looking for something that's budget-friendly or something with all the bells and whistles, we've got you covered!
Table of Contents
Best Robot Vacuum Cleaner Quick Comparison Table

Best 3D Technology ECOVACS DEEBOT N8 Pro
Best app support ECOVACS DEEBOT T9
Stain Removal Roborock S7
Best for pet owners ILIFE V8 Plus
Best Value for Money Xiaomi Robot Vacuum Mop 2
Customizable cleaning setting Roborock Q7 Max
Large batter capacity Dreame Z10 Pro
Budget-friendly Midea Black Robotic Vacuum Cleaner
Best voice control Dreame L10S Ultra Robot Vacuum
Best for apartments Eufy RoboVac G10 Hybrid

Advantages of Robot Vacuum Cleaner
Best brands of Robot Vacuum Cleaner
Quick Comparison Table
(scroll right for more)

1. ECOVACS DEEBOT N8 Pro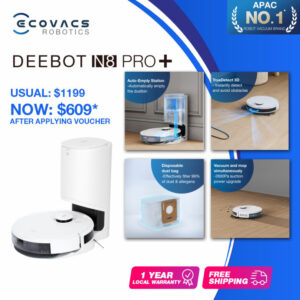 Best 3D Technology
This advanced robot comes with TrueDetect 3D technology that can instantly detect and avoid obstacles, so you can be sure that your floors will be cleaned deeply and accurately without any collisions. The DEEBOT N8 Pro is also equipped with TrueMapping technology which maps your home perfectly, so you can be sure that no spot will be missed.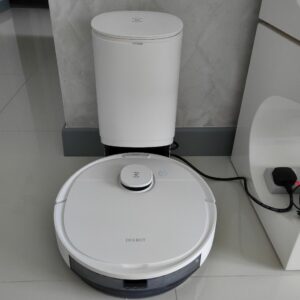 Pros:
One of the most reliable True 3D detect technology
Fast cleaning
Comes with a mop
Cons:
This robot cleaner looks bigger in actual than in pictures so it might not be the best option for small houses
2. ECOVACS DEEBOT T9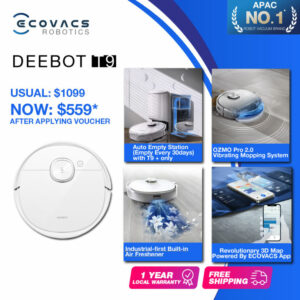 Best app support
If you're looking for a top-of-the-line robot vacuum cleaner that can handle any job, the ECOVACS DEEBOT T9 is the perfect choice. With its advanced TrueDetect 3D and TrueMapping technology, this vacuum cleaner can easily navigate your home and reach every corner for a thorough clean.
Not to mention, the brand new Air Freshener feature leaves your home smelling amazing after a cleaning session. And with its high performance and powerful suction, the DEEBOT T9 is sure to leave your home spotless. So why wait? Get the ECOVACS DEEBOT T9 today and experience the future of cleaning!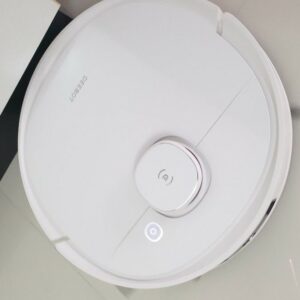 Pros:
App upgrade from other Deebot models
More precise mopping technology
High suction power than other Deebot models
Cons:
This consumes relatively more electricity than other products in the Ecovacs line
3. Roborock S7
Stain removal
Ideal for hardwood floors and carpets, this tough little machine features an UltraSonic Mopping Pad that breaks up and scrubs dry stains with ease. Additionally, the Sonic Sensor Carpet Detection system automatically lifts and mops your carpets, leaving them looking fresh and new.
And with a Fully Silicon Brush, you can rest assured that your floors will be clean and free of dust, dirt, and debris. Best of all, the S7 runs for up to 180 minutes on a single charge – making it perfect for even the largest homes.
Pros:
Can work efficiently even in large surface areas
Remove stains from coffee, milk, etc.
Fully-sensored
Cons:
The suction power could be higher to make this the ideal robot vacuum cleaner
https://www.lazada.sg/products/ready-stock-ecovacs-deebot-t9-robot-vacuum-cleaner-truedetect-3d-v20-mapping-app-1-year-local-warranty-i283948428.html
4. ILIFE V8 Plus
Best for pet owners
Looking for a nifty helper around the house? Check out the ILIFE V8 Plus Robotic Vacuum Cleaner! Whether your place is modest-sized or a mansion, this robot is up for the task. It comes with multiple cleaning modes and can even take care of those pesky pet hairs. Plus, it has a large dustbin capacity so you won't have to empty it as often.
And when it's time to recharge, this little appliance will do it automatically. No cords, no fuss! So go ahead and put your feet up – the ILIFE V8 Plus Robotic Vacuum Cleaner has got this.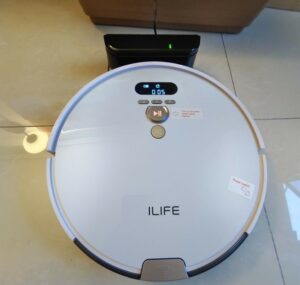 Pros:
No stuck pet hair with its unique nozzle
Smooth sweeping and mopping function
Affordable
Cons:
Auto-charge function could use a bit of improvement
5. Xiaomi Robot Vacuum Mop 2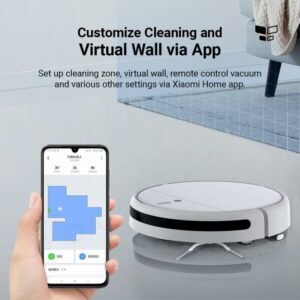 Best value for money
This little powerhouse can sweep and mop your floors with ease, and is perfect for both condos and offices. The built-in visual navigation system ensures that every corner of your home is clean, and the intelligent water tank means you'll never have to worry about slippery floors again. Best of all, the Xiaomi Robot Vacuum Mop 2 will automatically recharge itself and resume cleaning until the job is done.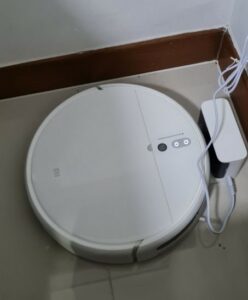 Pros:
Affordable but provides a lot of features
Smart control as with any Mi appliances
Cons:
You need to constantly update to get the most out of the product
6. Roborock Q7 Max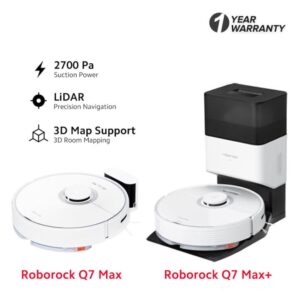 Customizable cleaning setting
Roborock Q7 Max features 4,200Pa of suction power, making it perfect for cleaning homes with pets or kids. Additionally, its 3D mapping navigation system ensures that it cleans every corner of your room with precision. And if you have hardwood floors, you'll appreciate the zoned mopping feature which prevents water from damaging your flooring.
Plus, the child safety lock is a great way to keep little ones from accidentally changing the settings. To top it all off, the Roborock Q7 Max is compatible with Amazon Alexa, Google Home and Siri, so you can control it using your voice.
Pros:
Suitable for large spaces, including offices
Can customize cleaning setting depending on room or surface area
Compatible with various AI assistants
Cons:
7. Dreame Z10 Pro
Large battery capacity
This top-of-the-line vacuum cleaner is equipped with Slam LDS Laser technology for the best route planning experiences, and 3D Line Laser Obstacles Avoidance Technology to reduce bumps and stuck. In addition, the upgraded Lidar System measure precise surrounding area and rebuild maps in real-time, stored up to 3 floorplans. The high-precision 3D scanners also measure precise distance to detect, recognize and move along the edges/ cross over multiple surfaces and avoid falling off.
And if that wasn't enough, you can also connect with APP to support schedule management, and recognize zone clean and virtual No-Go Zone. Plus, the large vacuum dust bag can hold 10X of its original dust tank – enough to work up to 65 days at one time!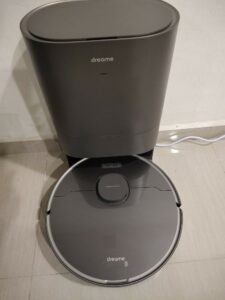 Pros:
One of the most advanced technology for robot cleaners
With 3D scanners
Can work continuously for more than an hour
Cons:
Customer service is quite a struggle in Singapore. Make sure to keep track of warranty coverage
8. Midea Black Robotic Vacuum Cleaner
Budget-friendly
Just sit back and relax while this powerful little machine whizzes around your home, cleaning up dirt, dust and debris with ease.
Featuring advanced laser technology scanning and an electronically controlled water tank, the Midea Black Robotic Vacuum Cleaner is perfect for keeping your floors spick and span. It also comes with an infrared sensor to avoid obstacles, plus a powerful suction function that gives you a thorough clean every time.
Pros:
You get all the modern features for less than RM500
Customizable cleaning setting
Long operating time – up to 150 mins
Cons:
Can be a bit of a struggle to figure out its other cleaning settings
9. Dreame L10S Ultra Robot Vacuum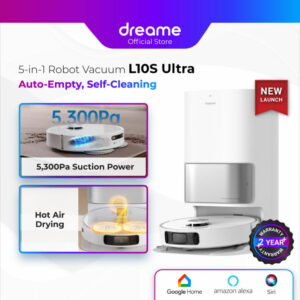 Best voice control
The Dreame L10S Ultra Robot Vacuum is perfect for keeping your floors clean with minimal effort. This top-of-the-line vacuum features 5,300Pa suction, automatic carpet detection, and suction boost to make short work of dirt, dust, and debris. Plus, the included mops are cleaned and dried automatically, so you don't have to lift a finger.
And when the dustbin is full, simply empty it with the push of a button. Whether you have hardwood floors, carpets, or tile, the Dreame L10S Ultra Robot Vacuum can handle it all.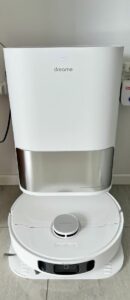 Pros:
Fast operation with strong suction power
Compatible with almost any AI assistant through voice control
Can easily clean all sorts of surfaces
Cons:
One of the most expensive robot vacuum cleaners
10. Eufy RoboVac G10 Hybrid
Best for apartments
This powerful little machine not only sweeps and dry mops your floors, but can also be controlled by voice or phone using the EufyHome app. Plus, with 2000Pa of suction power, the G10 Hybrid will leave your floors looking spotless. And at just 2.85 inches tall, it can easily slip under furniture and into tight spaces.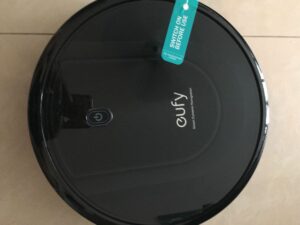 Pros:
Great robot vacuum cleaner for small spaces
Smart control available
Decent suction power
Cons:
Can only be used on hard surfaces
Advantages of Robot Vacuum Cleaner
Robot vacuum cleaners offer a number of advantages over traditional vacuum cleaners. First, they are much more efficient at cleaning floors, thanks to their advanced sensors and navigation systems. They can cover a larger area in a shorter amount of time and are less likely to miss spots. Second, robot vacuum cleaners are much easier to use than traditional vacuums.
Most models can be controlled with a smartphone app, so you can start and stop the cleaning cycle without having to be home. Finally, robot vacuum cleaners are much less disruptive than traditional vacuums. They clean quietly and won't disturb your family or pets while they're working. For all these reasons, robot vacuum cleaners are the preferred choice for many homes and businesses.
Best Brands of Robot Vacuum Cleaner in Singapore
Here are the leading brands of robotic vacuum cleaners that you can trust:
Xiaomi
Xiaomi is a Chinese electronics manufacturer best known for producing robot vacuum cleaners and other home appliances. The company was founded in 2010, and has since become one of the leading names in the appliance industry. Xiaomi products are known for their quality, durability, and innovative design.
Roborock
Roborock is a Chinese company that manufactures robot vacuum cleaners. The company was founded in 2014 by Chinese entrepreneur Tony Xia. Roborock's products are available in China, the United States, Canada, Europe, and Australia. Roborock's products are designed to clean carpets, hardwood floors, and tile floors. The company's flagship product is the Roborock S6 robot vacuum cleaner, which was launched in 2016.
Ecovacs
Ecovacs is a leading robot vacuum cleaner brand that is known for its innovative and cost-effective products. The company has a wide range of vacuum cleaners that are designed to meet the needs of different customers. Ecovacs vacuum cleaners are available in various sizes, designs, and colors to suit the preferences of different users.
Conclusion
In conclusion, the ECOVACS DEEBOT N8 Pro and Xiaomi Robot Vacuum Mop 2 are both great robotic vacuum cleaners for use in Singapore. The ECOVACS DEEBOT N8 Pro is a powerful machine that can clean carpets and hard floors equally well. It also features intelligent navigation, so it can clean your home effectively and efficiently.
The Xiaomi Robot Vacuum Mop 2 is a more affordable option that is still very effective at cleaning floors. It can also mop your floors, so it's a great choice if you're looking for a 2-in-1 machine. Ultimately, both of these vacuum cleaners along with the other products on the list would be great choices for anyone looking for a good robotic vacuum cleaner in Singapore.