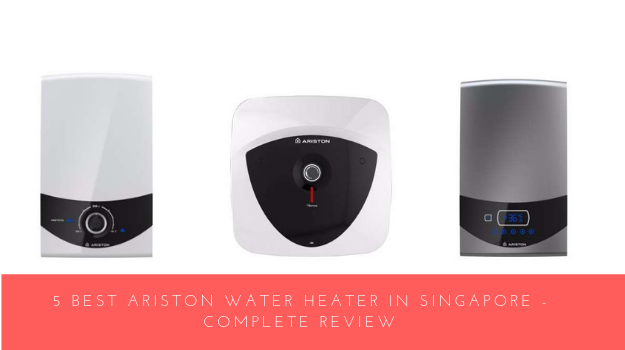 Ariston has been one of the pleasantly surprising brands that we encountered in our search for the best water heaters in Singapore. This Italian brand does not only offer durability, but they also invested in its water heating technology. This is also probably one of the reasons why the brand has remained to be popular here in Singapore, for residential and commercial properties alike.
While most if not all Ariston products are guaranteed to be of high quality, here are 5 Ariston water heater models that we particularly liked, especially in terms of functions and practicality.
1. Ariston SMC33 Aures Smart Instant Water Heater
We certainly love the sleek designs of Ariston water heaters. It has relatively good temperature control for a more comfortable shower experience.
Other Features:
Multiple Spray Options Showerhead
Anti-Scalding System 2.0
Push knob for an easy switch
Energy-efficient
This Ariston water heater is one of the easiest to use heater/shower in the market today, perfect for family use.
Buy this Aures Smart heater here.
2. Ariston Andris Lux 30L Electric Storage Water Heater
A lot of features come in this small package of the storage water heater. You are guaranteed of premium technology that runs behind this water heater.
Check out these features below:
Pressure and corrosion resistance
Titanium-enamel tank
Max Working temperature of 78°C
1500 watts power
Ariston delivers one of the most trusted and long-laster water heaters in the market. You will definitely get what you pay for with this storage water heater that provides a safe and comfortable shower experience, with less maintenance.
Get the best price for Ariston water heater here.
3. Ariston Andris Slim 20L Storage Water Heater
Here's for a smaller household but with lots of space to spare. Enjoy good water pressure and temperature consistency with this little tank water heater perfect for occasional heating needs.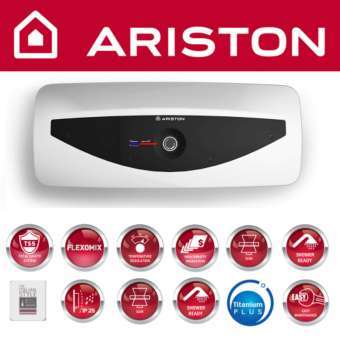 Other Features:
Pressure and corrosion resistance
Titanium-enamel tank
Max Working temperature of 80°C
Energy-saving
This water heater also comes with user-friendly and straightforward controls. It heats up in a matter of seconds, so it works for those who live a fast-paced lifestyle, as well.
Buy Andris Slim here today.
4. Ariston ST33 Aures Luxury Instant Water Heater
A more sophisticated version of the water heaters you have been used to. No need to worry about water burns because this heater is guaranteed to provide you with constant and regulated water flow and temperature.
Other features:
Water Proofing Casing (IP 25)
Voltage: 230 V
Min. Water Flow: 2 Lit/Min
Corrosion-resistant
Ariston cares about its user's safety, and that is truly evident in their product's design and technology.
Buy this model here today.
5. Ariston Andris-15R Storage Water Heater
You can have this installed in your kitchen or bathroom conveniently. The casing is made from premium materials so you can be confident that this will span for 5 or more years with less maintenance.
Other features:
Multiple Spray Options Showerhead
Anti-Scalding System 2.0
Energy-efficient
Buy the Andris storage water heater here.
Should I Get an Ariston Water Heater?
Ariston has been around for more than 80 years have always been focused on thermal technologies. This is why it is also no surprise why the brand has been doing great in Asia, particularly in Singapore. Since it was founded in 1930, Ariston has evolved to be one of the leading companies in water heater technologies, ensuring consumer safety and comfort.
With this, if you are looking for a brand that you can trust when it comes to water heaters, then you are in great hands with Ariston. The little amount that you spend for their water heaters will easily go a long way with the excellent life span and energy-saving performance of most of their models.
Get these top recommended Ariston heaters for your home today
1 – Ariston SMC33 Aures Smart Instant Water Heater
2 – Ariston Andris Lux 30L Electric Storage Water Heater