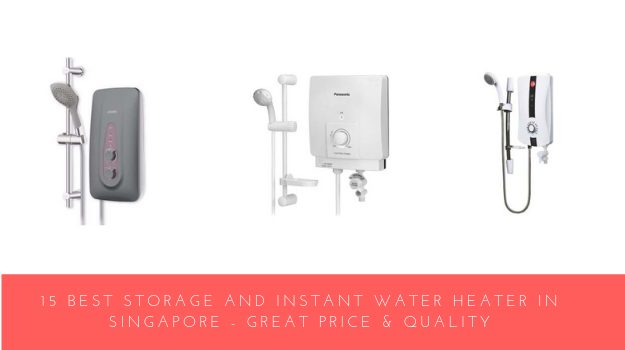 The water heater in Singapore is becoming a necessity than a luxury, especially with the humid and unpredictable weather. Fortunately, gone are the times when water heaters are so hard to find, with sky-high prices. A lot of great brands are now offering storage and tankless for every property type.
Here, we give you a comprehensive list of our recommended storage and instant water heater that is also getting popular around Singapore. These are also the water heaters that we think give every home great value for money, both in the short and long term.
Best Instant Water
1. Mistral Instant Water Heater – MSH303i 
A modern water heater that provides high-density insulation. Its latest technology also allows Mistral to be energy efficient so you do not need to worry about too much electricity expenses while using the heater daily.
Other features:
Anti Scald Device Safe & Reliable
5 years heating element warranty
Splash-proof IP25 standard
Mistral is a common name you'll find in most commercial properties, and it has truly lived up to its reputation throughout the years.
You can buy this Mistral Instant Water heater here.
2. Ariston Aures Smart Instant Water Heater – SMC33
We certainly love the sleek designs of Ariston water heaters. It has relatively good temperature control for a more comfortable shower experience.
Other Features:
Multiple Spray Options Showerhead
Anti-Scalding System 2.0
Push knob for an easy switch
Energy-efficient
This Ariston water heater is one of the easiest to use heater/shower in the market today, perfect for family use.
Buy this Aures Smart heater here.
3. Panasonic Instant Water Heater – DH-3DL2S
Packed with so many features, this Panasonic water heater could be your go-to water heater for long-term use. It's a heavy-duty model that comes with its own copper heater unit.
Other Features:
Built-in Earth Leakage Breaker
Insulated Structure
Auto Thermal Cut-off
Water splash-proof case
A definite value for money. The extra amount you pay for a Panasonic water heater will go a long way in terms of the extra features it offers.
This Panasonic Water Heater is available for online purchase here.
4. 707 – Alpine Instant Water Heater
A superior water heater that is built from premium materials. This is one of the leading models for high-quality 707 water heater in Singapore today.
Check out these features:
Chrome Shower Sliding Kit
5 shower head options
Copper water tank
Anti-scald protection
Temperature flow control
It's safe for family use (and even children), and since it is made from durable materials, you are guaranteed to last for years even with consistent use.
Are you looking for this reliable water heater? You can buy it here.
5. Champs City Electric Instant Water Heater
This proudly Singapore brand of water heater competes well with its international competitors. Champs has produced several water heater models that guarantee quality and convenient shower experience for the users.
Other features:
Anti-scalding
Tankless/Demand Type
Easy temperature control
Comes with free installation in SG
If you are looking for a no-fuss shower and heater for your home, Champ is a reliable companion. It comes with all the necessary features that you need for a refreshing bath.
Get Champs Instant Water heater here.
6. Joven SB11 Instant Water Heater
For your water heater needs, the SB11 instant water heater is the best choice for you. It is one of the most reliable products that is always trusted by businesses and individual consumers.
Things we love:
Durable, Safe and Hygenic Reinforced 3 Layer Flexi-Hose
Quarter Turn Ceramic SF Valve (Built-In Filter, Water Saving Volume Control and Stop Valve)
IP25 Splash Proof Protection
It is made from high-quality materials, making it one of the best Joven water heaters in the market today.
Get yourself this instant water heater here.
7. Mistral Instant Shower Heater – MSH708
Looking for a more sophisticated heater? Mistral offers you the MSH 708 model which now comes with a copper tank. The design is also sleek enough to match almost any bathroom interior.
Other features:
Splash Proof !P25 Standard
Anti-Scald Device
Full Copper Inner Tank
Sliding Shower set
We love every Mistral model that is being released. And this is clearly one of our favourites because of the easy installation and usage.
Get yours today here.
8. Rubine 1388B Bow Instant Heater
This water heater is powered by UK technology which guarantees a safe and standard heating mechanism for your shower. It also comes with a hand shower for more convenience.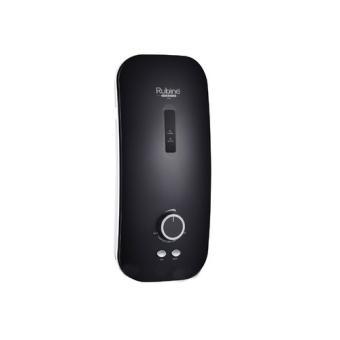 Other features:
3 in 1 stop, flow and filter valve
Splash-proof protection
Built-in auto water flow switch
Easy installation adjustable shower bracket
It is also easy to control the water pressure from this Rubine Heater, along with its water-saving function.
Purchase Rubine Bow Instant Heater here.
9. 707 – Kensington Electric Storage Water Heater
Need a larger tank for your huge household? You can count on this water heater to do the job and do it well. The brand has been around for three decades, so you can also be assured of their reliability in storage water heater technologies.
Other features:
Responsive with multiple features to suits everyone's needs
Top certifications in appliance safety
Flexible Installation
10 years tank warranty
707 has always been every Singapore home's partner in a comfortable and safe shower experience. And this tank is simply one of those that match the needs of a busy household.
Buy this water heater at a discounted price here.
10. Rheem RH388 Instant Water Heater
You will really get your money's worth with this leading Rheem Instant Water heater that ensures product durability and user's safety.
Other Features:
90° Regulated Stop Value
Electronic Temperature Control System
Flip-start flow switch
Anti-leak
Triple Safety System
Add more value to your house without hurting the pocket by installing Rheem Instant Water Heater. No need to worry about getting burnt due to too much heat from the shower. The temperature control system ensures a regulated water flow and temperature.
Buy Rheem Instant Water Header now.
11. Rubine – Instant heater RWH-73SE
One of the best features of this heater is its built-in leakage sensing device, which automatically stops water flow if leakage is detected.
Other features:
Stepless power selection
Nylon glass fibre (to prevent electric shock)
Dry heating prevention
Copper heating system
This is a special edition instant water heater that comes with four shower flow and an exclusive Rubine Fresco tap. Don't miss this combo, buy it here today.
Best Storage Water Heater:
12. Ariston Andris Lux 30L Electric Storage Water Heater
A lot of features come in this small package of a storage water heater. You are guaranteed of premium technology that runs behind this water heater.
Check out these features below:
Pressure and corrosion resistance
Titanium-enamel tank
Max Working temperature of 78°C
1500 watts power
Ariston delivers one of the most trusted and long-laster water heaters in the market. You will definitely get what you pay for with this storage water heater that delivers a safe and comfortable shower experience, with less maintenance.
Get the best price for Ariston water heater here.
13. Joven Water Storage Heater Horizontal Heat Elevator – JH25HE
This unit has innovative heat elevator technology, which makes it more energy efficient. It also means that you are saving more time when using this model.
Things we love:        
Saves Energy up to 20% with HE Technology
Triple Safety System (Pressure Relief and Drain Valve, Thermostat Safety Cut-Out and Thermal Cut-Off)
CFC Free High-Density Polyurethane Foam for Maximum Insulation
This model can carry 25 litres, which is sufficient enough for the needs of the households. This is particularly great for those who have a large family so that you can have a comfortable shower experience with this larger and more robust water heater.
You can buy this here today.
14. Rheem Vertical Storage Heater – 23L – 85VP6S
This is ideal for single-point applications, given the relatively limited water tank capacity. We also love the easy installation process for this heater.
Other features:
23-liter tank capacity
2000 watt heating element
Space efficient vertical design
3 year warranty for tank parts
The vertical and space-saving design of this Rheem storage heater makes it ideal for smaller space in the house, including the bathroom and kitchen.
This is available for online purchase here.
15. Champs A30PRO 30L Electric Storage Water Heater
Champs never fails to deliver when it comes to electric heaters. This model specifically is meant to last and ensure the best shower experience for every owner.
Here's why:
Sapphire enamel coated tank, anti-corrosion
Precise Temperature Selector
Stainless steel element
Energy-saving
This is worth your investment. Not only does it enhance the value of your house, but it also has a good return on investment, especially in your energy savings and its long life span.
Get your own Champs Storage Water Heater here.
Should I get an Instant or Storage Water Heater?
If this is your first time to buy and install a water heater, then you may encounter these two options and will have to try and weigh in the two. Choosing between instant or storage water heater will really boil down on your lifestyle and how you intend to use the water heater.
Here are the key considerations to have before choosing between the two:
Temperature Consistency: If you leave a fast-paced lifestyle and require consistent hot shower for your daily activities, then STORAGE water heater should give you the consistency you need.
Pressure and flow: This varies for every person. Some people want low pressure for showering, and the instant water heater is the best option. For those who require higher water pressure, storage water can deliver the job.
Space: Most Singaporean homes go for instant or tankless water heater because they do not only look good aesthetically; they also require way less space for installation. The storage water heater is more appropriate for a large household with heavy usage for hot water.
Our Recommendation
Here are our final verdict and recommendations for water heaters in Singapore:
1 – Ariston Andris Lux 30L Electric Storage Water Heater
2 – Joven Water Storage Heater Horizontal Heat Elevator – JH25HE
3 – Rheem Vertical Storage Heater – 23L – 85VP6S
4 – Champs A30PRO 30L Electric Storage Water Heater
Buy them at a discounted rate today. Most offer also come with free installation services.