Last Updated on
In a country where the heat and humidity are constant, taking a refreshing shower is one of life's simple pleasures. And thanks to advancements in technology, we can now take that experience to the next level with modern water heaters.
However, with so many options available out there, it can be challenging to figure out which ones are worth your investment. That's why we've compiled a list of the nine best storage and instant water heaters in Singapore for 2023 based on features, prices, and quality.
In this blog post, we'll also explore some essential factors you should consider when choosing a water heater and provide useful tips for making an informed purchase decision based on your specific requirements. So buckle up and get ready to dive into our comprehensive guide!
Table of Contents
Best Water Heater Quick Comparison Table

Instant vs. Storage Water Heater
Best Water Heater Brands in Singapore
Quick Comparison Table
(scroll right for more)

9 Best Water Heaters in Singapore
1. Rheem EHG Storage Heater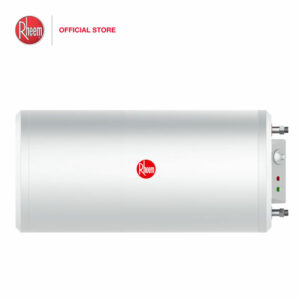 For large families
Secure a hot shower any time of day or night with the Rheem EHG Storage Heater. This ingenious electric storage water heater is designed with your convenience in mind, featuring universal connections that mean it can be mounted anywhere you need it to be. It's designed for maximum versatility so that it can mount on your right, left, ceiling or ground, giving you greater freedom of choice. For added convenience, there's also an easy install feature thanks to a universal bracket and mount that includes. And the service panel can be installed on either the left or right side for easy access during regular maintenance and servicing. It's no wonder why Rheem's EHG Classic Electric Storage Water Heaters are one of the most popular choices in Singapore!
Not only does this storage water heater make hot showers only a button away but it offers added comfort with maximum flexibility. Get your own Rheem EHG Storage Heater today, and live life at its hottest!
Pros:
Ideal design for tropical countries like Singapore
Easy to install even in small bathroom designs
Works well with HBDs as well
Cons:
Expensive and quite complicated to install
2. Ariston Storage Heater Andris2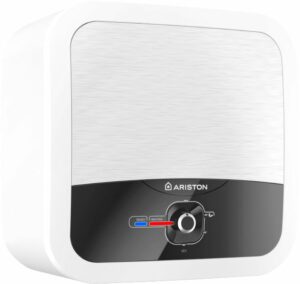 Auto-Diagnosis Function
This top-of-the-line product features a number of innovative features that make it the perfect choice for your home heating needs.
The Andris2 RS features an auto-diagnosis function that uses a microprocessor to continuously check all product parameters. This ensures that your heater is always operating at peak efficiency. Additionally, the titanium heating element provides superior heating performance during the entire lifespan of the product.
The LED display with electronic temperature control makes it easy to monitor and adjust the temperature as needed. Plus, the scalding prevention indicator protects against accidental burns. And if you need hot water for showering, the Andris2 RS is ready with its shower-friendly indicator.
Pros:
High-quality material for zero corrosion and leaks
Accessible customer support both in Singapore and globally
Easy maintenance with Andris RS 2 update
Cons:
One of the priciest choices in the market
3. Trentios T1 Zenith IntelliHeat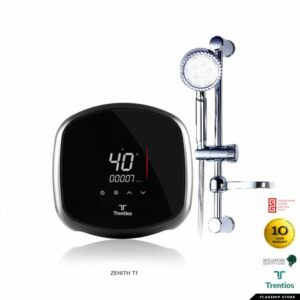 Smart technology
Say goodbye to cold showers and experience the power of instant heating with Trentios' cutting-edge T1 Zenith IntelliHeat Smart Instant Water Heater. Our intelligent thermostat controls maintain a constant water temperature as desired, so you can enjoy a comfortable shower every time. Plus, no need to worry about a skyrocketing electricity bill thanks to our energy-saving circuitry which helps conserve electricity.
The included interactive touchscreen interface is easy to use, making it simple for anyone to change settings or monitor usage details. You can check the current water temperature or toggle between live reports of your electricity consumption, set up a time limit for each shower and even set a limiter on how much water you use per day, so you know exactly how much energy is being used. With high safety standards in place and a longer lifespan than traditional water heaters, this game-changing appliance may just be too good to pass up. Get ready to revolutionize your shower experience today with Trentios' T1 Zenith IntelliHeat Smart Instant Water Heater!
Pros:
One of the first few smart shower/water heaters on the market
Compact, touch-screen design
Works best for both residential and commercial use
Cons:
Expensive and some features may not work well for basic bathroom requirements
4. Joven EC757 Instant Heater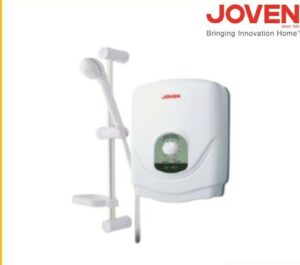 Best value for money
The EC757 Joven Instant Heater is here to revolutionize your shower experience! With a built-in surge protector and thermostat with a safety cut-out, you can rest assured that your safety and comfort are a top priority. And to make sure you're getting the best shower experience possible, the auto flow sensor switch automatically adjusts the water pressure according to your needs. The 5-spray pattern hand shower also allows for a variety of showering choices for maximum versatility.
To top it off, all heaters come with a 5-year heating element warranty, giving you peace of mind when using the EC757 on domestic premises. Thanks to its splash-proof casing IP25 ratings, this innovative instant heater is suitable for use in any bathroom – so get ready to take your showers up a notch with the Joven EC757 Instant Heater!
Pros:
Easy to install and operate
Affordable without compromising basic features
Shower spray options
Cons:
The manual temperature setting can be quite a hassle for some
5. Cornell CIS-E7330S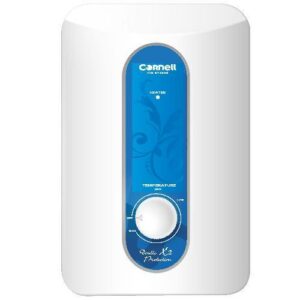 Works for low-pressure areas
Introducing the Cornell CIS-E7330S – the perfect 3-in-1 stop, flow, and filter valve that provides efficient, reliable performance in your home or office. With a stylish 5 spray patterns hand shower and an internal lightning surge protector (ELCB), you can rest assured that the Cornell CIS-E7330S will keep you safe from power surges, as well as give you a pleasant showering experience every time.
Built for high and low water pressure environments it remains easy to install with its state-of-the-art design. Providing splash-proof protection up to an IP25 rating, you can trust that your bathroom setup is safe from any accident or external intruder. To top it off you get a built-in earth indicator to inform you when something's wrong or if something needs attention. Get the Cornell CIS-E72300S today and give your bathrooms an upgrade like none before!
Pros:
Works well with both low and high-pressure places
Basic operation, easy to clean and maintain
Packed with safety features
Cons:
Limited water capacity and flow rate.
6. Europace Instant Water Heater
Budget-friendly
Making sure you have a comfortable and relaxing shower at the end of a long day is important, and with the Europace Instant Water Heater, you can have just that. This water heater is made in Malaysia and is budget-friendly, so you can enjoy a luxurious shower without breaking the bank.
It features a 1/2" BSP Single Point System, copper heating element, 5 spray patterns, and an anti-scalding design for your safety. Plus, the splash-proof protection ensures that you won't have to worry about any accidental water damage. The white shower set it comes with is also a nice touch that will complement any bathroom décor.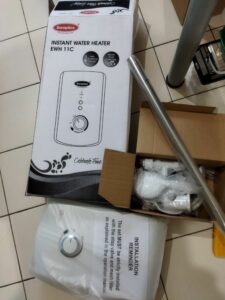 Pros:
One of the most affordable water heaters
Durable and for its price
Get heated water within seconds
Cons:
Limited designs to choose from
7. Bennington C600 Multipoint
Energy Saving
Say goodbye to waiting around for your hot water! The Bennington C600 MultiPoint Water Heater provides instant, almost magical hot water, so you never have to wait again. You'll also reduce your energy bill by up to 30%, and with its low installation and removal costs, you save time and money. Talk about a win-win situation!
You don't even need to worry about costly renovation – the C600 uses existing cold and hot piping, making installation hassle-free. Plus, it's perfect for replacing storage heaters and gas heaters – enjoy all the benefits of modern technology at a fraction of the cost. So why wait? Get the Bennington C600 today and make every bath, shower, and sink feel like a luxury spa experience instantly!
Pros:
The best upgrade for those with existing storage water heaters
Fast heating but easy on your electricity costs
Can be installed in almost all types of properties
Cons:
Quite expensive and initial installation may require a professional plumber
8. 707 Compact Instant Heater
Space Saving
Looking for a water heater that won't break the bank without breaking your expectations? Look no further than the 707 Compact Instant Heater! Boasting a copper-class tank and other top-notch features, you can trust this little powerhouse to heat up in a snap while keeping you safe.
Not only does the 707 come with pressure relief devices, anti-scald protection, and splash proofing — it also has a warning indicator to alert you when it starts getting too hot. The temperature flow control ensures that your safety is their top priority, so you can have total confidence in this water heater's performance. Plus, its small size makes it ideal for tight spaces and tighter budgets.
So if you're looking for an efficient and reliable water heater solution for small residential or commercial spaces, then check out the 707 Compact Instant Heater — powerful enough to do the job right, yet small enough to fit any budget.
Pros:
Does not take too much space in your bathroom
Provides multiple layers of protection from scalding and other accidents
Instant heated water with massage shower head
Cons:
9. Toshiba DSK33ES5SB Instant Heater
Looking for the perfect water heater for your home? Look no further than the Toshiba DSK33ES5SB Instant Heater! This stylish black model provides five different spray patterns, giving you ultimate control over every aspect of your shower experience. And with its built-in auto-test, line fault indicator, NTC thermal cut-out, and an auto flow sensor, it is designed to be both efficient and safe.
This heater has a double copper heating element that will heat up quickly, ensuring you always have hot running water whenever you need it. The stepless electronic temperature control means you can adjust the temperature to exactly the way you like it. With a splashproof IP25 standard rating, this heater is built to last for years to come – perfect for any modern home bathroom set up. So don't wait another minute; get the sleek and reliable Toshiba DSK33ES5SB Instant Heater today!
Pros:
A durable and trusted brand in water heater technology
Easy to adjust temperature
5 spray pattern
Cons:
Low flow rate than most similar products within the same price range
Storage Water Heater vs. Instant Water Heater
Storage water heaters are the most common type, and they work by heating water in a tank and then keeping it hot until it's needed. Instant water heaters, on the other hand, heat water on demand. So, which type is right for you?
There are a few factors to consider when making your decision. First, think about how much hot water you use on a daily basis. If you only need a small amount, an instant water heater might be a better option since you won't have to waste energy keeping a full tank of hot water warmed up. However, if you have a large family or use a lot of hot water for tasks like washing dishes or laundry, a storage water heater will likely be a better choice since it can provide a larger supply of hot water.
Another important factor to consider is cost. Storage water heaters tend to be less expensive upfront than instant models. However, instant water heaters often offer lower operating costs since they aren't wasting energy keeping a tank of hot water warm. Ultimately, the best way to decide which type of water heater is right for you is to consult with a qualified professional who can help you assess your needs and choose the best option for your home.
Best Water Heater Brands in Singapore
Knowing the trusted brands of water heater will make your search a lot easier and faster. Here are our top pick brands of water heaters in Singapore.
Ariston
With a focus on quality and innovation, Ariston water heaters are a trusted choice for homeowners and businesses alike. Ariston water heaters are equipped with features like self-diagnostics, self-cleaning, and freeze protection to help ensure reliable operation.
Rheem
Rheem water heaters are some of the most reliable and affordable water heaters on the market. The company has been in business for over 100 years, and their water heaters are known for their durability and performance.
Joven
Joven water heater is a Singapore-based water heater brand that specialises in the production of high quality, energy-efficient water heaters. The company has a wide range of water heaters to suit different needs, and its products are available in both electric and gas models.
Conclusion
A water heater is a household appliance that is used to heat water for bathing, cooking, and other purposes. There are two types of water heaters: electric water heaters and gas water heaters. Electric water heaters are more expensive to operate than gas water heaters, but they are less expensive to purchase. Gas water heaters are less expensive to operate than electric water heaters, but they are more expensive to purchase. The best water heater for a household depends on the household's needs and budget.