Last Updated on
One of the best discoveries I've had in recent years of living alone is the mini or portable blender. This type of blender is actually popular in Singapore with people constantly on the go, but still wanting to feed themselves with healthy food.
I joined this 'trend' and went on to find my own personal blender that I can bring to work and travel.
What is a portable blender?
These are mini blenders that you can use with or without electricity. They fit like your usual water bottles, so it really easy to take them anywhere. Unlike the traditional smoothie blender, these do not come with a lot of accessories, except for extra BPA bottles where you can put your puree or smoothie.
Our Review for a top-rated portable blender Singapore choices
1. Odette Juice Blender Portable Blender 300W 2 Speed
Best quality blades
This is perfect for making fruit shakes and other cold drinks. Its 300W speed makes it safe to blend ice and other harsh ingredients finely.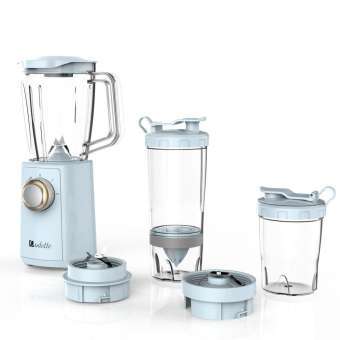 Specifications:
Hand reset function
Pulse feature for blender control
Removable juicer
Stainless steel blade
Why buy this:
It's an ode to your traditional blenders but comes in 550ml packaging only. The sports caps easily turn this into drinking bottle, as well.
Get this Odette Small blender here.
2. Philips Mini Blender – HR2874/01
Best for mess-free performance
Philips blender design is always neat and elegant, and this mini blender is hard to resist in terms of aesthetics and performance.
Specifications:
To-go bottle accessory
350W power
Blend and go, mess-free
Comes with its own mini-chopper
Why buy this:
It's easy and neat to use and is guaranteed safe with its break-resistant beaker. This is perfect for travellers, with the cooler bag keeping everything fresh.
Buy the Philips Mini Blender with cooler bag here.
3. Tefal Fruit Sensation Mini Blender (Glass Jug) w/ Herb Mill and Nut / Spice Mill BL142A)
Best in achieving different food texture
This blender was made with the health buffs in mind. This is meant to deal with all sorts of healthy ingredients. You can also have different textures for your food with its built-in grinder and shopper.
Specifications:
Compact and durable
Quick cleaning
2 Speed system
600 Ml glass jar
Dishwasher safe
Why buy this:
Durability is an advantage for this small blender. Its easy cleaning feature is also a bonus, especially for people who need to prepare their meal in a common pantry.
Get Tefal Fruit sensation mini blender from this shop today.
4. KENWOOD – MINI CHOPPER, CH580
Best for on-the-go lifestyle
"Health is wealth" that's the common mantra of individuals today. Whipping up a quick smoothie has been the more popular choice by many people nowadays. You can mix a variety of ingredients together to make one delicious and healthy snack that you can bring with you anywhere.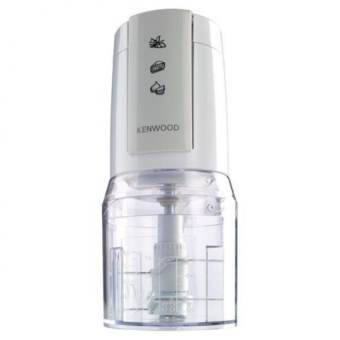 Specifications:
Two 500 ml mugs
Two-speed control
Pulse technology
400W power
Why buy this:
Making a breakfast smoothie is much easier when you have the Kenwood mini-chopper. Before you leave your house, you can just use this countertop blender place some fruits and vegetables in. It wouldn't take you 5 mins to make it, and you're on your way to work.
5. Cornell Portable Personal Blender 600ml, w/ 2 BPA Free Bottles
Best portable choice
This juice maker has all the features in a personal blender that you are looking for in terms of portability and safety. It's no wonder why it ended up to be one of the travellers' top choice.
Specifications:
Leakproof
Snap hook closure
Non-slip
200w, ideal for fruits, seeds, and vegetables
Why buy this:
We also couldn't recommend this portable blender enough. This was truly made with ease in mind. Its slim feature makes it stylish to bring anywhere.
Shop this online today.
How to Choose the Right Portable Blender?
Choosing whether to go portable or not is up to your lifestyle and needs. If you are truly looking for something that you can bring with you every day, then always pick those personal blenders with particular focus on weight and grip.
Here are my top choices for a portable, personal blender that are available online:
1 – Odette Juice Blender Portable Blender 300W 2 Speed
2 – Free Venes Cooler Bag with Philips Mini Blender – HR2874/01
FAQs
What are portable blenders?
Portable blenders are for people on the go, but still wants to eat something healthy. As it is easy to use and easier to store
What are popular blender brands? 👍
Some of the popular brands are Cornell, Kenwood, Tefal, Philips, and Odette
How much does a portable blender cost?
Depending on the brand and model, it usually ranges from 20-80 RM
This post was brought to you by Kimz House.
Disclaimer: The opinion is solely based on our testing or intensive research with customer feedback around the most popular shopping platform such as Shopee and Lazada. The products/services shown here are available and valid upon the publication date. It may change from time to time. Please email us at [email protected] if there is any discrepancy.