Last Updated on
One thing that can really help us feel like we have everything together has the ability to wear crisp ironed clothing. Whether that is for an important meeting or to go on a quick errand, there are always benefits to looking presentable. However, ironing is not always a chore people love to do.
That is why we really appreciate various home appliances that help to make all of our lives easier. A garment steamer or also called as clothes steamer is one of them.
Like so many other people, we got our start with home flat irons. Gradually, however, it became inefficient having to set it up and then take it down constantly. Then we found garment steams, and since that time there have been no returns to flat irons. A clothes steamer makes it really easy and convenient to avoid wrinkly clothes. Most garment steamers are lightweight and are handheld.
With the rise of garment steamers in the market, we have compiled the best garment steamer Singapore. Don't worry about convenience as all of the best garment steamers on this list.
Table of Contents
Steam Iron vs Garment Steamer
Top Garment Steamer Brands in Singapore
Conclusion
FAQs
Quick Comparison Table
(scroll right for more)
The following are our top options for Best Garment Steamer Singapore:
1. PHILIPS STH3000/26
Compact and Portable Steamer
The PHILIPS STH3000/26 Garment Steamer is an excellent choice for those looking for an easy and efficient way to steam their clothes. With features such as being ready to use in just 30 seconds, a continuous steam rate of up to 20g/min and a detachable water tank that holds up to 100ml, it enables you to get your garments perfectly pressed in no time. Moreover, its compact size makes it easy to store when not in use.
One of the most significant benefits of using this garment steamer is that you don't have to rely on an ironing board or other large pieces of furniture – fill the detachable water tank with tap water and start steaming! It also offers superior results to traditional methods such as flat pressing or hand steaming, ensuring all creases are eliminated quickly and effortlessly. Furthermore, regular use can help extend the life of delicate fabrics by preventing them from developing deep wrinkles.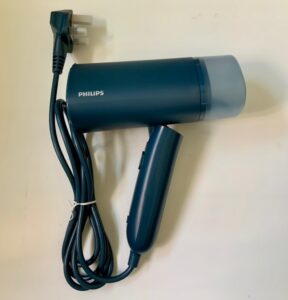 The PHILIPS STH3000/26 Garment Steamer is worth considering if you're looking for an easy way to press your garments with minimum effort and maximum efficiency! Try it today and experience the convenience for yourself.
Pros:
Easy to refill
Ready to use within 30 seconds
Detachable water tank
Portable, hence comfortable for travel
Cons:
Needs to refill more often
2. Tefal Pro Style Care IT8460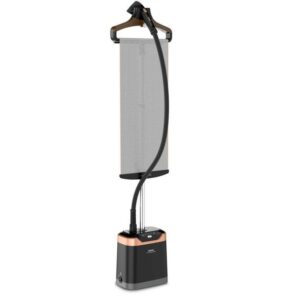 Fast Heating
The Tefal Pro Style Care IT8460 Garment Steamer is a must-have for anyone looking to quickly and easily steam their clothes at home. With its exclusive press and steam technology, you can get the perfect finish with minimal effort; it takes 45 seconds for this steamer to heat up! Not only that, but the adjustable steam output settings allow you to customize your steaming experience from light to heavy duty as needed. Additionally, this garment steamer comes with an extra large delta head which enables you to precisely navigate tricky areas of clothing such as hems or pleats.
This Garment Steamer has a built-in safety mechanism that automatically shuts off if the water tank runs empty. So there's no need to worry about overheating or any other accidents! Not only does this feature ensure your safety while using the appliance, but it also enhances its efficiency and helps prevent wear and tear on the product itself over time. All in all, this garment steamer offers excellent convenience while delivering professional results without breaking a sweat!
If you like having a neat wardrobe but need more time for traditional ironing methods, look no further than the T-fal Pro Style Care IT8460 Garment Steamer! This appliance makes it easy breezy to tackle your weekly laundry routine – whether it's lightly refreshing garments between dry cleanings or giving them some extra crispness before special occasions – making sure you always look great without spending hours in front of your ironing board! So don't wait any longer; order yours today and enjoy an excellent performance at home with little effort required!
Pros:
5 steam output settings
Extra Large high precision delta head
4 steam levels, safe for all fabrics
Cons:
3. Xiaomi Zajia GT-301W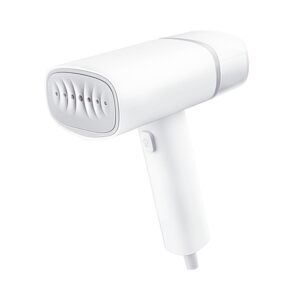 Three-Layer Security Protection
The Xiaomi Zajia GT-301W Garment Steamer is a great way to quickly and safely refresh your clothing. The fast-heating technology allows you to get started in just 40 seconds, perfect for when you're in a rush. You also have three steam levels at your disposal, so whether delicate fabrics or heavy-duty items need steaming, the GT-301W can take care of it. Besides speed, portability is another highlight of this steamer. It only weighs 1 kg making it very comfortable as a handheld steamer and takes up very little space thanks to its small size, it's portable, making it an ideal travel companion or great for storing away neatly when not in use.
On top of that, the 180ml water tank capacity ensures continuous steaming with no interruptions during long sessions. The handy safety shut-off feature prevents any damage from occurring if the unit overheats or runs out of water, giving you peace of mind when using this device. All these features ensure you receive excellent results on all sorts of fabric types without worrying about damaging them with excessive heat – providing your clothes always look their best!
If you're looking for an efficient clothes steamer that won't break into pieces after one use, then hopefully this Xiaomi garment steamer review helps! With its fast heating technology and many other features designed specifically for convenience and maximum protection against wear and tear – there isn't any other product on the market better suited for getting those wrinkles out!
Pros:
Smart Steam Heating
Secondary Heating Panel
High-pressure and high-temperature steam
Cons:
4. PowerPac PPIN617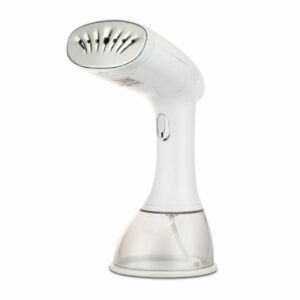 Automatic Continuous Steam
PowerPac PPIN617 Garment Steamer is ideal for a fast, reliable, efficient garment steamer. With its quick start-up time of 38 seconds, you can get your first clothing piece ready in no time. The continuous steam rate of up to 25g/min ensures that each item will be perfectly straightened with no creases or wrinkles left behind. Additionally, the built-in automatic steam feature makes it incredibly easy to use, as all you have to do is tap the button and let it handle the rest effortlessly.
This steamer also has a great 15-minute run time, allowing you to efficiently steam many garments in one go without restarting it after every few pieces. But what sets this garment steamer apart from many others is its ability to flawlessly smooth out even delicate fabrics like curtains, drapes and upholstery without fear of scorching them or leaving any marks behind due to overheating.
Overall, the PowerPac PPIN617 Garment Steamer may be what you need to ensure all your clothes are wrinkle-free before their next outing! So why don't you try this product today and see how much easier life can be with such advanced technology?
Pros:
3 steam setting
Detachable water tank for easier filling
Suitable on delicate fabrics
Cons:
5. Philips Steam&Go GC362/86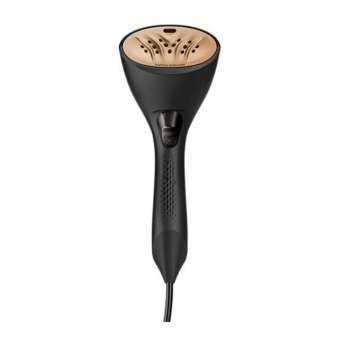 Best ergonomic design
Philips Steam&Go GC362/86 Garment Steamer is a great way to get professional-looking clothes at home without the hassle and cost of going to the dry cleaners. It features continuous steam for up to 30 minutes, so you can easily take care of multiple items in one go. Additionally, its Smartflow Heated Plate ensures even steam distribution throughout your fabric. This steamer comes with a brush accessory specially designed for thicker materials like suits and jeans.
We especially love that it has horizontal and vertical steaming capabilities so that you can use it on any item of clothing in your closet—from tops and skirts to dresses and coats! With this garment steamer, you can also take advantage of its portability as it's lightweight enough to be carried around or stored easily whenever needed.
In conclusion, if you're looking for an easy-to-use and comfortable handheld, yet powerful garment steamer that will quickly give your clothes the professional look without breaking the bank, then Philips Steam&Go GC362/86 is an excellent choice! So what are you waiting for? Give yourself the gift of professional attire from the comfort of your own home – try out Philips Steam&Go today!
Pros:
Continuous steam
Smartflow Heated Plate to provide even steam distribution
Horizontal and vertical steaming
Cons:
6. Cornell CGS-EL238H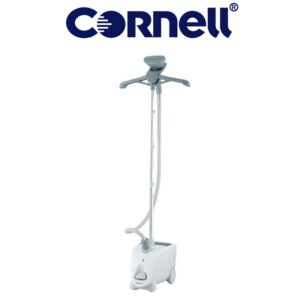 Big Steam Output
The Cornell CGS-EL238H Garment Steamer is exceptional and produces professional results quickly and efficiently. The adjustable hanger allows easy adjustment to suit different heights, meaning no more stooping over or bending down to get the perfect fit on your clothes. With a 3-litre water tank capacity, you can steam more significant amounts of clothing in one go, saving time and energy. The high-pressure output of up to 25-30gm/min makes it super fast compared to other garment steamers, which makes the process much more efficient when needed in a hurry!
Furthermore, this steamer has been designed with convenience in mind. Its compact design and foldable hanger make storage incredibly easy while still enjoying its portability, so you can take it anywhere hassle-free! Now with the continuous refill function, you can even enjoy prolonged steaming sessions without constantly stopping and topping up the water levels every few minutes – fuss-entirely free!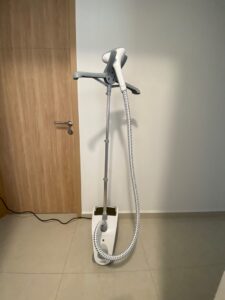 If convenient quality performance is what you're looking for, look no further than Cornell's CGS-EL238H Garment Steamer – available now at unbeatable prices! Unmatched performance from heavy-duty fabrics such as denim or wool through light, delicate fabrics like silk are guaranteed every time – don't wait any longer and experience effortless results today!
Pros:
Big steam output 25-30gm/min
Foldable hanger for space saving
All in one build
Cons:
7. Tefal IT3440 Prostyle
Best Premium Choice
When it comes to clothes steaming, the Tefal IT3440 Prostyle Garment Steamer is a great choice. It offers adjustable steam output settings, which allows you to tailor the amount of steam according to your needs. The large capacity water tank on this garment steamer gives up to 40 minutes of continuous use and can be refilled quickly and conveniently when needed. In addition, this unit heats up within 45 seconds so that you can start your steaming process in no time!
The metal head on the Tefal IT3440 provides additional coverage for oversized garments like dresses and coats, ensuring that all the wrinkles are eliminated quickly. Moreover, this professional-grade clothing steamer boasts an ergonomic handle, making carrying it around easy and comfortable even when full of water. Not only does it help ensure ease of transport, but it also ensures a secure grip while using it too
If you're looking for an efficient garment steamer with many features, look no further than the Tefal IT3440 Prostyle Garment Steamer. With its long-lasting performance, convenient design, and adjustable settings – this device is sure to provide excellent results every time! After reading this Tefal (T-fal) garment steamer review, what else are you waiting for? Get yours today and start looking fashionably put together in no time!
Pros:
Big meal steamer head for additional coverage
Easy to refill the water tank
Heats up within 45 seconds
Cons:
8. Aerogaz AZ-206GS
Best for regular use
The Aerogaz AZ-206GS Garment Steamer is an excellent product for anyone looking to quickly and efficiently get wrinkles out of clothing. It features a one-litre capacity water tank, allowing for up to forty minutes of continuous use with no refilling necessary. The compact and lightweight design makes it easy to store, while its quick heating time – just 45 seconds – means you don't have to wait too long before you can start steaming!
Not only that but safety was also taken into account when designing this garment steamer. It comes equipped with auto-off and overheat protection measures in case the water tank runs dry, plus a fabric brush which makes it great for use on curtains or other delicate fabrics. So whether you want perfectly crisp shirts every day or rumpled bed skirts made smooth again after guests leave, Aerogaz has covered you!
We highly recommend purchasing the Aerogaz AZ-206GS Garment Steamer if you need something fast and efficient for de-wrinkling garments of all types. Enjoy wrinkle-free clothing from now on with the help of this handy little device – so why not pick yours up today?
Pros:
Auto-off and overheat protection in the event the water tank is empty
Comes with a fabric brush
Heats up within 45 seconds
Cons:
9. Philips ComfortTouch Plus GC552/46
Extra-long StyleBoard
Philips ComfortTouch Plus GC552/46 Garment Steamer is an excellent choice for keeping clothes looking sharp and free of wrinkles. The powerful continuous steam ensures quick wrinkle removal, while the extra-long StyleBoard provides bottom-to-top steaming capabilities. The fabric brush works great on thick garments, giving a high-quality finish. Refilling the water tank is easy with this garment steamer – perfect for busy lifestyles!
This Philips garment steamer has some additional features that make it one of my favourites; the adjustable pole allows me to adjust its height to match whatever you are wearing, so you don't have to bend over or reach up in uncomfortable positions while using it. Another great feature is the wrinkle release button which helps save time as you no longer need to press and hold down any buttons while ironing out stubborn creases.
Pros:
Refillable water tank
Comes with an adjustable pole
Faster steaming, larger steam plate
Cons:
10. Haier GW2502B
Lightweight
Haier's GW2502B iron is the perfect tool for a quick and easy ironing experience. With its three-dimensional design and comfortable grip, it's easy to use and provides a consistent temperature, making sure your clothes are well-protected from high temperatures. With its nano-soft plastic and seven hole design, it's also great for protecting delicate fabrics.
Pros:
Lightweight and easy to use
High-pressure steam for quick results
The compact design is great for storage and travel
Nano-soft plastic provides a protective layer for delicate fabrics
Cons:
Steam Iron vs Garment Steamer
When we made the decision to stop using a flat iron, these were our two top picks. So we weighed the pros and cons of both of them. Compared to the regular flat iron, the steam iron is definitely much safer. It provides clothes with the same crispness and offers an outfit with great creases. It is also much lighter and easier to use.
However, it basically has the same setup process as the flat iron. It needs a bigger space and an ironing board, which we don't have currently. However, it does reduce wrinkles quickly and has an easy setup. Clothing can be steamed while hung up, so less space is required. The only disadvantage that it has is it will be more difficult to create a crease when just a garment steamer is used.
Top Garment Steamer Brands in Singapore
Philips
Philips is a company that not only manufactures clothes steamers, but also produces appliances for consumers. They are among the best-known companies in garment care and have one of largest irons producers worldwide!
Xiaomi
Xiaomi is continuing to diversify its product range with the introduction of smart home appliances. This marks another attempt by them in an already expanding market, which could be good news for customers who are looking forward towards future innovations from this innovative company!
Conclusion
Garment steamers are a great way to get rid of wrinkles and they have many benefits over traditional flat irons. For one, you don't need to set up a garment steamer like you do with a flat iron. You just need an outlet, which means you can take it with you wherever you go. Additionally, garment steamers don't damage fabrics the way that hot irons can. If you have any delicate fabrics in your wardrobe, using a garment steamer is the best way to avoid ruining them. Finally, garment steamers are much faster than flat irons. A few minutes with a garment steamer and all of your wrinkles will disappear- no more fighting with stubborn fabric!
FAQs
What are the top garment steamer brands in Singapore? 🇸🇬
Among the top brands of garment steamers in Singapore are Philips, Xiaomi, Tefal, and Aerogaz.
What is the difference between steam iron and garment steamer? 👍
Steam iron is better used to achieves crisp clothes, especially those with creases. On the other a garment steam is the is used to eliminate wrinkles quickly. Steam iron requires more space than a garment steamer. The latter allows you to steam clothes vertically.
What should I look for in a garment steamer? 🧐
Some of the important features of a garment steamer are: fast heating, large water capacity for longer use, different steam settings, as well as overheat protection.
How much are garment steamers in Singapore?💵
Depending on the brand and the number of features, a garment steamer in Singapore can cost 60-100 SGD.
This post was brought to you by Kimz House.
Disclaimer: The opinion is solely based on our testing or intensive research with customer feedback around the most popular shopping platform such as Shopee and Lazada. The products/services shown here are available and valid upon the publication date. It may change from time to time. Please email us at [email protected] if there is any discrepancy.