Last Updated on

There's nothing worse than trying to iron a wrinkled shirt and your old iron just can't get the job done. If you're in the market for a new steam iron, check out our list of the 9 best steam irons in Singapore. We've included both budget-friendly and high-end options so you can find the perfect iron for your needs. Happy shopping!
Table of Contents
9 Best Steam Iron Quick Comparison Table

What to look for in a Steam Iron
Best Brands of Steam Iron in Singapore
Quick Comparison Table
(scroll right for more)
9 Best Steam Irons in Singapore
1. PHILIPS 5000 Series Steam iron – DST5030/26
Quick heating
Looking for an iron that heats up quickly and gets the job done? The PHILIPS 5000 Series Steam iron is perfect for you. With a 2400 W heating element, it'll be up to temperature in no time. And the SteamGlide Plus soleplate provides excellent glide, making ironing a breeze. Plus, the built-in calc-clean slider ensures long-lasting steam performance. For those stubborn creases, the 180 g steam boost will blast them away. And the cord is tested for maximum durability and safety. When you're done, just pack it away until next time – it's that easy!
Pros:
Great value for money
Fast heating, can handle stubborn creases on most clothing
With sole plate for more excellent glide.
Cons:
It feels a bit heavier than other steam iron
2. Matsusho Mini Travel Steam Iron MAT-SI420DVP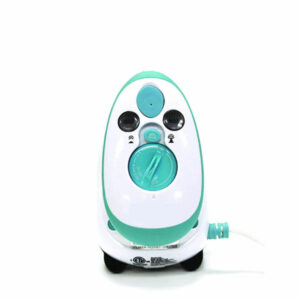 Budget-friendly
This dual voltage iron features a 13cm soleplate, making it perfect for touch-ups on the go. The easy iron and storage function ensures that you can quickly and easily get your clothes looking their best. And with the steam function, you can remove wrinkles and freshen up your garments in no time. So why not pick up a Green Matsusho Mini Travel Steam Iron today? It's the perfect way to keep your clothes looking their best, no matter where you are.
Pros:
Portable, best for travels
Easy on the hands because it's lightweight
Affordable
Cons:
Takes a long time to heat, and will not work too well on stubborn creases
3. Panasonic NI-M300TVSH Steam Iron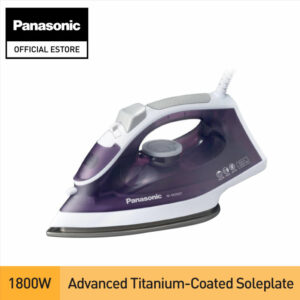 For stubborn wrinkles
This powerful little machine pumps out a steady stream of steam at up to 20g/min, making short work of even the most stubborn wrinkles. And with its advanced Titanium Coated Soleplate, you can be sure that your clothes will get a smooth, professional finish every time. The Panasonic NI-M300TVSH is also easy to maintain, thanks to its Anti-Calc System, which helps keep it free of mineral buildup.
Pros:
Offers vertical shot to easily remove wrinkles from hanging clothes
Easy to store and clean
Cons:
Temperature can be tricky to control during the first few uses.
4. PHILIPS Steam Generator Iron C9682/86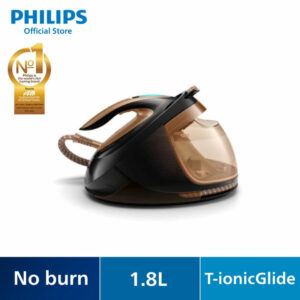 Guaranteed no burns
The Philips Steam Generator Iron is the perfect choice for anyone who wants to enjoy fast and efficient ironing with no burns guaranteed. With OptimalTEMP technology, you can easily iron any fabric from jeans to silk without having to adjust the temperature settings. The intelligent automatic steam feature with DynamiQ sensor lets you iron faster and more comfortably. This ultra-lightweight iron is also easy to use and provides superior comfort while you're working.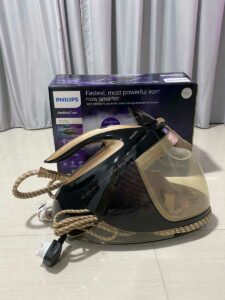 Pros:
One of the top-performing steam irons in the market
No risks of burning even the most delicate fabric
Easy to use and fast heating
Cons:
One of the most expensive steam irons in the market
5. PowerPac Steam Iron PPIN1014
Non-stick and overheat protection
This versatile iron can be used for steam, spray, and self-cleaning functions to make your life easier. The PowerPac Steam Iron PPIN1014 features an adjustable thermostat control, overheat safety protection, and a Teflon soleplate that makes it safe to use on delicate fabrics. With its powerful steam burst and vertical steaming functions, you'll be able to quickly remove wrinkles and achieve a professional look. The large water tank capacity ensures that you'll be able to use this iron for extended periods of time without having to refill it.
Pros:
Packed with features at an affordable price
Sole plate is totally non-stick
Large water tank capacity
Cons:
6. Xiaomi Mijia Portable Steam Iron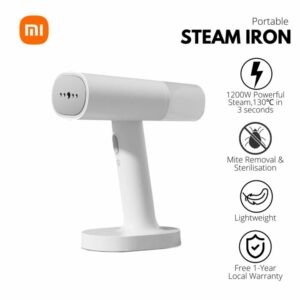 Best portable steam iron
The Xiaomi Mijia Portable Steam Iron is a great way to remove wrinkles from clothes and keep them looking new. It features a highly efficient heating system that penetrates clothing deeply, and a ceramic glaze coating that protects clothes from damage. Additionally, it is equipped with an aluminum alloy steam nozzle, making it easy to use and durable. It also has a three-layer security protection system in place to prevent overheating.
Pros:
Efficient heating system for something as small
Affordable given the features in offers
Great travel companion, won't take up too much space in luggage
Cons:
Temperature cannot be customized
7. Tefal Ultimate Pure Steam Iron FV9845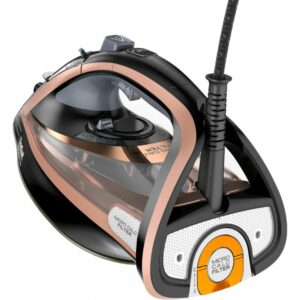 For large batch of clothes
The Tefal Ultimate Pure Steam Iron FV9845 is exactly what you need to get through large batches of clothes quickly and efficiently. With continuous steam output of 60g/min and a steam boost of 260g/min, you can power through creases with ease. The Durilium Airglide Autoclean soleplate glide smoothly over all fabric types, while the concentrated steam boost at the tip of the soleplate ensures precision ironing. The comfort handle and anti-drip features make for comfortable use, and the auto-off function ensures peace of mind.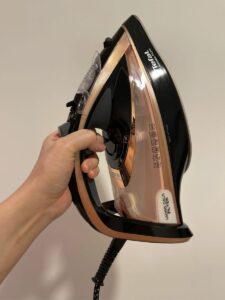 Pros:
High-powered, does not take long to heat even with maximum water level
Can handle thick denims
No drip
Cons:
Quite expensive but worth it if you're handling lots of clothes to steam/iron
8. My Choice Steam Iron (MC167)
Self-clean feature
My Choice Steam Iron is the perfect tool for all your ironing needs. With a dry ironing function, steam and spray function, and non-stick soleplate, it's easy to get through any ironing job quickly and efficiently. The self-cleaning function ensures that your iron will always be in top condition, while the flexible 360 degree swivel cord guard prevents tangled cords. Plus, the overheat safety protection ensures that your iron will never overheat. With 1400 watts of power, My Choice Steam Iron is the perfect choice for all your ironing needs.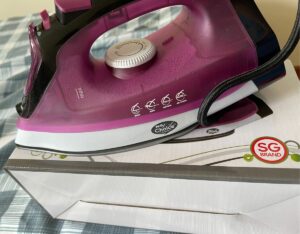 Pros:
Affordable but multi-functional
Light to use without the steam function
Clear temperature control
Cons:
Needs to protect plate to prevent damage over time
9. Panasonic NI-WL30VSH Cordless
Cordless steam iron
The Panasonic Cordless Steam Iron is a versatile and powerful tool for keeping your clothes looking their best. The multi-direction silver titanium soleplate ensures even heat distribution, while the Analogue Temperature control provides precise control over the ironing process. The Vertical Steam Shot is perfect for refreshing clothes on hangers, and the Quick setup make it easy to get started with ironing.
Pros:
Easy to use either as flat or vertical iron
With more precise temperature control
Conveniently cordless
Cons:
What to Look for in a Steam Iron?
When choosing a new steam iron, there are several factors to consider in order to find the best model for your needs. First, think about the features that are most important to you. If you frequently iron delicate fabrics, for example, you may want to look for an iron with adjustable steam settings. If you need to iron large items like drapes or bedding, however, a steam generator iron with a detachable water tank may be a better option. Another important consideration is the size and weight of the iron. A lightweight iron will be easier to maneuver, but a heavier iron will provide more stability and produce better results on thicker fabrics. Finally, be sure to read online reviews before making your purchase. This will give you an idea of how well different models perform in real-world situations. By taking all of these factors into account, you can be sure to find the perfect steam iron for your needs.
Best Brands of Steam Iron in Singapore
We all know that using a steam iron is the key to getting our clothes looking good and wrinkle-free. But with so many brands of steam irons on the market these days, it can be hard to know which one to buy. So here's a list of the best brands of steam iron in Singapore Panasonic Panasonic is a Japanese electronics company that produces a wide range of appliances, including steam irons. The company was founded in 1918 and has since become one of the largest electronics manufacturers in the world. Philips Philips is a renowned Dutch electronics brand that offers a wide range of quality products, from steam irons to appliances. The company has been in business for over 100 years and is known for its innovative products and cutting-edge technology. Tefal Tefal is a French cookware and small appliance company that produces a wide range of products, from steam irons to pressure cookers. Founded in 1954, Tefal has become a household name in France and beyond, thanks to its innovative designs and high-quality products.