Last Updated on
One of the best ventilation solutions that we have found since moving into a new house is ceiling fans. They are space-efficient but still provide very wide ventilation coverage. Now that we have owned a ceiling fan for many years, we wanted to share our list of Singapore's best ceiling fans.
They are all reasonably priced and very durable. Check out our top 10 ceiling fans for Singapore in our list below. They can all be purchased online for your convenience.
Table of Contents
Ceiling Fan Advantages
Top Ceiling Fan Brands in Singapore
Conclusion
FAQs
Quick Comparison Table
(scroll right for more)
1. KDK U48FP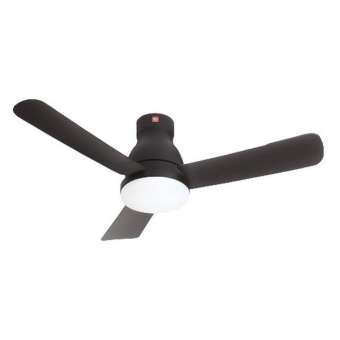 With LCD Remote Control
This ceiling fan from kdk is one of the very few that is also compatible with HBD units. It works well with all different types of ceilings, including low ones. We absolutely love this ceiling fan's sophisticated features, which include a timer and sleep mode. It is ideal for bedrooms.
Pros:
Durable PPG blade material
9-speed control
LCD wireless remote control
Cons:
A bit complicated to install
2. Crestar Ninja Air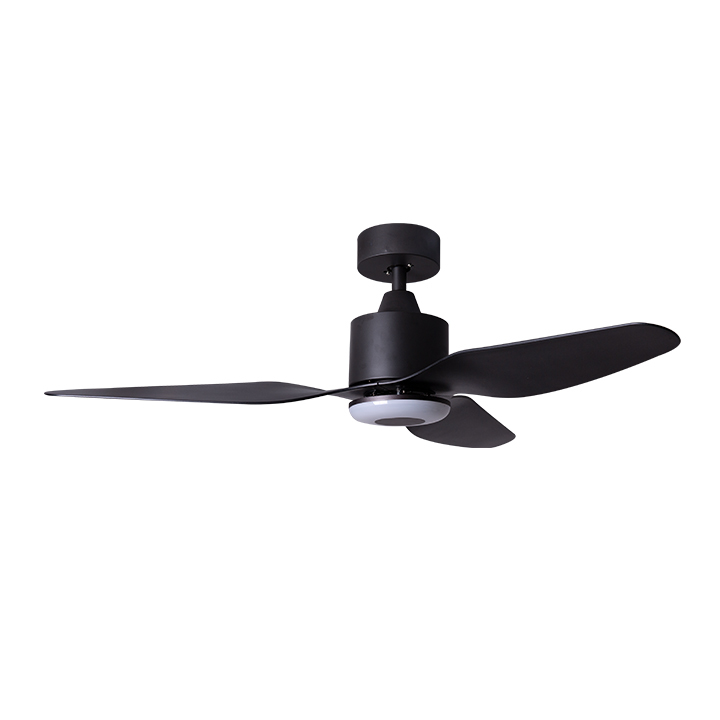 With Reverse Function
Some people are searching for a ceiling fan that that is shorter than the 52-inch standard package. We were very happy to find this one online from Crestar. It works with smaller ceilings and houses, but still offers even distribution of air. We found this to be among the most versatile of all ceiling fans that are available in Singapore since it fits with nearly all kinds of ceiling fans and is loaded with features, making it very convenient.
Pros:
Different air-speed settings
Forward/Reverse Function
Timer enabled
Cons:
Does not rotate as quickly
3. Fanco Eco-Lite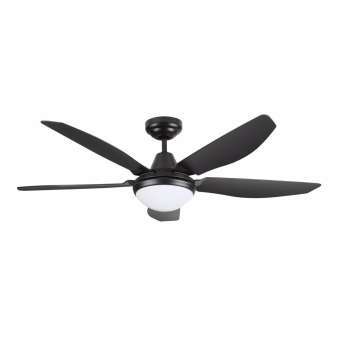 Best Energy Saving
Initially, we selected this ceiling because of how lightweight it is. It is among the lightest of all ceiling fans that are available in the market without compromising on ventilation at all. You can purchase the complete package online, including installation services from the company's accredited specialists.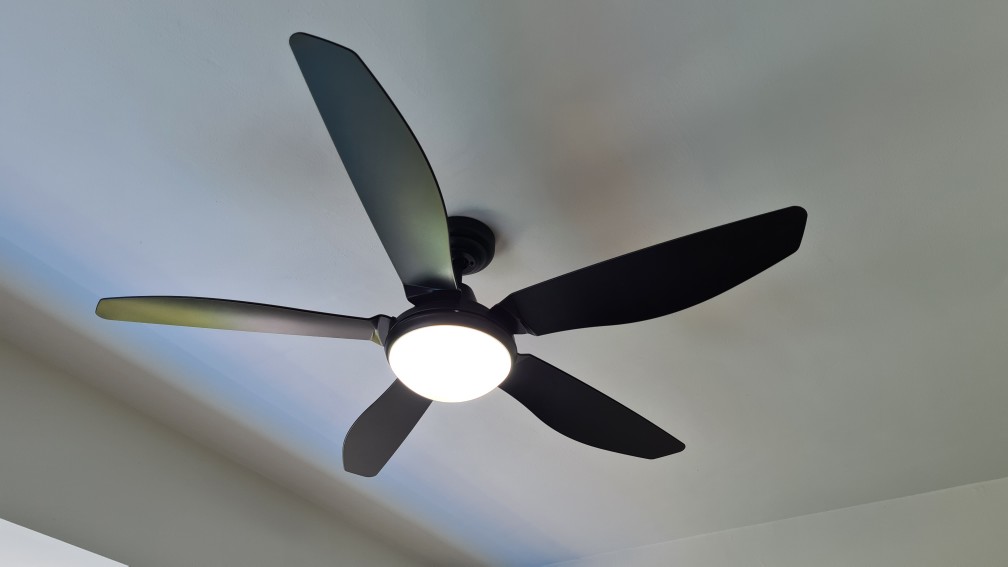 Pros:
52-inch Fanco Eco-Lite Ceiling Fan
Original Fanco Remote
24-watt Tri-color LED light
Cons:
Harder to replace led panel than light bulb
4. KDK U60FW
Best for Low Ceiling
KDK also has HBD-ready models as part of its ceiling fan line. If you live in an apartment with a low ceiling, you may want to choose a ceiling fan that has shorter rods. It has a sleep function as well so you won't need to worry about overworking or overheating the ceiling fan's motor.
Pros:
Well-suited for Condominiums and HDB Apartments with low ceilings (3.0m and under)
LED Lighting brightness suitable for daily use
Dual function: LED light 22W (Warm, Daylight, White) and Fan
Cons:
A bit complicated to install
5. Elmark Aircraft A8
Best for Wall and Ceiling Use
We included this ceiling fan on our list due to its multi-functionality. We were able to try it out as both a ceiling and a wall fan. Installation was very easy, and the fan is durable enough to hold up on any kind of surface you install it on, which is why it works on both walls and ceilings. It is also available in various elegant colour variations to suit your house no matter what the interior or decor happens to be.
Pros:
2 ways, for wall and ceiling
110-degree oscillating function
3 Adjustable angles
Cons:
Motor sound can be a bit loud
6. Fanco B-Star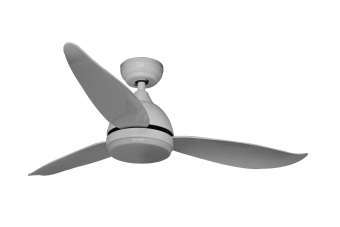 Budgets' pick
If you would like to take full advantage of the company's installation services, we recommend that you consider this model. Its LED lights will definitely upgrade your living room's look. We really love the wooden blades on this ceiling fan since it gives your home a lot of added elegance along with its lights.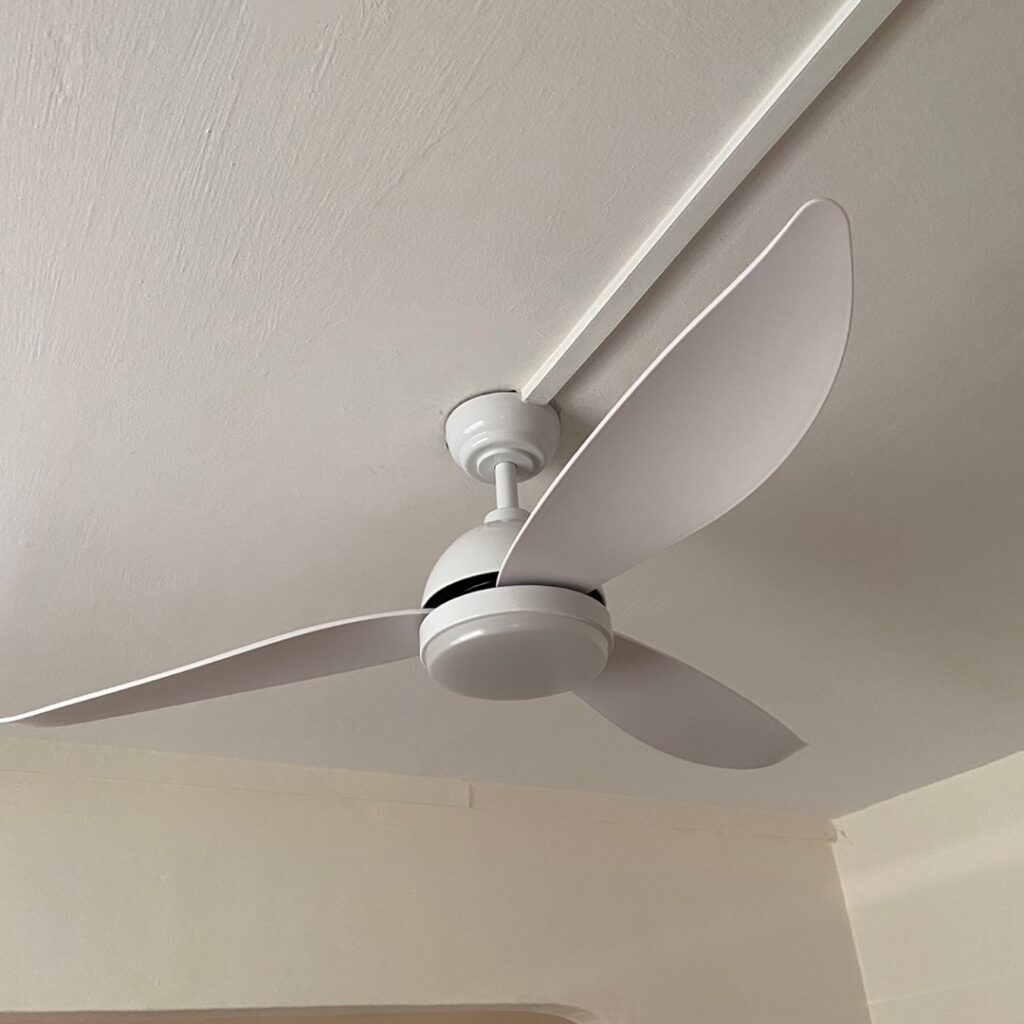 Pros:
Ultra Silent Motor
Super 188 Motor
5 Wooden Blades
Cons:
7. KDK W56WV
9 Speed Control
Here is another elegant ceiling fan from KDK that definitely has been built to last. From its parts, you can immediately see that the brand has truly invested in their product's durability. KDK is among the fastest-selling ceiling fans in both Singapore and Malaysia.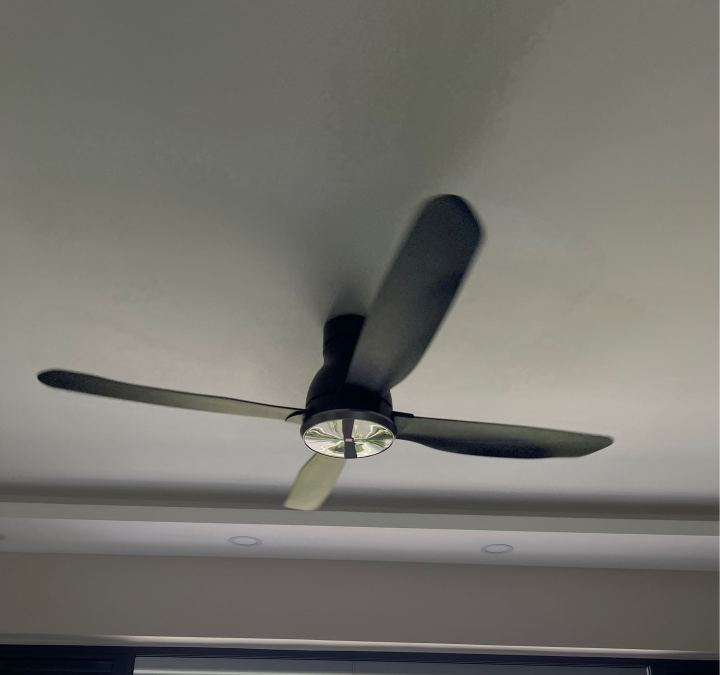 Pros:
9-speed control
LCD wireless remote control
Durable PPG blade material
Cons:
8. Crestar ValueAir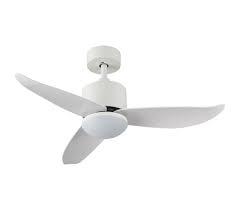 Small & Compact Design
This ceiling fan is our top choice for small areas of the house, including the bedrooms. It has a no-fuss design and short blades that work well in smaller spaces in your house. Crestar also has one of the top warranty coverages in Singapore, so that is definitely a plus.
Pros:
18W 3-Tone LED (Cool White, Warm, Daylight)
6-speed Touch Screen Remote
3 Blades ABS
Cons:
9. Mistral 501-3WH
Mini Ceiling Fan
Mistral is going to always be on our home electronics liss because we have tried out many of the company's products and can verify their durability and efficiency – including this ceiling fan. This package also provides a remote control which allows you to conveniently adjust the settings.
Pros:
LED light
6-Speed Selection
DC Motor
Cons:
10. ALPHA Vannus Luna
With Timer
This sleek and modern ceiling fan is perfect for any room in your home. It features a powerful DC motor, six speed settings, and a versatile remote control. You can also choose from three different color temperature settings to create the perfect ambiance for any occasion. The built-in timer function ensures that your fan will always be in use when you need it, and the natural wind function creates a refreshing breeze on even the hottest days.
Pros:
6 Speed Settings with Last Memory
RF Remote Control
Natural Wind Function
Cons:
Blade is a bit wide for some
Ceiling Fan Advantages
Purchasing a ceiling fan provides many advantages, including being more powerful, quiet, and space-efficient compared to all other types of fans. Even if you have an air conditioner to use, using a ceiling fan as well can help to circulate the cooled air much more efficiently.
A majority of ceiling fans come with an energy-efficient motor these days, so it won't affect your electricity bills significantly even if you use it in combination with your air conditioner.
Top Ceiling Fan Brands in Singapore
KDK
KDK has been around for decades and their fans are known to last. Many Singaporeans trust the brand, as it's one of those few brands you can count on in your home without worrying about reliability or safety issues!
Fanco
Fanco has a reputation for exceptional sales distribution and after-sales service. With this commitment to their customers, they provide an extensive range of ceiling fan designs at affordable prices alongside excellent customer care that caters specifically to your needs!
Conclusion
If you're looking for a good ceiling fan, any of the ones on our list would be a great choice. They are all well-made and reasonably priced, so you can't go wrong with any of them. We hope that our list has helped you narrow down your choices and find the perfect ceiling fan for your needs.
FAQs
Why should I get a ceiling fan?
They are space efficient and really energy efficient motor. Making them an ideal appliance for comfort
What are popular brands of ceiling fan?
Some of the brands are Fanco, KDK, Crestar, Panasonic, Mistral, and Elmark
How much does a ceiling fan cost? 🤔
Depending on the brand and model, the price ranges from $200-$300
This post was brought to you by Kimz House.
Disclaimer: The opinion is solely based on our testing or intensive research with customer feedback around the most popular shopping platform such as Shopee and Lazada. The products/services shown here are available and valid upon the publication date. It may change from time to time. Please email us at [email protected] if there is any discrepancy.