Last Updated on
Stand fans have been available for a very long time since they function as one of the earliest cooling devices in all countries. These days, a stand fan is a type of appliance that complements the air-conditioning system in your home.
A majority of modern stand fans these days save a lot of energy since they do not need as much energy to operate them compared to regular cooling systems. The following is a list of our top 7 stand fans that are available in today's market.
Table of Contents
7 Best Stand Fans in Malaysia Quick Comparison Table

How To Choose The Best Stand Fan For Your House
Check out the following top-recommended stand fans from our list:
FAQs
Best Standing Fan Singapore Quick Comparison Table
1. Mistral MSF1679R 16-Inch Stand Fan
Best of the best
Say goodbye to uncomfortable temperatures in your home or office with the Mistral MSF1679R 16-Inch Stand Fan! With its advanced features, this fan provides an unbeatable cooling experience. It is the perfect combination of convenience and performance.
The fan boasts a 7.5-hour timer so you can set it up according to your needs. Plus, it is packed with remote control capabilities that allow owners to take complete control of their fan speeds. It also has an LED display that shows all its settings and helps ensure you are always aware of them. This state-of-the-art technology promises excellent air delivery and air circulation for improved comfort during those hot days or nights.
Additionally, the 3 quality modes provide options for high, medium, or low speed which makes it easy to choose the one that suits individual preferences best. Furthermore, there is a silent mode available as well, making this fan ultra-quiet yet immensely powerful at the same time! The Mistral MSF1679R 16-Inch Stand Fan offers maximum efficiency with minimal effort – making it too good a deal to pass up!
Pros:
It comes with 7.5-hour timer
One of more affordable fans with remote control
Elegantly-looking with LED display
Cons:
Some users complain that the fan gets wobbly when set at its full height
2. KDK P40US 16-inch Stand Fan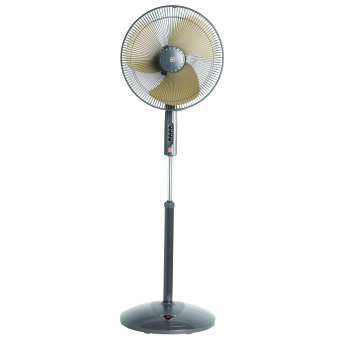 Popular brand
Introducing the newest fan from KDK – the P40US 16-inch Stand Fan. This fan is a great choice for anyone looking for durability, functionality and safety. KDK, the popular brand, provides excellent products to customers worldwide, and this fan is no exception.
The P40US offers adjustable height settings up to 60 inches so that you can direct the airflow where you want it most. It also has 3-speed control which allows you to customize its speed to fit your needs. And for added convenience, it has a PSB Safety Mark which gives you peace of mind knowing that this product meets top safety standards.
Enjoy powerful airflow with minimal disturbance whenever you need a pleasant cooling breeze. The KDK P40US 16-inch Stand Fan is perfect for home use or even office settings because of its quiet operation and robust construction that can withstand daily wear and tear. Get everything you need in one safe and convenient fan – order now!
Pros:
Adjustable height (up to 60 inches)
3-speed control
PSB safety mark
Cons:
Can be a bit of struggle to adjust the height.
3. Mistral MSF047 16-inch Stand Fan
Oscillating Head
Say hello to your new favorite cooling powerhouse – the Mistral MSF047 16-Inch Stand Fan. With features like a 7-year warranty on the fan motor and 2-year full warranty, you can be sure that this stand fan will last for many years with proper maintenance. Plus, not only does it have 3-speed control settings, it is also made from ABS fans for extra durability and convenience.
The oscillating head provides a wide coverage range to ensure that whatever room you place it in, the fan can blow cool air across every corner. And even better than that? You can purchase this amazing appliance today at a very affordable price right here online!
So why wait? Shop now to get cooled and comfortable in no time with the Mistral MSF047 16-Inch Stand Fan.
Pros:
ABS fans
Oscillating head
7-year warranty on the fan motor and 2-year full warranty
3-speed control
Cons:
The only con is it is hard to get your hands on stocks of this model because it is one of the best-selling from Mistral
4. Mistral MSF1678 16-Inch Stand Fan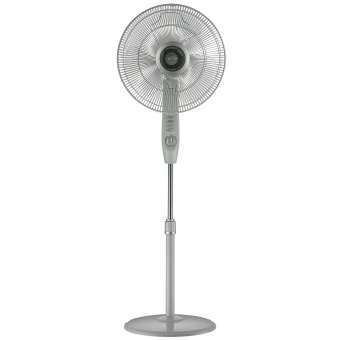 8 Years Warranty on Motor
Among Singaporeans, Mistral is a highly trusted company that is well-known for manufacturing high-quality appliances from the very beginning. This 16-inch stand fan is a very durable product and offers a great warranty and numerous safety features.
The Mistral MSF1678 16-Inch Stand Fan is a top-of-the-line fan with 8 years warranty on the motor. This fan comes with numerous safety features built-in, making it perfect for everyday use in your household. It has three-speed settings so you can adjust the airflow according to your need, while its time setting feature lets you set when you want it to turn off and save energy.
Additionally, it also has guard rings so that your youngster are safe from injury. All these features make this fan a standout choice among all fans available in the market today. With its long 8-year warranty on the motor, you can be sure that the Mistral MSF1678 16-Inch Stand Fan will last for many years to come.
Pros:
ABS Fan Blades
Timer
8-year warranty on motor + 2-year full warranty
Cons:
Some users find it expensive for a regular stand fan
5. Sona SSO-6068 20-inch Power Stand Fan
Industrial-grade power
Finding cooling comfort just got easier with the Sona SSO-6068 20-inch Power Stand Fan. Boasting an industrial-grade motor, this fan is sure to circulate air with ease, delivering cooling relief and improved air quality throughout any room. And, the integrated oscillation function means that the fan can reach more corners of your abode to provide complete coverage – meaning even distributing airflow and maximum comfort.
This 20-inch stand fan also comes equipped with non-corrosive alloy blades that will remain stable in high-speed rotation for efficient cooling performance over a long period of time – so you can rest assured you're getting a well-engineered product that won't need replacing or repair for years to come.
Plus, all this dependability comes at a remarkably reasonable price – and Sona back their products with an impeccable 5-year warranty. Buy this industrial-grade power stand fan today and give yourself something to feel cool about!
Pros:
20-inch fan
Oscillating function
Industrial-grade power
Alloy blades
Cons:
Since it's an industrial fan, it can be a bit noisy.
6. PowerPac MC40 16-inch Stand Fan and Oscillation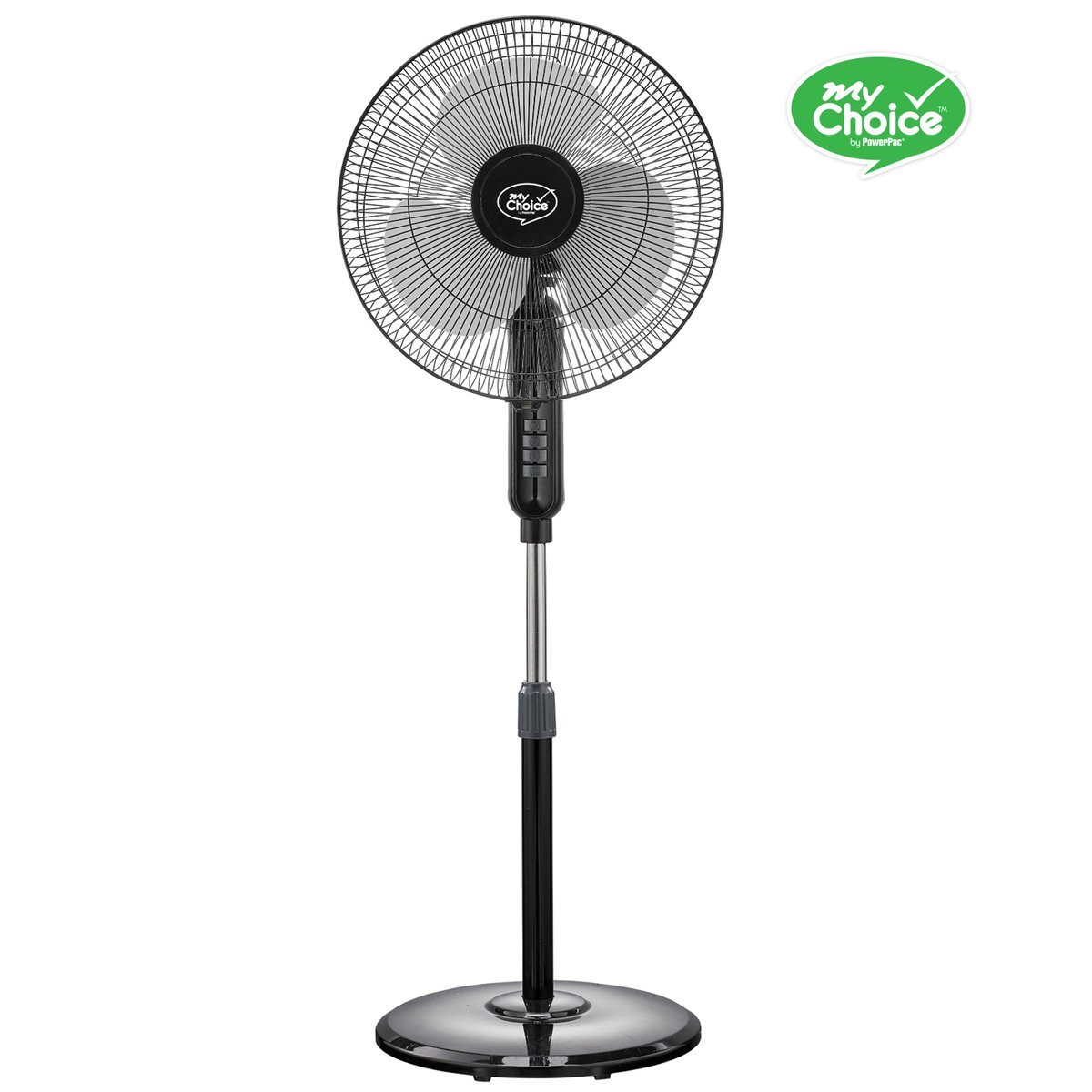 Energy saver stand fan
The new 16-inch stand fan from PowerPac can be purchased online. This fan brings great comfort. As soon as you turn this fan on it offers a nice steady breeze. The durable appliance is from a long-time trustworthy manufacturer.
Select the best setup for your room and cool it down using natural airflow provided by this PowerPac standing electric fan. An energy-saving and safe appliance that is an ideal addition to every home.
Buy one today and see for yourself!
Pros:
Oscillation
Energy saver
3-speed settings
Safety mark (overheating)
Cons:
The breeze may seem to soft especially on hotter days.
7. Xiaomi Mijia Smartmi Portable Fan
Stand fan with portable battery
Introducing the revolutionary Xiaomi Portable Stand Fan – perfect for modern Singapore homes! With this Miia Stand Fan, you can enjoy a refreshing, natural breeze indoors for up to 20 hours at a time. Boasting a modern design, lack of cords and full app control with up to 100 wind settings, this fan is sure to keep you cool in any location.
The intuitive voice control will be sure to provide convenience; simply speak your commands into the Mi Home App and adjust your settings with ease. Experience the perfect balance of convenience and comfort with this cordless fan – suitable for both indoor and outdoor use – and reap all the benefits of natural air with zero hassle or fuss. Buy yours today and stay cool this summer!
Pros:
Voice control
Full app control includes 100 wind settings
20-hour battery life
Cordless
Cons:
One of the most expensive stand fans in the market.
How To Choose The Best Stand Fan For Your House
These days, stand fans are more affordable. Therefore, integrating them into your home is not hard to do. Also, contrary to the ceiling fans or wall fans, they are fairly easy to use and install and do not cause any permanent damage to your home.
Choosing the best stand fan for your house also involves determining the total area of the home that you need to have ventilated with the fan. A 16-inch 5-blad stand fan that has plastic blades will often be enough to keep a small bedroom well-ventilated. However, if you need to have stronger wind, particularly for outdoor functions, then an industrial stand fan will be more efficient in delivering this level of comfortable airflow.
Check out the following top-recommended stand fans from our list:
FAQs
What are the best stand fans in Singapore?
- Mistral MSF1679R 16-Inch Stand Fan
- KDK P40US 16-inch Stand Fan
- Mistral MSF047 16-inch Stand Fan
- Mistral MSF1678 16-Inch Stand Fan
- Sona SSO-6068 20-inch Power Stand Fan
- PowerPac MC40 16-inch Stand Fan and Oscillation
- Xiaomi Mijia Smartmi Portable Cordless Fan
How do I choose the right stand fan?
One thing you should consider is the space in your home to make sure the stand fan you choose is sufficient to provide cool air for the whole room.
How much does a stand fan cost?😄
The price ranges from $20 to $100, depending on the model and price
This post was brought to you by Kimz House.
Disclaimer: The opinion is solely based on our testing or intensive research with customer feedback around the most popular shopping platform such as Shopee and Lazada. The products/services shown here are available and valid upon the publication date. It may change from time to time. Please email us at [email protected] if there is any discrepancy.