Last Updated on
Philips Air fryers are one of the best when it comes to air fryers. It provides that crispy crunch on your food with no extra fat. It is one of the healthiest ways of eating fried food which eliminates up to 95% of the oil. Presented below are the Top 5 Philips Air Fryer you can buy in Singapore.
1. Philips XL Air Fryer HD9240
Great temperature control
This fryer has a large cooking capacity of 1.2 kilograms, which is enough to feed up to five people. Despite its large capacity, you can fry all you want with less fat and little to no oil.
You can also control the temperature and time with the digital touch screen. You can even preset your fryer for your favourite dishes so that you don't need to set it always every time you prepare it.
Key features we love:
Automatic shut-off
Dishwasher safe
Patented Rapid Air
220 230 V
This Airfryer is available online now.
2. Philips XXL Twin TurboStar HD9654/91 Air Fryer
Great for large servings
The Philips XXL Twin TurboStar HD9654/91 Air Fryer has an ultra-large cooking capacity of 1.4 kg which is enough for a fried chicken that can serve a family. The fryer also melts the fats away using the 'tornado" of hot air with its twin TurboStar.
Key features we love:
Digital display with 5 preset cooking programs
QuickClean basket with non-stick mesh cleans up in 90 secs
Recipe booklet with more than 30 delicious dishes
Don't miss its discounted price here.
3. Philips HD9216 Air Fryer
Even cooking
This fryer ensures that the food cooked is cooked evenly, with its rapid air technology that facilitates the air circulation on the fryer. And your choices are not limited to just frying; you can also roast, grill, and even bake with Philips HD9216 Air Fryer.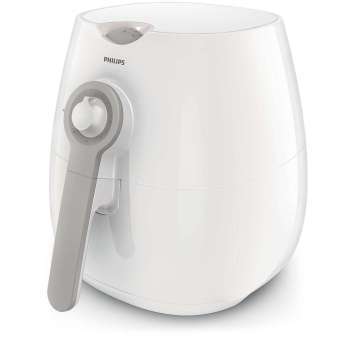 Key features we love:
Ready signal
Temperature control
Cool wall exterior
Cord storage
Owners of this fryer can also manually adjust the temperature and time up to 30 minutes and 390 Fahrenheit.
Get this air fryer at its best price here.
4. Philips HD9238 Air Fryer
Easy to use and control
For a crispy on the outside, tender on the inside fried food, this fryer is for you. It needs little or no oil and can have up to 80% less fat. It also has a unique design that circulates the air and optimal heating profile, giving you the ability to fry whatever food you'd like.
Key features we love:
Patented Rapid Air
Recipe book & App
Up to 60 minutes
Automatic shut-off
Safe and functional for every kitchen. Buy this here today.
5. Philips HD9220 Air Fryer
Best for small servings
The air fryer's adjustable temperature would let the users pre-set the cooking temperature for your foods up to 200 degrees. The rapid air technology creates less smell, which makes it easier and safer to use, and is much easier to clean. It also has a cooking capacity of 0.8 kilograms, perfect for your meals.
Key features we love:
Ready signal
Temperature control
Time control
Recipe book & App
Get all these features when you purchase this Philips air fryer here.
Why choose Philips Air Fryer
The air fryer technology's main purpose is making fried food healthier. It heats the air inside the machine to quickly cook the food. Letting you prepare your food without worrying about the extra fats you add when you cook.
With Philips, it goes to a whole new level with their Rapid Air Technology, which allows the air to be pushed quickly through the cooking chamber, making it cook the food faster with just the minimal amount of oil.
Philip has such a wide selection of air fryer models depending on your preference. Philip Air Fryers has special features that other air fryers don't. They offer easy-grip handles and cooking trays that can be detached, which makes it easier to clean.
There are also models that has cooking grills form crisping your fries or vegetables. Depending on what you want, there are digital displays and screens and manual once, whatever you are comfortable with.
History of Philips Air Fryer
Philips Air fryer has been frequently on the top of the game when it comes to the air fryer. They introduced their Air fryer in 2010, which was recognised worldwide.
As part of their marketing, they included a recipe book and made the recipes accessible on their website for the users and potential buyers.
The air fryer was a success as was the number one air fryer by 2015. With the versatility that the fryer offers, the demand grew but still has a lot of potentials.
Our top Recommended Products
This model offers up to 1.2 kilograms of capacity and is perfect for your meals or even fries.
The largest model there is, it offers up to 1.4 kg capacity for cooking.
This widens your choice with baking, grilling, and roasting aside from frying.
FAQs
Is Philips a good air fryer?
Yes. They are one of the best when it comes to air fryers
Why should I choose Philips? 😃
They provide rapid air technology that allows the air to quickly push into the cooking chamber.
What are the best Philips Air Fryer?
- Philips XL Air Fryer HD9240
- Philips XXL Twin TurboStar HD9654/91 Air Fryer
- Philips HD9216 Air Fryer
- Philips HD9238 Air Fryer
- Philips HD9220 Air Fryer
This post was brought to you by Kimz House.
Disclaimer: The opinion is solely based on our testing or intensive research with customer feedback around the most popular shopping platform such as Shopee and Lazada. The products/services shown here are available and valid upon the publication date. It may change from time to time. Please email us at [email protected] if there is any discrepancy.