Last Updated on
We all know that eating unhealthy foods can have a negative impact on our health, but did you know that cooking your food in unhealthy ways can also be harmful? One of the worst cooking methods is deep-frying, which uses a lot of unhealthy oils.
Thankfully, there's a healthier alternative: air frying. Air fryers use hot air to cook your food, so there's no need for any unhealthy oils. Not only are they healthier than deep-frying, but they're also much faster and easier to use. If you're looking for a healthy way to cook your meals, then an air fryer is the perfect appliance for you.
In this post, we'll take a look at 8 of the best air fryers in Singapore. So whether you're looking for your very first air fryer or you're just looking to upgrade your current model, we've got you covered!
Best Air Fryer Singapore Quick Comparison Table
(scroll right for more)

1. Philips HD9200 | HD9218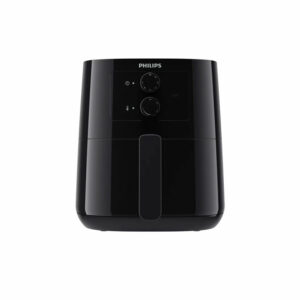 Innovative technology
The Philips HD9200 | HD9218 Air Fryer is an innovative appliance that puts the power of healthier cooking into everyone's hands. Frying with up to 90% less fat than traditional methods, this revolutionary appliance brings convenience and health together.
With its patented Rapid Air technology, you can now fry, bake, grill, roast and even reheat foods all with just one machine – with no need to switch between different pans and appliances. Get delicious yet healthy meals quickly and easily, as the Philips HD9200 | HD9218 Air Fryer features an automatic shut-off function for added safety and a cool wall exterior for extra protection. And for easier cleaning after cooking, it's even dishwasher safe too!
To make life simpler for you, on top of all those amazing features comes a 2-year warranty from Philips – giving you a piece of mind in case anything goes wrong. You won't regret having this affordable yet super-efficient air fryer in your kitchen if healthy cooking is what you're looking for!
Pros:
Perfect size, not too big nor small
Widely available in Singapore, customer service will not be an issue
One of the latest technology in air frying
Cons:
Philips is always a more expensive brand but proves to be high-quality
2. Mayer Mighty Air Fryer MMAF800
Best for family use
Everyone loves fried food but no one likes the guilt after eating it. The Mayer Mighty Air Fryer MMAF800 eliminates this guilty feeling by making fried food with only a fraction of the oil and grease used in traditional cooking.
This air fryer uses hot air to circulate ingredients so that you get delicious, crunchy fried foods without all the added fat. The 8 liter capacity is perfect for large family meals or just enjoying a tasty treat with friends. You can also adjust the timer from 80-210°C giving you greater accuracy when preparing your favorite dishes.
Thanks to its digital display and 7 preset menus, using your new air fryer has never been easier and more stress-free. Homeowners need not worry about purchasing this product because it is widely available in Singapore at most major stores, making it easier than ever to get started on the path to healthier eating!
Pros:
Easier to use with its cooking pre-sets
Large capacity to serve 4 or more people
Top handle and opening makes it easier to put and remove ingredients
Widely available in Singapore
Cons:
A bit heavier than most air fryer of the same capacity.
3. Mayer 3.5L Air Fryer MMAF88
For small spaces
Introducing the Mayer 3.5L Air Fryer MMAF88, the perfect appliance for busy homeowners who crave fried foods without feeling guilty! This air fryer can help you achieve up to 80% less fat than traditional frying methods and makes it easy to get perfectly crispy food every time. Plus, with a 30-minute timer and temperature control up to 200 degrees, you'll be able to cook food quickly and efficiently with little effort. And best of all, this air fryer is incredibly energy efficient, making it an environmentally conscious choice.
Plus, its compact size means it's ideal for even the smallest of kitchens. With two detachable trays and adjustable wings for separate cooking areas, the Mayer 3.5L Air Fryer MMAF88 is beginner-friendly and provides plenty of cooking space for large portions of food – though some may find its timer to be too limiting when preparing larger amounts of meat or vegetables.
Experience flavorful fried foods without ever having to step foot in a fast-food joint again! Enjoy guilt-free meals anytime with the Mayer 3.5L Air Fryer MMAF88!
Pros:
Low energy consumption
Can fit even tiny kitchens
Beginner-friendly air fryer
Cons:
The 30-minute timer is quite limiting especially if cooking large portions of meat
4. Cornell Air Fryer with Detachable Basket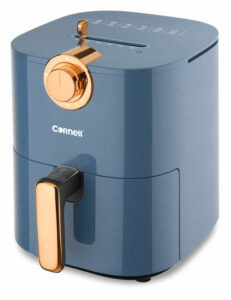 Best value for money
The Cornell Air Fryer is perfect for those who are health-conscious but still crave their favorite fried foods. The temperature range from 80°C – 200°C allows you to cook at your desired temperature, achieving a healthy, crispy, fried finish using at least 98% less oil than traditional fryers.
Plus, the coil-like heating element ensures even heat distribution (and even browning) to make food crispy on the outside, more tender inside than other low-wattage air fryers. But perhaps best of all, the Cornell Air Fryer is compact and space-saving, perfect for any small kitchen, dorm, office, and more!
Pros:
Sleek but powerful performance
Space-saving
One of the most affordable in the market for its size and features
Cons:
The 30-minute timer is quite limiting
Stocks run out fast
5. TJean Air Oven
Large capacity
Welcome to the TJean Air Oven! This amazing kitchen appliance is designed to give you the ultimate cooking experience. Its large capacity makes it perfect for preparing meals of any size, and its cutting-edge air frying technology can cook your food evenly and deliciously – even a whole chicken will come out perfectly!
Plus, the adjustable temperature selector allows you to dial in the exact temperature needed for whatever you're creating. And with a top opening that makes it easy to put in or take out items, you'll never have trouble accessing your delicious kitchen creations.
The best part? Its health-friendly materials mean that there's no need to sacrifice taste or nutrition when preparing your favorite dishes. So don't wait any longer – get cooking with the TJean Air Oven today!
Pros:
One of the large capacity air fryer
Cooks evenly, even a whole chicken
Top opening makes it easy to put and remove your meals
Cons:
Can be difficult to maintain/wash
6. Russell Taylors 3D Air Fryer
Elegant design
The Russell Taylors 3D Air Fryer uses Rapid hot air circulation technology to cook food with little to no oil, making it a healthier option than traditional frying methods. With temperature control up to 200 C and a preset timer of up to 30 minutes, this air fryer makes it easy to create perfect dishes every time.
Additionally, indicator lights let you know when the unit is powered on and when the preset temperature is achieved, while the auto-off function keeps things safe by automatically turning the fryer off if the basket is removed.
Pros:
The design easily adds to the elegance of your kitchen counter
Great heating technology, easy to adjust depending on what you are frying
Removable basket for easier serving
Cons:
Outer coating may be prone from scratch and this is not covered by warranty
7. Philips HD9654/91 XXL Air Fryer
Comes with recipe app
Are you looking for a fryer that can meet the needs of your busy family? Introducing the Philips HD9654/91 XXL Air Fryer, designed to make healthy meal prepping easy and delicious! This smart appliance offers 1.4 kg of capacity, so it's perfect for large families or big gatherings—plus it's just as useful for small meals. With five preset cooking programs plus a keep warm function and integrated digital display, the Philips HD9654/91 XXL Air Fryer is ready to help you cook up tasty favorites in no time.
And when it comes to frying things up healthily, this air fryer doesn't skimp on features. Thanks to Fat Removal technology and the included recipe booklet with 30+ meals, you'll always have nutritious and delicious options on hand—while the NutriU recipe app provides even more meal ideas. Plus, clean-up is breeze too; the QuickClean basket with non-stick mesh removes all mess in minutes.
For convenient cooking and delicious results each time, look no further than the Philips HD9654/91 XXL Air Fryer. Get one at home today, and enjoy fuss-free meals with family and friends!
Pros:
Meal planning made easier with the free recipe app
Non-stick basket makes it easy to wash and maintain
Smart heating technology
Cons:
You can buy an air fryer from other brands with larger capacity for the same price.
8. Cornell 25L Air Fryer Oven
For large servings
Hosting a party? Now you can flex your air fried recipes without fus. Cornell has the perfect solution with its 25L Air Fryer Oven. This innovative appliance uses turbo convection to cook food with little to no oil, making it a healthier option than traditional frying methods.
The 60-minute timer and temperature control up to 230°C ensures that your food is cooked exactly the way you want it. Additionally, the double glazed door retains heat effectively for consistent cooking results.
When you're done, simply remove the crumb tray for easy cleaning. The Air Fryer Oven comes with a baking tray, air fryer basket, grill rack and tray handle – everything you need to get started on your healthier eating journey!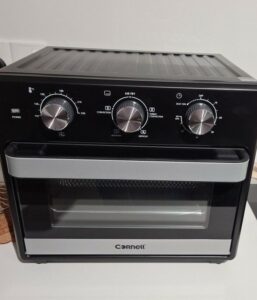 Pros:
Large capacity with easy to maintain parts
Turbo convection offers more cooking options
Longer timer (60 minutes)
Cons:
May require large space in your kitchen
How to Properly Maitain an Air Fryer
Air fryers are a popular kitchen appliance, known for their ability to quickly cook food with little or no oil. If you're new to air frying, or considering purchasing an air fryer, it's important to know how to the appliance. Here are a few tips:
-Clean the basket and pan after each use. Food particles can quickly build up, causing the air fryer to work less efficiently. Use hot soapy water or a dishwasher to clean the parts.
-Wipe down the outside of the air fryer with a damp cloth after each use. This will help to prevent grease and fingerprints from building up on the surface.
-Check the air fryer's manual for specific instructions on how to clean the filter (if applicable). Cleaning the filter regularly will help to ensure that your air fryer continues to operate at peak performance.
By following these simple tips, you can help keep your air fryer in good condition and extend its lifespan.
Best Air Fryer Brands in Singapore
Looking to buy or upgrade your air fryer at home? Check out these leading brands in air frying technology.
Philips
Philips is a leading health technology company that focuses on improving people's lives through meaningful innovation. Philips air fryers are a great example of their dedication to quality and customer satisfaction. These air fryers use little to no oil, making them a healthier option than traditional frying methods.
Mayer
Mayer is a trusted name in small kitchen appliances, and the brand's air fryer is a popular choice for home cooks who want to enjoy fried foods without all the guilt.
Cornell
Cornell air fryers are some of the most popular on the market and for good reason. Cornell air fryers are known for their even cooking, durable construction, and easy-to-use controls. In addition, Cornell air fryers come in a variety of sizes to suit any kitchen, and they come with a variety of features that make them perfect for any occasion.