Last Updated on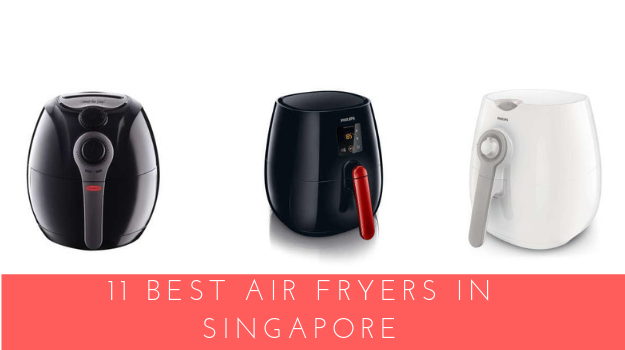 Air fryer provides the best of both worlds. You get to enjoy your favourite crispy and juicy food, but with less guilt. It uses significantly lesser oil and is generally considered as a healthy alternative to "fry" food.
This is why it is no surprise why air fryer has become so popular in Singapore, as well. With most people living a fast-paced life, air fryers allow them to indulge in well-prepared, healthy meals with less effort.
11 Best Air Fryers in Singapore
Are you one of those people who could use the air fryer's help? We've summarised our top picks for the best air fryer in Singapore for you:
1. Mayer MMAF201 Mini Air Fryer – 1.7L
Smoke-Free Air Fryer
Cook healthy meals and snacks for a small group with this multi-functional air fryer from Mayer. You can choose to create baked, fried, or grilled goodies with this simple machine.
Preparing food has never been this easy with an air fryer. Simply put your ingredients inside and wait for the timer to prompt you that your recipe is cooked.
Why buy this:
Smoke-free
The capacity of 1.7 L ingredients
Timer
Multiple settings for cooking
Get your own air fryer from this site. Find out more about Mayer Air Fryer.
2. Philips XL Air Fryer HD9240
Safe Air Fryer with Automatic Shut-Off
This philips fryer has a large cooking capacity of 1.2 kilograms, which is enough to feed up to five people. Despite its large capacity, you can fry all you want with less fat and little to no oil. You can also control the temperature and time with the digital touch screen.
Why buy this:
Automatic shut-off
Dishwasher safe
Patented Rapid Air
220 230 V
You can even preset your fryer for your favourite dishes so that you don't need to set it always every time you prepare it.
This air fryer is available online now. Find out more about Philips Air Fryer.
3. Mayer MMAF88BS Air Fryer – 3.5L
Non-sticky Pan
Constantly have visitors at home? You'll find this air fryer a handy companion especially since it can accommodate more ingredients than its earlier counterparts. It serves up to six people, depending on your recipe.
Why buy this:
Non-sticking pan
Removes almost 80% of oil than usual frying
Auto shut off
Timer
The best thing about owning an air fryer is that you get to prepare other food or drinks while waiting for your air fried recipe to finish cooking. Want your own air fryer? Check this out from Mayer.
4. Philips XXL Twin TurboStar HD9654/91 Air Fryer
Free booklet with 30 delicious recipe
The Philips XXL Twin TurboStar HD9654/91 Air Fryer has an ultra-large cooking capacity of 1.4 kg which is enough for a fried chicken that can serve a family. The fryer also melts the fats away using the 'tornado" of hot air with its twin TurboStar.
Why buy this:
Digital display with 5 preset cooking programs
QuickClean basket with non-stick mesh cleans up in 90 secs
Recipe booklet with more than 30 delicious dishes
Don't miss its discounted price here.
5. Mayer MMAF88WS Air Fryer – 3.5L
Big capacity air fryer
Here's another recommended air fryer for the entire family. Whether you want to use it to prepare everyone's packed lunches or simply tweak the dinner menu a bit, you can certainly use the help of this air fryer.
Why buy this:
Non-stick pan
No mess cleaning
Timer
80% less grease in food
Auto shut off
Guaranteed to be of high quality, you'll find this air fryer to be a great addition to your kitchen.
You can buy this online here.
6. EuropAce EAF 333Q Air Fryer – Manual
Elegant design
One of the most elegant looking air fryers out there is also packed with unique features that will make frying more fun. EuropAce even comes with a handle so you can easily bring it anywhere.
Why buy this:
1.1 kilogram Cooking Capacity
3-Dimensional Circulation Around Internal Cavity
80 to 200°C Temperature Setting
3.5 litres cooking basket
This is a perfect addition to your kitchen, especially when you love introducing healthy but yummy dishes to family and friends.
Get this manual air fryer here.
7. Mayer MMAF3 Air Fryer – 800g
Best Compact Air Fryer
Mayer has created a powerful air fryer that is designed to serve dishes for celebrations. This is particularly useful for people who constantly welcome visitors, and want to commit to serving healthier meals
Why buy this:
Up to 90 minutes timer
Up t0 210 temperature control
7 pre-set menus
Digital display
This is one of the premium Mayer air fryer models and is recommended for those who love air fried dishes as constant in their menus.
Are you one of these people? Buy this high capacity air fryer here:
8. Philips HD9216 Air Fryer
Clean design with rapid air technology
This fryer ensures that the food cooked is cooked evenly, with its rapid air technology that facilitates the air circulation on the fryer. And your choices are not limited to just frying; you can also roast, grill, and even bake with Philips HD9216 Air Fryer.
Why buy this:
Ready signal
Temperature control
Cool wall exterior
Cord storage
Owners of this fryer can also manually adjust the temperature and time up to 30 minutes and 390 Fahrenheit.
Get this air fryer at its best price here.
9. Mayer MMAF68 Air Fryer – 2.6L
Easy to clean
There is a way to enjoy your favourite crispy and fresh chips without the guilt. Air fry them! This air fryer from Mayer will help you do that.
Why buy this:
Easy to clean
200 degrees of temperature control
Timer (up to 30 minutes)
Cooks fast and thorough
Air fryers are always perfect for people on the go and those who love exploring new healthy recipes. Get this air fryer at its best price here.
10. Philips HD9238 Air Fryer
Rapid air technology
For a crispy on the outside, tender on the inside fried food, this fryer is for you. It needs little or no oil and can have up to 80% less fat. It also has a unique design that circulates the air and optimal heating profile, giving you the ability to fry whatever food you'd like.
Why buy this:
Patented Rapid Air
Recipe book & App
Up to 60 minutes
Automatic shut-off
Safe and functional for every kitchen. Buy this here today.
11. Philips HD9220 Air Fryer
Everyone's favourite picks
The air fryer's adjustable temperature would let the users pre-set the cooking temperature for your foods up to 200 degrees. The rapid air technology creates less smell, which makes it easier and safer to use and is much easier to clean. It also has a cooking capacity of 0.8 kilograms, perfect for your meals.
Why buy this:
Ready signal
Temperature control
Time control
Recipe book & App
Get all these features when you purchase this Philips air fryer here.
Why Use Air Fryer?
With the fast-paced lifestyle of most people, it's becoming easier to fall for convenient food, as well. Unfortunately, most of this food is packed with bad cholesterol, fat, and calories, because of the way they have been cooked. Air fryer provides an equally convenient alternative to prepare food, minus these health dangers.
An air fryer uses electric heat and fans to imitate the effect of frying the food – that means you get the same crispy on the outside, and juicy on the inside effect on your favourite comfort food. Here are some popular recipes that you can make with an air fryer:
French fries
Vegetable chips
Bread toasts
Shrimps
Taquitos
Fillets
Chicken wings
From snacks to main meals, you can now do it with an air fryer.
Here are our top choices of air fryer in Singapore:
FAQs
What are air fryers?
Air fryers are a type of kitchen appliance that can cook your food with less oil, making perfect for a well-prepared healthy meal
What are popular brands of air fryers? 😄
Some of the popular brands are Philips, , Mayer, and EuropAce
Why should I get an air fryer?
Air fryers are healthy alternative to frying, as it uses electric hit and fans to imitate the effect of frying food, which out the bad cholesterol, fat, and calories.
This post was brought to you by Kimz House.
Disclaimer: The opinion is solely based on our testing or intensive research with customer feedback around the most popular shopping platform such as Shopee and Lazada. The products/services shown here are available and valid upon the publication date. It may change from time to time. Please email us at [email protected] if there is any discrepancy.