Last Updated on
JBL's vast and constantly expanding lineup of headphones, earphones or earbuds have something for everyone. From super cheap options to premium over-the-head cans depending on your listening preference, there is a solid product with great sound quality and noise cancellation out there, no matter what kind you are looking at!
Factors to Consider When Choosing the Best JBL Earbuds
Some people are drawn to JBL earphones and earbuds because they offer an audio performance that's among the finest in its price range. But before you buy, there is important information about these products which every buyer should know!
Good Sound Quality
JBL offers two choices when it comes to sound quality, JBL Signature sound and JBL Pro sound settings. The difference between the two is subtle but important. The JBL Signature brings a powerful and entertaining listening experience with its slightly boosted bass that will have your feet tapping on the floor! The JBL Pro sound is more balanced and detail-rich, which makes it better for listening to higher-quality content.
Battery life
The battery life on most devices is likely to be shorter than what you are told. This can happen because the actual performance may not match up with how long it says in your manual or advertisement, but there could also potentially other factors at play, like heavy use, which will reduce the total amount of time spent listening as well!
Companion app
You can also use the JBL companion app to customize your sound and controls with your android or apple devices. The best part about these products is that they come with a built-in firmware update mechanism, so you don't need any other tools or cords for this purpose, unlike other true wireless earbuds!
Additional Features
The latest wireless JBL earbuds have all the features you need at a great price. Not only do they sound amazing and feature noise cancellation, but their battery life is also impressive, and there are tons of ways to charge them! Our favourite feature? The case is compatible with charging via USB-C or Wireless Charging that comes included in every purchase.
Best JBL Earbuds
Listen below are some of the best wireless earbuds from JBL you can purchase right now with your budget and preference. But do keep in mind that there are other JBL earbuds available for you.
1. JBL Tour PRO+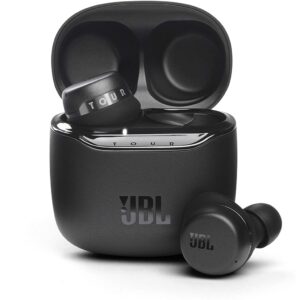 Best for Calls
JBL Tour Pro+ true wireless earbuds are perfect for the person who wants to be able to go about their day without worrying about whether or not they'll have music playing. The sleek design, excellent sound quality with high-quality noise cancellation and hands-free call access virtual assistants make this an ideal product that you won't regret buying!
The earbuds are a great option for people who want good battery life and music quality. If you're looking for headphones that have solid battery life and are also wireless charging-compatible, the Tour Pro+ earbuds are a great choice.
Pros:
Balanced sound with JBL pure bass
Great noise cancellation
Good microphone quality
Cons:
2. JBL Live Free 2
Sleek Design
The JBL Live Free 2 true wireless earbuds are the best for most consumers. They have a sleek and colourful design, durable build with a workout-ready rating that can withstand water resistance, comfy fit, plus powerful sound, all while providing active noise cancellation thanks to smart ambient sounds!

JBL live is perfect for enjoying wireless listening of your favourite tunes on the go. They have six onboard microphones that ensure crystal clear calls, and their wireless charging battery case holds an additional charge so you can stay connected without worrying about running out of power!
Pros:
Durable
Good noise cancellation
Well-balanced sound profile
Cons:
Battery life could be longer
3. JBL Tune 115 TWS
Affordable Option.
The JBL Tune 115 True wireless earbuds are an excellent choice for those on a tight budget. These true-wireless headphones have a characterful design, lightweight build quality and powerful sound with booming bass that makes them one of our favourite picks in this price range!

The Tune 115 TWS JBL wireless earbuds are designed to be affordable yet still pack a punch. They don't have the sophisticated microphone setup or compatibility with an app that JBL's other headphones do, but their 6-hour battery life is more than enough for most people who need some extra time
Pros:
Light Weight
Affordable
Good bass response
Cons:
4. JBL Under Armour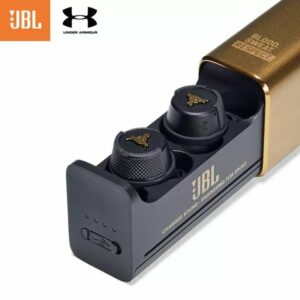 Best for Active Wear
The JBL Under Armour is an amazing pair of earbuds for all your sports needs and one of the best JBL earbuds you can find. They're designed with a true wireless connection and water-resistant and sweatproof capabilities (IPX7 rating), so you can take them anywhere! These headphones also come equipped with a high-performance design that delivers signature sound from this trusted brand.
Aside from its good noise cancellation, Under Armour JBL earbuds are designed with bionic hearing in mind. This technology allows you to hear your surroundings and interact easily through two different modes: Talk-Through, which lowers music volume while amplifying speech; as well Ambient Aware, where they will adjust background sounds for safety but also increase ambient noise levels so that when talking on the phone.
Pros:
Sport flex ear tips
Long battery life
Ambient Aware and Talkthru modes
Cons:
5. JBL Tune 220
Best In-ear tips
The JBL Tune 220 Truly Wireless earbuds are perfect for those who want to be hands-free and fuss-free during their calls. These lightweight, colourful headphones come with easy controls that you can take anywhere as well as an adorable design!
The earbuds are perfect for when you need to stay connected and enjoy music without any interruptions. They have clear highs and smooth midranges with powerful bass that won't distort your sound at high volumes!
Pros:
On-the-go controls
Powerful deep bass
JBL pure bass sound
Cons:
Battery life could be better
6. JBL Endurance Peak II Earbuds
Ear Hook Design
The JBL Endurance Peak is one of the best JBL earbuds, with a truly wireless design and waterproof resistance for outdoor workouts. They come equipped to handle any rigorous exercise routine, thanks in part due their power hook that ensures stability during activities like running or biking while also providing an easy method of handling volume control via touch. More importantly, though? You can enjoy crystal clear sound performance because these JBL signature sounds have been designed for years on courses, so they don't leak!
The JBL Endurance earbuds are the perfect choice for runners who want a high-quality listening experience without any annoying wires getting in their way. These wireless headphones have crystal clear highs, deep bass and detailed mids that will satisfy even picky listeners! Plus, they come with an awesome two-year warranty, so you can buy them knowing there's always support if something goes wrong.
Pros:
Responsive Controls
IPX7 waterproof design
Low Leakage
Cons:
Battery life could be better
Conclusion
If you are in the market for a new pair of headphones, earphones or earbuds, be sure to check out JBL's vast and constantly expanding lineup. With options that range from super cheap to premium over-the-head cans, there is a solid product with great quality out there, no matter what kind you are looking at!