Last Updated on
With back-to-back online meetings becoming the norm these days, many of us are now turning to almost all accessories that will make our virtual meets more bearable yet still professional. Aside from high-resolution web cameras, one of the most sought after online meeting accessory now are wireless earbuds. They are sleek enough to not disrupt your overall look during video calls yet give you that clear audio and privacy like how every earphone should be.
Table of Contents
Top Brands for Wireless Earbuds in the Philippines
Earbuds vs Earphones
Choosing the right earbuds
Conclusion
FAQs
Wireless Earbuds Comparison Table
(scroll right for more)

Upgrade your online meeting starter pack with the best earbuds Philippines this year.
1. Xiaomi Redmi AirDots 2 Wireless Earbuds

Best Transfer Rate
The AirDots 2 Bluetooth from MI is the perfect accessory for any music enthusiast. Boasting a new and improved Bluetooth 5.0 chip, these wireless earbuds offer a faster and more stable data transfer rate than ever before. With 4 hours of playback time on a single charge, and 12 hours with the charging case included, you can enjoy your favourite tunes wherever you go without having to worry about running out of juice. Additionally, three models (S, M and L) of earplugs are provided for higher closure and firmness while the lightweight design at only 1g per earphone ensures comfortability when wearing them for long periods of time.
On top of that, built-in chips provide noise reduction as well as improve overall sound quality so all your tunes come in crystal clear clarity no matter what environment you're in! Whether using it for gaming or just listening to some relaxing music after a stressful day at work these wireless earbuds have got you covered every step of the way! Plus their low price point makes this product an absolute steal compared to competing products from other brands.
All in all, if you're looking for comfortable yet powerful wireless earphones then look no further than the Xiaomi Redmi Air Dots 2 Wireless Ear Buds! Thanks to features like their ultra-low weight design along with fast Bluetooth connection speeds these awesome headphones will be sure to meet even the highest demands that crossover between leisure use or daily commuting use! Don't miss out on this great deal – get yours today!
Pros:
4 hours continuous battery use while 12 with the charging box.
Reduction, Circumaural, Dynamic Open, High Resolution, Audio Quality
Communication for up to 10 meters in a barrier-free environment
Cons:
2.
Lenovo GM2 Pro
Best for Gaming
Lenovo GM2 Pro
The Lenovo GM2 Pro is an excellent wireless headset that offers great value for the features it offers. With its dual host design, you get separate left and right ears so you can always hear what's going on around you without any interruption. Additionally, the smart touch control allows for quick adjustments when needed – this is great for gaming or listening to music.
Furthermore, these headphones come with a waterproof function for sweat which makes them suitable even for intense workouts! And the 13mm power driver with stereo & C-type interface provides powerful sound quality without compromising on speed – just plug and play! Plus, it has Bluetooth 5.3 chip which ensures smooth and low-latency connections – perfect if you're gaming or watching movies online!
All in all, the Lenovo GM2 Pro are a perfect companion whether you're working out or having marathon gaming sessions – they offer superior audio performance that won't let you down at any time! Get yours today and experience impeccable sound quality no matter where your day takes you!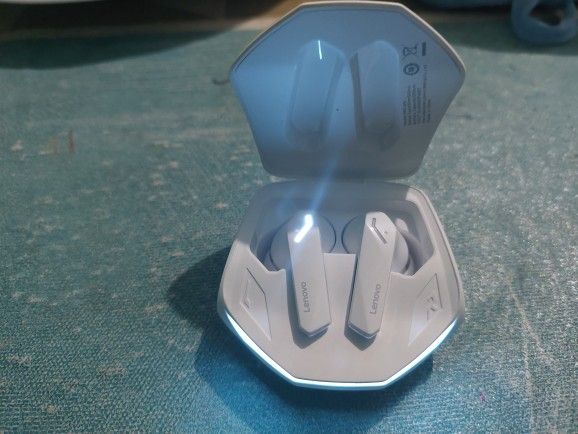 Pros:
Dual host, separate left and right ears for convenience
Smart touch, small and light design for comfort
Bluetooth 5.3 chip with HD low latency and 65ms no delay
Cons:
No noise cancelling technology
3.
BAVIN BA19
HiFi Stereo Sound
The BAVIN BA19 is a budget wireless earbuds that are the perfect accompaniment for your music and mobile device needs. With their in-ear design, they provide supreme comfort while you listen to your favourite playlist, allowing long sessions of wearing with no discomfort. These earbuds provide a HiFi stereo sound quality that makes all genres come alive; from classical to rap, these bad boys can handle it all!
What sets the BAVIN BA19 apart from others is its innovative approach; activate Siri or other voice assistants with just a simple touch and take command of your music easily. On top of that, the Bluetooth 5.3 dual-core technology improves connection stability so there's no need to worry about connections dropping out during listening sessions- even during extended periods when travelling outside wireless range areas!
If you're looking for an easy-to-use but powerful pair of earbuds that don't skimp on sound quality and features, then we highly recommend giving the BAVIN BA19 a try – you won't be disappointed! Get yours today and experience first-class audio entertainment wherever you go!
Pros:
Hassle-free Bluetooth 5.3 connection for a reliable connection
Touch Operation with Smart touch to control Music and Calls
Left and Right earphones have independent chips, and can be used as single earphones
Cons:
Not suitable for exercise activities.
4.
Samsung Galaxy Buds2
AdjustableAmbient Sound Mode
Samsung's latest Galaxy Buds2 stands out as an indispensable piece of technology for music enthusiasts. The incorporation of two potent directional speakers ensures an astonishing auditory experience, while the presence of three microphones (two external and one internal) guarantees impeccable audio clarity. Notably, the battery's endurance is impressive, with these earbuds capable of lasting up to 8 hours on a single charge, backed by a supplementary 472 mAh charging case, perfect for individuals on the move. The Seamless AI voice wake-up feature, driven by Bixby, further simplifies phone access without physical interaction.
For those who relish music in bustling settings like bars or concerts, the enhancement of ambient sound by up to 9dB is a significant advantage. This feature enhances sound fidelity and lucidity within the vicinity while adeptly attenuating background noise. The Galaxy Buds2's unique attribute lies in its ability to eliminate the need to remove headphones during conversational lulls or momentary distractions, thereby ensuring an uninterrupted auditory experience focused on the rhythm.
In totality, Samsung has achieved excellence in crafting these wireless earbuds. The harmonious blend of superior sound quality and practicality within an affordable package is commendable. Whether one frequents live events or simply seeks unhindered melodies throughout the day, an investment in this remarkable device is undoubtedly wise. The recommendation is clear: seize the opportunity before the inevitable depletion of stock; the decision promises fulfillment without remorse.
Pros:
Clear, rich audio experience with 2-way speakers (Woofer & Tweeter)
Long battery life of 7.5 hours on a single charge and up to 29 hours total with the charging case
Quick 1 hour charge time and Qi-certified wireless charging for convenience
Cons:
No auto-pause when removing earbuds
5.
Soundcore by Anker Life P2 Mini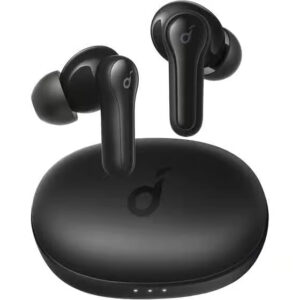 Featherweight Design
The Soundcore by Anker Life P2 Mini is an incredible pair of earbuds that will revolutionize your listening experience. These earbuds are equipped with oversized triple-layer 10mm drivers, which deliver a powerful sound with 50% more bass than most standard earbuds. Additionally, they come with three different EQ modes including Soundcore Signature, Bass Booster and Podcast to customize the audio according to your own preferences. Not only do they provide excellent sound quality but also superior comfort thanks to their ergonomic design and lightweight construction at just 0.16oz (6g) each!
What makes these earphones outstanding is their advanced technology that ensures clear calls no matter where you go. This includes an AI algorithm that enhances voice pickup for crystal clear conversations no matter the environment or background noise levels. In addition, these earphones offer up to seven hours of playtime on one charge so you can listen all day without having to worry about running out of battery power mid-listening session!
If you're looking for a high-quality pair of wireless earphones then look no further than the Soundcore by Anker Life P2 Mini! With its revolutionary features such as oversized triple layer drivers, three EQ modes and advanced AI technology it provides an unparalleled listening experience whether it's music or podcasts you're streaming from them! So don't miss out and grab yourself a pair today – make sure your audio sounds like never before with this amazing product!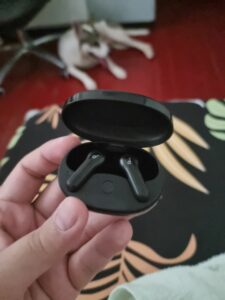 Pros:
Oversized triple-layer 10mm drivers with 50% more bass for a mesmerizing listening experience
3 EQ modes to customize the sound including Soundcore Signature (default), Bass Booster, and Podcast mode
Built in AI algorithm enhances voice pick-up so you can be heard clearly
Cons:
Low water resistance rating of IPX4
6. Apple AirPods 3rd Gen
Best for Apple Products
The Apple AirPods 3rd Gen are the perfect combination of convenience, sound quality and comfort. With an all-new design and shorter stem than AirPods (2nd generation), they fit snugly in your ears while still providing exceptional sound quality thanks to their innovative Spatial Audio with dynamic head tracking technology. This allows you to experience immersive 3D audio that follows you wherever you go, so no matter where you're listening, your music will always stay crisp. Additionally, Adaptive EQ personalizes the sound for a more tailored listening experience just for your ears.
Not only does the Apple AirPods 3rd Gen provide amazing sound quality, but it also boasts an incredible battery life of up to 6 hours of listening time and 4 hours of talk time on a single charge, making them great for extended use throughout the day without having to worry about recharging constantly. Plus, they're sweat and water-resistant with an IPX4 rating for added durability even during tough workouts or outdoor activities.
If you're looking for high-quality headphones that can keep up with all your lifestyle needs then look no further than Apple's AirPods 3rd Generation! You get great flexibility when it comes to portability and long battery life plus an unbeatable experience when it comes to immersive sound quality that fits perfectly into any situation; whether you're at work or working out at the gym! So don't wait – grab yourself a pair today and enjoy crystal-clear audio wherever life takes you!
Pros:
Adaptive EQ (iOS, Android, Windows)
MagSafe case with wireless charging
Sweat and water resistant
Cons:
7.
Xiaomi Redmi Buds 3 Pro
Intelligent Dynamic ANC
Introducing the Xiaomi Redmi Buds 3 Pro, a compelling choice for individuals seeking an enhanced audio encounter. The earbuds feature hybrid Active Noise Cancellation (ANC) technology, offering substantial ambient noise reduction of up to 35 dB. This empowers users to focus on their chosen audio while effectively muting their surroundings. The added innovation of intelligent dynamic ANC introduces three distinct modes optimized for comfort, making prolonged usage a seamless experience.
With a commendable 28-hour battery life on a single charge, the Redmi Buds 3 Pro stand out as a reliable companion for extended journeys or intensive study sessions. This endurance mitigates the need for frequent recharging. The inclusion of dual-device connection support further streamlines usability, enabling swift transitions between two devices, such as phones and laptops, without disruption. Furthermore, a brief 10-minute charge extends usability by 3 hours, making overnight charging lapses less concerning during urgent situations.
Considering these attributes and more, a strong recommendation is warranted for the Xiaomi Redmi Buds 3 Pro, particularly for those prioritizing premium sound quality. Despite their budget-friendly price, these earbuds exhibit no compromises in overall performance when compared to pricier alternatives from rival brands. Don't miss the opportunity to elevate your audio experience with these exceptional headphones.
Pros:
Hybrid ANC technology with effective noise reduction of up to 35 dB.
Noteworthy battery endurance with up to 28 hours of playback and rapid 10-minute charge for 3 hours of usage.
Support for wireless charging and in-ear detection.
Cons:
Limited effectiveness of sound cancellation in higher frequency ranges.
Bluetooth connectivity range restricted to 10 meters.
Charging case requires approximately 2.5 hours for a full wired charge.
8.
Realme Buds T100
Balanced Sound Signature
Realme Buds T100 is a great choice if you are looking for wireless earbuds that offer top-of-the-line sound quality and durability. The 10mm Dynamic Bass Driver gives an amazing listening experience with deep bass, clear trebles, and powerful audio. Its 6 hours of total playtime per earbud (and 28 hours combined playback time with the charging case) allows for extended music sessions without needing to recharge. Plus, it comes equipped with USB-C charging port for a fast 2-hour charge-up time and Bluetooth 5.2 connection providing a stable signal up to 10 meters away. Furthermore, its IP54 certification offers protection against dust and water in more extreme conditions so that you can take these buds wherever your adventures may lead you!
Whether it's just using them around the house or during physical activities outdoors – Realme Buds T100 is perfect for your needs with their exciting features at affordable prices! These earbuds offer a rich audio experience while maintaining long battery life—no need to worry about running out of power halfway through the day anymore! Additionally, a secure Bluetooth connection allows you to roam free without any disturbances or disruption from the external environment; even when immersed in watery places due to their water resistance feature up to 50cm/1m depths depending on IEC standard test conditions & results may vary according to the usage environment
If what you want are reliable wireless audio experiences then look no further than Realme Buds T100! With its powerful sound driver and convenient charging options plus durable construction – this earphone pair has got everything needed for effortless music streaming or gaming session over long periods of use – making it one of the most ideal choices available today. Go ahead get yourself a pair now and feel the difference!
Pros:
Offers up to 6 hours of playback time per earbud and 28 hours combined with a charging case
IP54 Certified Dust & Water Resistance for better durability
Easy pairing with Bluetooth 5.2 connection range of up to 10 meters
Cons:
9.
JBL Tune 115TWS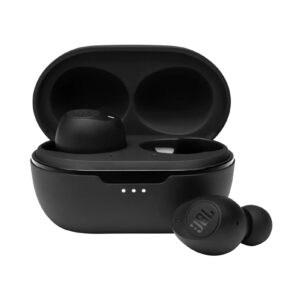 Secure, Comfortable Fit
The JBL Tune 115TWS is an incredible pair of wireless earbuds that features up to 21 hours of battery life, incredible sound quality and a comfortable fit for all-day listening. It includes JBL Pure Bass technology, which provides a deep and powerful bass sound with crisp highs and crystal-clear mids. Additionally, it offers Dual Connect mode that lets you use either earbuds in mono or stereo mode, allowing for greater flexibility.
The comfortable fit on the Tune 115TWS ensures that you can enjoy your music without any fatigue or discomfort throughout the day. They also feature hands-free calls and allow you to access your voice assistant just by using a single finger – making them ideal for when you're busy multitasking as well as when you're simply relaxing with some tunes!
All in all, the JBL Tune 115TWS are an outstanding choice if you're looking for high-quality audio performance coupled with great battery life and superior comfort during extended periods of use – so why not make them yours today? You won't be disappointed!
Pros:
Enjoy your favourite music with high-quality sound and JBL Pure Bass
Stream conveniently with Bluetooth connectivity and no wires to worry about
Listen for up to 21 hours on a single charge
Cons:
No on-board volume controls
10. JBL Wave 100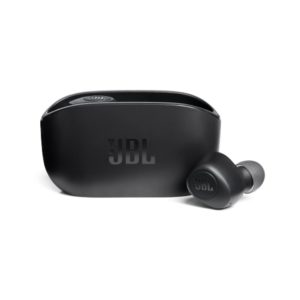 Deep Bass
The JBL Wave 100 TWS is an essential companion to a carefree lifestyle! The perfect device for everyday fun, the JBL Wave 100 TWS brings the best of wireless audio to enhance your experience with great sound, no-frills design and total freedom from wires.
Enjoy up to 20 hours of playback and never miss a beat with Dual Connect technology that allows you to control music and calls by either connecting one or both earbuds with your smartphone. Then, crank up the volume with JBL Deep Bass sound to transport you to your next musical adventure. And now hands-free calls are as easy as ever, so you don't have to worry about missing out or keeping the flow going while on the move.
Experience total comfort and convenience with the JBL Wave 100 TWS that offers simple, smart – yet stylish – everyday fun!
Pros:
Stereo and Mono Mode
5hours battery life when in use
Fast charging time
Cons:
Top Brands for Wireless Earbuds in the Philippines
JBL
JBL's speakers offer a high-quality listening experience for any genre. Their different models vary in their audio output, but both can deliver mesmerizing sound at low volumes and top-notch performance when cranked up loud!
Apple
Apple AirPods are a must-have for anyone who wants to take their music and conversations with them. The lightweight design makes it easy, while the reliable connection means that you won't miss any of what's going on around you – even if someone talks over one of your tracks! Plus Siri can be voice triggered through these earbuds so even more control is in hands-free mode.
Xiaomi
Xiaomi's wireless earbuds are a nice, affordable option for those who want to enjoy music without any cords. The design is modern and comfortable to wear – it even has an adjustable neck strap so you can ride confidently while listening!
Earbuds vs Earphones
With the price range for both not really far from each other, which one should you choose? Earbuds and earphones both have their advantages, and it will greatly depend on the reason you are buying either of the two.
Earbuds are for those who want something more portable and even barely visible to use while listening to music or taking calls. Earphones, particularly wired ones, are for those who do not mind having something connected to their phone every time and also enjoy limitless usage of their audio device. Most earphones do not need to be charged and are also low maintenance.
Choosing the right earbuds
So, you finally decided to hop on the earbuds bandwagon. Don't just buy what looks good and elegant. One of the important things to consider is its comfort and fit, given that these wireless earphones can easily fall off if it does not fit your ear correctly.
Check whether there are size options or silicone buds to secure the earbuds upon usage further. Playtime and charge time are also major considerations. You need to decide how much you are willing to spend for a longer playtime without compromised audio quality.
Conclusion
With the introduction of wireless earbuds, tangling cables is now a thing of the past. This provides hands-free operation and allows for better convenience while giving you the freedom to move around with ease. You can exercise or cycle without being tied down by your device, or clean up in one room while listening to music in another – all hassle-free!
FAQs
Can I only use one earbud at a time?
Wireless earbuds still work with Bluetooth technology, but instead of being wired together like traditional headphones are they're separated and come equipped with a built-in chip that allows you to choose whether or not your want each one acting individually.
Should I be concerned with overcharging my earbuds?
Wireless earbuds come with a built-in battery that will stop charging once it reaches 100%. This is because of how most wireless headphones work, which has the ability to reduce power from 80% all way down when fully charged so as not over stimulate their device's capacity.
What features should I look for in a pair of earbuds?
You should be looking for a pair of headphones that has the ability to control your music and calls as well as trigger voice assistants. Pairing is also important so they connect quickly without any delays or dropouts in connection!
This post was brought to you by Kimz House.
Disclaimer: The opinion is solely based on our testing or intensive research with customer feedback around the most popular shopping platform such as Shopee and Lazada. The products/services shown here are available and valid upon the publication date. It may change from time to time. Please email us at [email protected] if there is any discrepancy.