Challenge 44 – Tangled on the Inside
Ok… so the challenge for this week is to create our string using one tangle, then tangle inside that with another. This didn't turn out quite the way I expected, but I am not disappointed.
Challenge 43 – Sunflower Fun
The challenge this week is in honor of Bandana Day, run by the Sunflower Fund in South Africa for the support of the SA Bone Marrow Registry for people suffering from leukemia. The challenge is to tangle a sunflower. Here is my contribution.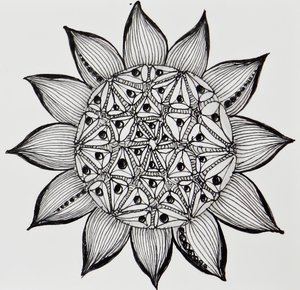 Challenge 39 – Love Is All You Need
In the wake of the 10th anniversary of the 9/11 tragedy, our awesome Diva came up with a wonderful challenge for this week. After all, when it really comes down to it… isn't that really all you need?
Challenge 38 – Better Than A Pair Of Ducks
Our challenge from the Diva this week is to create a monotangle using Paradox. This pattern is a little hard to get the hang of, but has thousands of possibilities and can result in a beautiful organic work of art.