Last Updated on
Is your microwave starting to show signs of ageing? Or, is it your first time shopping for a microwave oven? Choices are growing wide these days, and it can be quite overwhelming to find the right one for you. Based on experience, one of the top considerations when buying a microwave oven is to know how much space you have first. It is crucial to have a decent space inside your house where the microwave can be stored properly, and at the same time, be easily accessible.
We toned down your options for you with our top-rated microwave ovens in Singapore.
Table of Contents
Advantages of owning a microwave oven
Do microwave remove nutrients from food?
Top Microwave Oven Brands in Singapore
Conclusion
FAQs
Quick Comparison Table
(scroll right for more)
1. Cornell CMO-S20L Microwave Ovens
Great Space Efficiency
The Cornell CMO-S20L is a high-quality, user-friendly microwave oven that makes creating delicious meals easier than ever. It features a 35-minute manual timer and push-release door to make cooking efficient and easy, making it one of the best microwave ovens in Singapore. The cooking cycle end signal will alert you when your meal is done so you don't have to keep an eye on it while it cooks; plus the defrost function allows you to quickly prepare frozen foods without having to wait hours for them to thaw. Finally, the glass turntable ensures even heating throughout the entire cooking process.
With all these amazing features, making tasty and nutritious meals has never been simpler! Not only can you cook large or complicated dishes with ease but reheating food leftovers becomes effortless with this device! You'll be able to save time in the kitchen, leaving more time for spending quality moments with family or friends after dinner.
If convenience and efficiency are what you crave in the kitchen, the Cornell CMO-S20L is just what you need! This high-quality microwave oven has everything needed for seamless meal preparation from start to finish – try it today and experience first-hand how perfect your next home-cooked dish will look and taste!
Pros:
35 min manual timer
5 power level including Defrost setting
Cooking end signal
Cons:
2. Sharp R-22A0
Best Digital Control
The Sharp R-22A0 is an outstanding microwave oven that offers a wide range of features and benefits. It has a 20-litre capacity with a 255mm glass turntable which allows for even heating of large items. Its push door makes it easy to use while its 800W output power ensures quick, efficient cooking. Furthermore, the 8 auto menus make it simple to adjust temperatures and settings according to specific recipes.
Additionally, the multiple-sequence cooking stages allow you to prepare several dishes simultaneously without altering their individual tastes or textures. This feature also helps save time while still delivering tasty results every time! Plus, with built-in clock and kitchen timer functions, you can be sure your meals will always be cooked right on schedule.
All in all, the Sharp R-22A0 is an excellent choice for anyone looking for an efficient way to quickly cook delicious meals without sacrificing quality or taste! So if you're interested in taking control of your kitchen experience with this impressive appliance, then don't wait any longer – get your own Sharp R-22A0 today!
Pros:
Powerful Output Power (800 W)
8 Cook/ Defrost Auto Menus
Multiple Sequence Cooking Stages
Cons:
Internal Capacity is a bit narrow
3. Samsung MC28H5015AS
Best for Complex Recipes
If you are looking for a large microwave oven in Singapore, the Samsung MC28H5015AS is an excellent microwave oven for busy households. It has 15 pre-set cook modes so you can quickly and easily prepare a variety of meals with the push of a button. For example, if you're in the mood for pizza or lasagna, just select 'pizza/pasta' mode to have your meal ready in minutes. You can also make delicious homemade dough or yoghurt using the fermentation function.
No matter what kind of dish you make, this convection microwave oven has plenty of space to accommodate larger pans and casseroles without sacrificing performance thanks to its disabled turntable feature that allows you to utilize every inch of interior space. Additionally, it comes with a deodorisation setting which eliminates any lingering odours left behind by your meals—so no one will be able to tell when dinner was reheated!
All in all, the Samsung MC28H5015AS is an ideal choice for busy families who want their dinner prepared fast and easily! With its advanced features like multi-cook settings with microwave grill function and deodorization settings, anyone from beginner cooks to expert chefs can enjoy delicious flavours at home with minimal effort required. Don't wait—get yours today for hassle-free cooking experiences!
Pros:
15 Pre-set Cooking Modes for smart and convenient cooking
Advanced fermentation for delicious yoghurt/dough anytime
Deodorisation Setting helps to dissipate odours in the oven
Cons:
4. Panasonic NN-ST25JWYPQ
Best Value for Money
What first attracted us to this microwave oven is its price. Panasonic is generally not one of the most affordable brands of electronics. To find this below, 100 SGD is quite a treat! True to the reputation of Panasonic, the features did not disappoint. It's a powerful and large enough microwave oven for family use.
The Panasonic NN-ST25JWYPQ is a great microwave oven for anyone looking to upgrade their kitchen appliance offerings. It comes with 9 auto cooking menus, a quick 30 function, an oven capacity of 20L, and a microwave power output of 800W. Not only does it offer convenience in the form of being able to select from predetermined recipes or cook times but also provides adjustable levels of power allowing you to adjust your cooking preferences as desired.
One of the key features that make this model stand out is its 5-level microwave power control setting (High 800W, Defrost 270W, Medium 700W, Low 360w & Warm 200W). This allows you to tailor your cooking needs more precisely compared to other models on the market which provide just one level or basic settings such as high and low options only. You can easily adjust these settings depending on what type of food you are preparing to ensure perfectly cooked meals every time!
If you're in search of an easy-to-use microwave oven that offers both precisions in terms of temperature control and convenience elements then look no further than the Panasonic NN-ST25JWYPQ model! With its added features such as auto cooking menus and quick 30 functions, this device will surely help make meal preparation easier without compromising quality results in any way! So what are you waiting for? Grab this amazing product today and start enjoying delicious meals made at home with ease!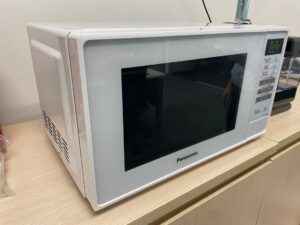 Pros:
20L Solo Microwave Oven
9 Auto Menus
Quick 30 Function
Cons:
Not ideal for large batches
5. EuropAce EMW 1202S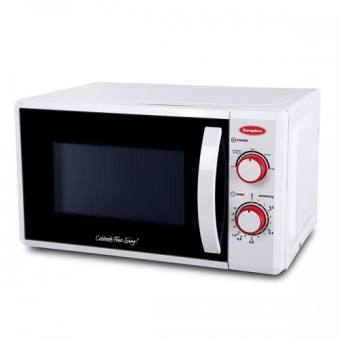 Space Efficient
EuropAce EMW 1202S is the perfect choice to get your meals ready in a matter of minutes. Its compact 20 Litres capacity, 35 Minutes timer and Defrost setting mean you can easily prepare dinner for the family, snack time treats, defrost meat or reheat food in no time. When it comes to convenience, this microwave oven has got you covered! The Pull-open door makes accessing and removing food effortless while its 5 Power levels give more control over your cooking process. Moreover, its 255mm Diameter Turntable ensures even heating with every use.
One of the best features of this microwave oven is its energy efficiency as compared to larger models that tend to consume higher electricity usage. Plus, since it's smaller than most microwaves available on the market today, it doesn't take up too much counter space which makes it ideal for small kitchens. Additionally, cleaning this appliance is hassle-free thanks to its easy-to-clean interior walls and exterior surfaces so keeping it spotlessly clean is a breeze!
Whether you are looking for a quick way to cook meals for yourself or your family, EuropAce EMW 1202S will be sure to make life easier when preparing delicious home-cooked dishes anytime! So order yours now and take advantage of all these amazing features at an affordable price!
Pros:
35 Minutes Timer
Defrost Setting
Pull-open Door
Cons:
6. Panasonic NN-ST34HM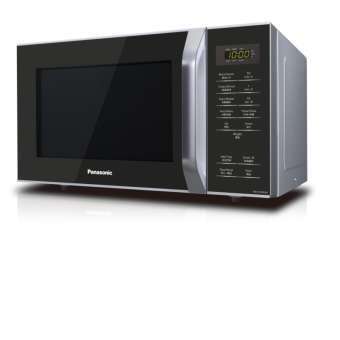 Elegant Design
The Panasonic NN-ST34HM microwave is an exceptionally convenient and efficient addition to any kitchen. Its compact body with matte finish gives it a minimalistic look, making it a great fit for any modern kitchen's design aesthetic. It also has +100W enhanced MWO heating power with 5 adjustable level powers that allow you to customize your cooking experience. In addition, the microwave features 10 built-in pre-programmed recipes that are convenient and time-saving when you need something warm in seconds!
This microwave comes with the Quick 30 function which allows you to easily set cooking times up to five minutes at just the touch of a button. Additionally, there is an additional time function which gives you control over exactly how long or short your cooking times should be–making sure each dish turns out perfect according to your taste preferences every single time!
Overall, Panasonic's NN-ST34HM Microwave offers plenty of convenience without compromising on quality or style; it's not just functional but looks great too! If you're looking for an affordable yet reliable appliance that will help make meal prep easier than ever before then this is definitely worth considering. Give yourself the freedom to whip up easy meals quickly — grab one today and see the difference it makes in your life!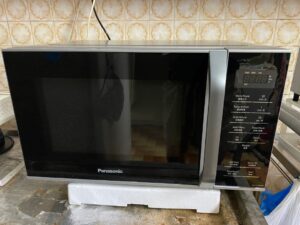 Pros:
Auto Reheat
Auto Menu
Turbo Defrost
Cons:
7. Samsung Ceramic Inside™ MG23K3513AK/SP
Best for Quick Meal Preps

The Samsung Ceramic Inside™ MG23K3513AK/SP microwave is a great addition to any modern kitchen. With its 23-litre capacity, it's perfect for preparing large meals, and the defrost technology allows you to prepare food quickly with minimal effort. The keep-warm function also helps maintain the quality and temperature of your food until you are ready to serve it.
Another highlight of this Samsung microwave oven is its Browning Plus function which helps you achieve a crispy finish on grilled foods that would usually require an oven or deep fryer – giving you one less appliance in your kitchen! What's more, all these features are protected by CERAMIC INSIDE™ – ceramic coating on the inside walls of the microwave that makes cleanup easier than ever before.
All things considered, we highly recommend purchasing the Samsung Ceramic Inside™ MG23K3513AK/SP Microwave if you are looking for a high-quality device at an affordable price range. It has everything you need to make delicious meals in no time and will be a great addition to any home kitchen!
Pros:
Keep Warm Function For Keeping Food Warm And Tasty
Quick Defrost
ECO Mode
Cons:
8. Panasonic NN-ST25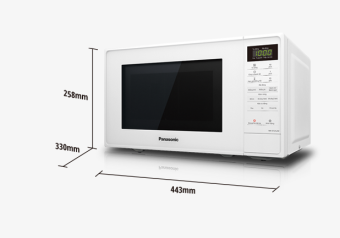 Great value for money
The Panasonic NN-ST25 microwave oven is the perfect choice for any busy kitchen. This stylish appliance has a classic white finish, making it a great addition to any home. The 1-year repair warranty ensures that you can rely on your microwave for years of reliable use. On top of this, the child safety lock and 9 auto cook menus with 5 variable power levels mean that no matter what meal you're preparing, you can trust this appliance to do it safely and quickly.
One of the standout features of this product is its Multi-Stage Cooking system which allows you to set two stages of power and time settings depending on how long or hot your meal needs to be cooked. This makes it easy to ensure every dish comes out just right without having to guess at temperatures or timings – making multitasking in the kitchen much simpler! This feature also works well if you're cooking multiple dishes at once as each dish will have different needs and times required – something that would be tricky with most other microwaves on the market today.
In short, when choosing a new microwave oven look no further than Panasonic's NN-ST25 model – guaranteed reliability with advanced features to make sure every meal gets crafted just right and safely every time. With all these features included as standard there really isn't anything better so why not give it a try?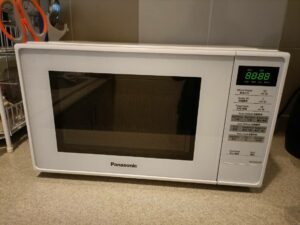 Pros:
9 Auto Menus
Quick 30 Function
Multi-Stage Cooking
Cons:
9.
Samsung MS23K3513AK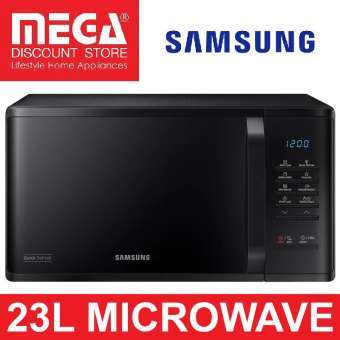 Easy to use and maintain
The Samsung MS23K3513AK is an excellent choice for those who want a quick and easy-to-use microwave oven. The Quick Defrost function ensures that your food can be defrosted quickly and evenly, meaning you'll never have unevenly cooked food again! The CERAMIC INSIDE™ also makes it incredibly easy to keep clean, while the deodorization setting gets rid of any lingering smells with ease. On top of this, the range of Auto Cook Programs provides you with plenty of pre-programmed local recipes so that you can whip up delicious meals in no time!
What really stands out about this Samsung microwave oven is its intuitive touch button control system which lets users select their various settings at the press of a button. Not only does this make things easier when it comes to preparing meals but it also saves time too – something we could all do with nowadays! Furthermore, despite being quite compact in size, this model still provides plenty of space inside for larger dishes such as casseroles or large roasts.
If you're looking for a convenient solution when it comes to preparing meals then look no further than the Samsung MS23K3513AK Microwave Oven – perfect for busy households who need quick and efficient cooking times every day! With features such as Quick Defrost, CERAMIC INSIDE™, Touch Button Control System and Deodorization Setting – there's nothing else quite like it on the market today! So what are you waiting for? Buy yours today and start enjoying delicious home-cooked meals without fail!
Pros:
Quick Defrost for fast thawing of meat
Auto Cook programme for easy cooking
ECO Mode
Cons:
10. Electrolux EMM2022MK
Best for Beginners
Finally, a good old favourite microwave oven. Something familiar, easy on the pocket, and user-friendly. If you are looking for a no-fuss microwave that can squeeze into your tabletop, we highly recommend this one from Electrolux.
The Electrolux EMM2022MK microwave is a great appliance for busy households. It has five power levels, ranging from low to high, which allows versatile cooking options. You can easily defrost food with the touch of a button and the 10 automatic cooking presets make it easy to prepare all kinds of dishes. Additionally, there's also a child lock safety feature that prevents misuse.
One of my favourite things about this microwave is its convenience factor. With dial control and pre-programmed settings, I don't have to spend time manually entering times or temperatures for my meals – which can be especially helpful when I'm in a hurry! Furthermore, having different power levels allow me to customize how quickly or slowly I cook foods so that they are always just right every time!
All in all, if you are looking for an advanced yet user-friendly microwave then the Electrolux EMM2022MK should definitely be at the top of your list! Its multiple features ensure quality results every single time and it even has added safety features that prevent misuse as well – making it perfect for both experienced cooks and beginners alike! So what are you waiting for? Get yours today and experience hassle-free meal preparation like never before!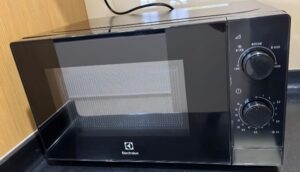 Pros:
Free Standing
20L
Quick and Simple Defrost
Cons:
Advantages of owning a microwave oven
Microwave ovens are among those appliances that were created to make our lives easier. Anyone who had to prepare food every single day can attest to how convenient owning a microwave oven can be. However, apart from this apparent convenience, microwave ovens also expand your recipe choices.
As a matter of fact, you can easily switch to baked from fried food when you own a reliable microwave oven. This does not only mean having more food options, but it also gives you a fast and easy way to make your meals healthier. While microwave ovens are often blamed for high electricity expenses, they actually consume less energy than your typical electric stove, primarily because they cook food faster.
Does microwaves remove nutrients from food?
This is a long-standing myth that has long been debunked by nutritionists. Food does not become "radioactive" when placed or cooked inside the microwave, nor do they significantly lose nutrients. In fact, depending on your cooking time and temperature, you may be able to save more nutrients from your food through a microwave oven.
Top Microwave Oven Brands in Singapore
Panasonic
Panasonic's commitment to building a better life, world is expressed through its product innovations including OLED TVs, air conditioners, and home and kitchen appliances.
Samsung
Their products are reliable and of high quality. Samsung has been maintaining this tradition for years with their innovative technology, stylish designs- all at affordable prices!
Conclusion
If you're in the market for a new microwave, be sure to consider how much space you have first. It's important to have decent space inside your house where the microwave can be stored properly and be easily accessible. With so many options on the market, taking this one extra step will help ensure that you end up with a microwave oven that meets all of your needs.
FAQs
Can I use a microwave oven to defrost?
Commercial Microwaves often come with a standard defrost button, but not all domestic microwaves have this feature.
How do I maintain my microwave oven?
Cleaning your microwave is easy and requires only a damp cloth or sponge, dish detergent if needed to remove food stains from the interior of cabinet doors. You should also wipe down any surfaces that come into contact with water such as air filters below door handles so they don't get clogged by build up .
How big is a standard microwave oven?
There's a range of microwaves available from 20-25 liters, each with different specifications. These can cook and reheat your family favourites!
This post was brought to you by Kimz House.
Disclaimer: The opinion is solely based on our testing or intensive research with customer feedback around the most popular shopping platform such as Shopee and Lazada. The products/services shown here are available and valid upon the publication date. It may change from time to time. Please email us at [email protected] if there is any discrepancy.