Last Updated on
It's that time of year again when everyone is looking for a new washing machine. This can be a daunting task with all of the different brands and models on the market. That's why we've put together this list of the 10 best front load washing machines in Singapore. We'll help you decide which one is the best washing machine right for you based on your needs and budget! Happy shopping!
So if you are overwhelmed with vast choices of front load washing machines in the market, then keep reading.
Table of Contents
Best Front Load Washer Quick Comparison Table

Advantages of Front Load Washer
Best Brands of Front Load Washing Machines in SG
Best Front Load Washer Quick Comparison Table
(scroll right for more)

9 Best Front Load Washing Machine
1. Panasonic NA-127XB1WSG
Water-saving
The Panasonic NA-127XB1WSG 7KG Front Load Washer is the perfect addition to any home. This washer offers a generous 7kg capacity, allowing you to wash larger loads in one go. The quick wash cycle cuts down on laundry time, while the extra rinse cycle ensures clothes are well-rinsed and free from detergent residue. Additionally, it has a handwash+delicates process for more delicate garments and fabrics, ensuring they come out clean without being damaged or stretched out due to too much agitation or spin speed. With its fast and powerful 1200rpm spin speed and anti-vibration design, it's designed to be quiet during use so as not to disrupt your household with excessive noise during the spin cycle.
What sets this washer apart is that it combines all these features into an energy-efficient machine with low water consumption rates, which many consumers appreciate today when making environmentally friendly decisions when purchasing appliances. It also comes complemented with a sleek and modern design that adds comfort and style in any kitchen setting, no matter what aesthetic you may have at home!
This is a fantastic washing machine for anyone who wants quality results in less time and superior performance; a great combination of both form & function! We highly recommend giving this durable washer top consideration for your next purchase – it's sure to deliver satisfying results every time!
Pros:
This new model spins faster but consumes less water
Perfect size for any home, not too big
Durable, hence, designed for heavy-duty needs
Cons:
Still uses knob switch which harder to set fo some
2. Samsung WW80T534DTT/SP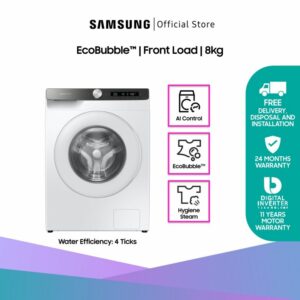 AI-Enabled
The Samsung WW80T34DTT/SP Front Load Washer is a fantastic addition to any home that needs a reliable and efficient washer. With its AI Control feature, you no longer have to worry about choosing the correct settings for your load. It will remember your habits and preferences from previous uses and suggest the best cycle for you. Additionally, the Hygiene Steam function removes germs without needing pre-treatment, which is perfect if anyone in your household has sensitive skin.
The Auto Dispense Plus also makes it easier to get the job done correctly with specific detergent amounts based on fabric type and water hardness level. To top it off, this machine has Smart Check System that can diagnose problems quickly as assistance so you can tackle them head-on! These features alone make this washer invaluable when it comes time to do laundry duty while saving time thanks to its Quick Wash Cycle, which cleans lightly soiled clothes in only 15 minutes – magically!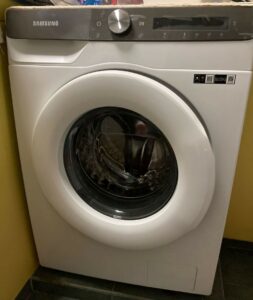 With all these great features packed into one powerful package, buying the Samsung WW60T534DTT/SP Front Load Washer is a no-brainer! Not only does it save both time and energy, but it also offers peace of mind knowing that laundry day won't be such a hassle anymore – especially since there are now automated solutions making sure each load comes out spotless every time! So what are you waiting for? Get your hands on this fantastic appliance today!
Pros:
Also has Ecobubble Technology for thorough yet gentle cleaning
Works with almost all types of fabric
AI technology makes your front load washer more convenient to use
Cons:
Given all the features packed into the front load washer, it expectedly is expensive (but worth it!)
3. Sharp ES-FL78MS
With delay timer
The Sharp ES-FL78MS Front Load Washer is an excellent choice for homeowners looking to save time and money. With its 7kg capacity, you can quickly get through large loads of laundry without wasting time or energy. The Eco-Logic System means you can conserve water with every wash cycle, while the 15 washing programs provide a range of settings tailored to specific fabrics and load sizes. This load washer also includes a delay timer so you can adjust when the cycle starts up to 23 hours in advance!
Moreover, this product features one of the most helpful innovations – an Aqua Stop system that prevents your machine from overflowing during those big washes. It will help keep your home cleaner and safer and reduce any damage caused by excess water due to faulty valves or fittings.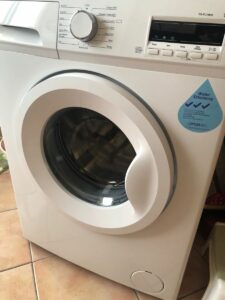 If you're looking for an efficient, reliable washing machine solution that won't break your bank account every month, look no further than the Sharp ES-FL78MS front loader! It's designed with convenience in mind and provides all of the necessary features at a great price point – making it an ideal option for busy households who value their time as much as their money! So, what are you waiting for? Get yours today and start enjoying hassle-free laundry days now!
Pros:
Set a delay timer for up to 23 hrs, works best for busy people
More than 10 washing programs
Eco-friendly
Cons:
The front door is a bit tricky to open during the first few uses
4. TECNO Front Loading Washer TFL8112
Adjustable water temperature
If you're looking for a reliable and durable washing machine that offers plenty of programs and settings, then the TECNO Front Loading Washer TFL8112 is an excellent solution. This 8.5kg load washer has 11 program selections ranging from a cold wash cycle to 90 degrees Celsius, allowing you to choose the perfect temperature setting for your needs. It also features an impressive 1200rpm spin speed, ensuring all clothes are thoroughly cleaned with minimal creasing or wrinkles.
The Bionic care technology incorporated into this washing machine will give you peace of mind knowing your laundry is being washed in the most gentle way possible. By taking advantage of advanced technologies such as intelligent digital water flow sensitivity technology, ultrasonic cleaning power, and more, this washer guarantees clean and fresh results and better care for your garments compared to conventional washing methods at home.
With its modern design adding style to any home interior and its high-end features that promise exceptional performance time after time, the TECNO Front Loading Washer TFL8112 is ideal for anyone looking for a capable yet energy-efficient device at an affordable price point without compromising on quality and still being very durable. So what are you waiting for? Get one today and enjoy easy laundry days forever!
Pros:
Has mini feet stand protecting the bottom of the washer and reducing electric grounding
Can easily choose the water temperature
Large enough for an automatic washer
Cons:
5. Midea MF768W WASHING MACHINE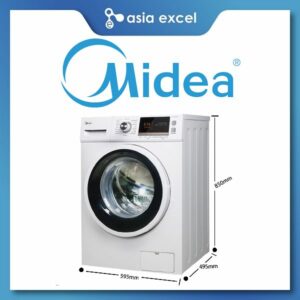 Best value for money
The Midea MF768W Washing Machine is an excellent choice for homeowners looking for efficient and reliable front load washers. It features Water Magic Flow and Water Cube Drum technologies that work together to speed through even the most stubborn stains, so you can finally get your laundry done quickly. Additionally, it has 16 wash programs to personalize each load based on fabric type and configuration. For added convenience, this machine includes a 24-hour delay timer so you can set it when it's convenient for you, always ensuring clean laundry without effort.
Not only does the Midea MF768W provide ease of use and help keep energy costs low with its four ticks water efficiency rating, which works hard to save money on your monthly water bill – perfect if you're trying to stay mindful about reducing household expenses! On top of all this outstanding functionality, this washing machine has state-of-the-art build quality designed to last long into the future; no more investing in new appliances every couple of years due to poor craftsmanship or faulty parts!
Any homeowner would be lucky to have the Midea MF768W as their go-to appliance when doing laundry day after day. With its advanced technologies designed for both performance and affordability, plus its excellent durability and reliability standards, this washing machine will have you wishing everyone had one in time! Get yours today and discover just how fantastic home laundry can be!
Pros:
Packed with features for a relatively affordable price
One of the longest delay timers for front load washers
Plenty of wash programs to choose from.
Cons:
The design is a bit bulkier than other washers
6. Beko Washer (WTE7511B0)
Energy-efficient
The Beko Washer (WTE7511B0) WASHING MACHINE is an excellent choice for any home. Its OptiSense technology makes it easy to save time and energy by automatically adjusting cycle times and water usage according to different laundry loads, you are guaranteed to have a perfectly clean laundry load every time. With 15 programs and AquaWave and Volumaxx technologies, you can be sure that all your clothes will get the best treatment possible. This front load washing machine is also really easy to use You can also rest assured of safety thanks to its child lock feature.
The Beko front load washing machines stand out from the competition due to their GentleCare 20° setting, which keeps delicate fabrics looking their best for longer. This feature makes it worth considering if you have more fragile items needing washing! Plus, with all these features combined, you'll save time and energy compared to other machines on the market today.
If you're in the market for a new washer, I recommend giving the Beko Washer (WTE7511B0) WASHING MACHINE a try! It offers unbeatable performance no matter what type of load needs washing, plus plenty of helpful features, too – so what are you waiting for? Check one out today and see how much easier life could be with such an efficient machine!
Pros:
Energy efficiency delivered by its OptiSense technology
Child lock for extra safety
Works with all sorts of fabric
Cons:
Repairs can be quite a challenge due to the exclusive technology features
7. LG FV1285S4W SLIM
AI and Steam Technology
Homeowners looking for a washing machine with leading-edge technology and unbeatable performance will want to look closer at the LG FV1285S4W Slim Washing Machine. This machine has it all; from its AI Direct Drive™ Technology providing optimal fabric protection, Inverter Direct Drive Motor assisting in reducing noise and vibrations, Steam+™ Technology eliminating 99.9% of allergens plus an 8.5KG capacity and space-saving design perfect for tight laundry rooms or apartments.
From convenience to efficiency, this washing machine is ideal for busy households who don't want to compromise on cleanliness and care regarding their clothes. With Intelligent Washing Programme options, you can expect your favourite garments to be handled like royalty! And if that wasn't enough, there are even special programmes designed specifically for more delicate items in your laundry load, such as blouses and lingerie, so they look great too!
Overall, with the combination of advanced features offered by the LG FV1285S4W Slim Washing Machine, indoor wash days become much more accessible and quiet – less time dealing with tedious chores means more time spent doing what matters most…so why not make life simpler? Buy one today and see how this superior product forever changes your laundering routine!
Pros:
Steam technology to remove dust mites and other allergens in clothes
Fabric protection
Space-saving design despite the 8.5kg capacity
Cons:
May not be easy to use the first time.
8. Midea Front Load Washer MF200W95B
Large capacity
The Midea Front Load Washer MF200W95B is an excellent choice for busy homeowners looking for a hassle-free laundry experience. Its 9.5 kg capacity makes it great for large households, while its INVERTER Quattro technology ensures all your clothes are washed to perfection every time. In addition, the HealthGuard Plus technology uses ultra-disinfecting heat cycles to remove 99.9% of bacteria and germs from your clothing, so you always know that you're wearing clean, hygienic garments.
For cleaning convenience and ease of maintenance, the Auto Clean function automatically cleans the inside of the machine when you rinse out any detergent residue or other debris that might accumulate over time—ensuring optimal performance without lifting a finger! Finally, suppose you want wrinkle-free and fragrant clothes with minimal effort involved. In that case, this front load washing machine also features a Steam Care function that refreshes clothes while preventing creases and odours from building up over time.
Overall, the Midea Front Load Washer MF200W95B is an excellent choice if you're looking for a convenient yet powerful washing solution for your home needs – one that's capable of delivering flawless results every single time! So don't hesitate; experience this revolutionary appliance today!
Pros:
Affordable given the features it offers
Steam Care function results in pollutant-free clothes
Turbo feature
Cons:
Steam Care may not be safe for other types of fabric. Use with care.
9. Bosch WAW28480SG
Quiet Operation
Are you looking for a reliable and efficient front-load washing machine? With the Bosch WAW28480SG, your problems are solved! This machine is packed with features to ensure that all your laundry needs will be taken care of. Its AntiVibration design reduces vibrations and noise during operation to provide a peaceful environment at home.
Its innovative EcoSilence Drive motor technology provides efficiency and convenience, which ensures low power consumption while achieving maximum cleaning performance in the washing cycle. The VarioPerfect system further adds to its user experience where one can choose from different settings, such as SpeedPerfect or EcoPerfect, to save energy or time, respectively, based on their needs without compromising on the quality of wash results.
The display panel provides an overview of all selections and available options so that there's no guesswork involved when loading clothes and selecting wash cycles! Investing in this washing machine gives you high performance and a lasting impression amongst friends, family and guests due to its sleek stainless steel finish, so don't waste any more time! Get yourself the Bosch WAW28480SG Front Load Washing Machine today!
Pros:
Offers advanced and convenient features
Save more water with every use
One of the quietest washers
Cons:
Advantages of Front Load Washers
When it comes to washing machines, front load washers are becoming increasingly popular. There are a number of reasons for this, the most notable being that front load washers are more energy and water efficient than their top-load counterparts. In addition, front-load washers typically have larger capacities, meaning that fewer loads need to be run.
This can save a considerable amount of time, particularly for families with large washing loads. Another advantage of front load washers is that they tend to be gentler on clothes, resulting in longer-lasting garments. For these reasons and more, front-load washers offer a number of advantages over traditional top load washing machines.
Best Brands of Front Load Washing Machines in Singapore
Here are appliance brands to look out for when buying your next front load washer:
Midea
Midea is a Chinese appliance company that produces a wide range of products, including washing machines. The company is known for its budget-friendly appliances, which often offer features and performance that rival more expensive brands. In recent years, Midea has become increasingly popular in North America, and its washing machines have earned high marks from reviewers. Whether you're looking for a basic model or a feature-packed machine, Midea is definitely worth considering.
Sharp
Sharp is a Japanese electronics company that has been in business since 1912. The company is best known for its washing machines, which are popular for their efficiency and budget-friendly prices. In recent years, Sharp has expanded its product line to include televisions, microwaves, and other appliances. The company has also been working on developing new technologies, such as solar panels and OLED displays.
LG
LG is a South Korean multinational corporation with a wide range of products, including washing machines. LG washing machines are known for being budget-friendly while still offering features like steam washing and energy efficiency. In addition, LG washing machines come in both top-loading and front-loading models to suit different needs.
Conclusion
There are many factors to consider when purchasing a washing machine. For front load washers, some of the most important considerations include capacity, washing cycles, and energy efficiency. Front load washers typically have larger capacities than top loaders, making them a good choice for large families or anyone who needs to wash a lot of laundry at once. They also tend to have more washing cycles, giving you greater flexibility when it comes to choosing the right cycle for your laundry.
In terms of energy efficiency, front load washers typically use less water and energy than their top loading counterparts. As a result, they can help you save money on your utility bills in the long run. When evaluating front load washers, keep these factors in mind to find the best option for your needs.