Last Updated on
Welcome to our comprehensive review of the 8 Best Washing Machines in the Philippines for the year 2023. In today's fast-paced world, the chore of laundry can become a breeze with the right appliance by your side. Gone are the days of laboriously scrubbing away stains; now, you can simply put dirty clothes into a high-performing washing machine and watch as it transforms your laundry routine into a convenient and efficient experience. Join us as we delve into the top washing machines available in the Philippines this year, exploring their features, functionalities, and how they can elevate how you care for your garments. Say goodbye to the hassle of manual washing and say hello to a new era of laundry convenience.
Let us have a look at the top Washing Machines in the Philippines:
Table of Contents
Top Load Vs. Front Load
Top Brands in the Philippines
Choosing the Right Product For You – Buying Guide
Conclusion
FAQs
Quick Comparison Table
(scroll right for more)
1.
TCL TWA75-F107TLW
Quick Drain Action
The TCL TWA75-F107TLW washing machine is an excellent choice for anyone looking for an efficient and economical solution to their laundry needs. It has a 7.5 kg Load Capacity, giving you plenty of space to do multiple loads in one go. It also features the RevoMax Pulsator, which enables it to penetrate deeper into fabrics with more powerful cleaning action while being gentle on clothes, helping give your family a better wash every time it's used.
The unique T-Clean Washing Machine helps deliver outstanding performance and hygiene by removing up to 99% of germs and bacteria from your clothing with powerful deep cleaning capabilities thanks to its special enzymes that effectively eliminate any potential harm or risk present in fabrics before they gently clean them via wave motions which act as tissue massage for clothes fibers – this all adds up to improved air quality while making sure that only perfect hygienic results are achieved each time.
All these features combined make this washing machine a great choice for those who want an effective yet economical way of taking care of their laundry needs without sacrificing quality or performance; plus, its Clear Plastic Lid with Honeycomb Crystal Drum reduces noise and vibrations so that it won't disturb other activities going on in the house during use! With 8 different pre-programmed washing options, including Quick Wash, Delicate, Soak Wash, and Drum Drying cycles available at the touch of a button, this product has everything you need for stress-free laundering anytime – now turn off those alarms ringing in your head when thinking about doing chores – try out the revolutionary TCL TWT75-F107TPLW today!
Pros:
Reduces usage of hot water for washing, saving energy and time
T-Clean Washing Machine revoMax Pulsator provides effective laundry cleaning
HydroGuard Active Lint Filter keeps lint out during washing process
Cons:
Noisy when the drum is spinning or agitating.


2. Fujidenzo JWA-8500 VT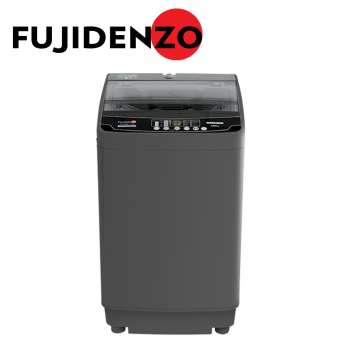 Noise Free Washing
The Fujidenzo JWA-8500 VT washing machine has some great features that make it an ideal choice for a reliable and efficient appliance. Its Variable Water Pressure Technology ensures your clothes get a thorough clean, while its energy-efficient motor helps minimize electricity bills. Additionally, the innovative Fabcon Dispenser dispenses detergent at just the right amount for every load you do.
The large LED display makes it easy to control different settings without any hassle, while the Eco-Saver Water Recycle Function ensures no water is wasted as it recycles up to 80% of the water used per wash cycle. This means that you are not only being kinder to the environment but your utility bills will also be kept low! To top it all off, this machine comes with free installation services from experienced technicians, so you can rest assured your new appliance is set up correctly.
If you're searching for a reliable washing machine that will give excellent results each time while saving money on utilities at the same time, look no further than the Fujidenzo JWA-8500 VT! With its helpful features and additional services included with the purchase, this affordable option is worth considering when making your next home improvement purchase!
Pros:
8.5 kg load capacity, perfect for large households
Variable Water Pressure Technology ensures a consistently powerful wash regardless of water pressure
Eco-Saver Water Recycle Function minimizes water and energy consumption
Cons:
No built-in heater for hot water wash
3. Fujidenzo JWA-6500VT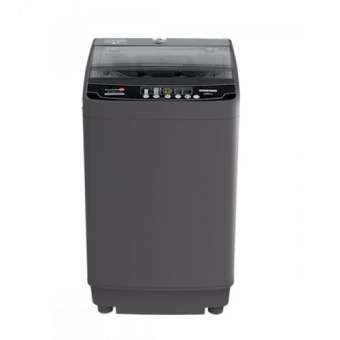 Compact and Lightweight
The Fujidenzo JWA-6500VT is an impressive washing machine with many features that make doing laundry a breeze. Its Variable Water Pressure Technology allows you to adjust the water pressure depending on the kind of clothes you are washing, making it great for more delicate items. The Fabcon Dispenser makes adding detergent and fabric softener easy, while the energy-efficient motor ensures low electricity bills. Plus, its LED display means it's super easy to track your wash cycle's progress.
But what sets this washing machine apart from its competitors is its Eco-Saver Water Recycle Function that filters dirty wastewater and reuses it in subsequent washes – saving up to 40% water usage! This feature also ensures better cleaning results with less detergent, so you can be assured that your clothes will look spotless and fresh every time- all with minimal impact on our planet!
All these fantastic features combined make the Fujidenzo JWA-6500VT perfect for everyone looking for an efficient way to do their laundry without putting too much strain on their wallet and environment! So, if you want a reliable appliance that won't break down easily and offers exceptional performance at a great value, this one is worth considering.
Pros:
Variable Water Pressure Technology to allow operation even with low water pressure.
Energy Efficient Motor for improved energy efficiency.
Large LED Display for better viewing of settings and functions.
Cons:
Cost may be high for some budget users
4.
Sharp ES-PG750P
With LED Display
The Sharp ES-PG750P is a great choice for an efficient and intuitive washing machine. This 7.5 kg capacity washer offers all the features necessary to provide superior results, with each cycle tailored to suit your fabric type needs. The LED display allows users to control settings quickly and easily, making the entire process hassle-free. With its pre-coated metal body, this top load washer ensures both durability and longevity, so you can keep it running well for many loads in the future.
Additionally, this machine also incorporates some extra features that make it even better, such as Auto Logic, which changes settings automatically according to your fabric types; Delay Start feature that lets you start a wash cycle at just the right time; Child Lock that prevents curious kids from tinkering with settings; and Custom Program option to customize each cycle whatever suits best for your garments. All these features work together seamlessly, giving you spotless clothes every time without putting much effort into sorting out what kind of detergent or setting should be used on different fabrics – amazing!
If you're looking for a reliable washing machine that can handle all sorts of tasks without breaking down too soon, look no further than the Sharp ES-PG750P! It provides consistent cleaning performance and helpful features like auto logic and delay start mode which make the job easier than ever before – perfect if you're short on time but still want quality results every single time! So don't wait any longer – get yourself one today!
Pros:
A high 7.5 kg capacity is ideal for large households
The pre-coated Metal Body makes the washing machine resistant to rust and corrosion
Auto-Logic feature ensures optimal cleaning performance by automatically adjusting power and water levels
Cons:
Lower spin speed (max. 800 rpm)


5.
Sharp ES-JN07A9
Durable Build
The Sharp ES-JN07A9 washing machine is an excellent choice for any household seeking dependable performance and convenience. This powerful machine operates with low water pressure and has a tough, rustproof body for added longevity. It comes equipped with a tempered glass lid that features a lid damper to keep it firmly closed during operation, plus an air dry function that helps minimize drying time after each cycle concludes. Additionally, the large LED display provides easy access to all settings, allowing you to select your preferred cleaning options quickly.
The features of the Sharp ES-JN07A9 ensure long-term satisfaction and efficiency in use. Low water pressure means you won't be wasting excessive amounts of electricity just getting clothes clean, while the durable, rustproof body ensures years of service without breaking down prematurely due to corrosion. The tempered glass lid keeps dirt and dust out when not in use while staying securely shut during cycles; plus, the air dry setting eliminates much of the headache associated with post-wash drying times!
If you're looking for reliable results without compromising on practicality or convenience, check out the Sharp ES-JN07A9 washing machine today! Don't let its low price fool you – this product offers top-notch performance every time you switch it on, so why wait? Order one now and start experiencing superior wash cycles at home!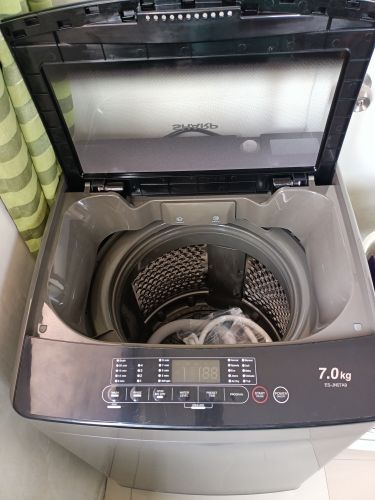 Pros:
Performs well even at low water pressure
Tempered glass lid with slow closing damper for safer use
Large LED display with preset timer and dual filter for convenience
Cons:
The machine is noisy during the operation
6.
Samsung WA75H4200SW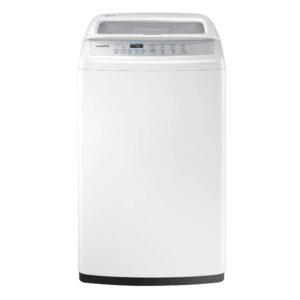 10 Built-In Programs
The Samsung WA75H4200SW is a fantastic washing machine for any household. With a 7 kg wash capacity, you can fit larger loads of laundry in the large drum without worrying about overloading it. The 10 built-in programs designed for various fabrics will take the hassle out of your laundry routine, with each cycle tailored to get clothes the cleanest results possible with minimal wear and tear on them. Moreover, its tempered glass lid ensures quieter operation, while its low 385W power consumption makes it an energy-efficient option.
Regarding spin speeds, this model's 750 RPM rotation speed allows rapid water extraction from wet clothes, so they're ready for drying faster than ever before. Additionally, its diamond drum has tiny ridges that are gentle on fabrics but tough enough to handle dirt and grime effectively without causing damage or abrasion on garments in any way. Its eco-bubble technology also helps save water by allowing more efficient cleaning processes enhanced by air bubbles created through powerful jets of cleanser solution at both high and low temperatures!
If you're looking for an all-around reliable washing machine with highly effective cleaning capabilities and optimal efficiency features – look no further than the Samsung WA75H4200SW! It packs many useful functions while still looking sleek, making it ideal for modern households everywhere that demand fast yet efficient solutions when doing their laundry every week! Don't miss out on this great deal – grab one today and start tidying up your wardrobe like a pro!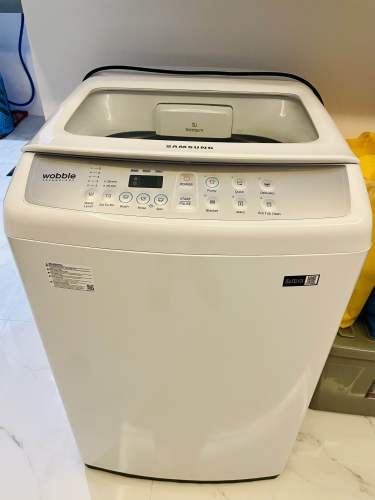 Pros:
The large 7.0 kg washing capacity offers excellent convenience and saves time when doing laundry
A tempered glass lid with a damper helps to minimize noise and keep the washing machine in good condition
385W power consumption makes it energy-efficient and cost savings
Cons:
No noise reduction technology


7.
LG T2165VSPW1

With Smart Inverter
The LG T2165VSPW1 is an incredibly efficient yet reliable top-load washing machine. It's not only designed to give a deep clean while being energy-efficient, but its features also ensure that it can make life easier and more convenient for you. Its Smart Inverter Technology helps optimize the power used so you don't have to worry about running up huge electricity bills. As if this wasn't enough, the Turbo Drum with Punch +3 Smart Motion provides excellent cleaning action, which cannot be matched by traditional washers.
Furthermore, the Side WaterFall technology ensures that detergent residue on clothes is significantly reduced for a better wash result every time – no matter what kind of fabric your laundry contains. Lastly, it has an Auto Restart and Energy Saving mode feature, so you know your energy efficiency game is sorted out!
All in all, with its impressive array of clever technologies all packed into one sleek design – there isn't much else you could need from a washing machine like LG's T2165VSPW1 model these days. So why don't you try it out and see how easy it can make everyday life?
Pros:
Smart Diagnosis for easy troubleshooting
Punch+3 Smart Motion improves cleaning performance
Auto Restart and Energy Saving to save time and money on utility bills
Cons:
It may not be suitable for large items of clothing.
8.
Electrolux EWT7588H1WB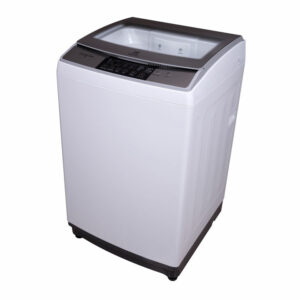 Cyclonic Tub Clean
The Electrolux EWT7588H1WB is a fantastic washing machine that offers a combination of powerful features and convenience. It includes the Cyclonic Tub Clean feature, automatically cleaning the tub, making maintenance easy for busy households. In addition, this washer has a Soft Closing Tempered Glass lid with a scratch-resistant flat surface, which is great for those who want to ensure furniture stays looking new for longer.
Additionally, this model is equipped with Variable Wash Options, including a Time Manager feature to give you extra control over your wash cycles and get more out of your load without much effort. Furthermore, it helps protect the cloth from becoming prematurely worn using its exclusive Prism drum. A Generate Powerful Upward Water Flow during the washing process ensures even circulation in the drum while maximizing performance even when dealing with large loads!
These features make the Electrolux EWT7588H1WB an excellent choice for those seeking reliable yet efficient washers that can handle their household's laundry needs efficiently and time-savingly – perfect for busy lifestyles today! So if you are looking for a high-quality, affordable machine, I highly recommend investing in this unit to experience all its benefits firsthand!
Pros:
Soft closing tempered glass lid for a silent and injury-free closure
Time Manager feature allows you to adjust washing, rinsing, and spin duration based on how dirty your clothes are
Prism drum minimizes wear and tear with its gentle tumbles that reduce friction and tangles
Cons:
Top Load Vs. Front Load
Let us see which design is more beneficial for users among the two:
Front-load washer machines are better in action and have options, features, and even multiple soil levels, but all this is because of their higher price than top-load washing machines. The top-load washing machines are of reasonable quality and are low in price, attracting users. But if you are looking for a more optimum, high-quality washing action, the front-load washing machine is the one to look forward to.
The front load washer machines support better maintenance as they support cleaning clothes with the gravity action in contrast to the agitator used by top loaders. So, you can save better on maintenance, power, quality, and several washing levels on front loader machines than the top load washing machines.
Top Brands in the Philippines
Almost every household in the Philippines has a washing machine; however, not every machine is equal. Washing machine prices in the Philippines can differ significantly depending on the model and brand you are buying. Below are the most well-known brands of washing machines in the Philippines
Sharp – The Sharp is a great machine to have in your home. It extracts water from clothes quickly without leaving them soaking wet, so you can dry them quicker and with less hassle! The spin cycle takes some time, but once mastered, this washing machine will make short work of all those dirty clothes before they pile up on top of one another. Sharp washing machine price in the Philippines usually starts at ₱3,000.00
Samsung – Samsung has a long history of producing high-quality, durable, reliable, and reliable products. The company's washing machines come equipped with features to resist rusting, corrosion-resistant materials for their outer body, and stainless steel inner parts, which make them last longer than other brands on average. Samsung washing machine price in the Philippines starts at ₱10,000.00
LG – LG is earning its well-deserved reputation as one of the most reliable brands, evidenced by placing first in both product and service quality. It's also on top for laundry machines recommended by repair technicians! LG washing machine price in the Philippines starts at ₱13,000.00
Choosing the Right Product For You – Buying Guide
Choosing a washing machine can be tricky to determine as there are more factors to consider while going for a specific type. It depends on the following characteristics:
The size and capacity of the Tub.
The rpm value for the impeller.
The different washing and soil levels are associated.
The family requirement you have for your household.
The type is either front load or top load.
Energy-saving ability and water recycling character.
The lint filter is available to reduce residue detergent content.
The drying process of the washing machine.
Conclusion
The Philippines is home to a wide array of washing machines, so it's essential to do your research and find the best one for you. The best washing machine in 2023 should have many key features such as an affordable price, the right size for your laundry needs, energy efficiency to save money on electricity bills, load and spin capacity that meets or exceeds your requirements and special features that make cleaning easier. The above-mentioned eight models are among the highest-rated products available this year – all offering excellent performance at competitive prices. So if you're looking for a reliable appliance with great value for money in 2023 then any of these high quality washing machines from the Philippines could be exactly what you need!
FAQs
How do I choose the right washing machine?
You should choose the washing machine depending on your laundry needs. You should also consider the capacity, space requirements, and budget.
Should I choose a semi-automatic or fully-automatic washing machine?
For a more effective cleaning, a fully automatic washing machine should be better
This post was brought to you by Kimz House.
Disclaimer: The opinion is solely based on our testing or intensive research with customer feedback around the most popular shopping platform such as Shopee and Lazada. The products/services shown here are available and valid upon the publication date. It may change from time to time. Please email us at [email protected] if there is any discrepancy.