Last Updated on
These days, anything that allows us to multi-task is a welcome addition to our home. The best oven toaster is one of the most versatile kitchen appliances to date. It does not only come with convenient functions but is also easy to store in your current kitchen space.
Most toaster ovens are compact enough to serve as one of those countertop appliances.
Table of Contents
Benefits of Oven Toaster
Top Toaster Brands in Philippines
Conclusion
FAQs

Quick Comparison Table
(scroll right for more)

Start preparing healthy meals with less effort with these 10 best oven toaster Philippines this year.
1. Eureka Electric Rotisserie Oven 30L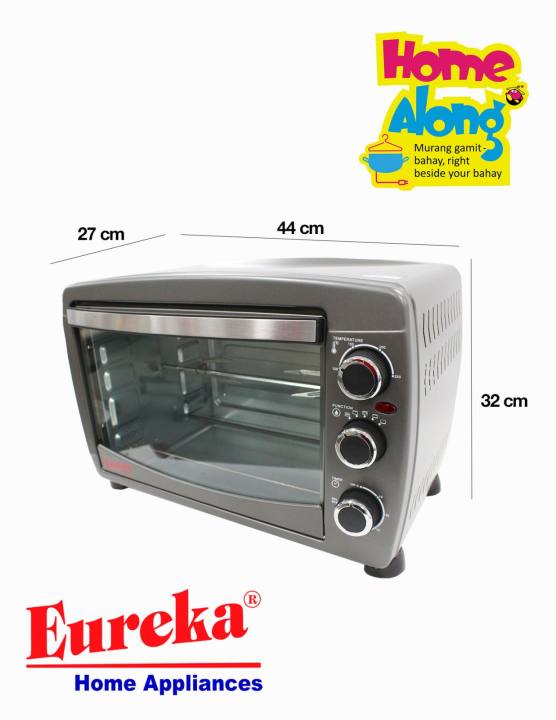 Affordable but Multifunctional
If you are searching for the perfect countertop oven that is cheap but also multi-functional, this is the perfect choice of purchase.
It may be scary to purchase a countertop electric oven probably because one would assume that there is a lack of functionality, but this Eureka product can do the same as full-sized ovens. The Eureka Electric Rotisserie Oven 30L is the perfect appliance for the busy family. With a 30-litre capacity and a built-in rotisserie, you can have a wide variety of different dishes cooked to perfection in no time. And with four cooking functions to choose from, you're sure to find one that suits your needs.
Pros:
30 litres capacity
Four cooking functions to choose from
It comes with a rotisserie so that it is more than just baking
Cons
A bit space taker on your counter
2. Imarflex IT-140 Toaster Oven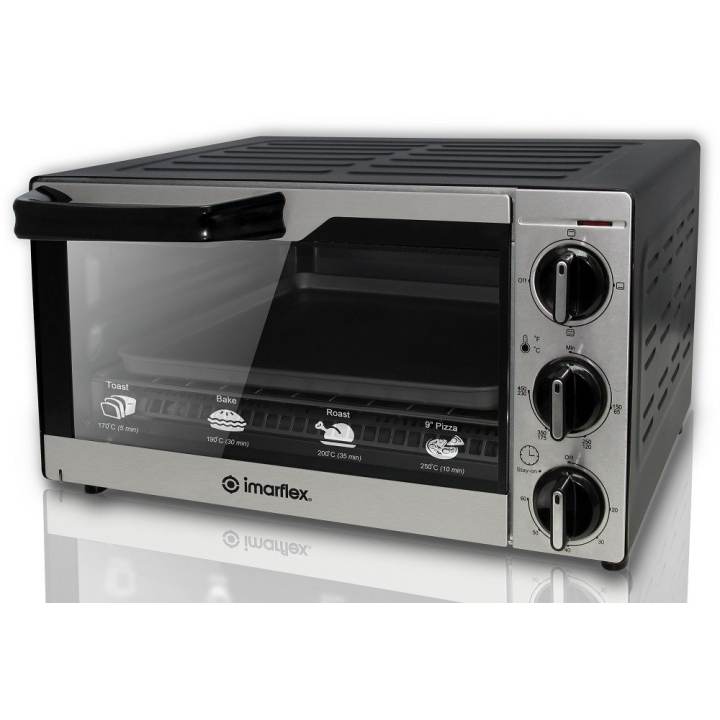 Best for Smaller Households
This best oven toaster is very versatile despite the name "toaster." The capacity is smaller than the previous; therefore, it is perfect for those with smaller households or even those who don't require to cook and bake in large amounts. The safety of the users is also secured with a cool to touch with a heatproof handle in order to avoid burns. The timer is also up to 60 minutes with a stay-on function, therefore it won't turn off after the set timer is over.
Pros:
Infrared quad heater
Easy to control the temperature with a temperature setting a variety of temperature control
14-litre capacity
Cons:
3. Union UGOT-162 8L Modern Toaster Oven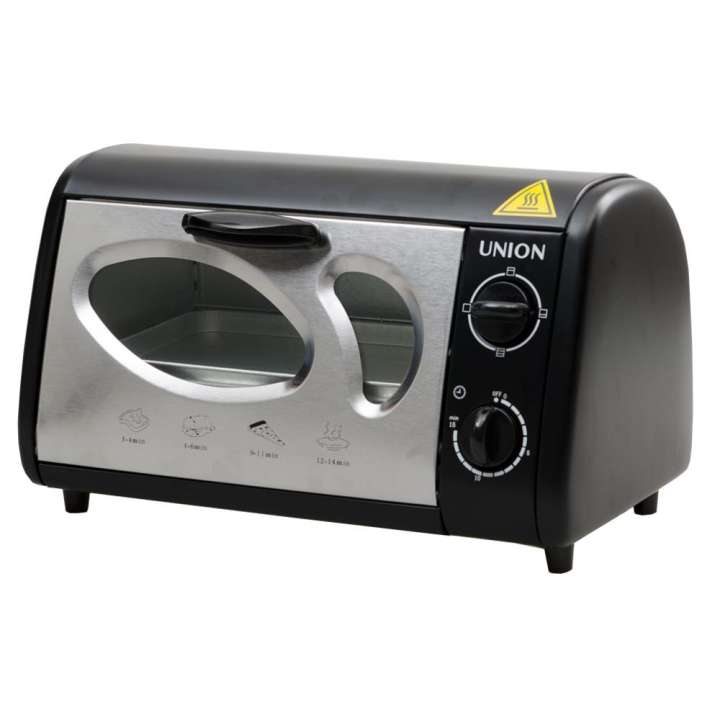 Highly Resistant Tempered Glass
It is important to note that this option doesn't have the same function as the other two ovens in the list, but nonetheless still will be able to provide the functionality that one can be looking for, especially with its satin quartz heaters. There is also a highly resistant tempered glass door, so it is easy to see the cooking inside making it one of the best oven toaster. It also has an energy-saving feature to help with the electricity bills a little.
Pros:
15-minute timer switch with a 3-way heat selector
Removable lower try to catch oil drips, and the removability is provided for easy cleanup.
Double plated grill and a non-toxic aluminium tray
Cons:
4. Hanabishi Oven Toaster HO70
Affordable
Introducing the Hanabishi Oven Toaster HO70! This amazing oven toaster has a 9 liter capacity and comes with a 30 minute timer and bell ring. It has a full black body and two Quartz heating elements. The timer is controlled by a single knob, making it very easy to use. This oven toaster is perfect for cooking all kinds of food. It cooks food evenly and quickly, so you can enjoy delicious meals in no time. Get the Hanabishi Oven Toaster HO70 today and make cooking easier than ever before!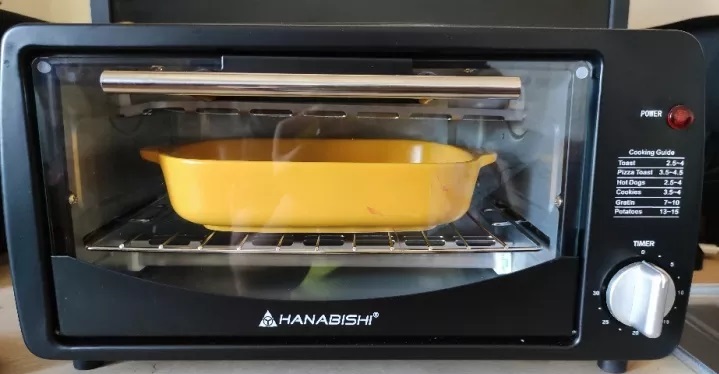 Pros:
30 min. timer with bell ring
Full black body
2 pcs. quartz heating elements
Cons:
5. Denki Oven Toaster 6 Liter DOT-168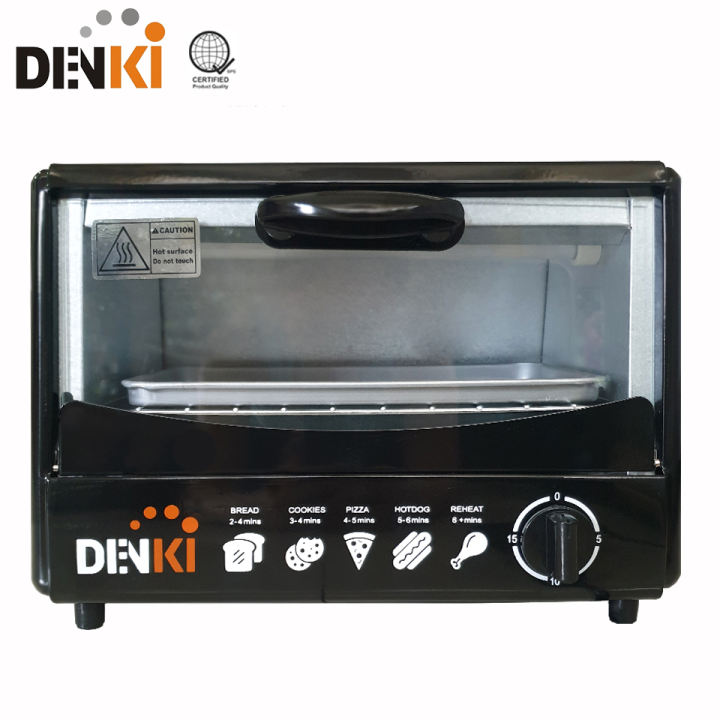 Best for Multiple Breads at Once
With a two colour selection upon purchase, this will definitely accompany whatever preference one has. The toasting area is also wide enough to be able to toast 2 to 3 pieces of bread at a time. Safety is also ensured because this product has been tested for both quality and safety so that one will not worry about anything when preparing food.
Pros:
15-minute timer with a bell indicator
Two heating elements on top and bottom
Removable rack and baking tray to make clean up easier
Cons:
Outer metal is a bit thin
6. Imarflex IT-600 Toaster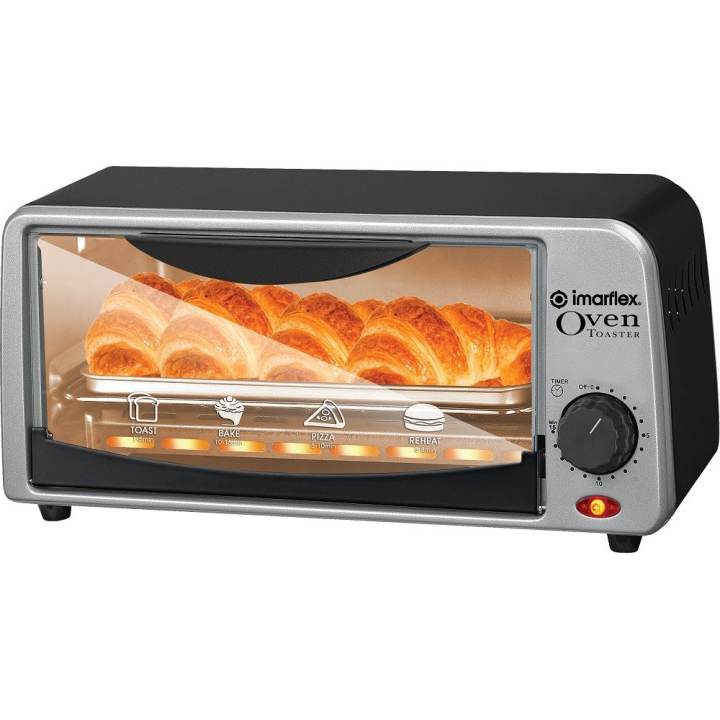 High Maximum Temperature
This oven toaster is pricier but also worth its price when it comes to durability and quality. Especially because, unlike the other ones, the maximum temperature for this oven is up to 230 degree Celsius. The Imarflex IT-600 Oven toaster is the only best oven toaster in the world that can be used both as a grill and an oven. The unique design of the Imarflex IT-600 Oven Toaster allows it to cook food faster than conventional ovens and grills, and at a lower power than other appliances.
Pros:
15-minute timer
6-litre capacity
Power light indicator making it easier to know the current state of the oven toaster
Cons:
7. BLACK+DECKER™ 19L Oven Toaster + Rottiserie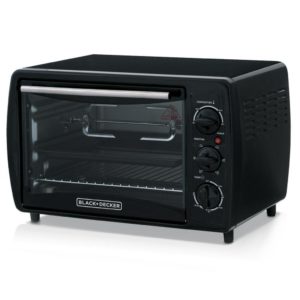 Multipurpose
Looking for an oven toaster that can do it all? Check out the BLACK+DECKER™ 19L Oven Toaster + Rotisserie! This handy appliance is perfect for those who love to cook, bake, or broil. With its toast/bake/broil function, you can create any type of dish you desire. Plus, the rotisserie spit with handle makes roasting meat a breeze. And thanks to the thermostat control and adjustable timer, you can cook your food to perfection. So why wait? Get the BLACK+DECKER™ 19L Oven Toaster + Rotisserie today and start creating delicious meals for your family and friends!
Pros:
Wire rack & food tray handle.
Non-stick food tray.
Baking try and grill rack for added versatility.
Cons:
8. Asahi OT 612 Electric Oven Toaster 6 Liter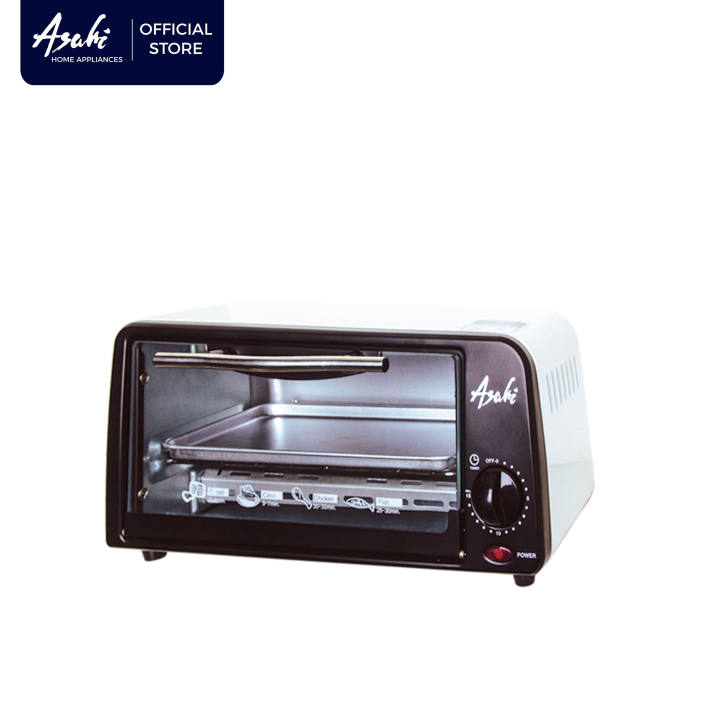 Large Viewing Glass Door
If you are looking for a premium quality best oven toaster for your kitchen, this is a great option for you. The steel body exudes durability already. It also comes with an on-off pilot lamp so you can better monitor your food. At 700 watts, you can be confident that adding the best oven toaster to your kitchen appliance line-up will not necessarily spike your electricity consumption.
Pros:
Powder-coated steel body
Large viewing glass door
Stainless steel door handle
Cons:
Not ideal for large servings
9. Hamilton Beach Easy Reach Toaster Oven (31334-PH)
Fits Easily to Any Kitchen
Hamilton is also a great electronic appliance brand that has recently joined the line-up for the best oven toaster . They offer exquisite designs that make food preparations even more fun. You can Bake, broil and toast with this best oven toaster. Your purchase will already include a baking pan and broil rack. Despite its large capacity, it actually is very compact and will fit easily on your kitchen counter.
Pros:
Removable roll-top door for easy cleanup
Four slice capacity
Roll-top door for easy access to food
Cons:
10. Caribbean Oven Toaster CEOT-8000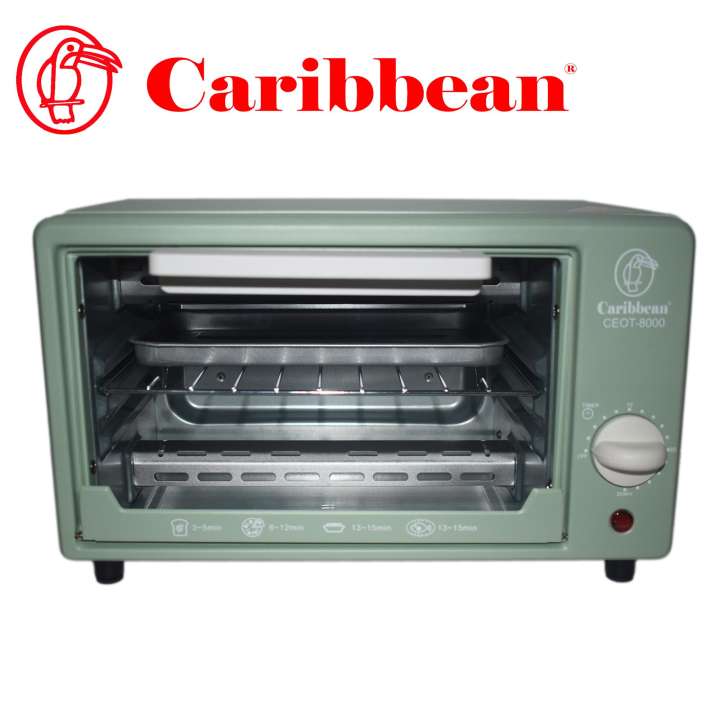 Easy Maintenance
Toast bread, make pizza with this budget-friendly yet high-quality oven toaster. All accessories are removable for easier maintenance. The best part is it is small enough to fit your pantry cabinet or even to be store on top of your refrigerator. Make sure to use it away from any other electronic appliance to prevent unnecessary heat transfer.
Pros:
30-minute timer with bell
2 pieces quartz tube heating element
Baking tray and wire rack
Cons:
Benefits of Oven Toaster
Apart from rice, one of our go-to breakfast is bread. Oven toasters give us that perfectly toasted bread in less than 5 minutes. It also allows you to multi-task while your bread is toasting because almost all models already come with a timer and bell feature to signal that your toast is made.
Apart from the bread, though, oven toasters also offer some variety in the meals you can prepare, including pizza and broiled meat and vegetables.
Top Toaster Brands in Philippines
Hanabishi
Hanabishi is a well-established name in the appliance industry, with products that are recognized across all price points. They've been around for more than thirty years and continue to provide quality service by offering affordability at every turn!
Black and Decker
BLACK+DECKER has been setting the standard in innovation and design since 1910. From power tools to home products, they are a household name that you can trust!
Conclusion
If you are in the market for a new toaster oven, we hope this article has helped you make your decision. We have provided some of the best oven toasters on the market and given a comprehensive review of each one. Now it's up to you to decide which one is best for your needs. Do you want a basic model that can do just about everything? Or do you need something with more bells and whistles that can cater to all of your specific cooking needs? Whichever option you choose, we know that you won't be disappointed with the performance of any of these top-rated models.
FAQs
How do you clean a toaster oven?
Make sure that the toaster oven is unplugged before starting to clean it. Clean the accessories and inside with dish soap and baking soda and wait for it to dry.
Do I need to preheat a toaster oven?
It depends on the model you have and the food you want to prepare. For baking you will need to preheat while for broiling, it is not necessary.
What plate can I put in the toaster oven?
It depends if the plate themselves are manufacture to be oven-safe. So make sure to check before putting them in an toaster oven. Most of the time, ceramics, glass and metal plates can be placed, but first check the plate's maximum heat capacity. However, plastic, paper and styrofoam plates should NEVER go into an oven toaster. They can easy catch fire and even leach into the food.
This post was brought to you by Kimz House.
Disclaimer: The opinion is solely based on our testing or intensive research with customer feedback around the most popular shopping platform such as Shopee and Lazada. The products/services shown here are available and valid upon the publication date. It may change from time to time. Please email us at [email protected] if there is any discrepancy.