Last Updated on
Smart TVs are just like your regular television enhanced. Smart TVs have internet connectivity and apps that allow you to watch videos and stream to the television. Switching from the conventional TV to Smart TVs opens a new world of options when it comes to entertainment, from watching films through USBs, it is easy to watch movies through Netflix and even watch streamers on twitch on your TV. They can also be the first step to a Smart Home.
We have listed below the 10 best Smart TV Philippines that you can buy right now.
Table of Contents
Benefits of Smart TVs
Services Smart TVs offers
Top Brands for Smart TV
Conclusion
FAQs
Quick Comparison Table
(scroll right for more)
1. TCL 50P615
Dolby Audio
Introducing the TCL 50P615 Google Android TV. This impressive TV comes with the latest Android 9.0 TV OS and all the popular Google apps. You'll enjoy stunning 4K UHD resolution with HDR10 for an amazing viewing experience. The built-in micro dimming technology ensures you'll see rich, detailed images with outstanding contrast and clarity. And with Netflix, YouTube, Amazon Prime Video, and Gallery pre-loaded, you'll have plenty of entertainment options at your fingertips.
Pros:
HDR10, Micro Dimming
Voice Control
Bluetooth 5.0
Cons:
No brackets for wall mount
2. Fujisan LED-8042
Best for Smaller Rooms
This 42-inch Smart TV is perfect for those looking for a smaller TV that also won't take up lots of space especially because, as the name suggests, this TV is also super slim. With 100 million pixels ensuring a full 4k uhd experience. When it comes to TVs, you don't have to sacrifice size for smarts. The Fujisan 42inch Smart Superslim is a sleek, slim TV that packs in all the features you want, and none of the ones you don't. It's got a modern 4k uhd experience, reinforced with a durable frame that won't break your budget. Storage capacity of 512MB RAM and 4GB ROM means you can store all your favorite movies and shows on one device.
Pros:
A resolution of 1920 x 1080p
Audio is also ensured to be good as it is guaranteed to surround sound
Storage capacity of 512MB RAM and 4GB ROM
Cons:
3. TCL 43P735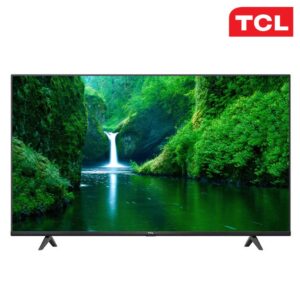 Dobly Vision Atmos
TCL's 43P735 is a Google-certified Android TV that comes with the latest Android 11 TV OS and Google Apps. It has a 4K UHD resolution of 3840×216 and supports HDR10. The picture quality is further enhanced by MEMC 60Hz and Micro Dimming. The sound quality is also excellent, with Dobly Vision Atmos providing a truly immersive experience. Netflix, YouTube, Amazon Prime Video, Gallery, and Google Assistant are all pre-loaded, making this a great all-in-one entertainment solution.
Pros:
16GB Internal Memory
Micro Dimming
Android 11 TV OS
Cons:
4. TCL 55P635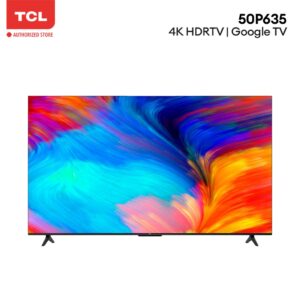 Built In Google Assistant
With the TCL 55P635, you'll get stunning 4k display quality that's enhanced with high dynamic ranging. This means that you'll enjoy an optimized picture quality with frame-by-frame enhancement of range of tones, brightness, and contrast. You'll be able to boost your entertainment and enjoy more nuanced content than ever before. Whether you're watching your favorite movie or TV show, or playing the latest video game, the TCL 55P635 is sure to provide you with an immersive and exhilarating experience.
Pros:
Stunning 4k display
Atmospheric Micro Dimming
Immersive Dolby Audio
Cons:
5. Devant 32STV103
Noise Reduction
This 32″ HD Smart TV is perfect for watching your favorite shows, movies, and sports. With HD Ready 1366×768 resolution, you'll enjoy stunning visuals on this widescreen display. The Devant 32STV103 also features Color Depth Enhancement, Color Tone Adjustment, Dynamic Backlight Control, Adaptive Contrast, Noise Reduction, Motion Clearness, and Wide Viewing Angle for a superior viewing experience. Plus, with built-in WiFi, you can access your favorite streaming content directly on your television.
Pros:
Color Depth Enhancement
Color Tone Adjustment
Dynamic Backlight Control
Cons:
32″ may not be enough for large rooms
6. Fujisan LED-8032
Energy Saving
This 32-inch Smart TV is perfect for those with smaller households or living rooms; this TV won't take up lots of space especially because, as the name suggests, this Smart TV is also ultra-slim. With 100 million pixels ensuring a full HD experience. If you are looking for an affordable, sturdy TV that will make your entertainment life easier then this is the TV for you. The Fujisan Smart Ultra-slim is a frameless and ultra-slim TV that is very sturdy. The storage capacity of 512MB RAM and 4GB ROM will be more than enough for all your favorite movies and tv shows. And with its energy-saving features, this TV will still consume 38W of power so you can enjoy your favorite shows without having to worry about your electric bill.
Pros:
Energy-saving with also consuming 38W of power
A resolution of 1366x768p
Storage capacity of 512MB RAM and 4GB ROM
Cons:
7. Ace LED-707
1080P Resolution
The Ace LED-707 is a superior quality LED TV that offers stunning 1080p resolution and 60 watts of power consumption. It comes with a smart DN4 40" display and runs on the latest 9.1 (PIE) software version. The 8GB ROM and 1GB RAM provide ample space for all your favourite apps, games, movies, and TV shows. The 4 core processor gives you a smooth and lag-free experience.
Pros:
SMART-DN4 technology
8 GB Rom
Multiple source connection
Cons:
Doesn't offer much extra feature
8. Samsung T4300
2 Channel Speaker
The Samsung T4300 is a smart TV that delivers stunning visuals with its 1,366 x 768 resolution and PurColor technology. HDR enhances the contrast and detail of your favorite shows and movies, while Micro Dimming Pro creates a more immersive viewing experience. The slim bezel design gives the T4300 a sleek and modern look, while the 2 channel speaker system provides powerful sound.
Pros:
Slim Bezel
Micro Dimming Pro
PurColor
Cons:
Not the best aesthetically with the black border
9. Fujisan LED-8060
Immersive Widescreen
This 60-inch Smart TV is perfect for those who are looking for fully immersive Smart TVs, while being a widescreen, this TV won't take up lots of space especially because, as the name suggests, this Smart TV is also ultra-slim. With 100 million pixels ensuring a full HD experience. Frameless and ultra-slim might sound scary, but this TV is far from being flimsy and is very sturdy.
Pros:
Energy-saving with also consuming 100W of power
A resolution of 1920x1080p
Storage capacity of 512MB RAM and 4GB ROM
Cons:
10. HUAWEI Vision S
With Vision Camera
The HUAWEI Vision S is a groundbreaking new TV that embodies the future of television. With its sleek design and powerful sound system, the HUAWEI Vision S is sure to be the centerpiece of any home. The high refresh rate ensures that images are clear and sharp, while the built-in sound system provides an immersive experience. With the HUAWEI Vision S, television will never be the same.
Pros:
Solid picture quality
Easy to use interface
With camera for meetings
Cons:
Benefits of Smart TVs
The extra cost you pay for a Smart TV will certainly go a long way given all these benefits:
Having a Smart TV is very convenient especially not having to pay for in-demand shows
It is also very easy to use especially because the remote is your smartphone making adjustments in volume and channels so much easier than with a conventional remote.
Despite its name sounding expensive, Smart TVs are actually more affordable than you think, since it saves you from all other subscriptions you used to have just to access more TV content.
Related Read: Best smart TV in Malaysia
Services Smart TVs offers
You can't go wrong with a smart TV these days. In addition to streaming services like Netflix, Amazon Prime Video, Disney Plus and HBO Max, you'll be able to access Internet content apps like Facebook and Twitter for your social media fix.
These streaming video apps are specially designed for smart TVs to make it easy to browse and watch videos on the big screen. It's a great way to enjoy all your favorite shows, without missing a moment! Smart TVs can also offer great internet radio services, like Spotify or Pandora. These streaming music services have a lot to offer your audience, and can help you achieve your goals.
Alexa and Google Assistant will be incorporated into the biggest trend in smart TVs, voice assistants. This will provide the same functionality as most smart speakers.
Top Brands for Smart TV
Currently, in the market three brands has been dominating the Smart TV.
LG
With their sleek, clean styling and design LG TVs are the focal point of any room. Patented technologies allow them to deliver unbeatable detail in pictures with a high-resolution picture quality that will have you feeling as if there is no limit on what can be seen from these screens! LG smart tv price Philippines currently ranges from ₱15,000 up to ₱50,000, depending on the unit and specifications.
Sony
Feel the beauty of everything you watch with Sony's HD, 4K LED and OLED TVs. Discover their range of televisions that will transform your home to a paradise on earth! Sony Smart TV price Philippines usually ranges from ranges from ₱15,000 up to ₱30,000.
Samsung
Samsung TVs are known for their versatility and can provide good to very high picture quality. With its line-up of TV's, Samsung is one of the most popular brands in television. The company has introduced new models for 2021 with an improved picture quality and features that are sure to please any consumer! Samsung Smart TV Price Philippines ranges from ₱15,000 up to ₱30,000.
Conclusion
A Smart TV is a great investment for anyone who loves to be entertained. If you are someone who enjoys watch movies and television, then a Smart TV is perfect for you. With the added bonus of apps and internet connectivity, you will never run out of things to do with your new television.
FAQs
What is a Smart TV?
A Smart TV allows you to access video streaming services and applications. They also provide access to more range of channels that don't need subscriptions.
How to choose the right Smart TV?
A few factors needs to be considered before choosing. First is the screen size,make sure you find the right size for your needs and comfort. Another is the display. Make sure that the picture quality and refresh rate of the tv is top-notch. To get the most out of your purchase
What are the resolutions for smart tvs?
Most smart tvs are in 4K UHD. This is the most mainstream quality for smart tvs, it usually gives you a way to veiw the screen in full HD images. UHD 4K refers primarily to the horizontal image resolution in the order of 4,000 pixels
This post was brought to you by Kimz House.
Disclaimer: The opinion is solely based on our testing or intensive research with customer feedback around the most popular shopping platform such as Shopee and Lazada. The products/services shown here are available and valid upon the publication date. It may change from time to time. Please email us at [email protected] if there is any discrepancy.