Last Updated on
We express our creativity in different ways. For those who love fashion and styling, there is nothing more satisfying than being able to create or alter your own piece from the comforts of your home. A reliable sewing machine is your best friend when it comes to this venture. Are you in the market for a new sewing machine? If so, you may be wondering which one is the best option for you. With so many different machines on the market, it can be difficult to decide which one is right for your needs. That's why we've created this list of the best sewing machines that you can buy online in the Philippines. We'll take a look at some of the most popular models and help you decide which one is right for you.
Table of Contents
Best Sewing Machine Comparison Table
Choosing A The Right Machine for You
Top Sewing Machine Brands in the Philippines
Conclusion
FAQs
Quick Comparison Table
(scroll right for more)

We featured sewing machines that beginners and pro alike will find convenient to use.
1. Singer M1505
Heavy Duty Metal Frame
The Singer M1505 sewing machine is perfect for anyone who wants to get into sewing or expand their creativity. It comes with 6 built-in stitches, including 4 basic, 1 decorative and 1 buttonhole, as well as a free arm and heavy duty metal frame. You can also easily change stitches in one easy step, thanks to the simple stitch selection. Plus, the easy threading buttonhole saves you time and guesswork, giving you professional looking results every time.
Pros:
6 built-in stitches
Easy threading buttonhole
Time Saver
Cons:
2. Singer 3223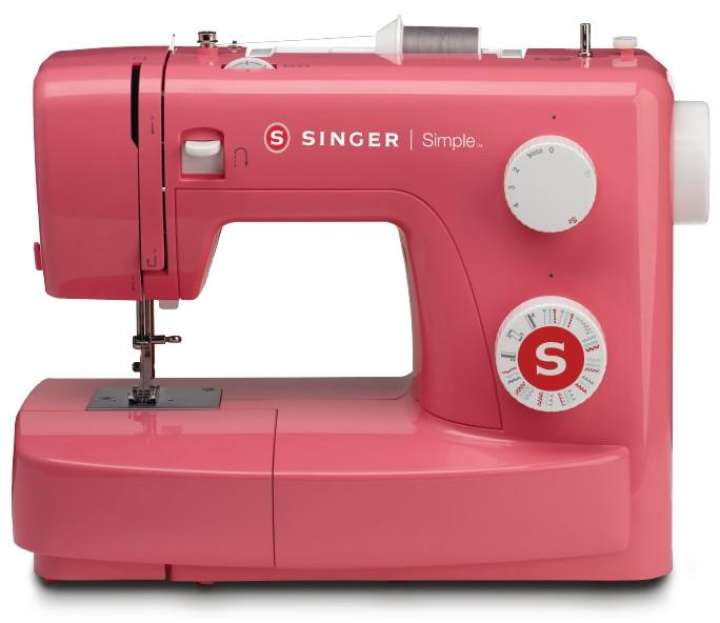 User-Friendly Machine
Singer is one of the oldest brands of sewing machines, and they have luckily adapted to the current trends of more portable and user-friendly machines. The presser foot of the machine can also be easily adjusted depending on the requirement of your sewing project. This stand-out pink sewing machine offers the trademark feature of Singer sewing machines including a built-in 4-step buttonhole. The best part is Singer has their local service centre in the Philippines should you need it in the future.
Pros:
Storage drawer
Adjustable stitch width and length
Automatic bobbin windings
Cons:
3. Brother GS-2700
Best for Beginners
This is a popular choice among beginners from Brother. It is easy to set-up and use, especially because it already comes with a threader. You can select your preferred stitch through a dial selection. Even those who have always been reluctant to try sewing, something will find this machine less intimidating. It offers just basic features you need to make sewing easier, but no less fulfilling.
Pros:
1 Step Button Hole
Differential feed
27 Built-in Stitches
Cons:
Might be tough on thicker fabrics
4. Brother JV1400
Perfect for Simple Sewing Project
Here's another beginner-friendly sewing machine from Brother. This is a more basic version of the GS-2700 model and is perfect for quick and simple sewing projects. It comes with 14 built-in stitches, plus a free arm sewing cuffs and sleeves. Your purchase also includes a DVD, which contains a comprehensive guide to sewing as well as tips on how to make the most out of your Brother sewing machine.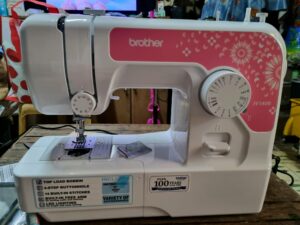 Pros:
LED Sewing light
Top-Load Bobbin
4-Step Automatic Buttonhole
Cons:
Not Ideal for thick fabrics
5. Singer HD6335M
Heavy Duty
Singer is one of the most trusted names in sewing, and the HD6335M is one of their best machines. It's perfect for both beginners and experienced sewers. It has a top drop-in bobbin with a clear view cover, so you can always see how much thread you have left. The fully automatic 1-step buttonhole makes it easy to sew perfect buttonholes every time. And the heavy duty metal frame ensures that your machine will last for years to come.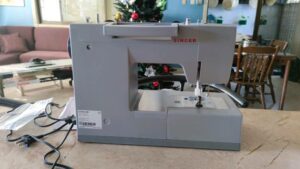 Pros:
Snap-On Presser Feet
Heavy Duty Metal Frame
On Board Storage
Cons:
A bit more expensive than other models
6. 301 Portable Electric Sewing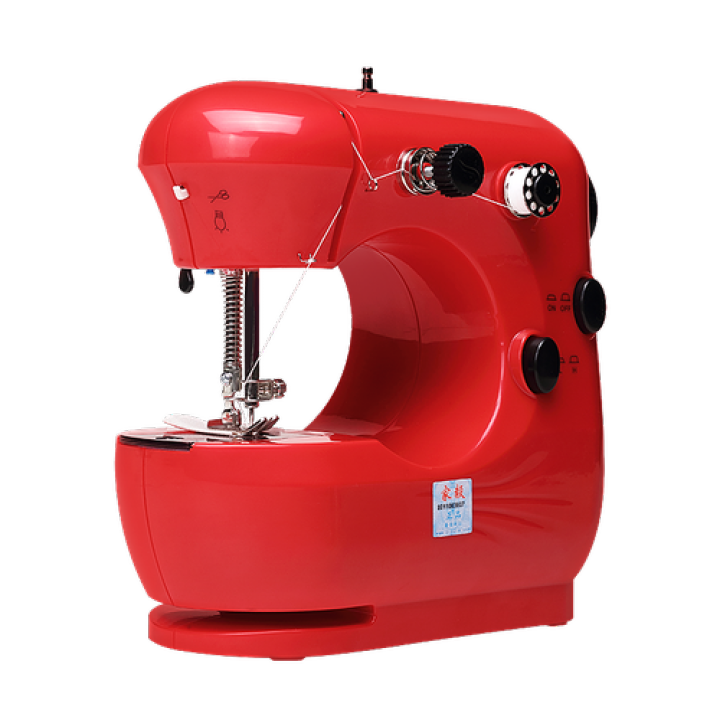 Space Saver
This mini sewing machine is just what you need to start off your DIY projects. Whether you want to make your own pillowcases or do alterations to your favourite dresses, you can do all that with this small but terrible sewing machine. The best part, it will not consume too much space in your home. Comes with LED light to assist you in seeing every stitch more clearly. The special cuffs also make it perfect for sewing long sleeves and trousers.
Pros:
U-shape cuff slot design
Pedal and manual switch options
Two-speed controls
Cons:
Not ideal for big projects
7. DK&M Mini Portable Electric Sewing
Easy to Step-Up
An extremely light and portable sewing, allowing you to do your sewing projects basically anywhere. That means that this is also easy to set-up, while all the accessories conveniently stay in place. What adds to its portability is the option to run it on battery only. However, remember to not use the power cord and battery at the same time. Finally, enjoy creating new crafts from this mini sewing machine!
Pros:
Battery-powered (AA Battery)
Soft light installed to make it gentler on your eyes
Two-speed mode
Cons:
Durability can be an issue
8. JUKI DDL-8100E
Highspeed Lockstitch
The JUKI DDL-8100E is the perfect machine for any sewer. It features reverse stitch capabilities, allowing you to sew in both directions. It also has a separate on board bobbin winder, so you can always have a fresh bobbin ready to go. The built in accessories compartment is perfect for storing all of your sewing supplies. The push button on/off feature makes it easy to use, and the mounted goose neck lamp ensures that you always have a clear view of your work area. The adjustable stitch length means that you can customize your stitches to suit your project.
Pros:
Mounted goose neck lamp
Built in cone thread stand
Adjustable stitch length
Cons:
9. Unico. 12 Stitch Sewing
Supports Four Layers of Fabric
A small but terrible sewing machine that can sew up more than 800 stitches per minute. That makes your sewing projects faster to accomplish, without comprising any neat details on the final output. You can achieve neater stitches from this machine, given its built-in choices. Even those hard to achieve zig-zag stitches can be properly done by a beginner through this machine.
Pros:
LED light for a constant light source when you are sewing
Can support up to four layers of fabric
12 built-in stitches
Cons:
10. Keimav 12-Stitch Expert Automatic Sewing
Maximum Portability
One of the best things about this sewing machine is that made to be friendly enough for beginners but is also packed with features that will please the pros. For maximum portability, you can even power this sewing machine with just batteries. So whether you are using this at home or in your store, setting up will not be a problem.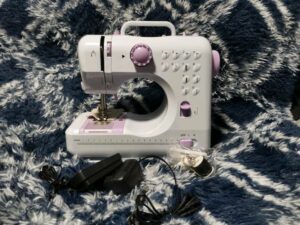 Pros:
12 different sewing options
Work light
Compact & lightweight
Cons:
Not ideal for thicker fabrics
Choosing A The Right Machine for You
For beginners, choosing the best sewing machine can be overwhelming. From the design to their functional features, there are so many factors that need to be considered. Fortunately, the newer models of sewing machines are already more beginner-friendly. They are easy to set-up, and there are already pre-installed stitches that you can choose from.
The speed of the machine can also be adjusted to the requirements of your current projects. One of the important consideration, though is to check what sort of fabric the machine can handle and whether it matches the type of projects you want to do.
Top Sewing Machine Brands in the Philippines
Singer
Singer has been a world leader in the sewing machine industry for over 100 years. The company provides both machines and notions, but does not venture into any other businesses related to this field of work-they are specialists at making them!
Brother
Brother sewing machines are perfect for any skill level and can be used to produce a wide variety of products. They come with all the necessary features you'll ever need, so finding one is easy!
Juki
Juki machines are known for their quality and this one gets mostly good ratings from consumers. Owners report that the unit's controls are very intuitive, making it easy to use through multiple layers of fabric without any problems or breaks in stitching
Conclusion
: Now that you know a little more about the different types of sewing machines on the market, it's time to choose one for yourself. Hopefully, this article has helped you narrow down your choices and given you a better idea as to what type of machine would be best suited for your needs.
FAQs
How often should I have my sewing machine cleaned?
It would depend on how frequently you are using it, and what type of work you are doing. The fabrics and threads can create lint build up on the machine, so if you are using it regularly, you should clean it more.
Why does my sewing machine skip some stiches?
You might want to check your needle. It might be bent or even be blunt. It may be also because the needle was incorrectly inserted.
Why is the stiches loose?
The main cause for this is that the wron threading. Make sure that the thread has passed thorugh all the thread guides, the level and the needle eye.
This post was brought to you by Kimz House.
Disclaimer: The opinion is solely based on our testing or intensive research with customer feedback around the most popular shopping platform such as Shopee and Lazada. The products/services shown here are available and valid upon the publication date. It may change from time to time. Please email us at [email protected] if there is any discrepancy.