Last Updated on
Are you looking for the best refrigerators in the Philippines? With so many brands and models available in the market, it can be overwhelming to shop for a fridge. That's why we've rounded up the 10 best refrigerators in the Philippines – 2023, taking into account factors such as type of refrigerator, size, energy efficiency, and special features.
A good quality refrigerator, whether a single or double door, is one of the best investments for your home. While this appliance may not be the most affordable one to buy, the flexible payment terms of shops, both physical and online, have made it easier for most people to own their dream refrigerators.
In this blog post, we will review each of these top-rated refrigerator brands that are sure to meet your needs. Keep reading to find out more!
Table of Contents
Best Refrigerator Brands in Philippines
Fridge Buying Guide in the Philippines
Common Types of Refrigerators to Choose From
Conclusion
FAQs
Quick Comparison Table
(scroll right for more)
What better time to buy or upgrade to a new refrigerator than this Holiday Season?
Check out this list of the 12 Best Refrigerator Philippines today to make sure you get the most out of your money for your new refrigerator.
1.
Fujidenzo RDD-50S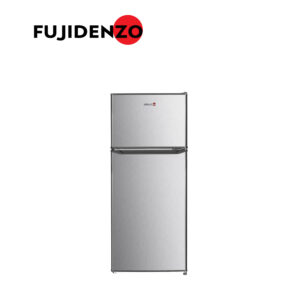 Reversible Door
The Fujidenzo RDD-50S Refrigerator is an excellent choice for any home with its 5 cu.ft two-door direct excellent refrigerator design offering both ample storage space and energy efficiency all in one. Not only does this fridge come with a reversible door for the left or right opening, but it also has a light bulb in the refrigeration section that provides maximum visibility into your food items. As well as adjustable wire shelves help you make the best use of your limited space when organizing groceries and other items.
What makes the Fujidenzo RDD-50S stand out from other fridges is its Efficient Compressor, which consumes only 110 watts compared to other fridges with higher wattage consumption rates – making it much more eco-friendly than most traditional models today! Plus, this model features ample freezer space, allowing you to store frozen goods and ingredients easily.
If you're looking for an efficient direct cool refrigerator that offers plenty of highly affordable storage options, then look no further than the Fujidenzo RDD-50S Refrigerator! With its stylish looks, quality build, enormous capacity, and reliable performance, this fridge will surely meet all your needs – so don't wait any longer; grab yours before stock runs out!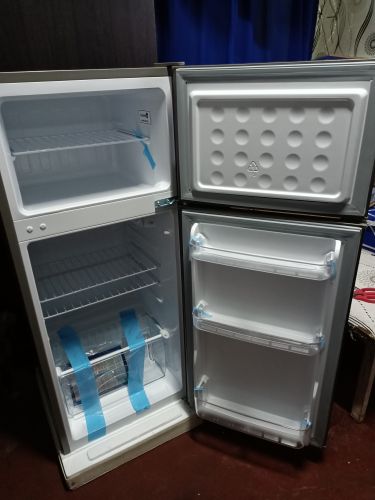 Pros:
Energy efficient with only 110 watts of electricity consumption.
Large freezer and vegetable crisper provide ample storage space.
The stainless steel look adds a sleek aesthetic to any kitchen décor.
Cons:
Not suitable for larger households since it is a small refrigerator of only 5 cu.ft capacity
2. Haier HR-IV188SBPS
Energy Saving
The Haier HR-IV188SBPS is an excellent refrigerator for those who want their food to stay fresh and cold. It features an Inverter Compressor, allowing it to quickly reach the desired temperature so your food will never go bad. The Compact Design Smart Beauty Series provides a sleek look to fit in any kitchen decor. This model also has Table Adjustable Wireshelves and a Recessed Handle Vegetable Crisper, giving you several ways of organizing your groceries. Furthermore, it has a Rated Voltage range from 220V-240V, meaning it can be used anywhere worldwide with no issues.
The availability of this product is also outstanding as it can easily be shipped or bought at any local store without worrying about its weight or size due to its compact design. This refrigerator model also operates quietly since the compressor sends quick cooling bursts instead of continuously running like most other models, ensuring you won't have any unpleasant noises from your appliance again.
Haier's HR-IV188SBPS is one of the best refrigerators on the market today, and we highly recommend it if you are looking for something reliable yet affordable! Its unique features, such as Inverter Compressor make this fridge worth investing in and would add value to anyone's home appliance collection!
Pros:
Inverter Compressor Technology for fast cooling.
The compact, space-saving design fits perfectly into any kitchen or living space.
Fully adjustable shelves and a vegetable crisper to suit all food storage needs.
Cons:
Unsuitable for larger items
3.
Sharp SJVL70BPSL
Large Capacity
The Sharp SJVL70BPSL is an ideal refrigerator for a great storage and cooling solution. This two-door refrigerator has a spacious 6.6 cu. ft. /187L capacity, allowing you to store a large quantity of food or drinks anytime. Its Direct Cooling Inverter technology provides faster cooling and more energy efficiency to help keep your food fresh and cool for longer periods. It also features a manual defrosting system that helps keep it clean and rust-free over extended usage periods.
Additionally, its spacious freezer compartment can hold up to 50kg of food/drinks, making this refrigerator perfect for storing large items such as casseroles, frozen pies, ice cream tubs, or several bags of frozen vegetables. Furthermore, the durable wire shelves on this unit have been designed with heavy usage in mind, ensuring that they won't buckle under the weight of heavier items placed upon them during everyday use.
All things considered, the Sharp SJVL70BPSL two-door refrigerator offers unparalleled performance by combining ample space with innovative technology like Direct Cooling Inverter Technology and Manual Defrosting System into one powerful machine that will serve you well for years to come! So if you're looking for a reliable fridge that can meet all your needs without breaking the bank, then don't hesitate – check out this fantastic product today!
Pros:
Energy efficient with R600a refrigerant and 130W power consumption
Durable with 50kg wire shelf support
Sleek design with Inox colored door finish
Cons:
It could be pretty noisy when running at full power.
4. Panasonic NR-BV320XSPH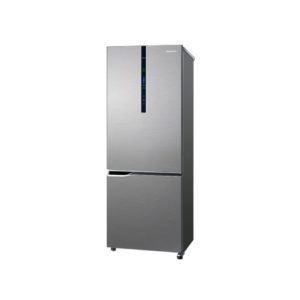 Fast Soft Freezing
The Panasonic NR-BV320XSPH Refrigerator presents a comprehensive storage solution suitable for households focused on energy efficiency while ensuring food preservation. Equipped with several notable attributes, like the ECONAVI feature that automatically adjusts power consumption, an anti-bacterial mechanism curbing bacterial growth, and the Inverter Compressor system upholding frozen item quality, this appliance stands out.
Of particular note is the Prime Fresh function, enabling optimal meat and fish storage at approximately -3°C without the need for defrosting. The unit's generous storage capacity simplifies organization via compartments like shelves or trays, adaptable to diverse requirements. The presence of glass shelving and additional cooling components such as the twist ice tray and freezer case facilitates temperature customization as needed.
In summation, Panasonic's refrigerator offers a commendable solution catering to energy-conscious households seeking secure and fresh storage alternatives. For those in pursuit of a dependable refrigeration device enriched with intelligent features, the Panasonic NR-BV320XSPH Refrigerator emerges as a compelling choice.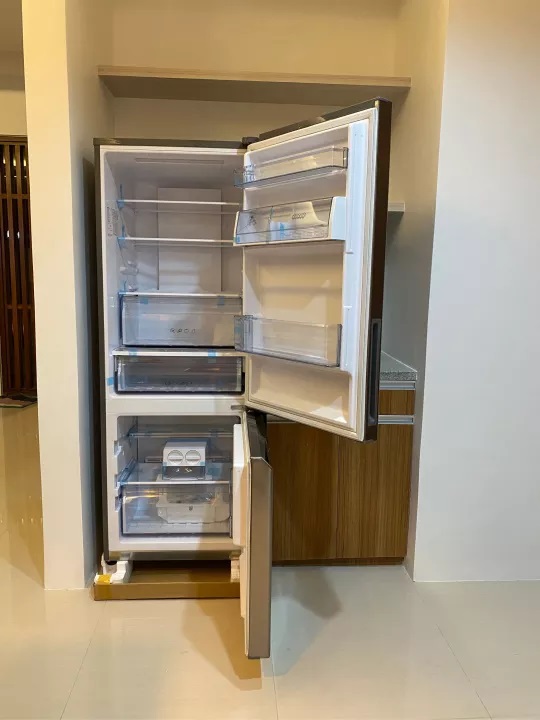 Pros:
Prime Fresh
Anti-bacterial Effect
Four kinds of ECONAVI sensors
Cons:
5.
LG GRB202SQBB
No Frost Feature
The LG GRB202SQBB is an excellent choice for a dependable and efficient refrigerator. With its two-door design, this refrigerator offers ample room without occupying excessive space in your kitchen. Moreover, the Smart Inverter Compressor proves energy-efficient and aids in reducing electricity costs. Furthermore, the No Frost technology prevents ice or frost accumulation, eliminating the need for manual defrosting.
Within the fridge, tempered glass shelves provide added durability while facilitating easy tracking of stored items. Simultaneously, LED lighting brightly illuminates the interior, enabling swift item retrieval. This convenience makes it an ideal appliance for bustling households in constant motion.
In conclusion, boasting practical features and an elegant design, this LG fridge possesses all the essentials for convenient and secure food storage at home. Additionally, its affordable price could make now the optimal moment for a purchase. Thus, there's no need for delay – take action today and secure yours!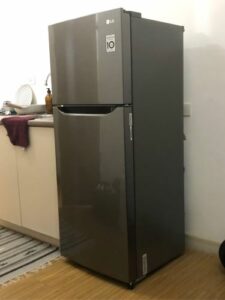 Pros:
The Smart Inverter Compressor promotes energy conservation and sustains long-term performance.
LED Lighting ensures a well-lit interior for easy item identification.
The Vegetable Bin aids in preserving fruits and vegetables for extended durations.
Cons:
Possesses a lower energy efficiency rating.
6.
Haier HRF-D110H
Best for Small Spaces
The Haier HRF-D110H is an exceptional option for those searching for a dependable, long-lasting refrigerator. Its enduring inox finish ensures its aesthetic appeal remains intact for years. Furthermore, the interior glass shelf with a built-in lamp expedites locating food items, eliminating the need to open the doors. The adjustable thermostat, a significant advantage, delivers direct cooling, prolonging food freshness and averting spoilage.
This product's concealed handle design is a notable attribute, which seamlessly combines convenience and style. Though not overtly visible, it facilitates effortless door operation while refraining from occupying unnecessary space on countertops or shelves. Additionally, opting for this refrigerator over alternatives with higher power consumption, such as traditional fridges or freezers, can lead to substantial long-term energy cost savings.
In summary, those seeking a blend of elegance and functionality in a refrigerator should contemplate investing in this Haier model. Boasting impressive features at a reasonable price point, you're unlikely to regret your decision. Delay no further – secure yours today before availability diminishes!
Pros:
Segregated compartments ensure precise cooling and sustained freshness.
Economical operational costs translate to reduced energy expenses.
Adaptable interior storage facilitated by the adjustable thermostat.
Cons:
Comparatively limited storage capacity when juxtaposed with other two-door refrigerators.
7. Condura CSD700SAi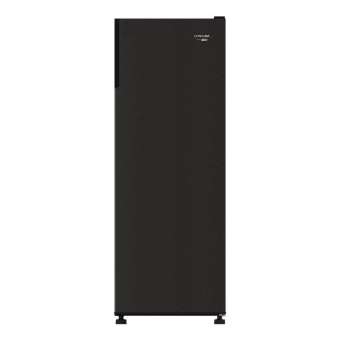 Environment Friendly
Get your kitchen ready for the summer with the amazing Condura CSD700SAi! This sleek and stylish single-door fridge not only has a stunning black-and-grey color, it also will do wonders to save you money in the long run. With its High Energy-Efficiency Factor (EEF) and eco-friendly refrigerant, you can rest easy knowing that you're doing your part to reduce energy consumption while still delivering excellent storage space in your kitchen.
The CSD700SAi packs a punch with 168L storage space in your fridge and freezer. You won't have to worry about having enough room again! But it's not just convenience; this device will surely bring some serious style points anywhere it goes with its LED lighting that creates an entirely different atmosphere for any room. Add the semi-automatic defrost system, and you have yourself a fridge so tech-savvy all your friends will be asking about where you bought it!
Condura has made sure to take all the worries away so you can enjoy freshness with satisfaction. Don't wait any longer and get your own Condura CSD700SAi now and experience convenience like no other!
Pros:
Energy Consumption: 0.42 KWh/24hr
Semi-Automatic
Wireshelves
Cons:
8. Whirlpool 6WBN958 SV
With Deodorizer
Introducing the Whirlpool 6WBN958 SV Refrigerator, your perfect advisor in keeping all your favorite foods fresher for longer. Combining superior designs with cutting-edge technologies, it truly is the cream of the crop regarding refrigerators. Boasting a sleek and stylish exterior with various features such as No-Frost technology and 6th Sense Technology, every meal is sure to be as fresh as when you made it!
This two-door refrigerator keeps food odors out of the fridge thanks to its one deodorizer. Its powerful Microblock Technology helps lock out bacteria and even works on plastic containers while keeping their original flavors intact. Furthermore, its FreshFlow FlexiVents ensure optimal temperature through uniform airflow throughout the refrigerator while Air Tower Cooling circulates cold air evenly over all contents. And a bonus – energy-efficient R600a refrigerant makes this a wise investment!
Pros:
No-Frost Refrigerator
Deep Freeze Technology
R600a Refrigerant
Cons:
The freezer is a bit small and has no layers
9.
Electrolux EHE5224B-A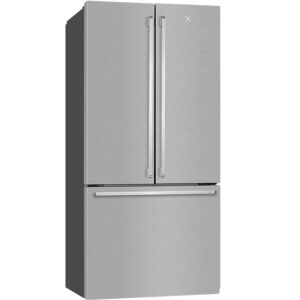 Automatic Ice Maker
The Electrolux EHE5224B-A French Door Refrigerator is an efficient and reliable kitchen appliance that ensures your food stays fresh for longer. Thanks to its NutriFresh® Inverter technology, you can keep your fruits and vegetables crisp and lively for up to 7 days with the TasteLock crisper! It also features a convenient automatic ice maker, so you'll never run out of cubed or crushed ice again.
What sets this refrigerator apart from others on the market is its 360 Cooling feature, which allows each shelf to be cooled evenly without any loss of humidity or flavor, so no more spoiled produce! The FlexStor® door bins are adjustable and removable, giving you plenty of storage space to organize all kinds of items in your fridge.
If you're looking for a dependable fridge that keeps your groceries tasting as good as new, look no further than the Electrolux EHE5224B-A French Door Refrigerator! Its energy-efficient construction and features like excellent air circulation will make it stand out amongst other refrigerators on sale today. Don't wait — stock up on all your fresh ingredients with this superior kitchen companion and enjoy long-lasting tastes today!
Pros:
A stable temperature ensures food stays Fresh and tasty for longer
Movable FlexStor door bins give the flexibility to store any size of items
TasteGuard eliminates 99.8% of bacteria, maintaining a cleaner, hygienic fridge
Cons:
This model is relatively expensive compared to similar sized refrigerators.
10. Samsung RT20FARVDSA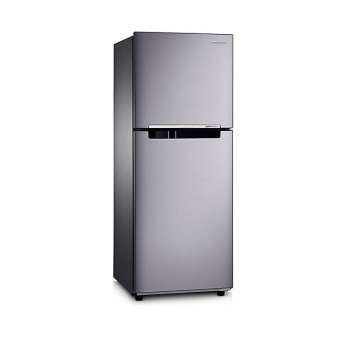 Easy Slide Shelf
Introduce your kitchen to the ultimate convenience of the Samsung RT20FARVDSA refrigerator. With its sleek, modern design and metal graphite finish, this refrigerator is sure to be an impressive addition to your home. But it's not all about looks—this refrigerator comes packed with features that make managing a kitchen much easier!
The Twin Cooling Plus™ technology is a highlight of this fridge and gives you full control over humidity levels in your fridge, preserving the freshness and taste of your food for longer periods of time. Plus, its Multi Flow cooling system ensures even temperatures and helps food stay fresher for longer too.
The LED Interior Lighting makes it easy to find the perfect snack quickly, while the tempered glass shelves give you an easy-to-clean surface that can hold some weighty items too. The Moist Fresh Zone lets you store fruits and vegetables at a higher humidity level so they stay crisp and juicy for far longer than what we are normally used to seeing in kitchen appliances. To top it off, the Samsung RT20FARVDSA has adaptive defrost control so any frozen desserts will always remain aromatic and fluffy. Imagine cooking world-class dishes with ingredients that taste as though they had just been acquired from a local farmer's market – all thanks to the amazing Samsung RT20FARVDSA!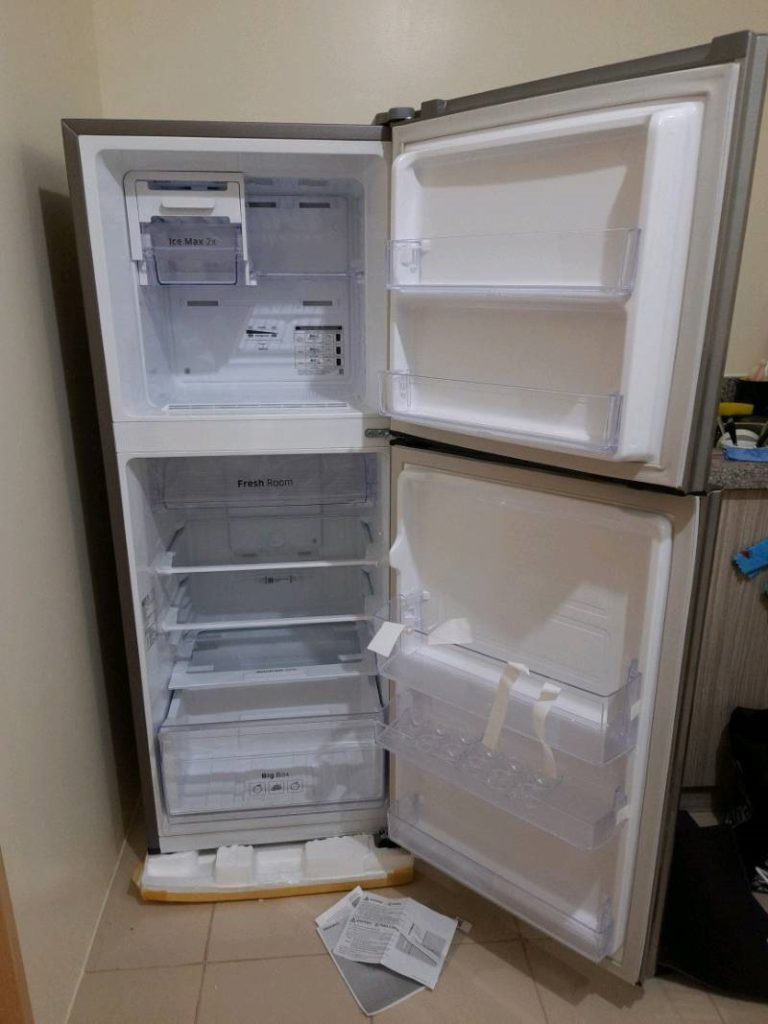 Pros:
Moist, fresh zone
Easy slide shelf
Big Guard Shelves for larger bottles
Cons:
It takes up a bit more space
Best Refrigerator Brands in Philippines
Electrolux
Electrolux is the go-to brand for high-end appliances at affordable prices. They offer an extensive warranty, and their parts are almost always in stock making repairs quick and easy!
LG
LG refrigerators combine stunning good looks with reliable, state-of-the-art technology to create a modern kitchen experience. From five distinct door styles for every design sensibility and price point – there's an option that will fit your needs!
Fridge Buying Guide in the Philippines
Picking the right refrigerator will always be a consideration of the budget first. Regardless of how much you are willing to spend on a refrigerator, one of the first things to look for is its energy efficiency. Most refrigerators last for a decade or more with proper maintenance, so it's important that you are getting your ROI from your investment through energy savings.
Most of the newer refrigerator models come with this feature, so you will easily feel the difference in your electricity consumption once you buy a new one. The next consideration is the freezer and ref capacity. Most refrigerator models may look sleek on the outside but actually have decently large capacities inside. So, make sure to ask for their exact storage capacity.
Common Types of Refrigerators to Choose From
French door – A French-door fridge is perfect for those looking to store large amounts of food. The fridge section on top is perfect for storing all your fresh food and the freezer section below will keep all your frozen goodies nice and cold. French door refrigerators are great because they offer a more elegant design that looks luxurious in kitchens. The best part is, though, that they're still affordable.
Bottom Freezer Refrigerator- This is a big design change that places the freezer on the bottom and the fridge on top. This frees up more refrigerator space and allows for easier access to items in the freezer.
Top Freezer Refrigerators – A top freezer refrigerator is a traditional fridge type that you're probably most accustomed to seeing in rental apartments and garages. It's great for people on a budget because it's typically the cheapest fridge you can buy.
Conclusion
A refrigerator is a household appliance that has become a necessity in most homes. It is an important investment and one that you should take your time to choose the right model for your needs. Thanks to the flexible payment terms offered by retailers, both online and offline, it has never been easier for consumers to purchase their dream refrigerators. Have you chosen the right refrigerator for you?
FAQs
What temperature should I keep my refrigerator at?
For the refrigerator, the optimal temperature is 4° C, while the freezer should be on -18° C. This is in order to make sure that the food inside would be kept fresh for the longest time posible.
How do I clean my refrigerator?
Before cleaning your refrigerator, make sure that it is already unplugged. After that, empty all the shelves and throw away the spoiled or unusable food inside. You can use a sponge and soapy water to clean the inside of the fridge and disinfect with sanitizers
How does a refrigerator work?
A refrigerator works by removing heat from the inside to maintain a cool temperature. It uses a refrigeration cycle that involves a compressor, condenser, evaporator, and refrigerant to transfer heat from the interior to the exterior, keeping the contents cold.
This post was brought to you by Kimz House.
Disclaimer: The opinion is solely based on our testing or intensive research with customer feedback around the most popular shopping platform such as Shopee and Lazada. The products/services shown here are available and valid upon the publication date. It may change from time to time. Please email us at [email protected] if there is any discrepancy.