Last Updated on
With several lifestyles now shifting to anything eco-friendly and energy-efficient, you would think that owning a microwave oven would simply defeat such purpose—just another electric-powered appliance in the kitchen. However, one of the things is often not duly recognized about microwave oven is their energy-efficiency. Check out these latest recommended lists of microwave oven below to know more how you can save more on energy with this multi-functional appliance.
Table of Contents
Best Microwave Oven
Comparison Table
Microwave Buying Guide
Top Microwave Brands in Philippines
Our Top Recommended Products
FAQs
Quick Comparison Table
(scroll right for more)
1. Fujidenzo MM22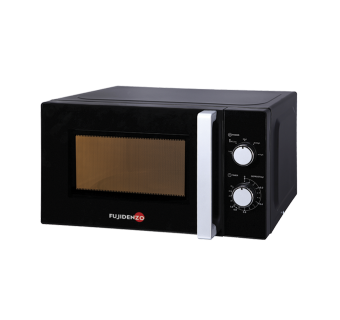 With Defrosting Function
Fujidenzo is always coming up with the latest and greatest innovations for their customers. This best microwave is a perfect example of how they make their products eye catching, while still keeping the price affordable.
Why buy this
20-litre microwave oven
Mechanical knob
30-minute timer
Fujidenzo's 20-liter capacity Microwave Oven MM22 is perfect for the busy family looking for a simple way to cook large amounts of food. With 5 power levels, and a 30-minute timer you can adjust depending on the recipe for the day, this microwave oven is perfect for the food lovers who need something that can fit with their busy lifestyle.
2. Whirlpool 20 Liter MWX201 XEB
Long Lasting
When it comes to quality, you can count on Whirlpool Microwave to last with you for long. This is a great investment, especially if you find yourself reaching for the best microwave frequently.
Why buy this
Mechanical Control
Chrome Trim Handle
Chrome Trim Knob
The Whirlpool MWX201 XEB Mechanical Microwave Oven is the ultimate kitchen appliance for any household. With a variety of cooking settings to choose from, it's easy to achieve your desired level of cooking quality.
It can also reheat food evenly and efficiently, without leaving any cold spots.
3. Whirlpool 20 Liter MWX203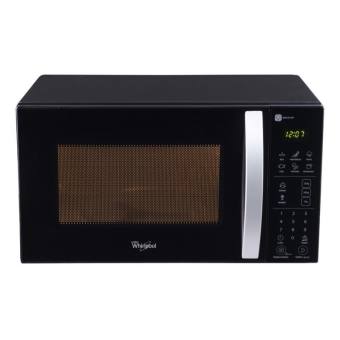 Easy Cooking Adjustment
For those who have been fans of Whirlpool microwaves, you will love their latest digital line. The sleek LED display and easier cooking adjustment is just what you need in your kitchen. It's time to up your appliance game!
Why buy this
20 litre
700-watt power
6 auto cook functions
Keep your kitchen counter not congested with our Whirlpool 20 Liter Digital Microwave Oven MWX203. This best microwave oven is designed to complement a wide range of kitchens. With its 20 liter capacity, this microwave oven can fit six large plates.
You also won't have to worry about cooking the food too much or too little, as this oven has six pre-set cooking functions that will make sure that the food is cooked exactly the right amount of time for you.
4. American Home 20L AMW-ST1920LW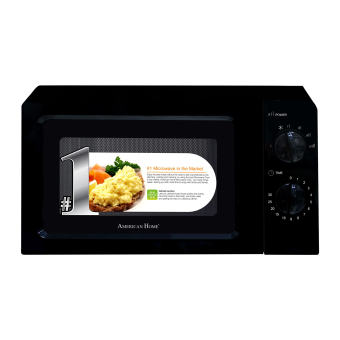 Multiple Power Levels
You might not need to spend more money for a bulky microwave oven. If you're looking for something that is more efficient and has multiple power levels, this American Home model is the one for you.
Why buy this
Includes glass rotary plate
20 litre capacity
Mechanical control
Strong and efficient heating power
The American Home 20L Mechanical Microwave Oven is a good option for people who want a microwave that is both large and efficient. This microwave has strong heating power that allows it to quickly but evenly achieve the temperature that you set.
As a result, you also save on time and energy when using this microwave.
5. XTREME HOME 20L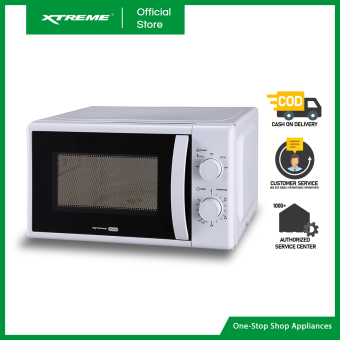 Best for Small Kitchen Counters
Perfect for small kitchen counters, this microwave oven gives you easy access to freshly warmed food every time. With diverse power and temperature control, you can also prepare your favourite meals using this.
Why buy this
Stylish Design/ Appearance
5 Power Levels
Defrost Function
Xtreme Home's Manual Control Microwave Oven comes with a stylish, sleek design that will look great in any kitchen. With five different power levels and a defrost function, it's great for cooking anything from a frozen burrito to a turkey dinner.
This microwave oven also has microwave parts that are all easy to clean, making it a long-term investment for your kitchen.
6. Whirlpool 20 Liter MWX201
Easy to Clean
The white colour of this microwave makes it a welcome addition to the overall aesthetic of your counter. This microwave oven is also easy to clean! This is a huge bonus because food and grease stains can be really tough to get out of an oven, but with this one you don't have to worry about that.
Why buy this
220V-900W
Easy to use
Mechanical control
This 20-liter microwave oven is a great addition for your home making the Whirlpool microwave oven price Philippines worth it. Whether you're heating up leftovers or whipping up your own creations, the 220V-900W microwaves will get the job done.
With mechanical control, it's easy to operate and features a sleek and stylish design to match any kitchen.
7. American Home 20L AMW-ST1920L
Time and Energy Saver
The American Home microwave oven is a perfect solution for anyone looking to save space and maintain efficiency. It has a sleek design that accommodates any kitchen, and it's powerful enough to cook food just the way you want it to. It comes at a great price, with 6 power levels and a rotating glass tray.
Why buy this
Includes glass rotary plate
20-litre capacity
Mechanical control
Strong and efficient heating power
The American Home 20L Mechanical Microwave Oven has a 20-litre capacity. It is equipped with a glass rotary plate that prevents heat from being trapped underneath the plate, thus cooking your food more evenly.
This American appliance has a mechanical control and is strong and efficient, heating food quickly but evenly.
8. IT-480CRS Imarflex 3in1 Convection & Rotisserie Oven Toaster
Multiple Cooking Function
This one is one of our favourites! It's a steal for its multiple functions and you don't even need to spend too much to get it. This is one of your must-haves to achieve your own roasted chicken recipes.
Why buy this
Convection & Rotisserie
Non-stick Cavity
Stainless steel Body
The IT-480CRS Imarflex 3 in 1 Convection & Rotisserie Oven Toaster is the solution to all your convenience needs. This oven features a stainless steel body, non-stick cavities, and a timer for effortless meal preparation.
The heating power ensures that your food is cooked evenly to perfection.
9. Imarflex MO-H20D 20L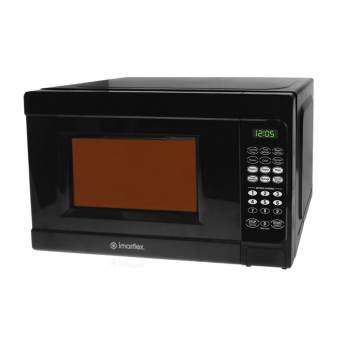 Best for Busy People
If you're looking for a traditional microwave, then we can recommend this digital model from Imarflex. It's affordable and works great for heating up your food quickly. It's a quality product that will last for years.
Why buy this
3 Memory Settings
Digital Control Panel
7 One-touch Express Cooking
The Imarflex MO-H20D is the perfect companion for those who are constantly in a hurry. With its sleek, white design and spacious interior, you'll be able to fit all of your meals without sacrificing time. With 3 Memory Settings, Digital Control Panel, 7 One-touch Express Cooking, and It's for those who live a hectic life and basically reaches out for microwave more often than most of us.
This microwave will make your life easier, especially with its own timer and end-cooking signal.
10. Samsung 23L MS23K3515AS
Smart Defrost System
You'll love this microwave! One of the best features is its Smart Defrost System. The microwave's defrosts quickly and evenly – so your food cooks evenly and is ready when you are. It can even determine the right time for defrosting for common frozen meats.
Why buy this
Scratch-free and durable ceramic interior
Pre-programmed local recipes
Low standby power
The Samsung Microwave Oven is perfect for your busy lifestyle. It features a scratch-free and durable ceramic interior that will never go out of style. It also features pre-programmed local recipes that are personalized to your city, so you can cook like a pro. With such low standby power, this microwave model will save you energy and money especially with Samsung microwave oven price Philippines.
You also do not have to worry about that usual microwave smell because it is programmed to force air out from its interior cavity.
11. American Home AMW-25
Compact and Durable
This American Home microwave is all about durability, and that's a good thing. It's made from 3 layers of the porcelain-coated metal body, and it's compact enough to be transferred between locations.
Why buy this
Manual rotary control
Defrost function
20L capacity
The American Home Microwave oven is a compact, affordable counter-top microwave that doesn't compromise on power. It's a must-have for people with small kitchens or those who need a simple to use microwave that doesn't take up too much space.
Microwave Buying Guide
Your first microwave purchase need not be expensive as microwave price Philippines can vary widely. You can go for the manually controlled microwave, as long it has different power controls, and the basic heating and defrosts function. This minimal feature will already provide you with the convenience of having fresh and warm food at any time.
However, if you have intended to prepare more recipes using your oven, it is recommended to go for multi-functional ovens, with convection and rotisserie features. Most microwave ovens for home use come in 20-30 litres capacity.
Top Microwave Brands in Philippines
American Home – An American Home Microwave Oven is a budget-friendly option that still offers good quality. With its long history of efficiency and durability, Filipino consumers can trust this brand to generate tasty meals in an efficient manner! American home microwave oven price Philippines usually starts at about ₱2,000.00
Samsung – Microwaves are an essential part of any household that has multiple people living in it. The Samsung TDS microwave ovens come with features like the innovative "evenly cook" technology which ensures your food is cooked evenly all over, no matter where you're placing something on this amazing cooking machine! Samsung microwave oven price Philippines ₱4,000.00
LG – The latest in kitchen appliances, the LG Microwave oven has made cooking easier than ever. You can now cook small items like frozen foods and biscuits easily with just one appliance! The clean lines of this product will fit right into any modern home's style palate while offering all its benefits including quick preparation times for delicious meals that everyone loves. LG microwave oven price Philippines usually starts at ₱5,000.00
Our Top Recommended Products
1. Fujidenzo Microwave Oven MM22
2. Whirlpool 20 Liter MWX201 XEB
3. Whirlpool 20 Liter MWX203
FAQs
Do you need to preheat a microwave oven?
You would need to preheat your oven if you are planning on doing convection cooking. If you are just reheating some food, then it is not necessary.
What utensils can I used on a microwave?
You should check if the utensils are microwave safe to use. But typically, metallic utensils should not be used unless they are recommended. Glass ceramic cook wares are usually microwave safe as long as it does not have any silver or gold rims.
This post was brought to you by Kimz House.
Disclaimer: The opinion is solely based on our testing or intensive research with customer feedback around the most popular shopping platform such as Shopee and Lazada. The products/services shown here are available and valid upon the publication date. It may change from time to time. Please email us at [email protected] if there is any discrepancy.