Last Updated on
Are you in the market for a new induction cooker? This type of cooking is becoming more and more popular, thanks to its many benefits. But with so many models on the market, how do you know which one is right for you? That's where we come in. Based on customer reviews, we've compiled a list of the 10 best induction cookers available in the Philippines. So whether you're looking for an inverter model or a two-burner induction cooker, we've got you covered. Keep reading to learn more!
Table of Contents
List of Top Induction Cooker Brans in The Philippines
Final Thought
FAQs
Induction Cooker Comparison Table
(scroll right for more)
10 Best Induction Cookers
Induction cookers can be very pricey and are considered an investment; therefore, we listed below the top 10 best induction cookers Philippines that are worth spending on.
1. Imarflex Induction Cooker IDX-2000S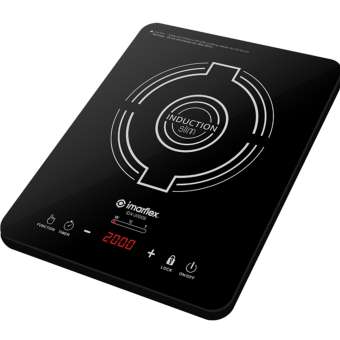 Best for Dorms
The Imarflex Induction Cooker IDX-2000S is a great choice for anyone looking to upgrade their cooking experience. This high-powered cooker features a tempered glass plate, a slim 47mm design, and a 15kg capacity perfect for larger meals. It also has a 26cm cookware capacity that can easily handle large pans or multiple dishes at once. With its heavy-duty twin exhausts and child lock feature, you won't have to worry about any of your family members getting hurt when using the appliance.
Additionally, this powerful induction cooktop comes with overload protection, a touch-sensitive control panel, and 2000 watts power output making it one of the most efficient models on the market. You'll be able to cut down your cooking process time significantly while maintaining the same level of quality as traditional ovens and stoves. And with its built-in safety timer, you can rest assured knowing that your food is being cooked correctly without having to constantly check up on it.
If you want to take your culinary skills up a notch then look no further than the Imarflex Induction Cooker IDX-2000S! Not only will you be able to prepare delicious gourmet meals quickly but also do so safely thanks to all of its energy-saving features. Don't wait any longer and make sure you get this remarkable kitchen tool today!
Pros:
Heavy-duty twin exhaust for efficient heat dissipation
Touch-sensitive control panel for convenient
Overload protection to prevent any kind of electrical overload and appliance damage
Cons:
2. Kyowa KW-3631 Induction Stove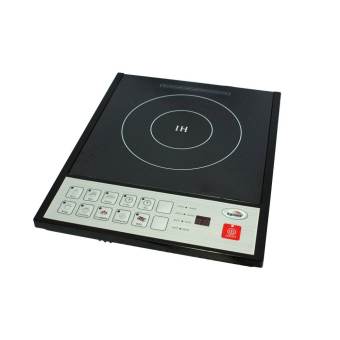 Easier Control
The Kyowa KW-3631 Induction Stove is a great product for the modern kitchen. Its pre-set and manual selection heating function allows you to easily set the temperature levels, perfect for when you're in a rush. The press-button control system is convenient and easy to use, while its single induction range provides enough space to cook multiple dishes simultaneously. In addition, it features an adjustable power level so you can be sure that your food is cooked at optimal temperatures and times. Lastly, its high-quality crystal glass plate ensures even heat distribution across the surface area of your cooking pan or pot.
There are numerous advantages of having the Kyowa KW-3631 Induction Stove in your kitchen: firstly, it saves energy since only the pan or pot being used gets heated up; secondly, since no flame is involved in cooking with an induction stove, there's much less risk of burns; thirdly, cleaning becomes easier due to its flat surface which helps prevent oil splatter from sticking on too long; lastly, because it uses electromagnetic technology instead of flames as a source of heat there's significantly less smoke from food residue buildup on pans and pots which may cause odour or respiratory problems over time if not cleaned properly and frequently.
From professional chefs to amateur cooks looking to get creative with their meals – investing in a reliable induction stove like this one will make all the difference! Not only does it come with amazing features but also saves significantly on electricity costs – making this product well worth every penny spent! So don't wait any longer – upgrade your kitchen today with Kyowa's KW-3631 Induction Stove!
Pros:
Four power levels ranging from 400 watts to 1300 watts
Along with the power, levels are also the four temperatures ranging from 140℃ up to 275℃
A high-quality ceramic plate made to endure the levels
Cons:
The power button is a bit hard to press
3. Tough Mama NTMIC-3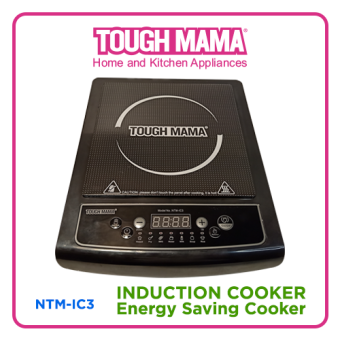 Easy to Operate and Durable
The Tough Mama NTMIC-3 is a high-quality 3-protected heating induction cooker with lots of great features. It has the best of both worlds; a ceramic top plate that ensures your pots and pans are evenly heated, and 7 cooking settings so you can cook a variety of things at once. Also, the adjustable temperature control with a digital display screen allows you to adjust heat levels precisely as needed, ensuring perfect results every time.
Additionally, this product is incredibly durable and easy to use — no hassle when it comes to operating it! It's even equipped with advanced PCB components that ensure long-lasting performance so you don't have to worry about replacing your appliance anytime soon. This product will take care of all your cooking needs for years!
All in all, if you're looking for an induction cooker that does it all without breaking the bank then look no further than this amazing Tough Mama NTMIC-3 option from Tough Mama! Its smart design and many features make it one of the most efficient kitchen appliances on the market today — so why not give it a try? You won't regret it!
Pros:
7 cooking settings
Siemens components that ensure a low power consumption
Adjustable temperature control
Cons:
Some users have issues with durability
4. Micromatic MIC-21
8 Preprogrammed Menus
The Micromatic MIC-21 is a great kitchen tool for any cook looking to create delicious meals quickly and conveniently. With eight multiple cooking functions, I can easily choose the right temperature and power level for whatever recipe I'm making, from sautéing vegetables to deep frying chicken. Its induction technology quickly heats up my ingredients with minimal effort on my part, so I can spend less time prepping and more time enjoying the final result. Additionally, its lightweight design makes it easy to store in tight spaces or take along when travelling.
Not only does the Micromatic MIC-21 offer convenience, but also versatility as well. It's compatible with all types of cookware materials such as aluminium, stainless steel and cast iron so no matter what type you have on hand you can get cooking without a worry! Its simple LED display and easy-to-use controls make it straightforward to operate – even beginners will be able to pick up on using this appliance quickly in order to whip up some yummy dishes!
All in all this product has everything necessary for you to prepare tasty food fast! Whether you're an experienced chef or just starting out, the Micromatic MIC-21 is sure to make your culinary adventures enjoyable thanks to its intuitive features that give you more control over your cooking experience while saving time overall. So if you're looking for an efficient appliance that offers versatile options without breaking the bank then definitely consider adding this one into your kitchen lineup!
Pros:
Temperature control for precise cooking
Compatible with all cookware types
Energy-efficient and eco-friendly operation
Cons:
Cooking can be affected by the size of the pan used and its material composition.
5. Hanabishi HIC 90 Single Induction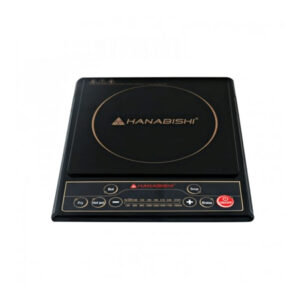 High-Quality Ceramic Plate
The Hanabishi Single Induction Cooker HIC 90 is a great addition to any kitchen. With 80% more cooking efficiency, you'll be able to whip up amazing meals in no time! The LED display allows you to easily view and adjust the cooking functions, including soup, braise, boil, fry and hot pot settings. Plus, an overheating auto cut-off feature ensures that your food will always be cooked evenly and safely. And with its high-quality ceramic plate that resists corrosion and scratches, this cooker is sure to stand the test of time!
Whether you're a busy professional or just want to save some time in the kitchen after a long day at work – this top-of-the-line induction cooker has got you covered. It's user-friendly design paired with five different cooking functions means that anyone can whip up their favourite foods quickly and easily – from stews to stir fry dishes – all without having to use unnecessary energy either!
In conclusion, if you're looking for an efficient yet easy way of preparing delicious meals with minimal effort then look no further than the Hanabishi Single Induction Cooker HIC 90 – it really does offer something for everyone! So why not take advantage of its amazing features right now? You won't regret it!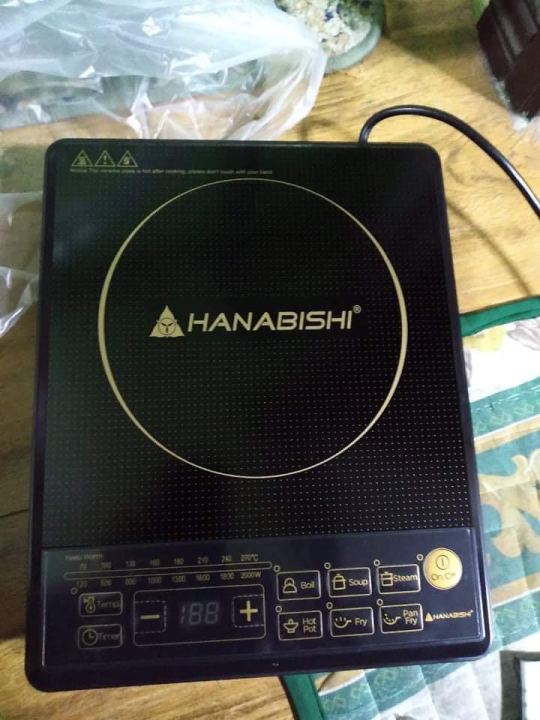 Pros:
5 cooking functions: soup, braise, boil, fry, hot pot.
The auto turns off once it is close to overheating
Timer control
Cons:
The cord is not detachable from the main unit
6. PHILIPS HD4911/00
Easy-to-Read Digital Display
The Philips HD4911/00 is an incredibly convenient and intuitive cooking device that makes home cooking hassle-free. This product features a Sensor Touch design which allows you to easily adjust the cook time settings according to your needs with just one swipe of your finger. In addition, the 1-120 minute cook time settings offer flexibility for different dishes that require different cooking times while the 5 Healthy Cooking Menus make it easier than ever to prepare nutritious meals quickly. Finally, the surface remains cool to touch no matter how long you are using it, making it safe for everyone in the family.
Not only is this cooker user-friendly but its digital display also helps eliminate any guesswork by providing clear data for cooks of all levels of expertise. Furthermore, this device saves energy and ensures a consistent temperature so that your food will be cooked perfectly every time without fail! Additionally, its sleek and stylish design blends perfectly into almost any kitchen decor – so whether you have an old or new kitchen setup this appliance will fit right in!
If you're looking for an easy way to make delicious home-cooked meals with minimal fuss then look no further than Philips HD4911/00! This intuitive cooker has all the bells and whistles as well as being aesthetically pleasing – what more could one want from such a reasonably priced appliance? So don't wait any longer; purchase yours today and start enjoying hassle-free home cooking!
Pros:
Accurate cooking time settings to the minute
Healthy, pre-set cooking menus
Keeps hands safe from burns with the cool touch surface
Cons:
Not suitable for larger families with multiple dishes to cook at the same time.
7. PHILIPS ETD29KC
6 Operating Functions
The Philips ETD29KC electric thermal cooker is the perfect appliance for many busy cooks who are looking for a fast, convenient way to cook nutritious meals. With its digital display and six operating functions for a variety of cooking options, this cooker makes meal preparation easy and efficient. Additionally, it uses infrared heating technology without any harmful radiation which helps you make healthy dishes quickly. Plus its sensor touch operation mode allows you to easily adjust settings with just one touch!
With the Philips ETD29KC electric thermal cooker, there's no need to worry about spending too much time or energy in the kitchen while preparing delicious food – this versatile machine does all the hard work for you! The ceramic heater provides consistent heat distribution throughout your cooking cycle so that each dish turns out perfectly cooked every time. It also requires minimal effort on your part as it doesn't require preheating as traditional ovens do.
If you're looking for an appliance that will make life easier when it comes to making nutritious meals quickly and efficiently, then look no further than the Philips ETD29KC electric thermal cooker! Its features ensure that even those with limited time can whip up delicious meals in minutes with minimal effort required on their part. Try out this amazing product today and see what it can do for your kitchen!
Pros:
Infrared heating technology with no harmful radiation and little smoke
Energy saving and environmental protection, no noise
Compact and lightweight design suitable for any space
Cons:
8. Imarflex IDX-3100HG
Best for Limited Space
The Imarflex IDX-3100HG induction cooker is an excellent choice for those looking for a modern cooktop. It features a touch-sensitive control panel which allows you to easily adjust the cooking settings with just one fingertip. This makes it easier and more convenient than ever before to get your cooking done quickly and efficiently. Plus, thanks to its up to 24cm cookware compatibility, you can use all sizes of pots or pans without compromising on performance.
On top of that, this cooker also comes with overload protection so you don't have to worry about anything overheating or getting damaged in the process. In addition, there are 10 temperature settings ranging from 60°C up to 240°C, so whatever type of food you're making – whether it be something simple like boiling water or something much more complex – the Imarflex IDX-3100HG has got you covered! And finally, the Auto Sense ON Pot technology ensures accurate power usage every time as well as always providing consistent results with no matter what dish you're preparing.
All in all, if you're looking for a reliable and efficient induction cooker then look no further than the Imarflex IDX-3100HG! With its cutting-edge design and impressive range of features – not least its easy-to-use controls – this model should definitely make it onto your shortlist when considering which kitchen appliance is right for your home needs! So why wait any longer? Invest in an Imarflex today and experience an unbeatable performance that will last!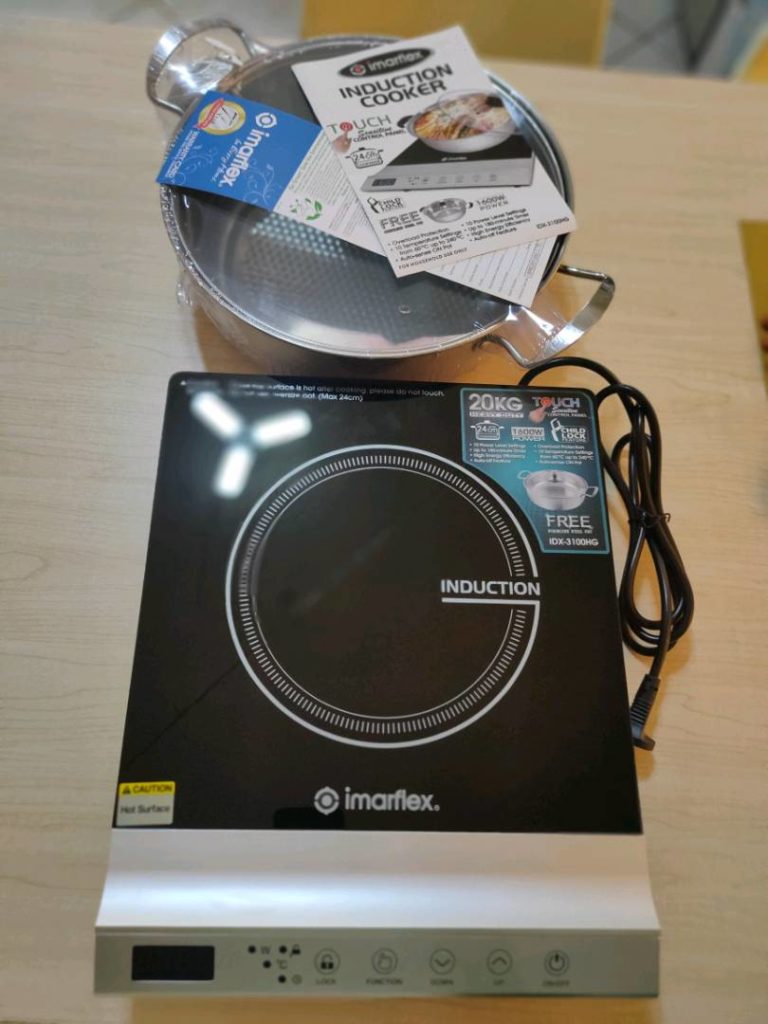 Pros:
Up to 180 minutes timer
10 power level settings
Auto-off and child lock feature for safety.
Cons:
9. Kyowa KW-3634 Induction Cooker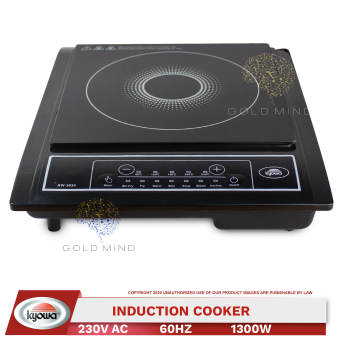 Best Safety Features
The Kyowa KW-3634 Induction Cooker is an excellent choice for a reliable and efficient kitchen appliance. This induction cooker comes with multiple adjustable power settings, allowing you to choose the perfect setting for whatever you are cooking. It also includes a durable crystal glass plate that will not crack or break like other materials. The pre-set and manual selection heating functions make it easy to quickly heat up your food at the desired temperature.
Another great feature of this product is its ability to detect when various errors occur and alert you before any damage can be done. This safety feature gives users peace of mind while using the hob as they don't have to worry about any potential mishaps occurring in their kitchen. In addition, this cooker uses no open flame, making it safer than traditional cookers which often produce carbon monoxide fumes and other hazardous gases when used improperly.
All in all, the Kyowa KW-3634 Induction Cooker is a safe and affordable option for anyone who wants a fast yet reliable way of preparing meals without compromising on safety or quality standards set by industry professionals. Not only does it look great in any kitchen but its multi-level adjustable power settings offer much flexibility when cooking different types of foods depending on your preference – making it suitable for both novice cooks; those just starting out in their kitchen adventures as well as experienced chefs alike! Why wait? Go ahead and give this outstanding induction cooker from Kyowa today!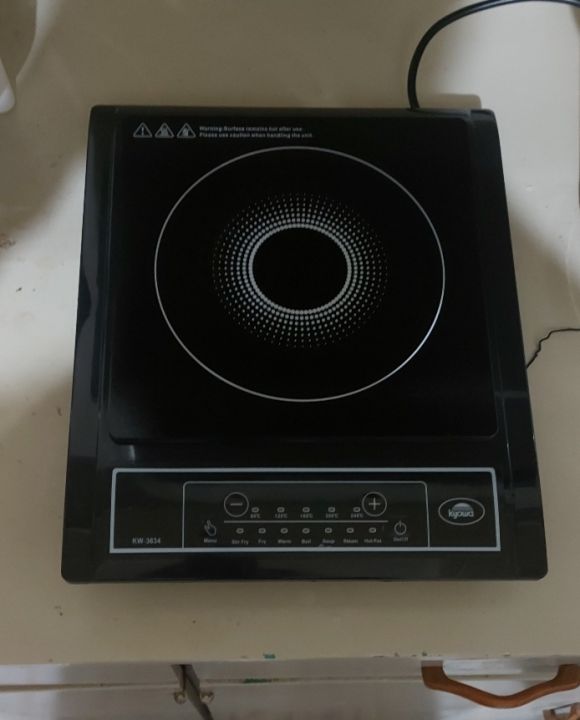 Pros:
With preset and manual selection heating function
Durable crystal glass plate
Multiple levels of adjustable power setting
Cons:
10. Imarflex IDX-3250B

Highly Energy Efficient
The Imarflex IDX-3250B is an incredibly well-designed heavy-duty electric induction cooker. With a 24cm cookware capacity, 10 power level settings and 10 temperature settings ranging from 60ºC to 240ºC, this induction cooker is great for all of your cooking needs. Its safety features include an auto-off setting, overload protection and a child lock feature providing additional peace of mind while in use.
Not only does the Imarflex IDX-3250B perform exceptionally well but it's also highly energy efficient using only 1600 watts when compared with regular gas stoves or other electric appliances which can often consume double that amount! Additionally, the twin burner makes it possible to cook two dishes simultaneously making meal prep even more convenient.
Ultimately, the Imarflex IDX-3250B is a fantastic and reliable choice for anyone looking for an easy-to-use electric induction cooker that offers advanced features such as overload protection, child lock safety and greater energy efficiency compared to traditional stovetops or other electric options on the market today. If you're in need of an upgrade in your kitchen or want something more suitable for everyday cooking tasks then I would definitely recommend investing in one!
Pros:
Up to 180 minutes timer
10 power level settings
Auto-off and child lock feature for safety.
Cons:
Needs a bit more space in your kitchen
List of Top Induction Cooker Brands in The Philippines
Imarflex
Imarflex induction cooker is the first known brand of induction cooker in The Philippines. It was made by our local appliance manufacturer, ACQIS Manufacturing Corporation, which is located at General Trias, Cavite. This company has been manufacturing home appliances for more than 50 years now. They are well-known for their commercial mixers and other kitchen utensils like can openers, ice crushers and hand blenders for the best prices in the market today.
Kyowa
Another brand of induction cookers that is very popular these days is Kyowa made by Nissin Appliances Incorporation (NAI) located at Batasan Hills, Quezon City. NAI was established way back in 1985, so they have been in the appliance business for more than 30 years now. They are well-known for their home appliances and small household products like rice cookers and water dispensers.
Tough Mama
Tough Mama stands out as a top-notch kitchen appliances brand in the Philippines, boasting an extensive array of cooking and food preparation equipment that is specifically designed to cater to your day-to-day culinary requirements. Whether you are looking for high-quality kitchen appliances to assist with your meal preparation or to elevate your cooking game to the next level, Tough Mama is the go-to brand that can fulfil your needs. From cutting-edge kitchen gadgets to sophisticated cooking tools, Tough Mama has got you covered with an impressive selection of kitchen appliances that are bound to make your cooking experience a breeze.
Hanabishi
Hanabishi brand of induction cooker is the most expensive among all the brands listed here, so if you are looking for high-end equipment with low-end budgets, this one's yours!
Final Thought
There are several induction cooker reviews available to help you find the best one for your kitchen. If you're looking for an easy-to-use, efficient way to cook up all kinds of dishes from around the world without any gas or electricity, this is definitely the product for you! We hope these 10 best induction cooker reviews in the Philippines have helped give you some ideas about what type of appliance would be perfect for your needs.
FAQs
Are induction cooktops safe to use?
Definitely. In fact, it is one of the safest kitchen appliances you can have. It is because the best induction cooktops only heats the pan, and not the cooking surfaces. The best induction cookers also have safety features to ensure your safely.
How do I clean induction cookers?
Induction cookers are very easy to clean. The only part that you need to clean is the part that heats up and has contact with the pan.
Do I need special cookware to cook with induction cookers?
Yes. Pots and pans made from iron and some steel are ideal for cooking with induction cooker. One way to find out if a pan is compatible is to stick a magnet to the bottom of the pan, and if the magnet sticks well, it has enough iron to be compatible with the induction cooktop. Just be careful because it can scratch the glass.
How do I know if the cooktop is hot?
There is usually a light on the surface or the control panel that indicates that the burner is already on. The cooktop will only heat up surfaces that are made with metal.
This post was brought to you by Kimz House.
Disclaimer: The opinion is solely based on our testing or intensive research with customer feedback around the most popular shopping platform such as Shopee and Lazada. The products/services shown here are available and valid upon the publication date. It may change from time to time. Please email us at [email protected] if there is any discrepancy.