Last Updated on
Are you in the market for a new induction cooker? This type of cooking is becoming more and more popular, thanks to its many benefits. But with so many models on the market, how do you know which one is right for you? That's where we come in. Based on customer reviews, we've compiled a list of the 10 best induction cookers available in the Philippines. So whether you're looking for an inverter model or a two-burner induction cooker, we've got you covered. Keep reading to learn more!
Table of Contents
List of Top Induction Cooker Brans in The Philippines
Final Thought
FAQs
Induction Cooker Comparison Table
(scroll right for more)
10 Best Induction Cookers
Induction cookers can be very pricey and are considered an investment; therefore, we listed below the top 10 best induction cookers Philippines that are worth spending on.
1. Imarflex Induction Cooker IDX-2000S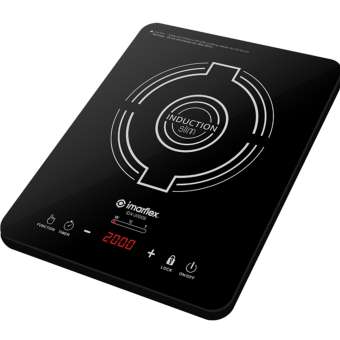 Best for Dorms
The Imarflex induction cooker is on of the best portable induction cooktop cookers for any situation. Whether you're renting, boarding, or living in a dorm, this cooker is perfect because it heats food evenly every time and uses a fraction of the energy that other cookers do. is the best option for those renting, boarding, or living in dorms. This 26cm and 47mm slim cooker does not only use small space but is also very light, only weighing 15kg. It has a touch-sensitive control panel that allows you to cook your favorite dishes with a single touch. The 2000 watts of power will get the job done and can cook quickly and efficiently. This cooker also features a child lock feature for safety so that your little ones don't get an accident while cooking, and also has a timer feature that adds to its safety as there might be times that a certain recipe needs a certain amount of time or one can get busy in the middle of cooking, making is the best induction cooker choice for safety.
Pros:
Touch-sensitive control panel
2000 watts of power
Child lock feature for safety
Cons:
2. Kyowa KW-3631 Induction Stove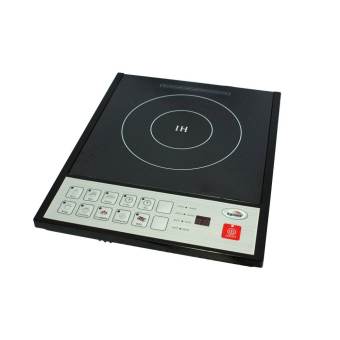 Easier Control
One of the top induction cooktop. It's made with a high-quality ceramic plate that ensures durability, and it accommodates different pot sizes. There is also a manual cooking button for easier control. It's perfect for when you want to cook your food just the way you like it. The best induction cooker is great for any dish you want to cook, and it comes with a high-quality ceramic plate that can endure the heat of any level. The cooking efficiency is noticeably increased by 80%. With this option, you'll be able to make anything from soups and stews to omelettes or lamb chops with ease.
Pros:
Four power levels ranging from 400 watts to 1300 watts
Along with the power, levels are also the four temperature ranging from 140℃ up to 275℃
A high-quality ceramic plate made to endure the what levels
Cons:
Power button is a bit hard to press
3. Tough Mama NTMIC-3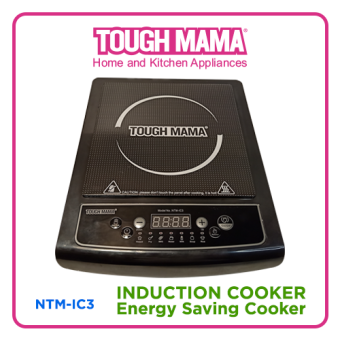 Easy to Operate and Durable
A durable and easy to operate, making this best induction cooker choice for those who are just new to induction cookers or even new to cooking overall. The durability is ensured with high-quality PCB components. If you are looking for the best induction cooker to be perfect for your kitchen, take a look at our Tough Mama NTMIC-3 Ceramic Induction Cooker. The Tough Mama 3-Piece Induction Cooker is made with the finest quality ceramic plate and is built to last. It has 7 cooking settings, from gentle to rapid boiling and will be perfect for all of your induction needs.
Pros:
7 cooking settings
Siemens components that ensure a low power consumption
Adjustable temperature control
Cons:
Some users have issue with durability
4. Imarflex IDX-1000 Single Burner
Best for Small Space
This Imarflex induction cooker is 20cm, single burner induction cooker is one of the best induction cooker option for those with such small space or for anyone that tends to move living spaces a lot. There is also a LED display to make controlling of the temperature and features easier. With the present functions, it is so much easier to cook and is especially the best induction cooker option for those who are new to cooking. This induction cooker was designed to show that cooking should not be intimidating.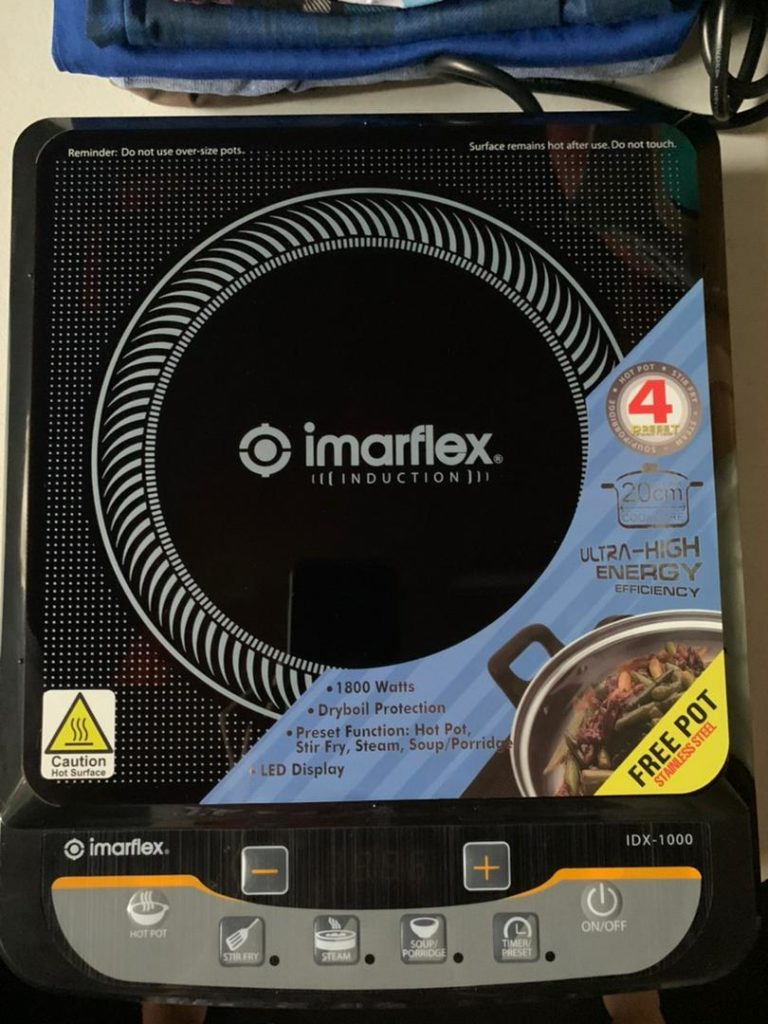 Pros:
4 preset functions; Hot pot, stir fry, steam, soup/porridge.
Dry boil protection
Single burner AND 1800 watts
Cons:
Not ideal for cooking large batches
5. Hanabishi Single Induction Cooker HIC 90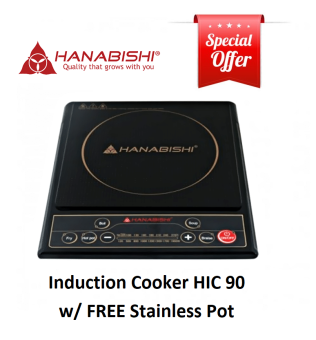 High Quality Ceramic Plate
For 80% more cooking efficiency, this Hanabishi induction cooker is the key. This is also very easy to use and to control with a clear LED display to properly see the actual setting that was entered. The Hanabishi Induction Cooker is the best induction cooker for making anything from fried rice to a pot of soup. With 5 cooking functions, you will find this product very versatile and easy to use. It automatically turns off once it is close to overheating, so you don't need to worry about your dinner getting burnt while you are out of the kitchen! The timer and manual cooking controls are also easy to use. All in all, this cooker is a great buy.
Pros:
5 cooking functions: soup, braise, boil, fry, hot pot.
Auto turns off once it is close to overheating
Timer control
Cons:
6. Imarflex IDX-2250 Double Induction Cooker
Best for Households
For households and those who prefer a wider area for cooking, this is the choice, as this has a twin burner to allow you to cook two items at a time. Despite being a twin cooker, it is only 24kg which makes it portable as well. The Imarflex IDX-2250 Twin Induction Cooker is the best induction cooker for the home chef. It has a touch-sensitive control panel with a temperature range from 60℃ to 270℃ that is also capable of working with a large variety of cookware, including pots and pans of up to 24cm. The cooktop is also designed to be safe for the home, so you can enjoy it without worry!
Pros:
Temperature ranges from 60℃ to 270℃
Touch-sensitive control panel
3000 watts
Cons:
7. Caribbean Induction Stove with Touch Sensor
Soft-Sensor Touch Control Plate
This option could easily be the most portable among the best induction cooker options, as this only weighs 3kg. The dimensions for this are L32 x W17 x H40. It is also very easy to control with a soft-sensor touch control plate. The Caribbean Induction Sensor is a fast heating cooktop that's perfect for any kitchen. With a simple touch of your finger, this cooktop instantly heats up to your desired temperature. What's more, the Caribbean Induction has high-temperature protection that doesn't allow the surface to get too hot again, so you won't ever have to worry about burning yourself. It's made with a crystal plate and available at an affordable price, making it the perfect choice for any kitchen.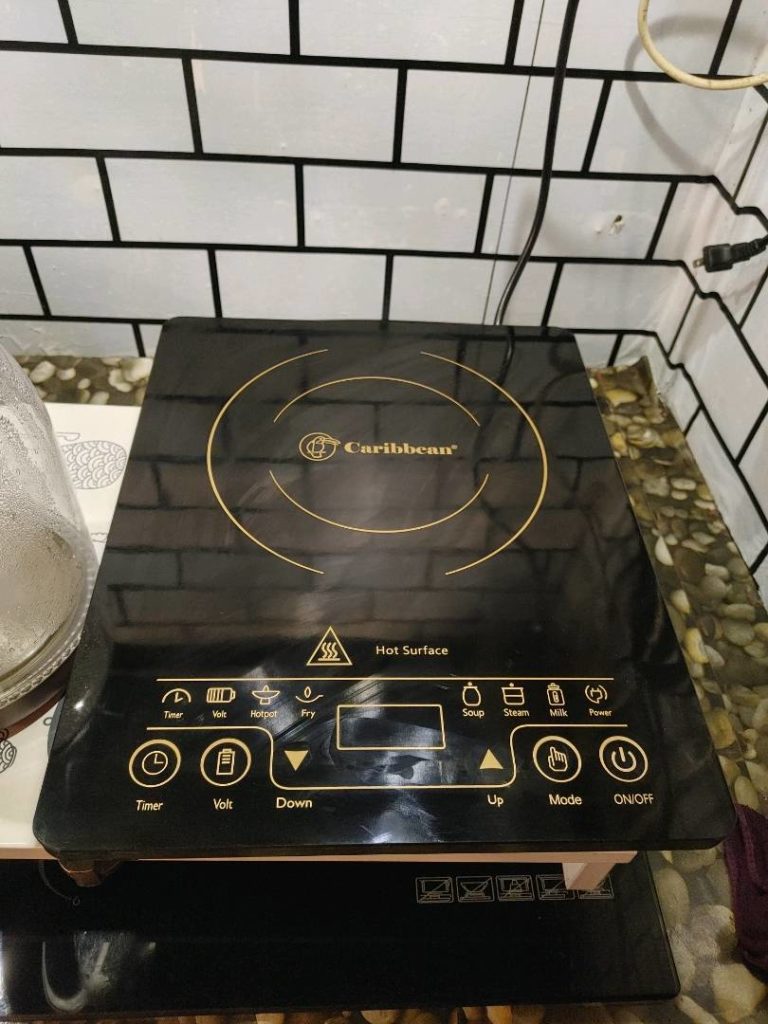 Pros:
Fast heating
High-temperature protection
Made with a crystal plate.
Cons:
Not as user friendly as other units
8. Imarflex IDX-3100HG
Best for Limited Space
Another good choice for those who wants the best induction cooker with such a limited space or for someone who switches living spaces a lot is this single burner induction cooker. To make monitoring the temperature and features easier, there is also an LED display. The IDX-3100HG Induction Cooker is a versatile kitchen appliance, perfect for any level of cooker. It has 10 power levels and a temperature range of 60℃ to 240℃, which makes it ideal for a variety of dishes. The IDX-3100HG also has an auto-sensing ON pot that automatically starts cooking once the food is in place, which saves time and energy.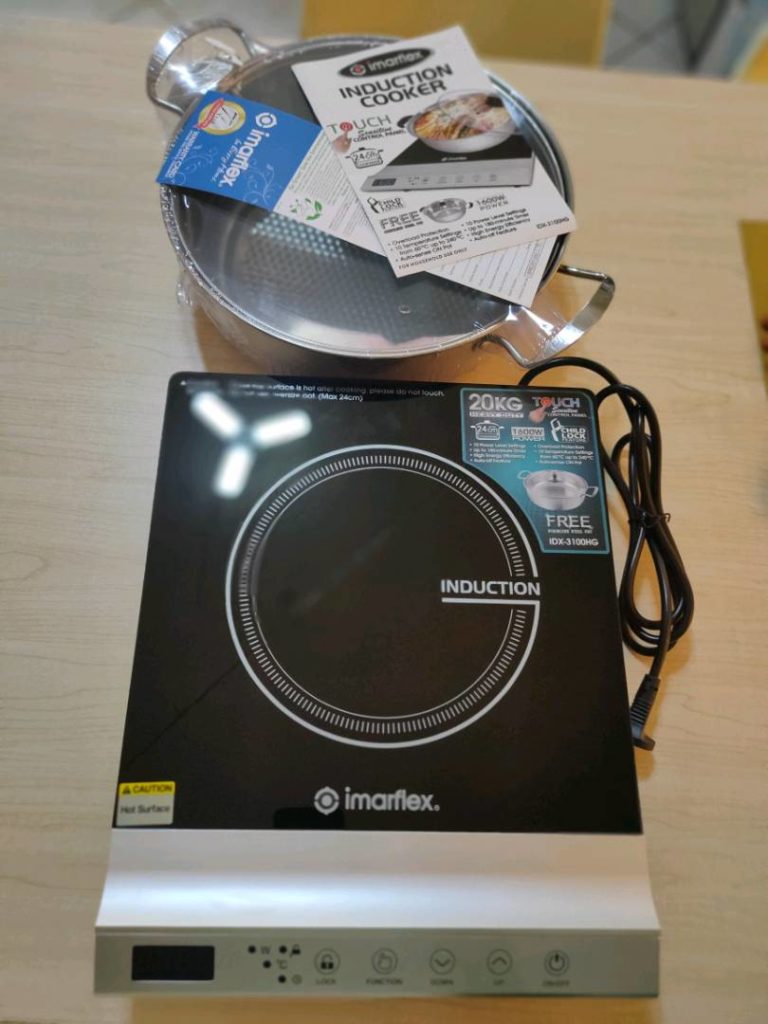 Pros:
Up to 180 minutes timer
10 power level settings
Auto-off and child lock feature for safety.
Cons:
9. Kyowa KW-3634 Induction Cooker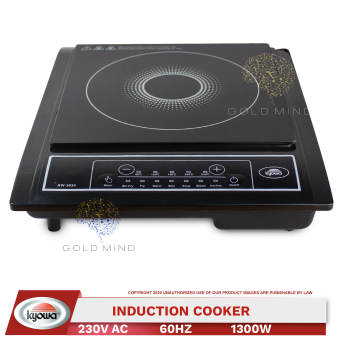 Best Safety Features
The most stand out, an essential feature of this induction cooker is its safety. Automatically detects when various errors occur within such further damages can not occur. As this appliance involves heat and cooking, the condition must be at its best at all times. Kyowa Induction Cooker is a product designed for anyone who wants the best of the best induction cooker. It's unique in that it has preset and manual selection heating function that will ensure you get the perfect temperature every time. The durable crystal glass plate will last through years of dishwashing and cooking.
Pros:
With preset and manual selection heating function
Durable crystal glass plate
Multiple levels adjustable power setting
Cons:
10. Imarflex IDX-3250B Built-in Induction Cooker Twin Plate
Highly Energy Efficient
This is the best induction cooker for households and those who prefer a wide cooking area, as it has a twin burner to allow you to cook up two dishes at the same time. The temperature can range from 60℃ to 240℃ with ten temperature levels and is highly energy efficient. There is also an auto-sensing ON pot, the overall appliances use up to 1600 watts.
Pros:
Up to 180 minutes timer
10 power level settings
Auto-off and child lock feature for safety.
Cons:
Needs a bit more space on your kitchen
List of Top Induction Cooker Brands in The Philippines
Imarflex
Imarflex induction cooker is the first known brand of induction cookers in The Philippines. It was made by our local appliance manufacturers, ACQIS Manufacturing Corporation, which is located at General Trias, Cavite. This company has been manufacturing home appliances for more than 50 years now. They are well-known for their commercial mixers and other kitchen utensils like can openers, ice crushers and hand blenders for the best prices in the market today.
Kyowa
Another brand of induction cookers that is very popular these days is Kyowa made by Nissin Appliances Incorporation (NAI) located at Batasan Hills, Quezon City. NAI was established way back 1985, so they have been in the appliance business for more than 30 years now. They are well-known for their home appliances and small household products like rice cookers and water dispensers.
Tough Mama
Tough Mama is a brand that is manufactured by GMA Network corporation. This company has been well-known for making home appliances like air conditioners, ovens and induction cookers since 1998.
Hanabishi
Hanabishi brand of induction cooker is the most expensive among all the brands listed here, so if you are looking for high-end equipment with low-end budgets, this one's yours!
Final Thought
There are several induction cooker reviews available to help you find the best one for your kitchen. If you're looking for an easy-to-use, efficient way to cook up all kinds of dishes from around the world without any gas or electricity, this is definitely the product for you! We hope these 10 best induction cooker reviews in the Philippines have helped give you some ideas about what type of appliance would be perfect for your needs.
FAQs
Are induction cooktops safe to use?
Definitely. In fact, it is one of the safest kitchen appliances you can have. It is because the best induction cooktops only heats the pan, and not the cooking surfaces. The best induction cookers also have safety features to ensure your safely.
How do I clean induction cookers?
Induction cookers are very easy to clean. The only part that you need to clean is the part that heats up and has contact with the pan.
Do I need special cookware to cook with induction cookers?
Yes. Pots and pans made from iron and some steel are ideal for cooking with induction cooker. One way to find out if a pan is compatible is to stick a magnet to the bottom of the pan, and if the magnet sticks well, it has enough iron to be compatible with the induction cooktop. Just be careful because it can scratch the glass.
How do I know if the cooktop is hot?
There is usually a light on the surface or the control panel that indicates that the burner is already on. The cooktop will only heat up surfaces that are made with metal.
This post was brought to you by Kimz House.
Disclaimer: The opinion is solely based on our testing or intensive research with customer feedback around the most popular shopping platform such as Shopee and Lazada. The products/services shown here are available and valid upon the publication date. It may change from time to time. Please email us at [email protected] if there is any discrepancy.