Last Updated on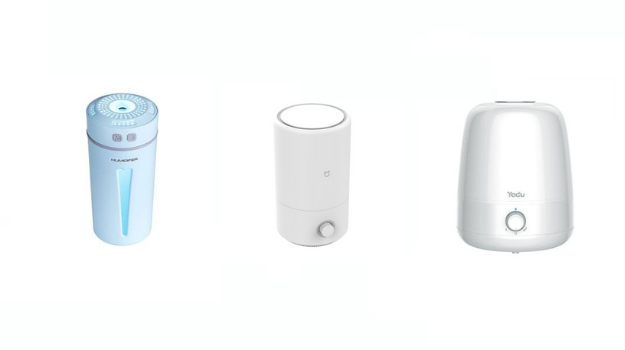 Just because we live in a humid country does not mean humidifiers are no longer necessary. The increasing popularity of air humidifiers in the Philippines proves that there is now a growing awareness of the many benefits of having a reliable humidifier in our house. This is even more important on days when we rely on air conditioners for a longer period.
Here's our recommended list of the best humidifier Philippines that you can buy.
1. 1.5L Ultrasonic Air
Large Area Coverage
This air humidifier is the perfect solution for anyone who needs a humidifier with a ton of power. It can cover more area than any other humidifier we've found, so it's perfect for your living room or an entire office space.
Why buy this
Ultrasonic technology turning the water or fragrance solution into mist.
Actual Item Dimension: Height 24cm x Upper Length 12cm x Lower Length 13cm
Adjustable amount of super heavy fog and double sprayer.
Cool Humidifier
This ultrasonic humidifier has a 1.5L capacity and is fitted with a built in water tank. The ultrasonic technology turns the water or fragrance solution into mist. This is an ideal product for those who want to refresh the air of their space without using chemical products. The Ultrasonic Air humidifier has an adjustable amount of super heavy fog and double sprayer.
2. 500ML Diffuser Cool Mist
Best Bedside Humidifier
One of the most affordable humidifiers that you can find online that comes with lots of features. It's an ideal bedside humidifier given its compact size and its compatibility with different essential oils.
Why buy this
Working time: about 10H
Anhydrous automatic power-off
Automatically change colour
Sometimes you just need a cool mist humidifier in your life. With the 500ML Diffuser Mist Humidifier, you can get relief from dry skin and irritated nasal passages. It has a long working time (about 10 hours) and is lightweight and easy to carry around. The humidifier also automatically shuts off when it runs out of water, making it a pretty economical choice that won't keep you up all night with the beeping.
3. Blue Water BW65 Magic Crystal
Best for Offices
This humidifier is the perfect match for all of your customers who are looking for a humidifier that can go from room to room. They love how it's easy to use and emits just the right amount of humidity.
Why buy this
Choose between 5 hrs of continuous spray or 10 hours or intermittent spray
Small enough to fit office desks and cars
200 ml capacity
Crystal Sensors
The BW65 is a compact, easy-to-use humidifier that's great for congested spaces. The unit features a crystal sensor that helps you maintain a comfortable balance of moisture in your home. And if you're looking for the perfect gift, we recommend our BW65. It comes in a wide range of colors so you can find the perfect one to suit any occasion.
4. Deerma 5L Ultrasonic Touch Screen Aroma Diffuser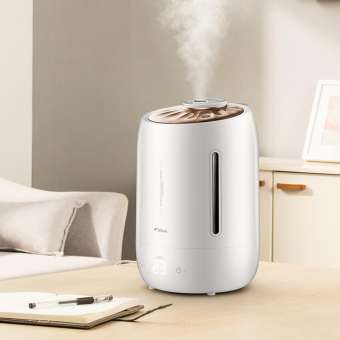 Best for Large Spaces
When people are exposed to dry air, they're more likely to experience colds and other illnesses. Humidifiers can help reduce the risk of exposing your customers or employees to these risks. Plus, humidifiers can help create a more pleasant environment.
Why buy this
Dual function as a diffuser and humidifier
Adjustable mist output
Silent ultrasonic diffusion
Dual Function
This air humidifier will work quietly and efficiently to give you cleaner and safer air. The Ultrasonic humidifier is dual function as a diffuser and humidifier and can be adjusted to your desired mist output so that you can find the perfect amount of humidity to suit your needs.
5. EIDERFINCH HH-107 Happy Cup 260ML
Portable and Compact
Humidifiers these days do not only add moisture to the air, but they are also known as great alternatives for room fresheners. Using your favourite oil scents with this mini humidifier will make the scent spread and last longer.
Why buy this
Adjustable mist/spray output
Water tank capacity: 260mL
Spray amount: 35mL/H
High Mist Output
The EIDERFINCH HH-107 is a sleek, modern design air humidifier that will match any decor. The machine has a high mist output for both large and small rooms and the water tank capacity is 260mL. It also comes in several colours to match your personality. The machine has changing LED light colours perfect for adding more ambience to your room
6. LUCKY HR Mi 4L Air Purifier
Large Capacity
The more you think about it the more you realize how beautiful this humidifier is. The design is one of the best we've seen and will be a perfect addition to your home, office, or simply your desk.
Why buy this
Dual function: humidifier and purifier
Silver Ion antibacterial material, 99% antibacterial
Easy cleaning and maintenance
Great Deal
The LUCKY HR Mi 4L Humidifier has the ability to function as both a humidifier and purifier. It has a dual functionality, which is great for those who prefer to alternate between the two. It is also a great deal given the price of air purifiers these days. And for its price, it already serves its purpose as a good steal. This humidifier has a decent capacity, which can last an entire day or night.
7. Blue Water BW290 with Mini Fan Night Light 3 In 1
Easy to Set Up
Desk humidifiers are a must for anyone who spends a lot of time in an air-conditioned office. They're easy to use and can make your skin feel so much better. We found just the perfect match for those humidifiers.
Why buy this
Choose between 5 hrs of continuous spray or 10 hours or intermittent spray
Small enough to fit office desks and cars
200 ml capacity
Continuous Mist
It's the perfect humidifier for your car or office desk. You have the choice of 5 hours of continuous mist or 10 hours of intermittent mist. It's small enough to fit on your desk and is easy to set up and use. With a 200ml capacity, it gives off a gentle breeze as it humidifies.
8. Blue Water BW1518 Timing with Remote Control Aroma Diffuser
With Waterless Option
Blue Water keeps coming up with great air humidifier, and this is one of the few that you can now control remotely. This feature is something you'll appreciate once you start getting used to sleeping with the humidifier on.
Why buy this
Ultra-quiet design (30-35 dB)
LED lights can be controlled independently
Auto-off
The Blue Water BW1518 is an innovative and stylish waterless humidifier that will keep your home comfortable, dry, and free from the common problems that come with normal humidifiers. This product features a sleek, modern design with advanced technology to make your home's living space more comfortable.
9. Deerma 5L Shell Air
Best for Shops
Humidifiers are essential for any home, large or small, because they can help people feel more comfortable and healthy. This air humidifier is a great option for your shop, house, or office because it's designed to be both easy to use. Enjoy better air quality and reduce illness risks from dry air with Deerma diffuse and humidifier.
Why buy this
Dual function as a diffuser and humidifier
Adjustable mist output
Silent ultrasonic diffusion
Ultrasonic Diffused
The Deerma 5L Shell Air Humidifier removes impurities from the air as it humidifies it. With its dual function as a diffuser and humidifier, this device is perfect for your home or office. It can be adjusted to give you the right amount of mist output, and is ultrasonic diffused, so it will work no matter where you are in the room.
10. SC-L041 Yadu 4L
Large but Portable
A large capacity humidifier but with great portability. A definite must-have for every home. You can use and transfer this humidifier around the house where you'll need additional humidity. Otherwise, it also covers a fairly large area.
Why buy this
Humidifier function: purifier, timer, aromatherapy
LED light and clock
Ultrasonic
Aromatherapy
These humidifiers are designed to purify the air by removing impurities for a cleaner and healthier life. The 4L capacity will last an entire day, and will remove impurities from the air for up to 12 hours. The humidifier is quiet and features an aromatherapy feature that allows you to add your favourite essential oil for a more relaxing indoor environment.
11. Xiaomi Bear 4.5L Air
Automatic Shutdown
There are already several Mi humidifiers released, but this so far tops our list. Elegant look that fits even office desk. Despite the small packaging, it actually large capacity that allows humidifying the whole day.
Why buy this
Timer function
Ultrasonic humidifier
Auto shutdown
Covers up to 60 square meter area
Timer Function
If you are looking for an air humidifier then look no further! This is Xiaomi's answer to the problem of dry air. It has a 4.5L capacity and can cover up to 60 square meters of area. It has a timer function so you can set it to start working before you arrive home from work, and an ultrasonic humidifier that is also safe and compatible with essential or aromatic oils.
Difference between Humidifier and Diffuser
A diffuser is essential when it comes to getting the most out of your essential oils. The right diffuser will make your home smell fresh and fragrant in just minutes. Diffusers are often used in aromatherapy. They're usually used to disperse essential oils into the air, creating a fragrance that can help to stimulate the mind and relieve stress.
A humidifier is helpful in maintaining a room's moisture level. People like to use humidifiers because they can help relieve symptoms of cranky throat and dry skin.
Benefits of Using a Humidifier:
Humidifiers are one of the best ways to combat dry air, which is often a result of prolonged air conditioner use. In the Philippines, many of us are guilty of using the aircon for too long, and this can have consequences on our respiratory and skin health.
Humidifiers add moisture to the air, providing a more balanced air quality. Moreover, most humidifiers also function as diffusers, so you can use them for aromatherapy, as well. Humidifiers can make a huge difference in your health. They are an easy and affordable way to prevent problems like dry skin, nosebleeds, and snoring from showing up in your life.
Our Top Recommended Products
FAQs
Can I use essential oils in a humidifier?
If you are planning to use essential oild, consider using an aroma diffuser instead of a humidifier. Otherwise, please check the owners manual to determine of your humidifier to check if it can use essential oils
How do I clean the humidifier?
Humidifiers require regular cleaning to produce a clean and healthy moisture. You can use a brush and mild cleanser to clean the water tank daily. You also need to rinse if thoroughly and make sure that all the parts are dry before refilling with fresh water
This post was brought to you by Kimz House.
Disclaimer: The opinion is solely based on our testing or intensive research with customer feedback around the most popular shopping platform such as Shopee and Lazada. The products/services shown here are available and valid upon the publication date. It may change from time to time. Please email us at [email protected] if there is any discrepancy.