Last Updated on
The country's trend when it comes to washing machines is a top-loading design, which is very understandable because they are cheaper, lighter, and more ergonomically friendly. What we fail to see is that front-loading machines are gentler for our clothes, this type of machine is also friendlier for our energy consumption as it uses less water as well as takes up less energy.
More and more people are converting from top load washers to front load washers. Below, we have listed down the top choices for front load washers to gift yourself this holiday season:
Table of Contents
Advantages of Front Load Washing Machine
Top Front Load Washing Machine Brands in the Philippines
Conclusion
FAQs
Quick Comparison Table
(scroll right for more)

1.
TCL TWF75-P60
Built-in anti-foam control
The TCL TWF75-P60 is an incredibly powerful washing machine with a superior BLDC motor. It has 16 customized programs that are tailored to meet your individual washing needs, and the anti-foam control makes sure it's performing optimally for every load of laundry. The overheating control system guarantees not only maximum efficiency but also prevents any damage from occurring to the device – so you can be sure that your appliance won't let you down when it comes time for a large load of laundry.
This product was designed with convenience in mind – its multiple wash modes make choosing which setting is best for each type of clothing quick and easy, while also being able to adjust settings via detachable knobs lets users customize their cleaning experience. Additionally, thanks to its use of advanced technology, this model operates quietly yet powerfully – providing consistent results without compromising energy or water usage in the process.
Overall, if you're looking for an efficient and reliable washing machine then you should definitely consider giving the TCL TWF75-P60 a try! Its features make it one of the most capable machines on the market — plus its affordable price tag makes it far more accessible than other high-end models out there today. So go ahead – treat yourself and your clothes to superior lossless operation today!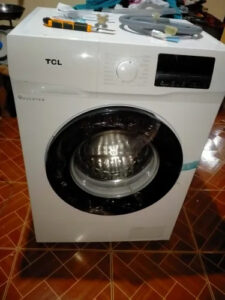 Pros:
Provides efficient and powerful operation
Reduces power consumption
Features 16 knob programs for reliable operation
Cons:
2.
TCL TWF65-P60
Reduced Water Consumption
The TCL TWF65-P60 washing machine takes your laundry to another level! With a 6.5 kg loading capacity, I'm able to easily fit in my family's weekly wash. Their HydroActive Inverter Technology uses less electricity while providing an incredibly thorough clean. Plus, they offer 12 washing programs for different types of fabric, meaning no matter what type of item is being washed it will come out perfectly clean and soft afterwards!
Another great feature this product offers is the Direct Detergent Input function that lets me input detergent without having to measure or guess how much should be added – great for those times when I'm pressed for time or can't be bothered measuring out accurate amounts! On top of this, its innovative S-Shaped Washing Lifter provides improved water circulation which results in a better clean and more efficient use of energy.
Overall, the TCL TWF65-P60 washing machine is an excellent choice if you're looking for something that not only gives you a great clean but also saves on energy costs while doing so! If you want clothes that are softer and cleaner than ever before then be sure to check out the TCL TWF65-P60 today – it may just change your life forever!
Pros:
Provides up to 20% energy savings
Gently and thoroughly wash clothes without damaging them
Comes with 15 15-minute quick wash cycle for emergencies
Cons:
Limited spinning speed options, so not suitable for heavily soiled linens or fabrics.
3. Haier HW80-BP12929S6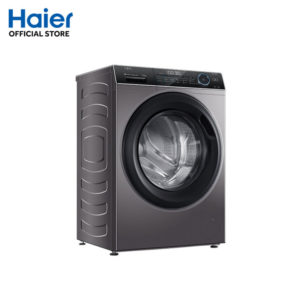 Flexible Washing
Looking for an energy-efficient and water-saving washing machine? Look no further than the Haier HW80-BP12929S6 Washing Machine. With its BLDC Motor, this washing machine delivers strong washing power while saving on water and electricity consumption. The pillow drum design allows for more flexible washing and less wear on clothes.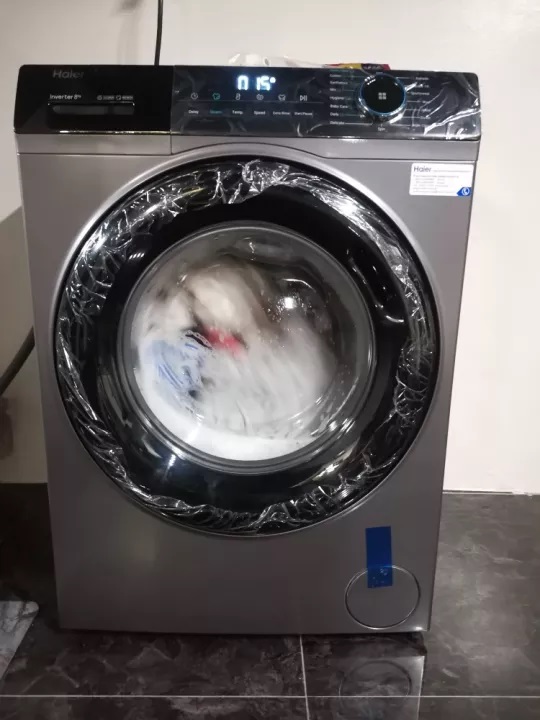 Pros:
Pillow Drum for More Flexible Washing
Ai-Dynamic Balance Technology
Eco Wash Steam Function
Cons:
Not ideal for small space
4.
LG FV1450H1B
With Smart ThinQ App
The LG FV1450H1B is an incredible washer/dryer combo that offers so much convenience and time-saving features. With a capacity of 10.5kg for washing and 7.0kg for drying, you can get plenty of laundry done in one go! It also has the AIDD feature that uses weight detection to determine how many loads your machine will take while maintaining optimal cleaning performance. Plus, it has Steam Plus Wrinkle Care and Allergy Care settings so you can always be sure that even the most delicate items are being cared for in the best way possible.
But what makes this machine stand out is its Turbo Wash 360 ° setting. This innovative technology allows you to finish a full load cycle in just 39 minutes – no more waiting hours for your clothes to be ready! And because it's fully automatic, you don't have to worry about monitoring or adjusting the temperature levels; all you need to do is pop your clothes inside once everything is set up, press start, and wait for them to come out fresh as new!
The LG FV1450H1B truly takes care of all your laundry needs without compromising quality or taking too much of your time – what more could anyone want? If this doesn't sound like a dream come true already then I don't know what does! So why not give it a try today? Make life easier with this fantastic device from LG!
Pros:
Direct Drive Inverter helps save energy and provide quiet operation
AIDD (Weight and Softness Detection) ensures optimal washing performance with less damage to clothes
Innovative Turbo Wash360° feature cleans clothes in as little as 39 minutes
Cons:
5. Whirlpool WFRB752BHW2
Digital Control Panel
The Whirlpool WFRB752BHW2 is a high-efficiency washing machine with 15 wash cycles, including an air-dry cycle, and a capacity of up to 80% dry. This machine also features 6th Sense Technology, which automatically adjusts the wash cycle to match the size and weight of the load, as well as InverterPlus Technology, which provides more consistent drying performance while using less energy.
Pros:
6th Sense Technology
InverterPlus Technology
15 Wash Cycles
Cons:
A bit expensive for it's size
6. LG FM1006N3W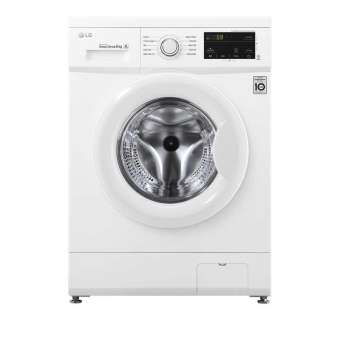 Lesser Vibration and Less Noise
That typical noise from the washing machine is already an obsolete thing with this front-load washing machine from LG. Lesser vibration during operation also means less noise. LG's FM1006N3W Washing Machine has the latest technology to make your clothes look and feel their best. The Inverter Direct Drive motor ensures a thorough clean while 6 Motion Technology scrubs, steps, tumbles, filters, swings and rolls your clothes with precision to get them as clean as possible. Plus, Smart Diagnosis helps you troubleshoot problems quickly and easily.
Pros:
Inverter direct drive
Smart Diagnosis
6-motion technology (scrub, stepping, tumble, filtration, swing, rolling)
Cons:
7.
Electrolux EWF7024D3WB
HygienicCare Technology
The Electrolux EWF7024D3WB is an excellent choice for anyone looking for a reliable yet feature-rich washing machine. Not only does it have variable temperatures, the motor used is EcoInverter which offers economical performance with low noise and vibration levels. It also comes with an Add Clothes feature that allows you to add forgotten items of clothing during the cycle without having to restart the program from scratch. The DelayEnd function also makes life easier by allowing you to set a delay in finishing time so you don't have to wait around all day waiting for your clothes to finish washing. The quick wash cycles are also great, giving you clean clothes faster than ever before!
Overall, this washing machine is definitely worth considering if you need something efficient, durable and affordable. With its features such as the EcoInverter motor, Add Clothes function and Quick Wash cycles, it really stands out among other washing machines on the market today. Its variable temperatures mean you won't be restricted when choosing how hot or cold your water should be while its DelayEnd feature ensures that your laundry will be finished within a more reasonable timeframe at whatever time suits best for yourself or family members – no more hanging around all day!
If convenience and efficiency are what you're looking for in a washer then look no further than Electrolux EWF7024D3WB! This model represents great value and provides cleaning power that's simply unbeatable! So why not make life easier and purchase one today?
Pros:
1500 RPM spin speed ensures laundry is sufficiently spun drier
UltraMix Technology penetrates the fabric for an effective yet gentle wash
Add Clothes feature allows you to conveniently add a forgotten item even after the cycle has started
Cons:
High cost compared to similarly featured models
8.
Fujidenzo IWF-801WG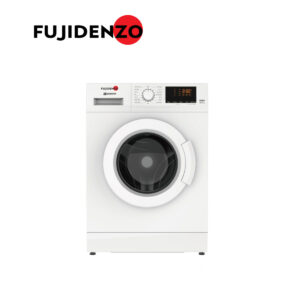 Heavy Duty Quality
The Fujidenzo IWF-801WG is an excellent washing machine that packs a lot of features into one great package. Its HD Inverter technology ensures maximum energy efficiency while its Heavy Duty Quality construction means it will last for years with little to no maintenance required. Plus, the Quick Wash feature allows you to complete laundry cycles in a fraction of the time compared to other models, helping you shave precious minutes off your overall chore time.
Keeping your clothes clean and healthy is easier than ever thanks to the anti-allergy and anti-virus settings on the Fujidenzo IWF-801WG washer. These special settings use specially formulated detergents used during each wash cycle which helps eliminate bacteria and viruses for improved hygiene standards when caring for your garments and linens. Furthermore, this model also comes with Hot Wash up to 95Celcius which lets you easily tackle tough stains without damaging delicate fabric finishes – ideal if you don't want clothing items ruined simply by trying to get them clean!
Overall, if you are searching for an easy-to-use yet powerful industrial washing machine that has multiple beneficial features designed to keep your clothes fresh and clean, then look no further than the Fujidenzo IWF-801WG Washing Machine! With long-lasting quality construction combined with efficient energy usage plus specialized cleaning options tailored towards specific types of garments or linens – this sealed unit offers unbeatable value at a competitive price point making it perfect for any home or business owner wanting peace of mind knowing their laundering needs are sorted! Stop settling for subpar results from traditional machines today: make sure that only superior quality materials reach each fibre strand using the Fujidenzo IWF 801 WG now!
Pros:
HD Inverter Technology allows superior performance and energy efficiency
Quick Wash saves time and effort
Anti-Allergy and Anti-Virus Wash provides a hygienic cleaning environment
Cons:
Advantages of Front Load Washing Machine
Front-load washing machines are generally energy-efficient. Most if not all of them are made from an inverter motor, which is known to deliver more power yet consume less electricity. They also have a larger load capacity. It can accommodate up to 12 kilograms of clothes in one go. More importantly, front-load washing machines are also gentler on clothes.
Top Front Load Washing Machine Brands in the Philippines
Whirlpool
EXATECH's Whirlpool is a brand that specializes in household appliances. The company has been chosen by EXATE to be its exclusive distributor within America, offering top quality and efficiency across all of its products from refrigerators/freezers wash machines microwave ovens cooking utensils- you name it!
Haier
Haier has been on a mission to provide Filipinos with the best home appliances for years now. They've come all across oceans and into our markets, bringing new ideas that have helped make them number one in major appliance sales worldwide!
Conclusion
Although the top-loading design is popular, front-loading washers are becoming more and more common as people are starting to see the benefits. If you're in the market for a new washing machine, we recommend checking out some of the best front loaders on the market. Not only will your clothes last longer, but you'll also be doing your part to save energy and conserve resources. Have you chosen the right front-loading washing machine for you?
FAQs
What is the difference between top load and front load?
The main difference is where you will find the door to the machine. Aside from that, front load washing machines are more expensive, but gives a higher quality of cleaning. Front load also have more wash features.
How do I choose a front load machine?
Consider the typical size of laundr, if you typically do large batches, then consider getting one with larger capacity. Also check the energy consumption of the washing machine to make sure that you are not using more than the necessary electricity.
This post was brought to you by Kimz House.
Disclaimer: The opinion is solely based on our testing or intensive research with customer feedback around the most popular shopping platform such as Shopee and Lazada. The products/services shown here are available and valid upon the publication date. It may change from time to time. Please email us at [email protected] if there is any discrepancy.