Last Updated on
In the not-so-distant past, the allure of a Smart TV came at a premium price, making it an exclusive luxury. However, the landscape of entertainment appliances has undergone a remarkable shift with the introduction of Android Boxes. These compact devices have democratized the realm of smart entertainment, enabling users to transform their standard flat-screen TVs into powerful, feature-rich Smart TVs without breaking the bank. This evolution has made it possible for a broader audience to enjoy a multitude of streaming services, apps, and online content from the comfort of their living rooms, reshaping the way we consume entertainment.
Android Boxes are more than just a cost-effective solution; they represent a gateway to a world of entertainment possibilities. These small yet versatile gadgets provide users with access to a wide range of apps, video-on-demand services, and internet browsing capabilities, all through the familiar interface of Android operating systems. Whether it's streaming the latest blockbuster movies, binging on your favorite TV series, or enjoying interactive gaming experiences, the Android Box empowers users to tailor their entertainment choices to their preferences, thus enhancing their overall viewing experience. As we embrace this era of accessibility and convenience, the Android Box has become the bridge that connects our traditional television sets to the boundless expanse of digital entertainment.
Table of Contents
What You Can Stream From An Android Box
Top Android TV Box Brands in the Philippines
Top Recommended Android Boxes in PH
FAQs
Quick Comparison Table
(scroll right for more)
Enjoy your favourite online shows like a regular TV show with the entire family with these 10 best Android tv boxes:
1. Xiaomi Mi Smart TV Box S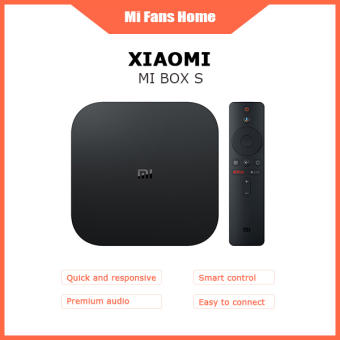 Huge Storage
I've had the pleasure of using the Xiaomi Mi Smart TV Box S, and I must say it's been a game-changer for my home entertainment setup. The sleek design caught my eye, but it's the performance that truly impressed me. With the Android 9.0 operating system, this TV box seamlessly integrates with popular streaming platforms like Netflix, delivering exceptional picture quality in stunning 4K resolution. I've enjoyed watching my favorite shows and movies with crystal-clear clarity.
The Xiaomi Mi Smart TV Box S also excels in connectivity. Its Google-certified status ensures reliability, and the AV1/2.4G/5G WiFi 5 capability and Bluetooth 5.2 connectivity make it a breeze to access content without any hiccups. But what really sets this device apart is the voice-controlled remote with Google Assistant functionality. It's a game-changer for navigating search queries, and I no longer have to wrestle with tedious keyboards. The compact and lightweight design, weighing just under 30g, allows it to fit into any HDMI port easily, ensuring maximum convenience in both setup and portability. Say goodbye to unnecessary wires, as you can simply plug it in and start streaming hassle-free.
All in all, the Xiaomi Mi Smart TV Box S is a top choice for anyone seeking an intelligent entertainment solution. It excels in performance, user experience, and versatility, and offers excellent value for money. This compact package has truly elevated my binge-watching sessions, and I highly recommend it to anyone looking to enhance their home entertainment setup. It's a worthy addition to any living room or home theater.
Pros:
Chromecast built-in
Allows voice search, with its smart control feature
Premium audio for that theatre-like viewing experience
Cons:
Limited storage capacity with only 8GB
2. Megasonic New 5G Smart TV Box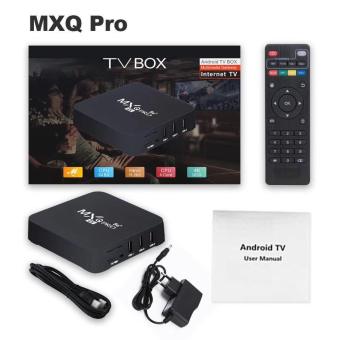 Affordable Price
The Megasonic New 5G Smart TV Box 4K Android is great for streaming media and watching your favorite shows in Full HD. It features an ARM Mali-600MHZ GPU, 1GB RAM, and 8GB EMMC for storage memory, allowing it to handle multiple media formats efficiently. You can enjoy incredible 1080P resolution on compatible displays thanks to the HDMI output, which supports up to 1920×1080 pixels resolution.
With this advanced Smart TV box, you can stream movies, TV shows, and online content via Kodi or any other compatible platform without lag or stuttering due to its powerful Quad-core processor and 1 GB of RAM. Furthermore, it offers access to hundreds of apps such as YouTube, Hulu Plus, Netflix, etc., so you'll always have something new to watch!
The Megasonic New 5G Smart TV Box 4K Android is an excellent choice if you want high-quality streaming performance at a reasonable price point. Its versatile feature set ensures that all your entertainment needs are met without compromising on image quality or speed – so don't hesitate – to upgrade your viewing experience today!
Pros:
Supports decoding of up to 1080P (full-HD)
Comes with preinstalled Quad-core ARM Mali-600MHZ GPU, 1GB RAM and 8GB EMMC storage
Compatible with multiple media and picture formats
Cons:
Limited storage capacity of 8GB EMMC
3. MXQ Pro 4K TV Box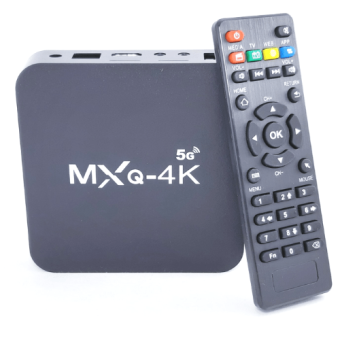 Easy Installation
The MXQ Pro 4K TV Box has revolutionized my home entertainment setup. It boasts a quad-core processor and Penta-Core GPU, ensuring a visually stunning experience when streaming shows or playing games. The preinstalled Google Play Store and diverse app selection offer a comprehensive range of entertainment options, from streaming services to games, all easily accessible.
The 64-bit MOST professional Quad-core CPU guarantees high-speed network access, significantly improving performance and responsiveness compared to older streaming devices. The standout H.265 hardware decoding feature saves up to 50% in bandwidth resources, ensuring a stable internet connection during content streaming or file downloads. Moreover, its lightweight, compact design seamlessly integrates into any home theater setup, making it an excellent choice for enhancing your viewing experience. The MXQ Pro 4K TV Box is a must-have for those seeking maximum performance in a small, convenient package – it has truly transformed my home entertainment experience, and I wholeheartedly recommend it. Don't miss out on this fantastic device!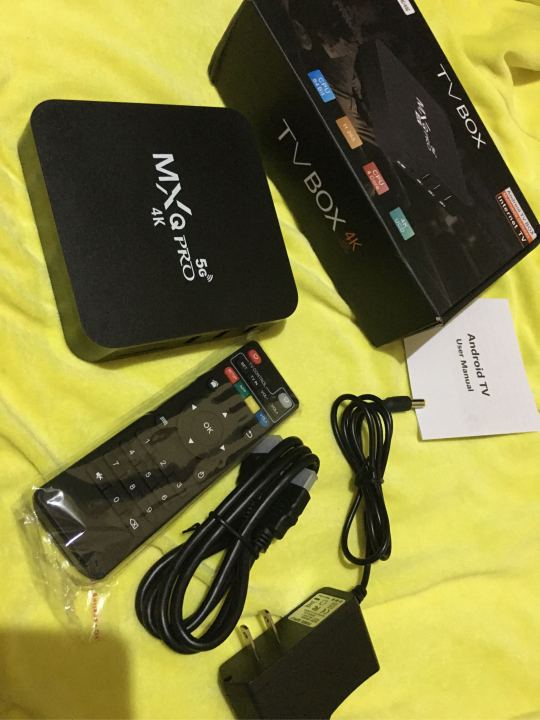 Pros:
Quad-core Amlogic S905 Cortex A53 and Penta-Core GPU reach speeds of up to 2.0GHz
H.265 hardware decoding can save 50% of bandwidth resources
4K Ultimate HD video hardware decoding: 4 times the resolution of full HD
Cons:
Limited gaming and app selections
4. UBOX 10 TV Box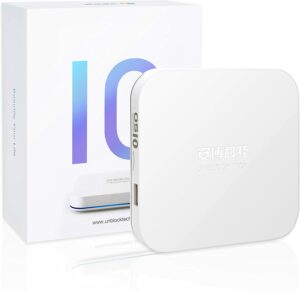 AI Voice System
The UBOX 10 TV Box is a robust and reliable device that enhances the viewing experience. The AI Voice System with built-in voice recognition makes it easy to control the box with simple voice commands. The 6K HDR provides excellent picture quality, while the Dual Band Wi-Fi ensures fast connection speeds, perfect for streaming your favorite content. Moreover, you can store more data with its 4+64GB capacity. Finally, Bluetooth 5.0 delivers high audio and video performance.
The UBOX 10 TV box is a great way to take your home entertainment setup to the next level. Its impressive features make it easy to stream content quickly and reliably, no matter where you use it! Whether watching movies or playing games on this device, it guarantees a smooth experience every time due to its robust hardware and user-friendly interface.
If you're looking for an affordable yet efficient media streaming box, look no further than the UBOX 10 TV Box! With its unique features at such an attractive price point, there's simply no better option out there in this segment of devices! So don't wait any longer – upgrade your home theatre system today with this fantastic TV box from UBOX!
Pros:
6K HDR: High picture quality
Dual Band Wi-Fi for fast speeds and better connection
Large Memory with 4+64Gb Capacity
Cons:
It does not support the 3D resolution
5. Roku Express 3930
Automatic Software Updates
The Roku Express SE is a fantastic streaming media player that provides endless entertainment options for users, making it the perfect addition to any TV setup. Tons of power packed into this compact device ensure seamless streaming and a delightful user experience. With support for 1080p Full HD resolution, you can enjoy your favorite content from popular platforms such as Apple TV+, Netflix, Disney+, HBO, and Showtime with stunning picture quality. Setting up the Roku SE 3930SE is extremely easy – just connect it to your TV using the included high-speed HDMI cable and power cable, then link it to your internet connection.
The real charm of the Roku Express SE lies in its simplicity: no extra fees or hidden costs come with this affordable device which includes an incredibly user-friendly remote control featuring shortcut buttons for quick access to popular channels. Additionally, automatic software updates ensure you always have access to new features and channels without lifting a finger! You can also use the free Roku mobile app for private listening on your smartphone – perfect when you don't want to disturb others around you while enjoying your shows!
In conclusion, if you're looking for an affordable yet powerful streaming solution that allows access to thousands of movies and series across various platforms, look no further than the Roku Express SE Streaming Media Player 3930SE! This versatile device combines simplicity with top-notch performance- making it an excellent choice whether you're setting up a secondary television or gifting it to someone new to the world of online streaming.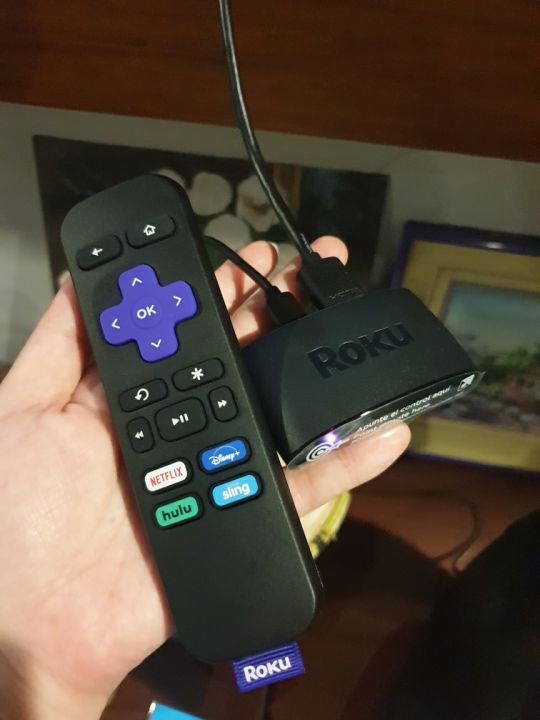 Pros:
Enjoy streaming free, live, and premium TV on your TV with Roku Express SE
A quick and easy setup gets you started in no time
Use the free Roku mobile app for private listening without disturbing others
Cons:
6. Rockchip RK3318 TV Box
Best for Multi-Screen Viewing
The Rockchip RK3318 TV box is one of the hottest products. It boasts an Android 10 X88 Pro Operating System, making it fast and reliable for streaming your favorite movies or TV shows. Moreover, this device has Airplay & Bluetooth connectivity features, so you can easily connect with your devices, such as smartphones or tablets. Furthermore, it supports a long list of video formats without any lag in performance, giving you the ultimate viewing experience.
Another great thing about this product is its easy setup process: all you need is to plug it into a TV and connect to a Wi-Fi connection to get started. Moreover, its multi-screen viewing mode allows for simultaneously playing games and streaming videos or listening to music using multiple devices at once! This makes this product ideal for those who don't have time to switch between different media players due to their busy lifestyles.
Overall, if you're looking for an affordable yet powerful device that offers quality performance from streaming content from multiple platforms, make sure not to miss out on the Rockchip RK3318 TV Box! You won't be disappointed with its great features, intuitive design, and unbeatable price tag! So what are you waiting for? Get yours today and take your entertainment experience up a notch!
Pros:
Supports 4K resolution video playback
Fast and responsive with Android 10.0 operation system
Easy to install – no technical assistance required
Cons:
Limited to 1080p resolution
7. T95 Android Smart TV Box
Seamless Connectivity
The T95 Android Smart TV box is the perfect way to get all your entertainment needs in one convenient place. Powered by a Quad-Core Cortex A53 processor and Mali G31 MP2 GPU, it can easily handle intensive gaming and stream your favorite shows. This device features the latest version of Kodi 18.1 and runs on Android 10.0 OS for optimum performance while also decoding popular video formats like VP9, H.265, and H264 so you can enjoy 4K Ultra HD content without any buffering or lag issues.
Furthermore, this device features 2GB/4GB DDR RAM and 16/32/64GB of storage capacity to store all your apps and data; plus, it's equipped with 4GHz WiFi support to give you stable internet connectivity for streaming media throughout your home network seamlessly. With its impressive specs and powerful hardware components, this product offers great value for money compared to other comparable devices today!
What makes the T95 a stand-out choice is its simple setup process that eliminates the need for additional tech support when setting up the device from scratch — making it easily accessible even for people who are entirely new to smart TVs! Therefore if you're looking for an affordable solution that combines practicality with advanced technology, then look no further than this amazing product!
Pros:
Quadcore CPU & GPU for faster performance and smooth streaming
Large memory capacity to store multimedia files
Supports all popular apps like YouTube, Netflix, etc.
Cons:
May have compatibility issues with some apps
8. NVIDIA SHIELD Android TV
Voice-controlled
Introducing the NVIDIA Shield TV Pro, a powerhouse streaming media player designed for an unparalleled cinematic experience. This Android TV device has outstanding features such as 4K HDR content support, AI-enhanced upscaling, GeForce NOW cloud gaming, and a built-in Google Assistant that works seamlessly with Alexa. With access to popular platforms like Netflix, Amazon Video, Apple TV+, Disney+, and Google Play Movies & TV in glorious 4K HDR resolution, your viewing options are endless.
What sets the NVIDIA Shield TV Pro apart from its competitors is its ability to upscale HD video to 4K in real time using next-generation artificial intelligence technology powered by Tegra X1+. Gamers can also revel in the vast selection of titles through the GeForce NOW cloud gaming platform. The RTX 3080 membership grants users access to powerful gaming servers featuring ray tracing and DLSS graphics on supported games. Furthermore, this device has two USB 3.0 ports for numerous expandability options, such as external storage or controllers.
We've ranked the NVIDIA Shield TV Pro No.2 on our list because it delivers a seamless fusion of cutting-edge performance and functionality without compromise – perfect for those who want only the best in their home entertainment setup. Combining sleek design choices and unmatched user experience makes this product a worthwhile investment for any tech-savvy household seeking exceptional audiovisual quality from their streaming media player.
Pros:
Play over 1000+ games instantly with GeForce NOW cloud gaming and the powerful PC gaming rig that comes with it.
Watch 4K HDR content in the highest quality available from a streaming media player, including Netflix, Amazon Video, Apple TV+, Disney+, and more.
Thanks to Dolby Atmos technology, bring your home theatre to life with Dolby Vision HDR picture quality and immersive surround sound.
Cons:
Higher price point compared to other streaming media players on the market
9. Q Plus Android Box H616
Large Storage Capacity
The Q Plus Android Box H616 is a high-quality TV box that has earned the number 3 spot on our list of top picks. With its powerful features, this streaming device offers an enhanced viewing experience using the latest Android 10.0 OS and Allwinner H616 chipset for smooth operation and efficient performance. It supports a whopping 6K resolution, delivering ultra-clear visuals even better than those of 4K quality, allowing you to enjoy your favorite content with optimum clarity.
This device boasts impressive specifications such as 4GB RAM and 32GB storage, ensuring swift launching and hassle-free operation of apps without any buffering or lagging issues. Equipped with a stable WiFi connection (2.4GHz), it can seamlessly stream online videos at exceptional speeds while supporting HDR10 decoding for more accurate colors. The added benefit of USB 2.0 enables easy connectivity of multiple devices alongside fast data transmission capabilities which adds to its overall appeal.
In conclusion, the Q Plus Android Box H616 offers great value for money, providing users with an immersive entertainment experience through cutting-edge technology wrapped within elegant design aesthetics – all underpinned by outstanding performance credentials that set it apart from competitors in today's market landscape.
Pros:
Enjoy ultimate 6K HD video quality and play thousands of Android games with less buffering.
Stable and fast streaming thanks to high-speed USB 2.0 and 2.4G WiFi connection
Enhance colors and reduce waiting time with H.265 & HDR10 decoding feature
Cons:
No support for Bluetooth connectivity
10. X96 Air Smart TV Box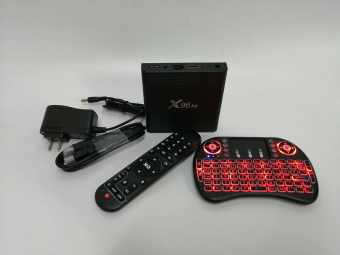 Comes with Accessories
The X96 Air Smart TV Box is the perfect streaming device for movie and drama fans. With 1GB or 2GB RAM and 8GB or 16GB ROM, this device packs powerful performance in a small package. It comes preloaded with 10,000 TV channel apps featuring local, sports and international broadcasts to give you endless entertainment options. You can even find the latest movie and drama updates so that you don't miss out on anything!
Aside from its great features, one of the best things about the X96 Air Smart TV Box is its lifetime technical support. This means that if you ever run into any issues while using it, there will be someone who can help resolve them quickly and efficiently – something that's invaluable when it comes to tech devices! On top of this, all X96 Air customers get a 12-month warranty for extra peace of mind.
If you're looking for an efficient streaming device packed with features such as lifetime technical support and 12 months warranty – then look no further than the X96 Air Smart TV Box! Perfect for movie buffs or anyone who likes to stay up to date with all their favourite shows, why not purchase yours today?
Pros:
Pre-installed 10k channels Apps and Movies/Dramas
Support 2.4GHz WiFi connection
Customized for Philippines users (Apps+Settings+PH Plug)
Cons:
What You Can Stream From An Android Box
The best Android tv comes with pre-installed streaming apps for a more user-friendly viewing experience. You can stream from your subscription-based apps like Netflix, YouTube, and Viu. You can also search for your content since the Android box works like your smartphone and can access the Play Store, except on a much larger and clearer screen.
Apart from streaming, Android Box will have its local channels and pre-installed video content that you can view and update regularly.
Top Android TV Box Brands in the Philippines
MXQ – This might be the most well-known brand of Android Box in the Philippines. They are very affordable and always deliver on their promises. Their most famous model, MXQ Pro 4k price Philippines is just around ₱1,000.00
Xiaomi – If you are looking for a streaming device to help with your TV experience, the Xiaomi Android Box may be just what you need. This small plug-in box lets users of all ages and technical levels know how to access apps like Netflix or Amazon Prime in minutes instead of hours without having an expensive computer on hand! Xiaomi Android TV box price Philippines usually starts at ₱ 2,000.00
Evpad – The EVPAD Philippines is a small and affordable media player that allows you to watch thousands of movies for free. It also supports 4K HDR playback, making it great if your TV has this feature available!
Conclusion
In conclusion, the world of digital entertainment has never been as accessible and exciting as it is now. With these top 5 Android TV boxes in the Philippines for 2023, you can bring high-quality streaming media into your home. If you're willing to invest in premium features, including a microphone search function and multiple connectivity options like Bluetooth, Wi-Fi, and Ethernet, plus the best gaming qualities, then the NVIDIA Shield TV Pro is worth checking out. Overall both products fulfil diverse requirements, whatever users are searching for from their Android TV box, while providing excellent value-for-money options that won't disappoint.
FAQs
What internet speed do I need to run an Android TV Box?
Android TV needs a minimum of 2 mbps to run. The best android tv that can stream in HD might require a minimum of 4 mbps to stream in HD
What are famous brands of Android TV Box?
Some of the international brands are the nvidia shield tv, amazon fire tv, fire tv and mi box. However, in the Philippines, Xiami and Megasonic are your best choice for quality and affordability
Are Android Boxes Legal to Use?
TV boxes are completely legal to use . They are just steaming device with Android operating system. TV boxes can be purchased and used without any legal issue.
This post was brought to you by Kimz House.
Disclaimer: The opinion is solely based on our testing or intensive research with customer feedback around the most popular shopping platform such as Shopee and Lazada. The products/services shown here are available and valid upon the publication date. It may change from time to time. Please email us at [email protected] if there is any discrepancy.