Last Updated on
Are you looking for the best dashcam in Singapore? With so many options available, it can be hard to know where to start when selecting the right dashcam for your needs. Whether you're a car owner or buyer, this comprehensive guide to the 8 Best Dashcams in Singapore – 2022 Reviews has all the information you need.
We have put together an extensive list of top-rated dashboard cameras with detailed reviews and ratings from real customers who have tested these products and provided their feedback. Read on to discover the best dash cams available this year and make the most informed decisions about which one is right for your vehicle.
Table of Contents
Quick Comparison Table
(scroll right for more)

1. Xiaomi 70mai Car Dash Cam
With safe driving feature
With a rear camera and 1440p resolution, it's the perfect way to keep an eye on your car while you're away. The cheapest camera with screen on the market, the Xiaomi 70mai Car Dash Cam is perfect for anyone looking for a great value. APP control and a wide-angle 140° FOV make this camera perfect for anyone looking for a great car dash cam.
Plus, with the app control and Sony IMX 415 CMOS image sensor, you can record 4K UHD videos with a wide-angle 140° FOV. And for added safety, the ADAS feature will help you avoid accidents while you're driving.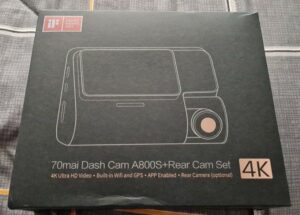 Pros:
Easy to install DIY
Legit 4k videos powered by Sony Image sensor
With rear camera
Relatively cheap given its features
Cons:
Will need additional accessories for GPS tracking
2. EKLEVA Car Video Recorder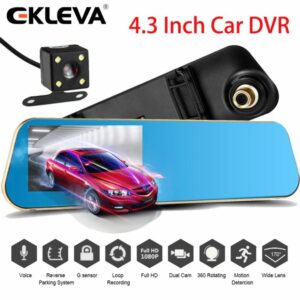 Collision sensor
The EKLEVA is a high-quality car video recorder that captures full HD 1080P footage. It has dual lenses for recording both the front and rear view of your car. The G-sensor automatically senses sudden acceleration and collisions, while the rear camera has LED night vision and is waterproof for recording in all kinds of weather.
This powerful little device also comes with dual lenses for both front and rearview mirror recording, as well as a reverse parking system.
Pros:
Small design, which does not intervene with the overall look of your car
Does not only detect collisions but sudden accelerations, as well
Budget-friendly
Cons:
Does not work when car engine is off
3. COOLDIN Mirror Dash Cam
24-hour parking assistance
With a 1080P front camera and 9.66 Inch Big streaming media Touch Screen, this camera will make sure you never miss a beat. And if you're worried about low lighting, don't be!
The AHD Low exposure 1080P back camera provides crystal clear footage. Plus, with features like G-sensor & Loop recording, 24 hours Parking monitor and reverse assistance, this mirror dash cam has everything you need to make your driving experience as smooth as possible.
Pros:
Parking assistance for your peace of mind
Huge display
With G-sensor
Cons:
Some reviews said that images are not so clear at night
4. U-Tech Mini HD Night Vision
Best night mode
Introducing the U-Tech Mini HD Night Vision DVR Driving Recorder. This innovative product is designed to provide you with a clear view of the road ahead, even in low-light conditions. The wide-angle dashboard camera captures everything in your field of view, while the ADAS intelligent assistant system provides you with real-time alerts and information to help you avoid potential accidents.
It also features built-in loop recording that ensures that you never miss a moment, and the blue indicator light lets you know when the device is recording.
Pros:
Crystal clear images even in the dark
With ADAS intelligent assistant
Affordable
Cons:
Trouble shooting can be quite challenging with this unit.
5. Rydia-R790 Car Camera
Built-in wifi
This top-of-the-line car camera comes with a date and time stamp, as well as a built-in G-force sensor and low light sensor to ensure that you never miss a thing, no matter what time of day it is. Additionally, the Rydia-R790 is equipped with a continuous recording feature, meaning that you can have peace of mind knowing that your vehicle is being monitored even when you're not in it.
And with a field of view of up to 150 degrees, you can be sure that nothing will slip by unnoticed. The Rydia-R790 is compatible with Android and iOS devices, making it easy to connect and share your footage with friends and family.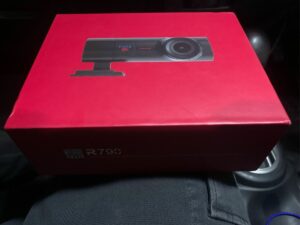 Pros:
Packed with premium features including wifi connectivity
Clear images even in the dark
Continuous recording feature for round the clock monitoring
Cons:
One of the most expensive dashcams in the market
6. VSYS SYS Motorcycle DVR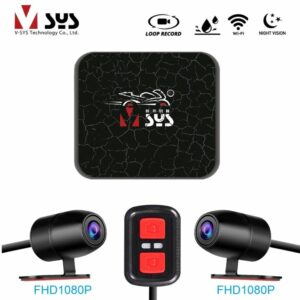 Mini DVR
This dual lens 1080p Full HD resolution Dash cam comes with both front and rear view low light capabilities, meaning you'll never miss a beat. Plus, with wifi connectivity, you can easily view and save videos on your compatible cell phone.
And for those times when you're riding in less-than-ideal conditions, the night vision feature has got you covered. Best of all, this little guy is super easy to install – just pop it under your seat and forget about it.
Pros:
Size and functions perfect for all types of motorcycle
Easy storage
With wifi connectivity to view videos through your phones
Cons:
This does not have a screen and image quality may not be that superior
7. Asawin T3camera Dash cam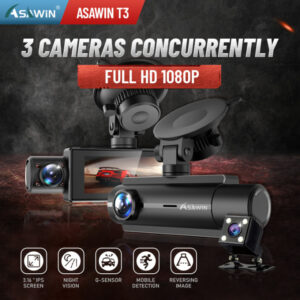 Superior display
Introducing the Asawin T3camera Dash cam, the ultimate in taxi driver security. This powerful little camera has three-way coverage, with cameras on the front and rear of the vehicle, as well as inside, so you can be sure to capture everything that happens on your journey. The recorder has night vision and full 1080p HD resolution, so you won't miss a thing, even in low light conditions.
With its 140° rear camera, you'll have peace of mind knowing that all angles are covered while you're driving. The 3.16 inch IPS display makes it easy to view your footage, while the advanced 6-layer glass technology gives you a clear and distortion-free image.
Pros:
High-quality display, you can take advantage of its high resolution
Three-way coverage makes it ideal for public vehicles
Covers wide angle
Cons:
Can be quite difficult to install
8. AZDOME GS63H Dash Cam 4K

Exclusive app support
AZDOME dash cam recorder comes with 4K UHD recording, meaning you'll be able to capture every detail while on the road. It also has SONY IMX335 CMOS image sensor for clear and crisp recordings, plus high frame rate support for 1080P at 60fps. With its built-in GPS, you can also track your driving data and routes.
And for added convenience, it has Wi-Fi connectivity so you can control it via the AZDOME app. Plus, it comes with a dual camera rear back camera support for even more comprehensive recording.
Pros:
Great features for less
Full app support so monitoring and file transfer is easier
Cons:
It also has 24hr parking support but you need to purchase a separate hardware kit.
Advantages of Installing Dashcam
A dashcam, or dashboard-mounted camera, can be a valuable asset for any driver. In the event of an accident, a dashcam can provide invaluable documentation that can be used to determine fault.
Dashcams can also be helpful in proving innocence in cases of false insurance claims. In addition, dashcams can help to deter crime. The presence of a dashcam can discourage would-be thieves from breaking into a vehicle, and if a crime is committed, the footage can be used to identify the perpetrator.
Dashcams can also be used to capture footage of scenic beauty or interesting events that occur while driving. For all these reasons, installing a dashcam in your vehicle can be a wise decision.
Best Dashcam Brands in Singapore
Xiaomi
Founded in April 2010, Xiaomi is a privately-owned Chinese electronics company headquartered in Beijing. Xiaomi makes and invests in smartphones, mobile apps, laptops, home appliances, bags, shoes, consumer electronics, and many other products. Released in March 2019, the MiJia 3S dashcam is one of the latest additions to Xiaomi's product lineup.
Ekleva
Dashcams are becoming increasingly popular as a way to record driving trips, and Ekleva dashcams offer high-quality recording at an affordable price. Ekleva dashcams come in a variety of different models to fit different budgets and needs, and they offer features like GPS tracking, night vision, and collision detection.
AZDOME
AZDOME is a dashcam brand that offers a wide range of products to suit different needs. The company has a focus on quality, offering dashcams that are designed to be durable and easy to use. The brand offers a wide range of features, such as GPS tracking, Wi-Fi connectivity, and night vision, making it easy to find a dashcam that suits your needs.