Last Updated on
Do you love bread? Who doesn't, honestly. It's one of the most versatile and delicious comfort foods out there. And it's so easy to make at home with a breadmaker! If you're in the market for a new breadmaker, or are just curious about what's out there, check out this list of the 8 best breadmakers in Singapore. These machines range from entry-level to high-end, so there's something for everyone. So get your apron on and start baking!
Quick Comparison Table
(scroll right for more)

8 Best Breadmaker Singapore
1. Airbot Bread Maker BM3800
Automatic breadmaker
If you're looking for an automatic bread mixer that does it all, the Airbot Automatic Bread Mixer Maker BM3800 is the perfect choice. With dual dough blades and the ability to mimic human hand movement, this mixer can mix, beat, rub and twist dough with ease.
The 15-hour timer ensures that your bread will be fresh and baked to perfection every time. Simply pour in the flour before you go to bed and enjoy fresh, toasted bread in the morning.
With 15 menu settings, there are endless possibilities for what you can make. The three operating steps of kneading flour, fermentation and baking are all completed automatically, so you can focus on other things while your bread is baking. Be a home chef and serve healthier keto diet meals to your kids and family with the Airbot Automatic Bread Mixer Maker BM3800.
Pros:
Automatic feature for less
One of the most accurate kneading program
Long delay timer
Cons:
The settings and other functions can be hard to figure out at first
2. Kenwood BM250 Breadmaker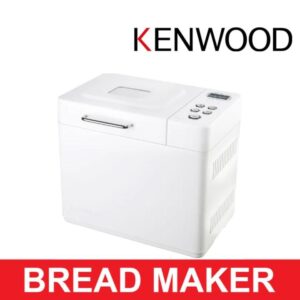 Multiple loaf sizes
If you love the smell of freshly baked bread but don't have the time to make it yourself, the KENWOOD BM250 breadmaker is perfect for you. it comes with a compact and solid size that can easily fit any kitchen counter.
With its rapid bake function, you can have a delicious, homemade loaf in just over an hour. Choose from three different sizes (500g, 750g, or 1kg), 12 programmes, and three crust settings to suit your taste.
Plus, the viewing window lets you keep an eye on your bread as it bakes, so you know exactly when it's ready. Whether you're a beginner or a baking expert, the KENWOOD BM250 is easy to use and simply perfect for anyone who loves fresh bread.
Pros:
Can make up to 1kl of loaf
Viewing window
Great for beginners
Cons:
Quite expensive with limited feautures
3. Rommelsbacher BA 550 Bread Maker
With manual baking option
This machine is built with a stainless steel casing and comes with an automatic ingredients container for adding nuts or fruits. It also has three browning settings so you can get the perfect crust every time. Plus, you can choose between two loaf sizes (700g or 900g) and there's even a separate button for manual baking.
And with a programmable start time of up to 13 hours, you can have your bread ready when you want it. Plus, the practical viewing window lets you see the progress as it happens. The Rommelsbacher BA 550 Bread Maker also includes a measuring cup, measuring spoon and hook. And with 13 programs to choose from, you can make all kinds of tasty treats – from breads and cakes to jam and more.
Because of it's capacity, it is one of the top choices of new bakers who want to try breadmaking business. Don't miss this fast-selling breadmaker online.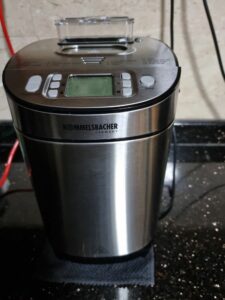 Pros:
Space saving design
Stainless steel makes it easy to clean
Comes with lots of accessories
Cons:
4. Tefal Breadmaker 1kg PF240E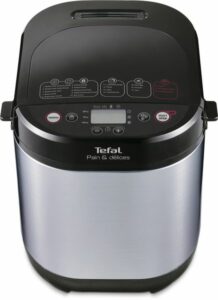 Best for dairy recipes
Introducing the Tefal Breadmaker 1kg PF240E, your perfect kitchen assistant for preparing delicious breads and pastries. This multifunctional and compact machine comes with 20 automatic programs, 3 gluten-free programs, and three weight settings up to 1000 grams, making it easy to bake goods of all sizes.
With the Tefal Breadmaker 1kg PF240E by your side, you won't ever have to worry about getting creative in the kitchen. This all-in-one machine has 20 automatic programs and 3 gluten-free settings that can make all sorts of breads, desserts, and pastries.
You can also use it for preparing dairy favorites like yogurt with its special functions. It even has three weight settings up to 1000 grams, meaning you'll have no problem baking goods of any size! Homeowners, why not turn your kitchen into an experimental playground with the Tefal Breadmaker 1kg PF240E today?
Pros:
Great for making yogurts and other dairy favorites
Multifunctional
Lots of auto programs to choose from
Cons:
5. ZOJIRUSHI BB-KWQ10 BREAD MAKER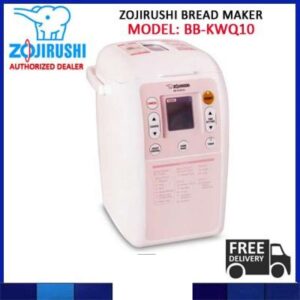 Compact build
ZOJIRUSHI BB-KWQ10 BREAD MAKER is an easy-to-use bread maker that comes with a removable automatic-tray for additional ingredients, a color recipe book with 50 recipes, and an instructional DVD. With ZOJIRUSHI BB-KWQ10 BREAD MAKER, you can make your own bread at home with ease.
This bread maker offers 5 dough courses (bread/pizza, noodles, pasta, dumpling wrappers, cookies) and 2 sweets courses (cake and jam), so you can bake a variety of different breads and pastries.
The compact design with a strong handle makes it easy to carry and store, and the durable construction ensures years of trouble-free use. Whether you're a beginner or a seasoned baker, ZOJIRUSHI BB-KWQ10 BREAD MAKER is the perfect choice for making delicious homemade bread.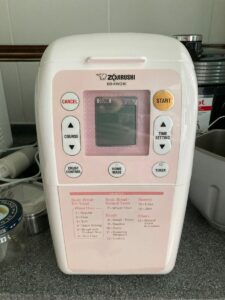 Pros:
Up to 50 programmed recipes
Cute design
Comes with recipe guide
Cons:
One of the most expensive in the market
6. Russell Taylors Dual Blade 3.5LB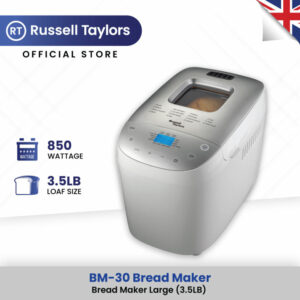 Large capacity
With the Russell Taylors Dual Blade 3.5LB Bread Maker, you can easily craft delicious homemade loaves with ease. This user-friendly bread maker is designed to accommodate larger families, as it has a 1.6 KG capacity and provides up to 15 different varieties of baking settings.
Uncomplicated, simply add measured ingredients into the pan, close the lid, select your desired setting from the control panel and let this versatile machine do the rest! The LCD display will provide you with all your chosen settings as well as follow each stage of the bread-making process. Further customizable options such as three loaf sizes and three crust colors allow for putting your spin on recipes that your family will love.
Maintenance is stress-free thanks to the nonstick inner pan and aluminum die-casting mixing blades which aid in effortless cleanup when finished. Bake those delicious artisanal loaves with ease by picking up a Russell Taylors Dual Blade 3.5LB Bread Maker today!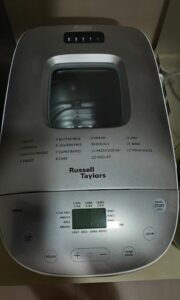 Pros:
Large LCD display to monitor your bread
Bake up to 1.6 kilograms of bread
With high-quality accessories
Cons:

7. Panasonic SD-P104 Bread Maker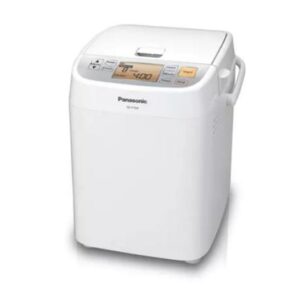 Beginner-friendly
This superb bread maker boasts a host of features that make baking bread easier than ever. With an auto yeast dispenser and temperature sensor, you can be sure your bread will turn out perfectly every time. The ingredient dispenser means you can simply add all your ingredients at once – no need for measuring or mess!
There are 13 preset programmes to choose from, so you can bake a wide variety of breads, including gluten-free and vegan options. And with the timer function, you can set the bread maker to start baking at a time that suits you.
Although this breadmaker does come with a viewing window, the status buttons easily make up for it.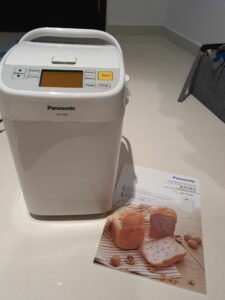 Pros:
One of the easiest breadmakers to use.
Convenient ingredient dispenser
Cons:
Limited capacity
Quite expensive for its capacity
8. Mayer Bread Maker MMBM12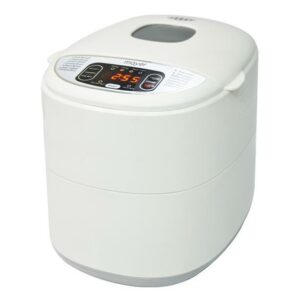 Non-stick baking pan
This versatile machine can make everything from fresh bread to pizza dough, and comes with a variety of helpful features to make baking a breeze. With a 15 hour delay-bake timer, you can set the bread maker to have your bread ready when you want it, and the 60-minute keep warm function ensures that your bread will stay hot and fresh until you're ready to eat.
The 15-minute memory function is perfect for those times when the power goes out – the bread maker will pick up right where it left off so you don't have to start all over again. And with light and dark crust colour settings, you can customize your bread just the way you like it. The LCD display and viewing window make it easy to keep an eye on your bread as it's baking, and the non-stick baking pan and kneading paddle make cleanup a snap.
Pros:
Affordable
Multifunctional
With crust settings
Cons:
Benefits of Owning a Breadmaker
Breadmakers are a popular kitchen appliance for buyers who want to enjoy fresh, homemade bread without all the hassle. These days, breadmakers are more user-friendly than ever, with many models featuring automatic settings that take care of the entire bread-making process from start to finish.
This is especially convenient for busy homeowners or mothers who want to serve their families healthy, homemade meals but don't have a lot of time to spare. Best of all, breadmakers are relatively affordable, making them a great option for budget-conscious buyers. So if you're looking for an easy way to enjoy fresh bread without all the fuss, a breadmaker may be just what you need.
Best brands of breadmakers in Singapore
Want a reliable partner for your baking journey? You can always trust on these brands:
Mayer
Mayer is a trusted name in kitchen appliances, known for its quality products and innovative design. The company offers a wide range of appliances, from ovens and cooktops to refrigerators and dishwashers. Mayer is also a leader in small kitchen appliances, such as mixers, blenders, and bread makers.
Panasonic
Panasonic is a Japanese electronics company that produces a wide range of products, from bread makers to TVs. The company is known for its innovative products and cutting-edge technology. Panasonic has a long history of producing high-quality electronics.
Breadmaker FAQs
1. How do I use a bread maker?
Bread makers are a great kitchen appliance for those who enjoy fresh baked bread but don't have the time or patience to make it from scratch. Using a bread maker is simple: most require only that you add the ingredients in the order specified in the user manual, then select the cycle and press start. Some more advanced models may give you the option to select additional settings, such as crust color or loaf size, but the basic process is always the same.
2. How do I clean a bread maker?
Cleaning a bread maker is just as easy: simply wipe down the interior with a damp cloth after each use and run an empty cycle with vinegar and water once a month to remove any built-up residue.
3. What are some tips for using a bread maker?
Start with a simple recipe. There are lots of complex bread recipes out there, but it's best to start simple and work your way up. A basic white or wheat bread recipe is a good place to start.
– read the instructions carefully. Every bread maker is different, so it's important to read the instructions carefully before you start.