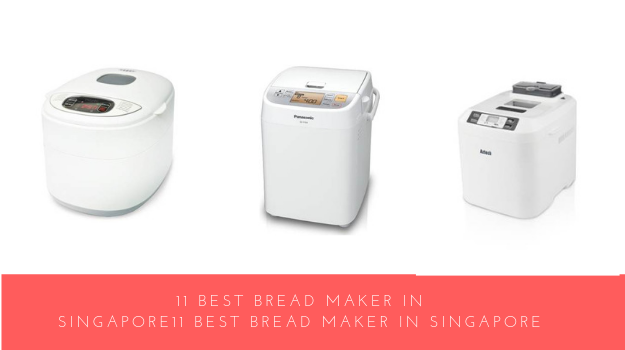 Making bread for the first may seem like a make or break venture. Anyone who has tried to make bread will have their own story to tell on how the first attempt went. Fortunately, with the availability of trusted bread makers in recent times, fresh loaves can now be readily and more accurately prepared.
Not sure what to buy yet? Check out this comprehensive list of the top bread makers in Singapore. 
1. Kenwood BM250 Bread Maker
Bread making has never been and convenient with Kenwood. You can also use it to make your own pasta. It's every baker's dream.
Features:
Multi-functional
User-friendly
Pasta and jam setting
Up to 1 kg capacity
Whether it's for your daily bread, making hobby or something special for the entire family, this bread maker can do the job for you. The best part is you can pre-set up to 15 hrs advance for your machine to start baking.
Get this versatile breadmaker here.
Check The Best Price at Lazada
2. Mayer Bread Maker MMBM12 – 500/750g
For a quick, fresh snack at home, Mayer bread maker got you covered. This conveniently sized bread maker can accommodate up to 750 grams of dough.
Features:
14 Pre-Set Programme
Power: 530W
60 Minutes Keep Warm Function
15 Hours Delay-Bake Timer
We love the option to choose between light and dark crusting, which accommodates for every bread preference.
Buy this Mayer bread maker here.
Check The Best Price at Lazada
3. Kenwood Bread Maker BM450
You will definitely love this artisan bread maker that provides you with so many options for your bread with the variety of program settings in the BM450.
Features:
125g ingredients dispenser
15 standard baking programmes
58-minute rapid bake function
Kenwood non-stick coated bread pan and kneader
Enjoy the sophisticated features of this bread maker while also enjoying fresh bread as often as you want, given its user-friendly technology.
You can purchase this online today here.
Check The Best Price at Lazada
4. Panasonic Bread Maker SD-P104
This Panasonic automatic bread maker makes everyone an expert in making their bread. It's so easy to use with so many settings to play around with!
Ingredient dispenser
Auto yeast dispenser
Temperature sensor
13 preset programmes
Make your own raisin and nut bread with this bread maker as it is proven safe for a lot off ingredients that go perfectly well with bread. You will certain get what you pay for with this bread maker!
Get this here today.
Check The Best Price at Lazada
5. Mayer Bread Maker MMBM10
Mayer has always been a staple name when it comes to bread-making technology, and this bread maker is no exemption.
Check out these features that have made it popular in Singapore:
12 Baking Function
15 hours Delay-Bake Timer
60 minutes Keep Warm function
15 minutes Memory function
Viewing window and LED display
Whether you want to make your common bread or something more sophisticated like ferment dough, you can make it all in this single bread maker?
Want to have your own bread maker from Mayer? Check this here.
Check The Best Price at Lazada
6. Zojirushi Bread Baking Machine BB-HAQ10
Want to bake bread like a pro? This Zojirushi machine could be your best friend. You can even make your own croissants, jams, and pasta with this single bread maker.
Check out more of these features:
Three bread textures to choose from: Regular, Firm or Soft
13-hour Delay Timer
Includes an instruction video, manual and recipe
Prepares bread in under 2 hours
We particularly love its sleek and slim design, which makes it easier to fit it anywhere in the kitchen.
Own this Bread Maker machine when your order it here.
Check The Best Price at Lazada
7. Aztech Bread Maker ABM4600 – 1000G
For those who love to make bread for more people, this machine allows for up to 1-kilogram ingredients. It also comes with its own fruits and nuts dispenser for more convenience.
Here are more features to play with:
Adjustable Crust Control
13 Hour Time Delay Preset
10 Minutes Memory Function
Anti-Slip Rubber Footing
Aztech has created a one-stop bread making machine that will allow you to make every breads possible including nut and raisin bread.
Get yours online here.
Check The Best Price at Lazada
8. Zojirushi Bread Baking Machine BBKWQ10
Do you need something that you can conveniently take anywhere, yet still do an awesome job in making bread? Then this 500-gram bread baking machine is for you.
Features:
Removable Automatic-tray
Colourful recipe book with 50 Recipes; instructional DVD
Auto-Dispenser
Programmable timer can be set up to 13 hours in advance
Lots of setting and programmes packed in a small package! You can choose from a lot of basic bread, dough, and sweet courses.
Grab yours here now.
Check The Best Price at Lazada
9. Mayer Breadmaker MMBM12 – 750G
One of the best things about having your own bread maker is being able to take control of the ingredients that you put into your bread.
Check out these features:
1-hour rapid bake
14 baking functions
Non-stick baking pan and kneading paddle
Non-slip bottom feet
This is safe to use and really provides you with a lot of options for bread. It's fun and healthy at the same time.
You can buy this Mayer bread maker here.
Check The Best Price at Lazada
10. Panasonic Bread Maker SD-P2001
This top-rated bread maker has been popular not just in Singapore and in the larger international community.
These features make it a powerful bread maker for every home:
yeast dispenser
raisin nut dispenser
diamond fluorine inner pan
13 menus
Two loaf sizes options
You do not just make the bread with this machine, you can also create your favourite desserts and jams.
Get this Panasonic bread maker here.
Check The Best Price at Lazada
11. Philips Bread Maker HD9045 Viva Collection
Looking for convenience and versatility? Well, that is what this bread maker delivers. It comes with pre-set programs, making it easier for any user to create bread, dough, and pasta.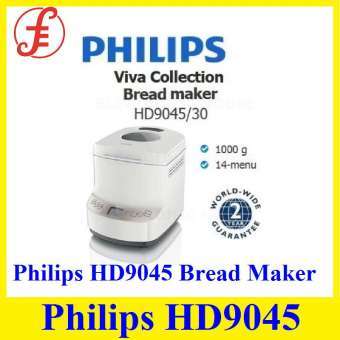 Check out these features:
Bake two sizes of loaf up to large 1kg
'Add' indicator for speciality bread
Up to 13-hour delay timer
Large viewing window
This could easily be a staple in your kitchen. Even non-bakers can easily use this and come up with their unique bread recipe.
This is available for online purchase here.
Check The Best Price at Lazada
Is a bread maker worth the investment?
While it's certainly not one of these basic appliances that you would readily need in your home, having one can definitely be life-changing.
This is particularly useful for those who live a fast-paced life but still want to have better control of the things they eat, from the regular meals to bread snacks.
Check out our top recommendations for bread makers in Singapore:
1-Kenwood BM250 Bread Maker
2-Mayer Bread Maker MMBM12 – 500/750g
3-Kenwood Bread Maker BM450
You may also interested in the traditional bread making process