Last Updated on
One of the easiest ways to start cooking and eating healthy is owning your own air fryer. A lot of celebrity chefs have recently introduced recipes made from air fryer.
If you currently do not have one, check out these best Mayer air fryers in Singapore and get ready to make your regular recipes more interesting.
1. Mayer MMAF201 Mini Air Fryer – 1.7L
Apartment friendly
Cook healthy meals and snacks for a small group with this multi-functional air fryer from Mayer. You can choose to create baked, fried, or grilled goodies with this simple machine.
Why buy this:
Smoke-free
The capacity of 1.7 L ingredients
Timer
Multiple settings for cooking
Preparing food has never been this easy with an air fryer. Simply put your ingredients inside and wait for the timer to prompt you that your recipe is cooked.
Get your own air fryer from this site.
2. Mayer MMAF88BS Air Fryer – 3.5L
Great for family use
Constantly have visitors at home? You'll find this air fryer a handy companion especially since it can accommodate more ingredients than its earlier counterparts. It serves up to six people, depending on your recipe.
Why buy this:
Non-sticking pan
Removes almost 80% of oil than usual frying
Auto shut off
Timer
The best thing about owning an air fryer is that you get to prepare other food or drinks while waiting for your air fried recipe to finish cooking. Want your own air fryer? Check this out from Mayer.
3. Mayer MMAF68 Air Fryer – 2.6L
Easy maintenance
There is a way to enjoy your favourite crispy and fresh chips without the guilt. Air fry them! This air fryer from Mayer will help you do that.
Why buy this:
Easy to clean
200 degrees of temperature control
Timer (up to 30 minutes)
Cooks fast and thorough
Air fryers are always perfect for people on the go and those who love exploring new healthy recipes. Get this air fryer at its best price here.
4. Mayer MMAF88WS Air Fryer – 3.5L
Great for large servings
Here's another recommended air fryer for the entire family. Whether you want to use it to prepare everyone's packed lunches or simply tweak the dinner menu a bit, you can certainly use the help of this air fryer.
Why buy this:
Non-stick pan
No mess cleaning
Timer
80% less grease in food
Auto shut off
Guaranteed to be of high quality, you'll find this air fryer to be a great addition to your kitchen.
You can buy this online here.
5. Mayer MMAF3 Air Fryer – 800g
Great cooking menu options
Mayer has created a powerful air fryer that is designed to serve dishes for celebrations. This is particularly useful for people who constantly welcome visitors, and want to commit to serving healthier meals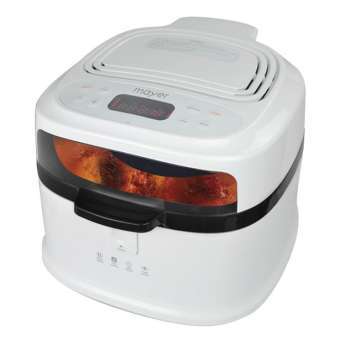 Why buy this:
High capacity
Up to 90 minutes timer
Up t0 210 temperature control
7 pre-set menus
Digital display
This is one of the premium Mayer air fryer models and is recommended for those who love air fried dishes as constant in their menus.
Are you one of these people? Buy this high capacity air fryer here:
Are Mayer Air Fryers Worth It?
Mayer has been around for more than three decades but has remained committed to releasing and producing high-quality home and kitchen electronics.
Mayer and Mistral (another popular home appliance line) now share the same label under the KHIND Holding Berhad. Both brands have easily gained popularity in Singapore and are now widely available in department stores and online shopping sites.
True to their promise of making cooking easier and safer, their air fryers are designed to be a staple in every home, equipped with innovation that prevents common electronic accidents.
Mayer Air fryers also have an array of options for every lifestyle needs. By using brands that are established and tested through the years, you are also assured of long-term quality and great warranty coverage.
Here are our top recommended air fryers for you:
FAQs
Is Mayer a good air fryer brand?
Yes. Their air fryers are designed to be a stable on every kitchen. They also have a wide variety of options for you to choose from
What are the top models of Mayer air fryer?
- Mayer MMAF201 Mini Air Fryer – 1.7L
- Mayer MMAF88BS Air Fryer – 3.5L
- Mayer MMAF68 Air Fryer – 2.6L
- Mayer MMAF88WS Air Fryer – 3.5L
- Mayer MMAF3 Air Fryer – 800g
How much does a Mayer Air fryer cost? 🤔
Depending on the model, it can range from $60 to $300
This post was brought to you by Kimz House.
Disclaimer: The opinion is solely based on our testing or intensive research with customer feedback around the most popular shopping platform such as Shopee and Lazada. The products/services shown here are available and valid upon the publication date. It may change from time to time. Please email us at [email protected] if there is any discrepancy.