Last Updated on
Air fryers are quickly becoming the kitchen appliance of choice for home cooks everywhere, and Mayer Air Fryer Singapore is leading the way. This 2023 review will tell you all about the latest Mayers air fryers that are available for purchase in Singapore and why they might be the perfect fit for your cooking needs. Read on to discover which Mayer air fryer could be the ideal addition to your kitchen!
For busy home chefs, an air fryer from Mayer is a must-have appliance. If you're in search of one that provides delicious food without sacrificing taste or flavour, then look no further than Mayers Air Fryer Singapore. From its innovative technology to its sleek design, a Mayer air fryer is the perfect choice for anyone looking to quickly and easily prepare healthy meals. Let's take a look at some of the top 5 best Mayer Air Fryers Singapore has to offer in 2023.
Table of Contents
Are Mayer Air Fryers Worth It?
Conclusion
FAQs
Quick Comparison Table
(scroll right for more)
If you currently do not have one, check out these best Mayer air fryers in Singapore and get ready to make your regular recipes more interesting.
1. Mayer MMAF505
Easy Cleaning
The Mayer MMAF505 is one of the best air fryers in Singapore. It has a 5L capacity that comes with an adjustable temperature control setting and a detachable non-stick basket for easy cleaning. This air fryer also includes a 60-minute timer with automatic shutoff to ensure your food doesn't burn. Additionally, its temperature range extends from 80°C to 200°C so you can cook various types of foods according to their needs.
The Mayer MMAF505 offers consistent heat distribution and even cooking every time, as well as low fat frying without compromising on flavor or texture! Plus it takes up minimal counter space making it perfect for households looking for ease and convenience in the kitchen.
Pros:
Detachable Frying Basket
Power & Heat Light Indicator
Over Heating Protection
Cons:
Surface can easily be scratched
2. Mayer MMAF88BS

Great for Family Use
The Mayer MMAF88BS air fryer is a great option for the health-conscious consumer. This stylish and efficient appliance uses rapid air circulation technology to cook food with little to no oil, making it a perfect choice for those looking to reduce fat intake in their meals.
This particular model has an integrated digital timer as well as adjustable temperature control settings ranging from 80 degrees Celsius all the way up to 200 degrees Celsius – allowing you more control over your cooking experience. It's also equipped with 8 pre-set functions that make it easy to prepare classic dishes like French fries, chicken wings and roasted vegetables without having to worry about correctly setting the temperature or time needed for each meal type.
The tank capacity of 4 litres is ideal for larger households of three or more people – letting you quickly make large servings without having to wait too long between batches. The non-stick basket means that cleaning up afterwards is just as painless as preparing your meals in the first place! With a matte finish on both the exterior and interior panels, this appliance adds modern flair even when not in use.
Pros:
Non-sticking pan
Removes almost 80% of oil than usual frying
Auto shut off
Cons:
3. Mayer MMAF501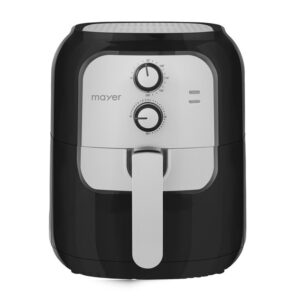 Heats Up To 200 Degree
The Mayer MMAF501 air fryer is a great appliance for any kitchen. It boasts an impressive 3.5L capacity and 8 preset cooking functions, making it ideal for all types of food preparation. The timer feature allows you to make sure meals are cooked according to your desired level of doneness, while the adjustable temperature settings let you cook at whatever temperature works best for each dish, giving you complete control over your cooking experience. With its large capacity and powerful motor delivering 1700W power output, this air fryer quickly heats up and cooks food evenly with minimal oil required – perfect when trying to maintain healthy eating habits!
Additionally, the detachable drawer makes cleaning super easy as it can be removed from the main body for simple washing convenience; plus if space is tight then the compact design will fit easily into most spaces without taking too much room from other appliances or utensils around it. Ultimately, this machine is a versatile addition that ensures a delicious meal every time!
Pros:
30 minutes timer
Over heating protection
Detachable frying basket
Cons:
Durability could be better
4. Mayer MMAF88WS

Great for Large Servings
The Mayer MMAF88WS is ideal for anyone looking for an air fryer with high-end features and durability. This model has a 4 liter capacity that can hold enough food to feed the whole family, or make large batches of snacks. It also comes with adjustable temperature control and timer settings that allow you to customize your cooking. Plus, it's sleek black design looks good in any kitchen!
But what really sets this air fryer apart from the rest is its six pre-programmed functions: Fry, Grill, Bake, Roast, Reheat and Keep Warm. With these settings on hand, you'll be able to cook almost any dish – even desserts! And don't worry about over-cooking either; the auto shut off feature will take care of that for you.
Another great thing about this model is its removable pan and basket which are both non-stick making them easy to clean up after each use. On top of all that, it includes a free recipe book as well so you have loads of ideas to try out in your very own kitchen! Whether you want savory dishes or something sweet – the Mayer MMAF80WS will help get delicious meals on your table quickly & easily every time.
Pros:
Non-stick pan
No mess cleaning
80% less grease in food
Cons:
5. Mayer MMAF3

Great Cooking Menu Options
The Mayer MMAF3 is an advanced air fryer that suits people who are looking for a high-capacity kitchen appliance. This model has a large 8L capacity, making it perfect for family size meals and snacks. The digital touch controls come with 11 preset cooking functions so you can prepare your food quickly and easily. With the adjustable temperature setting between 80°C to 200°C, you'll be able to cook different types of dishes without any hassle.
The Mayer MMAF3 also features a built-in timer up to 60 minutes with auto shut off function for added safety. There's even an Keep Warm option which lets you keep your cooked meals warm until it's time to serve them up! In addition, the non-stick coating ensures easy cleaning after use plus its multi layer design gives you ample space for larger portioned foods like roasts or cakes! It also comes complete with 2 sets of accessories including a tong and measuring spoon – everything you need from start to finish when preparing delicious treats at home!
Pros:
High capacity
Up to 90 minutes timer
Up t0 210 temperature control
Cons:
Are Mayer Air Fryers Worth It?
Mayer has been around for more than three decades but has remained committed to releasing and producing high-quality home and kitchen electronics.
Mayer and Mistral (another popular home appliance line) now share the same label under the KHIND Holding Berhad. Both brands have easily gained popularity in Singapore and are now widely available in department stores and online shopping sites.
True to their promise of making cooking easier and safer, their air fryers are designed to be a staple in every home, equipped with innovation that prevents common electronic accidents.
Mayer Air fryers also have an array of options for every lifestyle needs. By using brands that are established and tested through the years, you are also assured of long-term quality and great warranty coverage.
Why Choose Mayer Air Fryers
When it comes to air fryers, Mayer offers a range of models that are sure to tick all the right boxes. Whether you're looking for an extra-large capacity model or one with advanced features like temperature control, there's something for everyone. What sets Mayer apart from other brands is their commitment to providing quality products with features specifically designed to make cooking easier and more efficient – such as their patented double-layer heating system which ensures food is cooked evenly every time. Additionally, Mayers air fryer are designed with a modern and stylish look that will fit perfectly into any kitchen.
Conclusion
Whether you're an experienced home cook or just starting out, the Mayer Air Fryer Singapore has something to offer everyone. With its range of advanced features and stylish design, it's no wonder why the Mayer is one of the top 5 best air fryers in Singapore for 2023. So what are you waiting for? Get your hands on one today and start making delicious, guilt-free meals in no time!
FAQs
Is Mayer a good air fryer brand?
Yes. Their air fryers are designed to be a stable on every kitchen. They also have a wide variety of options for you to choose from
What are the top models of Mayer air fryer?
- Mayer MMAF201 Mini Air Fryer – 1.7L
- Mayer MMAF88BS Air Fryer – 3.5L
- Mayer MMAF68 Air Fryer – 2.6L
- Mayer MMAF88WS Air Fryer – 3.5L
- Mayer MMAF3 Air Fryer – 800g
How much does a Mayer Air fryer cost? 🤔
Depending on the model, it can range from $60 to $300
This post was brought to you by Kimz House.
Disclaimer: The opinion is solely based on our testing or intensive research with customer feedback around the most popular shopping platform such as Shopee and Lazada. The products/services shown here are available and valid upon the publication date. It may change from time to time. Please email us at [email protected] if there is any discrepancy.