Last Updated on
One of the things we should consider during daily skin care routine is addressing evenness within one's own complexion: if it appears blotchy or rashy from acne marks or scarring then there will likely always be some degree of darkness stemming from these areas as well–not only on those parts but also elsewhere that get more sun exposure than others. Skin has dark patches, dryness, age spots among other issues which lead to darker shades.
With so many choices available in the market, finding the right product for your needs can be a daunting task. Taking into account one's skin type, brand preference, price and availability are important factors to consider when deciding what will work best for you!
Table of Contents
Top Whitening Soap Brands in the Philippines
What Ingredients to Look For
Conclusion
Our Top Recommended Products
FAQs
Whitening Soap Comparison Table
(scroll right for more)

Your solution for an uneven complexion may be just around the corner in our list of the best whitening soap Philippines available in the market.
1. Palmolive Naturals White with Papaya
Best for Daily Use
With Palmolive Naturals White, you can have refreshingly white and irresistibly soft skin. This soap has a clinically proven formula that gently cleanses and restores the skin to look even whiter with 100% natural Papaya extract for an invigorating experience of sparkling clean without feeling dry. Palmolive has created an exclusive product with papaya extract to help one achieve the fairer complexion they've been dreaming about all winter. Plus, this soap doesn't dry out the skin like other bar soap – it's made of 100% natural Papaya extract. Skin is left feeling healthy and beautiful without harsh chemicals in this innovative new soap!
Pros:
With 100% natural Papaya extract
Helps provide fairer complexion without drying the skin
Clinically proven to help deliver whiter skin in as early as 1 week
Cons:
Orange scent may not be for everyone
2. Beyond Beautiful AHA Whitening Booster
Gentle Soap for Sensitive Skin
Get the skin of your dreams with Beyond Beautiful's revolutionary soap that balances and revitalizes the complexion. With a mixture of AHA, BHA, and botanical oils you can say goodbye to dull and icky skin, aches or pains from dryness and rough patches for good! Beyond Beautiful AHA Whitening Booster Skin Perfecting Soap is an one stop shop for multiple skin conditions. This isn't your average soap, but a micro-peeling and wash that has been formulated with 100% all natural ingredients! Before you know it you'll be treating even the most stubborn problems such as acne (even cystic) or bad pigmentation due to old blemishes with this soap.
Pros:
Treats pigmentation, acne, and other minor conditions
Micro-peeling and Skin Perfecting Soap
100% All Natural Soap
Cons:
AHA may increase skin's sensitivity to sunburn
3. GlutaMAX Lightening Soap with Glutathione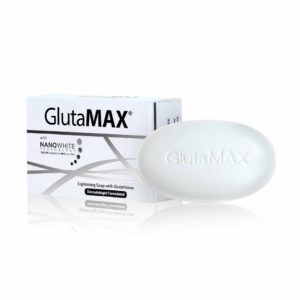 Safe and Gentle on Skin
Introducing the new GlutaMAX Lightening Soap, a soap that is formulated by experts using the most advance technologies. It is made with premium and powerful yet safe and gentle-on-skin active whitening ingredients to ensure you of maximum skin whitening results without stripping off the natural moisture of your skin. Cleanse your way to a brighter and whiter complexion with our GlutaMAX lightening soap. The perfect facial soap, this handmade soap is gentle on skin without compromising effectiveness in fighting oxidative stress and cellular damage that can lead to aging. Prevent wrinkles by preventing photo-aging and darkening of your skin!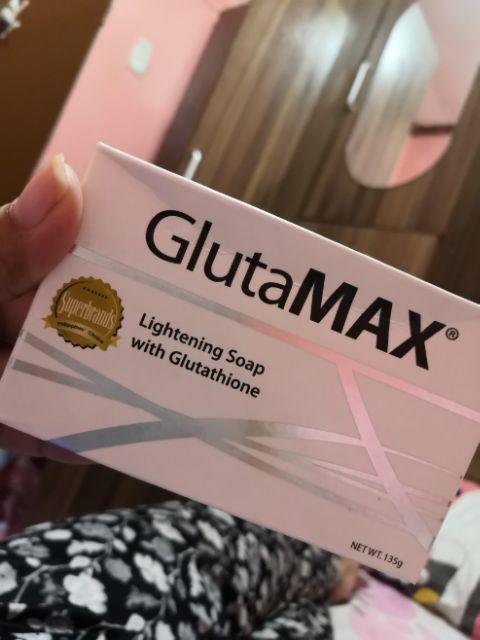 Pros:
Effectively brightens and whitens
Deeply cleanses yet gentle on skin
Prevents pimples, whiteheads and blackheads
Cons:
A bit pricier than other models
4. Chloe Bear's Essentials All Natural
With Sunblock Properties
Chloe Bear's Essentials All Natural Herbal Intensive Whitening Arbutin Soap is an incredible soap formulation that consists of arbutin. This soap offers all the benefits you would expect from a high quality cleansing product combined with sunblock properties for your skin because it blocks tyrosinase production, while also being gentle enough to use every day and preventing the degree of darkening for hours after sun exposure. Chloe Bear's Essentials All Natural Herbal Intensive Whitening Arbutin Soap will make your skin beautifully smooth and radiant by reducing the appearance of dark spots. Applied topically, it inhibits tyrosinase and thus prevents the formation of melanin.
Pros:
Sunblock properties
Less Irritating
Gentle on the skin
Cons:
Scented soap may not be for everyone
5. Dr. Sensitive Activated Charcoal Whitening

For Face and Body
The Dr. Sensitive Activated Charcoal Whitening Soap is a brilliant, gentle product to add to any beauty routine. Made for all skin types and types from sensitive skin, this soap removes impurities from your face and body while giving it a beautiful glow thanks to its whitening complexion balancing formula. Exfoliating without drying out the complexion – this is the perfect soap for just about everyone! The activated charcoal exfoliates and removes impurities from your skin while detoxifying pores of bacteria and germs that blocks up openings of sweat glands to let only good things come out! This all natural soap is sleek on one side for a deep-cleanse, and smooth on the other so you can work it into a lather without any distraction.
Pros:
Whitens and exfoliates skin
Removes impurities from your skin
Detoxifies
Cons:
Not ideal for sensitive skin
6. Relumins Advance Whitening
Powerful Whitening Action
Rich in naturally found whitening agents, Relumins Advance Whitening Soap is designed for those looking to lighten and brighten skin. Relumins Advance Whitening Soap with TA Plant Stem Cells that helps improve skin color and texture by removing any discolorations from the surface of damaged skin to reveal healthy new skin cells. The formula also includes Glutathione for powerful whitening action, licorice for anti-inflammatory effect & melanin reduction as well as placenta protein which whitens and beautifies the skin!
Pros:
TA Plant Stem Cell – For Cellular Renewal and Younger Healthier Looking Skin
Glutathione for Powerful Whitening Action
Placental Protein Whitens & Beautifies Skin
Cons:
7. Gluta-C Intense Whitening Exfoliating Soap
For Healthier Skin
Let the papaya enzymes in Gluta-C Intense Whitening Exfoliating soap work their magic to slough skin impurities and remove dead cells. This exfoliating soap has shea butter, formulated with activated charcoal to naturally draw out toxins from your body as you cleanse. As it gently tones your skin, be prepared for a healthier, more supple and radiant complexion! Clear your skin's congestion, reveal even brighter-looking skin with this whitening soap that exfoliates and smoothens to yield a radiant complexion. This formula is gentler on the pores yet contains strong antibacterial acids for immediate reduction of any inflammation or breakouts. Experience how after 15 daily uses, your blemishes will be less noticeable and you'll notice an improvement in tone. Dermatologist tested which means it doesn't irritate sensitive skin types while still delivering impressive results.
Pros:
Intense Whitening
Exfoliating & Skin Smoothening
Skin Nourishing
Cons:
8. Nisce Skin Basics Kojic Papaya
Preservative Free
NISCE SKIN BASICS Kojic Papaya Whitenening soap is an all-natural, preservative free product that produces visible results in just two weeks. Make Nisce Skin Basics your new skin care routine with the soft and exceptional looking complexion you have always wanted! The Kojic Acid provides a number of benefits: reducing skin blemishes, revealing more even complexion, fading age spots, and improving the appearance of sun damage- all without drying out your skin! The Papain Exfoliator aids in rejuvenating the complexion by removing dead cells while Salicyclic acid exfoliates.
Pros:
Reduces Acne
Removes Dead Skin Cells
Erases Sun Damage
Cons:
Scented soaps is not for everyone
9. GFOXX Kojic
Heals Inflamed Skin
You're tired of acne, and who isn't? At GFOXX Kojic Whitening Soap say goodbye to dried out skin that breaks out faster than you can care for it. With its glycerin content- which is clinically proven to heal dry, inflamed skin- this product is also dermatologist recommended if you're struggling with recurring breakouts or blemishes. GFOXX Kojic Whitening Soap is a dermatologist tested soap with melanin inhibiting ingredients that helps you achieve brighter, smoother skin. With just one use, your complexion will look brighter and more even in tone for all skin types. Need to lighten dark marks? Let GFOXX's natural color-correction properties do the heavy lifting! GFOXX also moisturizes your skin while you wash so it feels silky soft and smooth.
Pros:
Effective for Melasma & Acne Scars
Brighter, Smoother Whiter Skin, Naturally
Chemical Free, Safe and natural whitening ingredients
Cons:
10. Uni Kojic With Gluta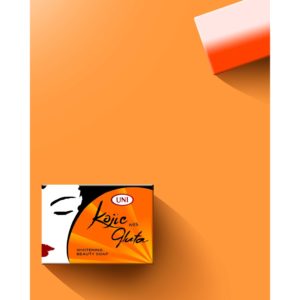 Best for Dark Spots
Kojic Whitening Soap With Gluta is for those who want a soap that's better at maintaining skin color. It contains kojic acid and glutathione, two of the best substances out there for whitening while also possessing antioxidant properties to keep your skin from getting damaged on top of all that extra brightness! Kojic Whitening Soap is scientifically formulated for lightening dark spots. It contains Kojic Acid, an enzyme that helps in the removal of dead cells; it also contains Glutathione, a vitamin C-like ingredient in plant foods and mammalian metabolism that plays a role against oxidative stress, skin sensitivity to heat exposure, inflammation  and aging. This soap also has Papaya Extract which help protect skin from daily environmental strains.
Pros:
Contains kojic acid and glutathione
Help in lightening dark spots on the skin due
With Papaya Extract
Cons:
Some user reports peeling
Top Whitening Soap Brands in the Philippines
Belo
The formulation of Belo Essential's products is grounded in science and safety. There has been extensive clinical testing with Filipino skin, proving their efficacy to be successful; they are also paraben-free which means that there isn't any harmful chemicals within them at all!
Gluta-C
Gluta-C is a quality product that delivers until now. It moisturizes, doesn't dry out and has an impressive scent. The whitening effect of this medication evens out any blemishes for an all around great experience!
What Ingredients to Look For
Kojic acid – Kojic acid is used in many skin care products to counteract the production of melanin. Studies show that it has low concentrations, which are healthy for your skin by creating a protective barrier against certain forms of radiation such as some types of UV rays and microwaves. Despite this benefit, heavy use can cause irritation on sensitive skins like dermatitis with symptoms include redness or swelling from prolonged exposure over time so be aware if you have any particular sensitivities when using these products!
Glutathione – Glutathione is a powerful antioxidant that can help protect skin cells from the harmful effects of free radicals. It also has an interesting property in which it helps lighten your body through various processes, not just by being applied topically but orally as well!
Turmeric – Turmeric is the spice that can work wonders on your skin! Used for centuries in India, this common household item has been found to not only reduce inflammation but also protect against oxidative damage. This means turmeric use will help you lighten up and stay looking young-no matter what age
Conclusion
While there are many skin lightening soaps on the market, it is important to choose one that contains ingredients that can help address your specific needs. If you have dark patches, dryness, age spots or other issues that lead to darker shades of skin, be sure to choose a soap that contains ingredients such as licorice extract, mulberry extract and vitamin C. These ingredients can help fade dark marks and improve overall complexion. Have you chosen the right whitening soap for your daily need?
Our Top Recommended Products
1-Palmolive Naturals White with Papaya Whitening Bar Soap
2-Beyond Beautiful AHA Whitening Booster Skin Perfecting Soap
3-GlutaMAX Lightening Soap with Glutathione
FAQs
Does Whitening Soaps Really Work?
Skin whitening soaps are a popular choice for those who want to improve their complexion and lighten any acne or other discolorations. However, it's important not to expect immediate results from using them; you need to commit to the soap over time before your skin tone will noticeably change.
Are whitening soaps safe?
While whitening products often come without worry about harmful impacts (papaya, glycerin), other soaps many contain potentially dangerous substances including hydroquinones and mercurys which have been associated with worrisome side effects when used. So make sure to check the ingredients before using and and consult with a dermatologist to be safe.
This post was brought to you by Kimz House.
Disclaimer: The opinion is solely based on our testing or intensive research with customer feedback around the most popular shopping platform such as Shopee and Lazada. The products/services shown here are available and valid upon the publication date. It may change from time to time. Please email us at [email protected] if there is any discrepancy.