Last Updated on
Toner has been a mainstay in the beauty routine for years, and now it's making its way into men's routines as well. It not only helps remove dirt but also keeps your pores clean by unclogging them so that they don't become clogged with makeup or natural oils throughout the day.
Toning your skin is more important than you may think! Not all toners are created equal, though – different types have their own benefits which work best on certain skin tones to provide an even better experience overall.
Gentle face toner can be used after washing just to double-cleanse while other formulas will help clear out any unwanted debris from either grime or oil buildup in our pores before applying anything else onto your face.
Table of Contents
Top Toner Brands in the Philippines
Benefits of Using Toners
Conclusion
FAQs
Toner Comparison Table
(scroll right for more)

10 Best Toner in Philippines
However, there are multiple different kinds of toners. We listed the best toner Philippines that are available in the market today!
1. Belo Kojic Micropeeling Toner

Best for Dead Skin Cells
Belo Kojic Micropeeling Toner is a refreshing, light toner that clears away dead skin cells and other pore-clogging debris while leaving your skin feeling fresh and renewed. It gently exfoliates to prepare skin for the next steps in your skincare routine. Belo Kojic Micropeeling Toner's got your skin looking and feeling smoother than ever. Gone are the days of stubborn dark spots, impurities, dirt, and makeup residue—these quick fixes will help you achieve that perfect complexion without any negative side effects.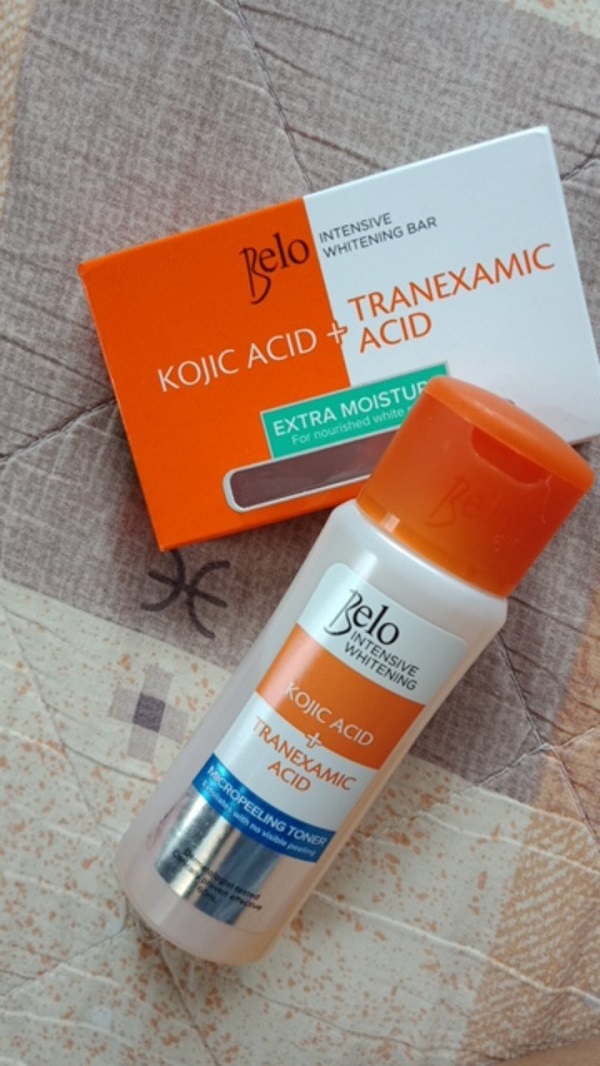 Pros:
Reduces the appearance of stubborn dark spots
Eliminates impurities, dirt, and makeup residue
Paraben-free. Non-comedogenic. Hypoallergenic.
Cons:
Not ideal for sensitive skin
2. NIVEA Face Extra White Repair Tone

Repairs Damaged Skin
Radiance can be dulled and skin can be damaged over time. NIVEA Face Extra White Repair Tone brings radiance back and repairs the damage caused by overexposure to UV rays with 10 skin nutrients that will give you a 10 times better whitening effect. You've been wondering what the best skin care routine is for you. Not too much, not too little: just the right amount, and not irritating your sensitive skin. You can now have it all with NIVEA Face Extra White Repair Tone. It's a powerful toner that tones deeply to remove excess residues as well as free radicals, bacteria and pollution clogging up your pores! Gives visibly radiant dewy skin with refined pores!
Pros:
Tones skin deeply to remove excess residues
No AHA/BHA which can cause skin redness, irritations, burning and flaking.
Gives visibly radiant, dewy skin with refined pores
Cons:
3. Luxe Organix Whitening Repair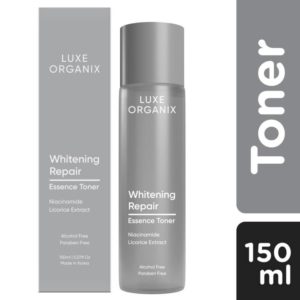 Lightens Scars
With every spritz of Luxe Organix Whitening Repair Essence Toner, your face becomes a beautifully bright beacon of radiance against the creeping darkness of midday. Luxe Organix Whitening Repair Essence Toner is a water-soluble vitamin, B3 filled toner to soothe and balance the skin. With hydrating aloe vera leaf juice, refreshing cucumber slices for an extra boost of vitamins A & C, beta hydroxy acid (BHA) known to brighten your skin tone, and a gentle pH balance for beautiful softer looking wrinkles minus the heavy scents or oily residue.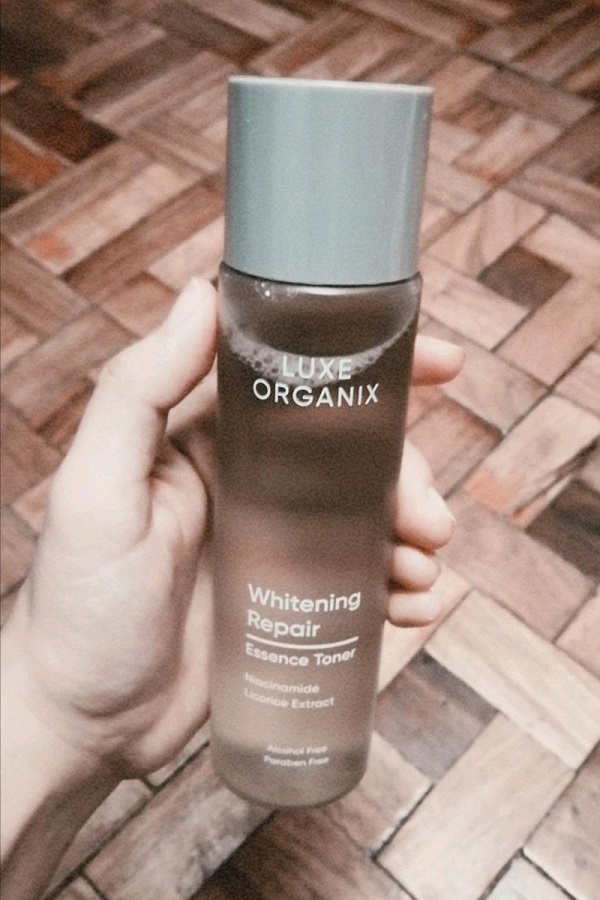 Pros:
Brightens Skin
Evens Out Skin Tone
Lightens Scars & Dark Spots
Cons:
More expensive than other brands
4. Cetaphil Brightness Refresh Tone
Evens Skin Tone
The Cetaphil Brightness Refresh Tone is a must-have product, for it gradually brightens skin tone while firming and hydrating. It is clinically proven to neutralize 3 types of melanin in 4 weeks, without any irritation or itching feeling on your face. You are able to see better skin tone over time with the continual use of this amazing product made by experts at Cetaphil. Cetaphil Brightness Refresh Tone is a scientifically proven technology that instantly soothes, refreshes and softens your skin complexion. It brightens and illuminates your skin by helping you achieve the radiance of a natural glow. This product is fragrance free, hypoallergenic, and non-sticky.
Pros:
Brightens and illuminates skin complexion
Instantly softer, smoother skin
Gentlebright technology
Cons:
5. Belo AcnePro Treatment Toner
Best for Congested Pores
The newest member of the Belo AcnePro family is a powerful toner that calms acne, treats acne, and reduces inflammation. With a unique formula that's infused with Purified Bee Venom to kill bacteria deep down in your pores and combat the source of breakouts, you can get better skin in only 3 days–plus it smells great while removing impurities and toxins from your skin. Belo AcnePro Treatment Toner is a targeted treatment product that eliminates pimple pain and reduces inflammation by unclogging congested pores and drying up pimples. It also soothes skin from irritation, calms red marks, and leaves behind no oily residue. Belo AcnePro Treatment Toner is the perfect addition to any skincare routine if you need help treating all acne concerns!
Pros:
Unclogs congested pores & dries up pimples
Reduces inflammation and red marks
Soothes skin from irritation
Cons:
6. GARNIER Micellar Cleansing Water Blue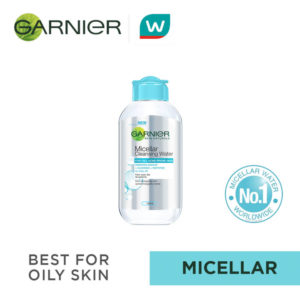 For Oily Skins
Garnier Micellar Cleansing Water is the perfect indication that life has to go on even when yours feels like it's falling apart. A final swipe removes all of your makeup and dirt in a convenient pack — just wipe, rinse, done! So pamper yourself with this perfected way to scrub, cleanse and moisturize at the same time. Garnier Micellar Cleansing Water Blue is a product of elegance and superior care. The gentle formula removes makeup with the efficiency and effectiveness that you need, leaving your skin feeling clean without being irritated. Thier micelles captures residue from your face in seconds, while not drying out or irritating sensitive skin types. If you're looking for an efficient makeup remover that leaves your skin feeling fresh and hydrated without sacrificing quality, Garnier Micellar Cleansing Water Blue is perfect for you!
Pros:
Enriched with Micelles
Captures and lifts away residue from face, eyes & lips like a magnet
Cleanses and reduces excess oil without drying out skin
Cons:
Loses its potency if not shaken well
7. Céleteque® DermoScience™ Acne Solutions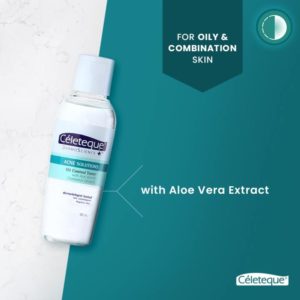 Healthier Complexion
Céleteque DermoScience Acne Solutions® is designed to give your skin a clearer, healthier complexion. Packed with aloe vera and chamomile extracts that help soothe the skin while removing dirt and oil, this easy-to-use product will make you feel confident throughout your day! Keep your skin looking clear with Céleteque DermoScience Acne Solutions. With its salicylic acid, this product is sure to break down blockage in pores and reduce sebum secretion. It also has acnacidol BG which helps keep acne-causing bacteria under control. Plus, it contains French Spring Water for significant moisturization for a smooth complexion that lasts all day long.
Pros:
French Spring Water for significant smoothening and moisturization of the skin.
Salicylic Acid that breaks down blockage in pores
Acnacidol™ BG that helps reduce sebum secretion and inhibits the development of acne-causing bacteria
Cons:
The scent mightn ow be for everyone
8. Pond's Antibacterial Facial Mist with AHA
Refreshes Tired Skin
The perfect antidote for tired and weary skin; this NEW Pond's Anti-Bacterial Facial Mist, with advance protect technology clinically proven to fight 99% of germs and acne-causing bacteria, refreshes your skin from within. Pond's Antibacterial Facial Mist with AHA is the solution. Infused with Advanced Protect Technology, this antibacterial mist helps keep your pores clean and clear – without stripping away essential moisture. The formula also contains niacinamide to control oil production as well as glycerin that locks in powerful moisturizing benefits while helping activate cell turnover. Lightweight and refreshing, it provides the perfect refreshing boost you need year-round.
Pros
Formulated with Advance Protect Technology
Infused with AHA
Glycerin to retain moisture in the skin
Cons:
Feels slightly heavy on the skin
9. Gluta-C Intense Whitening Toner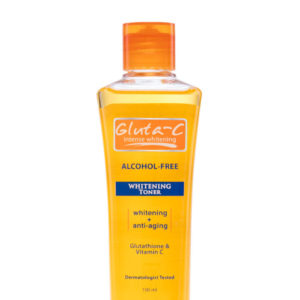 Intense Whitening
This product is dermatologist-approved and combines high-performance ingredients to make skin brighter. It gently removes dirt, excess oil, and other impurities that can dull your complexion by soothing inflammation with a relaxing Plumeria flower fragrance. Resolve your whitening needs with the Gluta-C Intense Whitening Toner. The mixture of potent ingredients reflect the power of this product, which has enough antioxidants to keep skin youthful and healthy. Gentle on your skin but strong for long term benefits, the Gluta-C Intense White Toner is an excellent partner in crime for so many needs!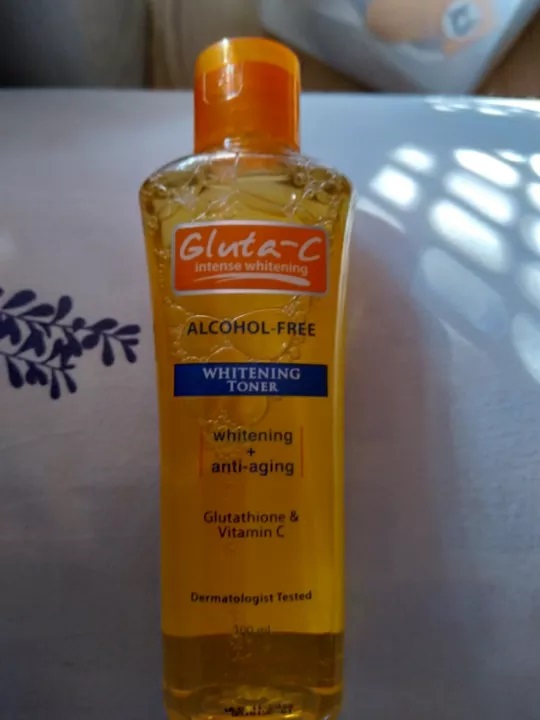 Pros:
Intense Whitening
Anti-aging and Pore-minimizing
Antibacterial
Cons:
Citrusy scent may not be for everyone
10. THAYERS Witch Hazel Toner Lavender
Reduces redness and irritation
Cool, soothing witch hazel complemented with cooling aloe and a blend of essential oils refreshes your skin after cleansing. THAYERS Lavender Cleansing Herb witch hazel is perfect for travelers with an active lifestyle, as the lightweight formula completes your morning routine. This duo features cool lavender and a fresh-scented witch hazel toner that instantly cleanses and refreshes without stripping moisture from your skin. This product is gentle enough for sensitive skin types or you can use it as a soothing astringent after exfoliating for even further benefits to cleansing.
Pros:
With witch hazel and lavender
Alcohol-free
Paraben-free
Cons:
Can be drying for some skin
Top Toner Brands in the Philippines
Belo
The safe, effective products from Belo don't just get your skin looking better – they help you feel great about yourself too! You can rest easy knowing that these essential items will never harm or eradicate any of the good stuff on Philippine soil because their formulation is grounded in science and doesn't contain banned chemicals.
Cetaphil
Cetaphil is the only gentle, fragrance-free skin care product you need. It's also hypoallergenic and non-comedogenic so it won't clog your pores!
Gluta-C
Gluta-C is a brand that specializes in skin care. They make sure to use holistic, safe and effective ingredients for their product line which helps people achieve lighter brighter healthier looking complexion!
Benefits of Using Toners
Hydrates the Skin – Toners are a great way to maintain skin health and hydration. These products infuse your face with essential ingredients like hyaluronic acid, ceramides, glycerin that revitalize tired complexions for an instant improvement in smoothness.
Rebalance pH levels – Toner, the final step in your skincare routine before applying moisturizer, has a pH level that does not disrupt skin's natural balance of acidity and alkalinity. It is important to keep this balanced because if it becomes unbalanced you could be at risk for acne or other types of inflammation on your face. Just make sure your toner does not include alcohol on its ingredients.
Tighten pores – Toners help to minimize the appearance of pores because they contain astringent properties that shrink skin cells. This helps make your face look more radiant and youthful while also making it feel cleaner than ever before!
Eliminates impurities – A toner is your best friend when you're looking to feel and look energized. By removing dirt, impurities, makeup residue, and other dust particles from your face without drying out the skin or stripping it of its natural oils like a cleanser would do; this product will leave you feeling fresh all day long!
Conclusion
Have you decided what toner to get? If not, hopefully this post has helped clear up some of the differences between types of toners and which might be best for your specific skin type. No matter which one you choose, make sure to use it regularly for best results – and enjoy having smoother, softer, and more evenly-toned skin!
FAQs
How Do You Apply the Toner?
There are a few ways to apply toner, and many people prefer different techniques depending on their skin type. Some choose to soak cotton pads with the liquid before sweeping it all over the face in order for any acne-causing impurities left after cleansing come off easily. Others like patting into moistened hands first before applying them onto dry areas of your body that need hydration more than others such as your cheeks or forehead.
When Should I Apply a Toner?
It's recommended that you apply after cleansing your face in the morning and evening. Some recommend applying immediately following a cleanse as pores tend to be more open then which is why there are different schools of thought on this topic.
This post was brought to you by Kimz House.
Disclaimer: The opinion is solely based on our testing or intensive research with customer feedback around the most popular shopping platform such as Shopee and Lazada. The products/services shown here are available and valid upon the publication date. It may change from time to time. Please email us at [email protected] if there is any discrepancy.