Last Updated on
Wearing sunscreen is a highly important step in skin care. Whether it's sunny or cloudy out there with rainbows galore (or just too cold), one should always be wearing some type of SPF on their face and any other exposed body parts that they want to protect themselves against UV radiation, like arms and legs for example. Sunscreens protect you from those harmful UVA/UVB rays that can cause skin cancer and help keep our ageing process at bay by preventing wrinkles down the road.
Table of Contents
Top Sunscreen Brands in the Philippines
What to Consider When Buying A Sun Protection Cream
Conclusion
FAQs
Sunscreen Comparison Table
(scroll right for more)

It can be challenging to search for the right sunscreen for your needs. Below are the best sunscreen in the Philippines that you can buy right now!
1. Face Republic Super Screen Sun Gel SPF 50+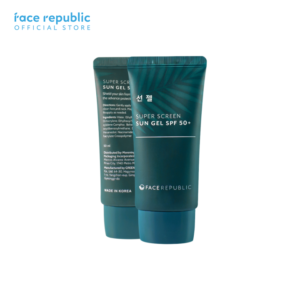 Best for Daily Use
Face Republic Super Screen Sun Gel SPF 50+ is an amazing product that lets you protect your skin from the sun's harmful UV rays while feeling comfortable and looking great. This lightweight gel-type formula provides deep tissue protection without leaving any sticky or greasy residue behind. It's perfect for everyday use, works great under my makeup, and we love how it contains Niacinamide to minimize dark spots and reduce pore size!
The cooling aloe and eucalyptus extracts help soothe my skin after spending time in the sun, especially since they are formulated with clean ingredients. This sunscreen doesn't contain parabens, sulfates, phthalates or fragrances, which will make you feel more confident about using it on your face daily! With all these amazing benefits packed into one bottle of sunscreen, we recommend Face Republic Super Screen Sun Gel to anyone looking for superior sun protection.
So, if you're looking for a powerful sunscreen that won't leave your skin feeling greasy—this product is a must-have! The deep tissue protection and pore-minimizing capabilities make this super screen gel essential to keep your skin healthy while enjoying the outdoors this summer!
Pros:
Gel-type Formula
Non-sticky
Non-greasy
Cons:
Some user report that the skin feels oily
2. Belo SunExpert Whitening Sun Protection SPF50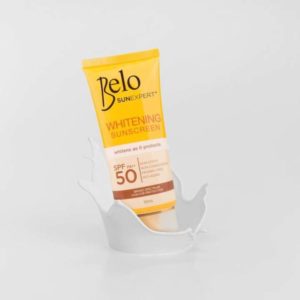 Best for Sensitive Skin
Belo SunExpert Whitening Sun Protection SPF50 is an amazing product that helps protect your skin from the sun while brightening and evening out your complexion. It has a blend of tinted moisturizer, powerful sunscreen, niacinamide to help with skin tone, glutathione for its known skin-whitening properties and SPF 50 & PA++++ for broad-spectrum UV ray protection. Its lightweight, non-greasy texture absorbs into your skin effortlessly without leaving any residue behind.
This product not only works hard to provide maximum UV protection but also works to give you brighter-looking and more even-toned skin in just one step! The niacinamide helps reduce inflammation and dark spots, while the glutathione works on bringing out a healthy glow for an overall brighter-looking complexion over time. Plus, the lightweight formula does not feel heavy or greasy on the face, so you can easily layer it underneath makeup as an effective base!
Whether going outside or staying indoors, this multi-tasking product should be part of every beauty routine – especially in hot and humid climates like ours! It will keep your complexion protected throughout the day while helping improve its overall look with long-term use, Making it perfect for those who want to maintain their skincare goals at all times! So get yourself a bottle now if you're ready to see nourished and beautiful results daily!
Pros:
Niacinamide and Brightening Essence
Water Resistance
Hypoallergenic
Cons:
Not for heavy-duty or outdoor use
3. COSRX Aloe Soothing Sun Cream SPF50 PA+++

Best for Hydrating the Skin
Is your skin feeling dry and stressed out in the sun? COSRX Aloe Soothing Sun Cream SPF50 PA+++ is just what you need! This lightweight, non-greasy formula will keep your skin hydrated while protecting it from UVA and UVB rays. It contains 5,500ppm of Aloe Leaf Extract that deeply moisturizes and soothes the skin to promote healthy cell growth. Best of all, this sunscreen is suitable for all skin types, including sensitive skin!
With a high SPF level of 50+ PA+++, you can be sure you're getting protection against harmful ultraviolet radiation throughout the day. Even if your outdoor activities are extended longer than usual, this sun cream won't make you sweat or feel uncomfortable due to its light texture. In addition, its hypoallergenic formula makes it safe to use even on sensitive skin without any irritation from artificial fragrances or colourants.
If you want a gentle yet effective sunscreen with long-lasting protection, then COSRX Aloe Soothing Sun Cream is worth considering! Not only does it provide reliable defence against UV damage, but it also nourishes and hydrates your skin at the same time – giving you an overall healthier complexion without any greasiness or residue left behind on the surface of your face. So why wait? Get serious skincare benefits now by trying out this amazing sun cream today!
Pros:
Lightweight Sun Protection
Formulated with 5,500ppm of Aloe Leaf Extract
Improves the skin's moisture barrier
Cons:
Needs to blot off the extra stickiness after application
4. Belo SunExpert Reef-Friendly SPF60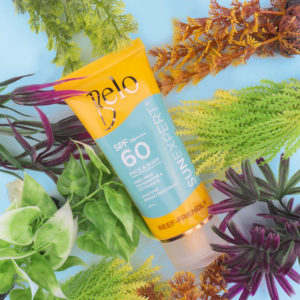 Best for Swimming
Belo SunExpert Reef-Friendly SPF60 is an advanced sunscreen with superior broad-spectrum protection with SPF 60 and PA++++. Its Cell Protect® Technology strengthens the skin's defence system while preventing accelerated premature skin ageing. The sunscreen also has a water-resistant formula, making it ideal for days outdoors swimming or at the beach. It also goes on lightweight and non-sticky, delivering immediate effectivity so you can protect your skin from sun damage immediately!
With Belo SunExpert Reef-Friendly SPF60, you can trust that your skin is protected from UVA/UVB rays without worrying about damaging coral reefs and marine life due to its reef-friendly formulation. You don't need to worry about having greasy hands after applying it either – the lightweight consistency will ensure that all you're left with after application is healthy-looking and well-nourished skin!
Treat yourself to extra UV protection this summer with Belo SunExpert Reef-Friendly SPF60! Enjoy superior sun protection without harmful chemicals leaching into our ocean ecosystems; keep your face safeguarded against harm while protecting delicate natural habitats!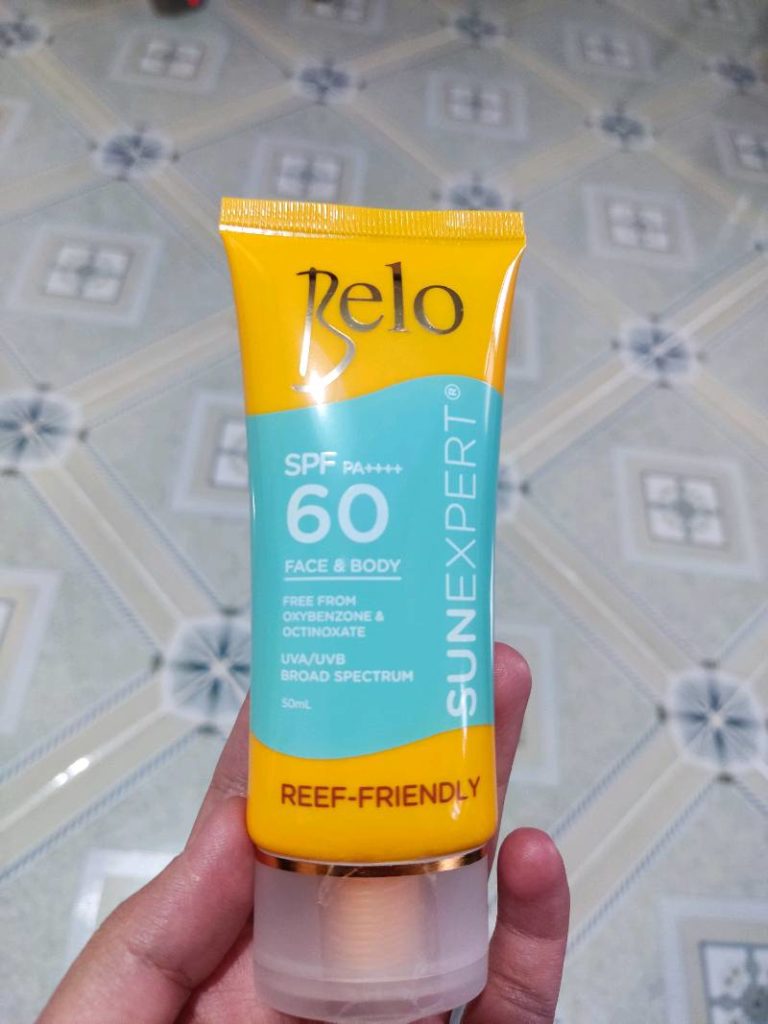 Pros:
Reef-friendly sunscreen for the face and body
Free from oxybenzone, octinoxate, parabens, triclosan, PABA, octocrylene, and 4-methyl benzylidene
Paraben- free. Hypoallergenic. Dermatologist tested.
Cons:
5. Belo SunExpert Transparent Mist SPF50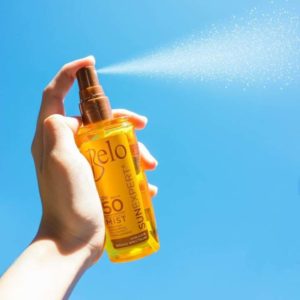 Best for Outdoors
Belo SunExpert Transparent Mist SPF50 is an excellent choice for those needing extra sun protection throughout the day. This product provides superior broad-spectrum protection with SPF 50 and PA+++ to safeguard against UVA and UVB rays. Cell Protect ® Technology also helps strengthen and protect the skin from damage caused by prolonged sun exposure.
The spray bottle allows users to apply this sunscreen easily, even at difficult angles, making achieving full coverage on tricky areas like arms and legs more efficient. Furthermore, its lightweight formula feels comfortable without leaving behind any sticky residue or greasy feeling that some other sunscreens can give off after application. On top of this, Belo SunExpert Transparent Mist is water resistant, so you don't have to worry about constantly reapplying after swimming or sweating too much during physical activities!
In conclusion, Belo SunExpert Transparent Mist SPF50 is perfect for anyone who wants maximum protection while ensuring their skin looks great without being weighed down by oily formulas! Its paraben-free, hypoallergenic properties make this sunscreen safe and ideally suited for sensitive skin types! So, if you're looking for an effective daily sunscreen that won't let you down — look no further than Belo SunExpert Transparent Mist!
Pros:
Sunscreen for the face and body
Prevents premature skin ageing with Cell Protect ® Technology
Water-resistant
Cons:
Pricier than most sunscreens
6. LTS Rosy Dew Invisible Soothing Sun Gel with SPF 45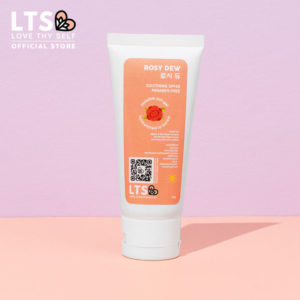 Best for Morning Skin Care
If you're looking for maximum sun protection with a lightweight formula, consider the LTS Rosy Dew Invisible Soothing Sun Gel with SPF 45. Unlike other sunscreens that can leave an uncomfortable white cast on the skin, this non-greasy yet effective product is almost invisible to the naked eye. With the assistance of Niacinamide and Licorice extract, users have reported visibly brighter skin with regular use — a significant benefit!
This product offers optimal protection from harsh UV rays, and its allantoin content helps soothe irritation while maintaining skin hydration throughout the day. Suitable for even sensitive skin types, this sunscreen is easy to apply and won't leave the face feeling sticky or heavy. Instead of worrying about long-lasting damage to the complexion due to harsh sunlight exposure in future years, consider using this product today to ensure your skin remains protected against premature ageing.
Whether engaging in sports activities or simply enjoying nature walks, it's important to have adequate sun protection. Apply the LTS Rosy Dew Invisible Soothing Sun Gel with SPF 45 before heading outdoors — as always, it's better to be safe than sorry. Treat yourself (and your face) to this exceptional sunscreen today; you won't be disappointed. Your future self will thank you for the thoughtful protection!
Pros:
No harsh chemicals
Paraben Free
Made in Korea
Cons:
Scented sunscreen may not be for everyone
7.

La Roche-Posay Anthelios Sunscreen Cream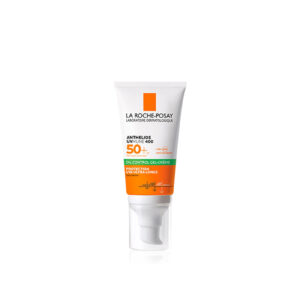 Ultra Water Resistant
La Roche-Posay Anthelios Sunscreen Cream is a great way to look their best in the sun. This water-resistant sunscreen has broad UVA/UVB protection to keep your skin healthy and smooth. It helps prevent any sort of pigmentation or darkening of the skin from sunlight exposure.
Additionally, it applies easily without feeling sticky, leaving behind no white trace or oily shine, which can be dangerous with other products on the market. Moreover, this product is free of allergenicity and preservatives, making it safe even with sensitive skin. Finally, this cream is ultra-resistant to water, sweat and sand with anti-eye stinging properties that make it perfect for outdoor activities like swimming or playing sports in the sun.
All these features make La Roche-Posay Anthelios Sunscreen Cream one of the best out there! Protecting your skin from harmful UV rays while still feeling comfortable wearing it makes this product an absolute must-have when going outside on sunny days! So grab yours today and experience all these amazing benefits after application!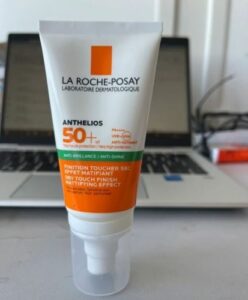 Pros:
Protects skin from harsh UV rays while preventing sunburn and other reactions
Leaves no sticky feel, white trace or oily skin
Free from preservatives, paraben and low allergenicity, suitable for sensitive skin
Cons:
Cost may be more expensive than store brands
8. Disaar Facial Cream SPF 90 PA+ Moisturizing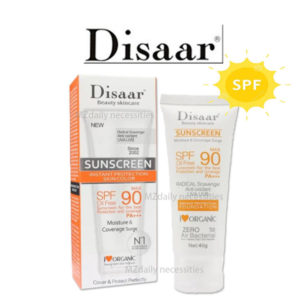 Best for Busy Days
Disaar's Facial Cream SPF 90 PA+ Moisturizing is a great sunscreen product for your daily skincare regimen. It has an incredibly lightweight feel that absorbs quickly into the skin and doesn't leave any greasy residue behind. The added plant extracts, antioxidants, and moisturizers promote healthy skin while protecting you from UVA/UVB damage throughout the day. Equipped with Vitamin E to further hydrate, this facial cream offers exceptional coverage with its SPF 90 Max protection barrier that helps keep your face and neck safe from harmful sun rays!
Not only is this facial cream highly functional, but it's also easy to use as part of a daily routine. With its quick absorption properties, you don't need to wait hours before resuming regular activities or makeup application since Disaar's Facial Cream soaks into the skin quickly without leaving any trace of clogged pores or greasy residue! As a result, you can enjoy all-day moisture and top-notch sun protection without sacrificing comfort or convenience during usage.
If you're looking for an effective way to protect yourself from the sun's rays and maintain healthy-looking skin, look no further than Disaar's Facial Cream SPF 90 PA+ Moisturizing! Its lightweight formulation and quick absorption capabilities – paired with added benefits such as plant extracts, antioxidants, Vitamin E and more – will surely provide everything you need to stay protected while nourishing your complexion daily! Get yours now and experience clear, glowing skin like never before!
Pros:
Protect your skin from the sun with this gentle and hypoallergenic sunscreen.
Protects your skin from up to 98% of the sun's most damaging rays.
Hydrate and nourish skin with added moisturizers and Vitamin E.
Cons:
Scented sunscreen may not be for everyone
9. Sunplay Kids Sun Protection Lotion SPF 60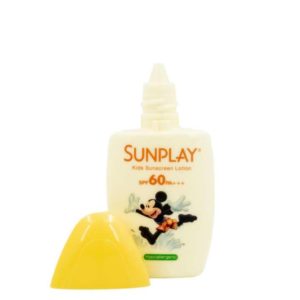 Best for Children
Sunplay Kids Sun Protection Lotion SPF 60 is the perfect choice for parents looking to protect their kids from the sun. This lotion has been formulated with a 3 in 1 defence system, ensuring maximum protection from harmful UV rays. The high SPF of 60 and PA+++ protects against UVA and UVB rays, ensuring your child is safe outdoors. On top of that, this lotion is designed to be gentle on sensitive skin, Hypoallergenic, and pH balanced, so you won't have to worry about any irritation or inflammation.
Moreover, this sunscreen lotion is also waterproof and sweat-resistant so it lasts all day long without needing reapplication, even after splashing around in water or lots of physical activity outside! Additionally, it comes in a convenient spray bottle, which makes application super easy – simply spray onto your kid's body before they head out into the sunshine, and they'll be protected for hours on end!
All in all, Sunplay Kids Sun Protection Lotion SPF 60 is an excellent choice for parents who want to keep their children shielded from the sun's harmful rays but don't want to compromise on quality when choosing a sunscreen product. Don't wait around – grab yourself a bottle today and make sure your precious little ones are kept safe every time they step out under the sun!
Pros:
For sensitive skin. pH 5.5. Gentle formulation.
Water-resistant.
For face and body.
Cons:
10. Cetaphil Sunblock SPF 118+ Light Gel Face & Body Sun Protection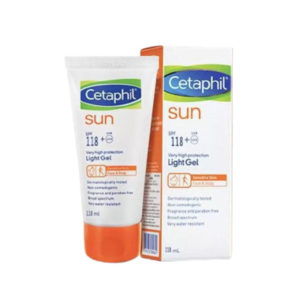 Built with Gentle Ingredients
Cetaphil Sun SPF 118+ Light Gel Face & Body Sun Protection is a must-have broad-spectrum sunscreen for anyone who enjoys being outdoors! It provides high UVA/UVB protection, and its lightweight and non-greasy formula makes it ideal for both face and body skin. The water resistance of this product also means that you don't have to worry about when to reapply sunscreen when swimming or exercising. It has been clinically tested and approved as suitable for sensitive skin, so even those with the most delicate skin can feel safe in the sun.
One of the best features of this sunscreen is that it doesn't just protect against UV rays; it helps to reduce dark spots, premature ageing and other sun damage caused by UV exposure. This means your skin won't just stay safe from burning – you get long-term benefits, too! So, if you want a summer full of fun without worrying about damaging effects on your skin, give Cetaphil Sunblock SPF 118+ Light Gel Face & Body Sun Protection a try.
With all these amazing benefits combined in one product, there's no reason not to protect yourself this summer with Cetaphil Sunblock SPF 118+ Light Gel Face & Body Sun Protection! Get out there and enjoy everything while feeling confident, knowing that your delicate skin is well protected from the harsh UV rays of the sun!
Pros:
Fragrance-Free
Gentle ingredients
Paraben free
Cons:
Some users report an oily feeling when applied
Top Sunscreen Brands in the Philippines
Belo
The effective and safe products from Belo are grounded in science. Their formulation has been proven to work for everyday use, with extensive clinical tests on Filipino skin! The company doesn't contain any banned or harmful chemicals, so you can feel good about buying these essential items every day without worrying too
Cetaphil
Cetaphil is one of the most trusted and recommended brands for dry and sensitive skin around, with a 70+ year history. Dermatologists recommend it because its formula isn't too harsh or irritating like other products on shelves today.
What to Consider When Buying A Sun Protection Cream
One of the most important factors is the SPF level. Usually, sunscreens should have SPF 30 or higher for you to be well protected from skin damage from the sun. Next is the application method used on the sunscreen. Lotions and creams last longer and provide more uniform protection, while a spray sunscreen can be more convenient but uneven.
You should also look for water-resistant sunscreens that can ensure your protection despite the sweat or when you are swimming. Lastly, check the formula. There are two common types of formulas that is in sunscreens: chemical and mineral. If you have more sensitive skin, you can use mineral sunscreens.
Conclusion
Now that you know all the amazing benefits of sunscreen, it's time to choose one! Hopefully, this blog post has helped narrow your search and given you a few ideas of sunscreens that will work best for you. No matter what type of skin you have, a sunscreen is perfect for you. So get outside and enjoy the sunny weather while protecting your beautiful skin!
FAQs
Is SPF 30 or 50 better?
There are two different types of sunscreen: SPF 30 and higher, with an average level being 45. An SPF of 30 allows about 3 percent UVB rays to hit your skin-which is a lot less than the other type that only covers 2%. This may seem like a small difference until you realize how much more protection this gives us from harmful radiation in real life. People who use products with very high levels often don't reapply as they should because they think it's safe enough for them without having to take any extra precautions such as wearing hats or covering up clothes when out in the sun all day long which can lead people into getting what we know today as "sunburn."
Difference Between Sunscreen and Sunblock
Both sunscreen and sunblock are the best way to protect yourself from the UV rays from the sun. A sunscreen refers to chemical-based defense that can absorbs the UV rays. Sunblock on the other hand would protect your skin form UV rays physically by bouncing off the UV rays as it sits on top of your skin. Another difference is that sunblock are usually opaque and can be easily noticeable when being applied to the skin.
When you are choosing between the two, you should consider the amount of SPF it has and the type of skin. For more sensitive skins or those with skin conditions, sunblock are better because of it's titanium dioxide that can be tolerated by sensitive skin. If you have no problem with your skin, any of the two can be used.
This post was brought to you by Kimz House.
Disclaimer: The opinion is solely based on our testing or intensive research with customer feedback around the most popular shopping platform such as Shopee and Lazada. The products/services shown here are available and valid upon the publication date. It may change from time to time. Please email us at [email protected] if there is any discrepancy.