Last Updated on
Soundbars have been a growing trend in the past few years, and with good reason. They're a quick and easy way to get better sound from your home theatre system without having to spend a fortune on speakers or other equipment.
If you're looking for the best soundbar in the Philippines, you're in luck. With so many options available, it can be tough to determine which one is right for your needs. In this article, we'll take a look at 10 of the best soundbars in the Philippines right now – from budget-friendly options to more high-end models. So whether you're on a tight budget or looking to splurge, we've got you covered. Keep reading for all the details!
Table of Contents
Best Soundbar Comparison Table

Choosing a Soundbar for Home Use
Top Soundbar Brands in The Philippines
FAQs
Soundbar Quick Comparison Table
(scroll right for more)
1. Suntex Apollo Supreme Bluetooth 5.0 Wireless Soundbar
Long Battery Life
Gone are the days of expensive best soundbars. Nowadays, brands like Apollo offer affordable speakers that will change your life. Sound quality and affordability will no longer be an issue when you buy these incredible products. If you've been looking for a way to upgrade the sound quality of your TV, this speaker is a great option! The Apollo Supreme has a built-in FM radio, as well as Bluetooth and AUX inputs and outputs. With these features, you'll be able to play your favourite movies in full sound with crisp dialogue for the most immersive experience.
Pros:
Loudspeaker 4R 5W*2
FM radio built-in
Battery Capacity 3.7V/800mA polymer battery
Cons:
Battery life can be an issue
2. HUG-777 Soundbar
Multiple Connection Options
We highly recommend watching out for the Hug sale promo online because you get to have their elegant soundbar for your entertainment area. The HUG-777 speaker is a Bluetooth speaker that also comes with SD and USB slots. You can connect this speaker to your Aux audio. It does not come with a power cable, so it is ideal for travel or for those who want to save space or don't want to install it on their wall.
Pros:
With SD and USB slot
It can be mounted on the wall
Can be connected to Aux audio
Cons:
Aux audio is lower than other connection
3. Rsionch Soundbar
Budget Friendly Price Range
Risonch has managed to make an elegant looking soundbar that doesn't cost too much. It's not just beautiful on the outside, but also amazingly clear on the inside, delivering clean sound hands-free.
This Rsionch speaker is the perfect solution for anyone who has been looking for a quality audio device that is not too bulky and fits into any environment. The soundbar speaker can play MP3 songs played from a TF card and also has a 3.5 mm audio input, which is a great addition for those who are looking to use their own devices to play music. The sound quality from this speaker is very clear and offers no noise interference
Pros:
Support MP3 songs played TF card store.
Support all external terminal 3.5 mm audio input.
Built-in DSP sound processor with clear sound and no noiseC
Cons:
Sound is a little bit low
4. Samsung Soundbar HW-T400

Surround Sound Expansion
Samsung Soundbar HW-T400 is a powerful 2.0Ch soundbar that gives you a surround sound experience right in your living room. With its built-in woofer, this soundbar can provide deep and rich bass tones that will make your favorite movies and TV shows even more enjoyable. What's more, the Samsung Soundbar HW-T400 is NFC enabled so you can easily connect to it wirelessly via Bluetooth.
Pros:
Supports two sound modes: standard and surround
Built-in woofer
Affordable
Cons:
5. Razer Leviathan 5.1
Perfect for Desktops
This best soundbar delivers clean and high-definition sound without the hassle of complicated settings. It has a frequency response rate of 180Hz – 20KHz, so you can enjoy your music and movies with more detail than ever before. The Razer Leviathan 5.1 is one of the most powerful PC gaming speakers on the market. The Razer Leviathan 5.1 are surround speakers system that is equipped with a downward-facing subwoofer for epic bass response. The speaker system is also perfect for movies and gaming and can be used as either a desktop or living room console set-up with a wireless adapter.
Pros:
Impedance: 8Ω
25 downward-firing subwoofer for epic bass
Perfect for gaming and movies
Cons:
6. Polk Audio Signa S2 Ultra-Slim
Easy to Position
Are you looking for a great investment in your living room? You will not go wrong with this system that delivers beautiful and powerful sound in your room. Gaming, movies, and music will be even better with this in your home. The Polk Audio Signa S2 soundbar is a sleek, slim sound system designed to give you the best possible sound without taking up space. The soundbar is easy to install, plugs in and plays. It comes with an optical cable for fast connections to your TV or desktop computer. Comes with a subwoofer and all the necessary cables to work with your TV.
Pros:
Easy installation
It comes with a subwoofer and all the necessary cables
Works with TV, comes with an optical cable for fast connection
Cons:
7. Sony HT-S100F 2.0ch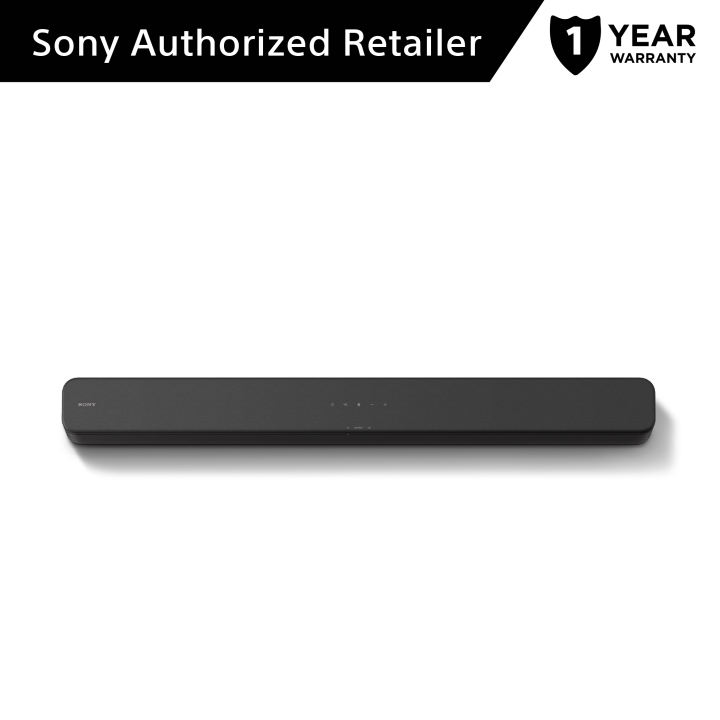 Crisp Audio Quality
Sony has always been a leader in sound technology, so it's great to see them coming out with more quality audio products like this single soundbar. It really gives you a crisp audio quality that you can rely on to improve your home entertainment experience. The Sony HT-S100F is the perfect speaker for people who want to keep their sound systems compact and easy to use. It's got a built-in subwoofer that can be set up with one, easy bar for a deep, rich sound. With its sleek, compact design, you can easily keep it out of sight when you're not using it. The HT-S100F also has Bluetooth capabilities so you can stream music from your phone and tablets without any additional equipment.
Pros:
Built-in Subwoofer for Easy Single Bar Setup
Deep sound with Bass Reflex speaker
Compact, space-saving design
Cons:
8. Leneo-Z E30 Soundbar
Super Bass Vibration
Leneo is the best for soundbars because they come in a variety of colours. You can match your decor, and you'll be able to enjoy crystal-clear sound without disturbing anyone. Leneo-Z E30 is a double 16 core horn speaker, providing the best sound experience. It has a Bluetooth antenna which enables you to connect to the phone. It is powered by a cruising power, which consumes ultra-low power. The price range of this soundbar is also a good catch.
Pros:
The horn type High quality double 16 core horn
Maximum power output 5W
Bluetooth antenna/cruising power Ultra-low power consumption
Cons:
9. Polk Audio MagniFi Max SR Home Theater
Best for Home Theatre
This comes with two other speakers for that legit home theatre set-up. This also means that you get to enjoy bigger and more dynamic sounds from the 7 drivers that come with the package. Polk Audio is proud to introduce the most advanced soundbar with Magnifi Max. This soundbar system includes a plug-and-play wireless subwoofer and two wireless speakers that are wall mountable. It is compatible with Google Chromecast, so you can stream music, videos and movies from your favourite apps. And The Magnifi Max technology ensures that this soundbar works with any type of television while also providing you with sonic power.
Pros:
Include plug-and-play wireless subwoofer and two wireless speakers
Wall mountable
Compatible with Google Chromecast
Cons:
Occasional issues with older TV
10. Polk Signa Solo Universal Home Theater
Best for Television
Simple and powerful. This is what you get from Polk Signa. The design is perfect to be placed in front of your television and enjoy a better experience of streaming your favourite movies and TV shows with this soundbar installed. The Polk Signa Solo is an all-in-one sound system that delivers the ultimate listening experience. Not only does it feature a patented SDA digital surround sound system, it also has voice adjust technology which allows you to customize the voice levels of your favorite show so you can hear every word. And with a 10x more bass output than your typical TV speakers, you'll be able to watch movies and listen to your favourite music without any problem.
Pros:
Patented SDA digital surround technology creates an expansive, multi-dimensional sound experience
Patented voice adjust technology lets you customize the voice levels to reproduce clear, crisp dialogue
Four-driver Array and built-in bass ports deliver 10x more bass than your typical TV speakers
Cons:
Choosing a Soundbar for Home Use
Choosing a soundbar in the Philippines is now made easier with so many online shops offering this product. You get to read the full features of the soundbar prior to buying it, while also getting a glimpse of its performance from the reviews.
However, the most important consideration in choosing soundbar for your home is to check its compatibility with your current television set.
Soundbars are best as a complimentary audio system for your living room console, and this is why you pay extra compared to the usual Bluetooth speakers.
Top Soundbar Brands in the Philippines
Samsung – Samsung Soundbar are very well-built, and they tend to feel sturdy. The company is famous for its Q-Symphony system that syncs soundbars with your TV seamlessly. They usually start at ₱5,000.00, which can be very affordable when you look at the quality, making it one of the best budget soundbar Philippines.
LG – With LG soundbar, you'll never have to worry about your home entertainment system is outdated or behind the times. With their advanced technology that includes Dolby Atmos and DTS:X as well as AI Sound Pro auto-calibration device setup for optimal performance no matter what kind of speakers are in use – they're sure not going down without making some noise themselves!
Sony – Sony is a popular brand for soundbars. Sony produces sturdy, well-built products that tend to excel in dialogue reproduction but lack some of the features available from competitors at higher price points like bass or treble enhancement options which can be an issue if you want more than just clear audio output when watching movies on your TV without any extras added into it! Sony soundbar price ranges from ₱5,000.00 up to ₱20,000.00.
Final Thought
We hope you've found this article helpful! If you're ready to take the next step, we can help. Give us a call and our team of experts will be happy to provide more information on how these soundbars compare in terms of features, audio quality, power output, etc. Which are your favourite models? Have you tried any yet? Let us know in the comments below!
FAQs
How does Soundbars Work?
Soundbars are usually seven speakers in one, each fitted in a way that it can achieve a sorround sound. Because of this, it creates the psycho-acoustic effects, giving it high-quiality sound.
What is the proper placement of the soundbars?
You should position it so that the grille of the speaker is facing the room. Also make sure that the equipment is positioned on a place with no wires to prevent any wireless interference.
What is the difference between 5.1 and 2.1 soundbars?
5.1 soundbars are more expensive than 2.1, but it is because for a good reason. 5.1 has more channels and has the ability for true surround sound. 2.1 soundbar, however, are smaller and lightweight, making it ideal for small space. Additionally, they are quite slimmer as well
This post was brought to you by Kimz House.
Disclaimer: The opinion is solely based on our testing or intensive research with customer feedback around the most popular shopping platform such as Shopee and Lazada. The products/services shown here are available and valid upon the publication date. It may change from time to time. Please email us at [email protected] if there is any discrepancy.