Last Updated on
With the rise of mobile gaming, social media, and wireless technology in this age of information overload it's hard to live without an extra source battery. To keep your phone or other gadgets from dying out on you too quickly purchasing a power bank can potentially save them by making them usable again for longer periods throughout the day.
When it comes to picking out a new power bank, there are several factors to consider. Some people want one that can charge their phone fast and is portable because they don't always have access to outlets; others might prefer more battery life in case of emergencies like blackouts or other natural disasters. There's something for everyone with different needs!
We listed the best power bank Philippines in the market today to help you choose!
Table of Contents
What to Look For in a Power Bank
Top Power Bank Brands in Philippines
Conclusion
FAQs
Quick Comparison Table
(scroll right for more)

1. Rapoo S1005

Best for Phones
The Rapoo S1005 Powerbank is a must-have for any road warrior. With a capacity of 10000mAh, it can juice up just about any device you need to bring along with you on your travels. This power bank also comes with four outputs – Micro input, Type-C input and USB & Type-C Output – allowing for simultaneous charging of multiple devices at the same time. Additionally, Smart Technology ensures a high-efficiency conversion rate from input to output so that you don't have to worry about running out of battery before reaching your destination.
Besides its impressive performance capability, the Rapoo S1005 Powerbank also features a safety protection circuit which prevents overcharging and short-circuiting – an essential feature for travellers with limited access to electrical outlets when on the go! On top of all that, there's an LED light indicator display available that helps monitor remaining power levels so you'll never find yourself without a charge again!
All in all, we highly recommend the Rapoo S1005 Powerbank as a reliable and robust portable charger solution whether travelling or not! Don't wait until your next adventure overseas to purchase one; hurry now and get yours today while supplies last!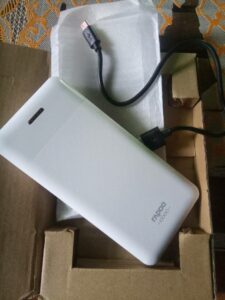 Pros:
Charging time: 7-8 hours Standard
With security protection circuit
Display power, 4 LED lights
Cons:
2. Rapoo S2002 20000mAh

Best for Traveling
The Rapoo S2002 20000mAh is an excellent power bank for those who are always on the go. This sleek and stylish design not only looks great but has many features to make charging easier than ever before. With a large capacity of 20000 mAh, it provides plenty of charge time while being able to charge two devices at once with its dual port output/input. It also has a convenient LED battery indicator that shows the remaining battery life so you know when it's time to recharge.
One of the best things about this Rapoo power bank is its intuitive design which includes multiple ports such as DC 5V input & output, micro USB input and TYPE-C input that makes compatibility with various devices easy. On top of that, the added safety features ensure your device won't be damaged even in case of overcharging or extreme temperature conditions.
All in all, if you're looking for a reliable power bank then look no further than the Rapoo S2002 20000mAH PowerBank! Not only does it provide fast and efficient charging but also ensures your devices are safe from any potential damage during use – perfect for anyone who needs extra juice on the go! So why wait? Get your very own today and never worry about running out of battery again!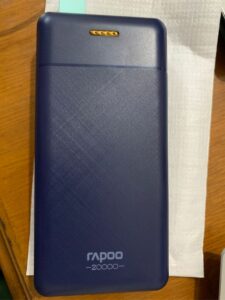 Pros:
20000MAH Cell
High quality – Lithium Polymer
Charging time: 9-10 hours standard
Cons:
3. Romoss sense 8P Plus

Supports Multi-charging
The Romoss Sense 8P Plus is an incredible 30000 mAh power bank that packs a lot of features into its compact design. It has three input sources – Type-C, Micro USB and Lightning – that let you easily charge your device with just one cable. The output includes two USBA ports which makes it compatible with most types of devices and the Quick Charge 0 allows for 18W two-way fast charging capability to make sure your device never runs out of juice.
There's no doubt that this power bank will come in handy when you need it the most, especially considering its long battery life. Whether you're on a business trip or camping outdoors, having a fully charged Romoss Sense 8P Plus in your bag can be a lifesaver! Its universal compatibility also comes in very handy as it ensures you don't have to carry around multiple cables or adapters every time you want to charge up your device while travelling.
If robust performance and portability are important criteria for choosing the right power bank then look no further than the Romoss Sense 8P Plus! With its high-capacity battery, multiple input options and quick charging capabilities, this product is perfect for anyone who needs reliable backup power on the go! So what are you waiting for? Get ready for uninterrupted use all day long by getting yourself a Romoss Sense 8P Plus now!
Pros:
Fit Charge intelligent match technology Widely compatible
Lithium polymer battery
Equipped with a self-developed quick-charging chip
Cons:
4. Romoss Ares 20

With FitCharge Technology
The Romoss Ares 20 is an outstanding power bank with a 20000mAh capacity. It has three input ports – Micro USB, Type-C, and two USB output ports, allowing you to quickly charge multiple devices at once. Its LED display keeps you informed of the remaining charge levels in real time while its Fit Charge Technology ensures safe charging and efficient energy consumption. Furthermore, its built-in safeguard system protects against overcharging/overheating/short circuits for maximum safety.
With the Ares 20's high capacity and fast charging speed, you don't have to worry about your devices running out of juice whenever you are on the go. Whether it's for travel or daily use, this power bank can keep your devices powered any time anywhere! Not only does it offer great convenience but also provides peace of mind with its comprehensive protection features that guarantee safe charging 24/7!
All in all, if you are looking for a reliable power bank that offers both high performance and security– look no further than the Romoss Ares 20! Don't miss out on this amazing opportunity to make life easier by owning one today!
Pros:
Li-polymer battery
FitCharge Technology
Built-in safeguards
Cons:
Does not include a charging cord
5. BAVIN PC096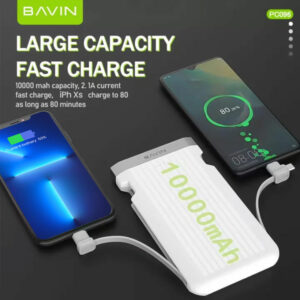 Best for Multiple Devices
The BAVIN PC096 Power Bank is a must-have accessory for busy professionals and anyone on the go. This powerful charger packs a lot of power in its slim package, allowing you to easily charge up to five devices at once while saving time and energy. With an integrated cable for Micro, iPhone and Type-C connections, this fast-charging power bank is perfect for both long-distance travel as well as daily use. The bright LED lights also let you know when your device is fully charged so that you can keep track of your battery life with ease.
On top of its convenience features, the BAVIN PC096 Power Bank has smart compatibility support which makes it ideal for pairing with a range of devices such as smartphones or tablets. Furthermore, thanks to its long-term charging capabilities, you can ensure that your phone will stay juiced up even during the longest trips away from home or work. All these features make it the perfect companion for any modern professional who needs reliable portable power throughout their day-to-day activities.
If you're looking to upgrade your portable charger game and don't want to stay tied down by cables everywhere you go, then get yourself the BAVIN PC096 Power Bank right now! You won't regret investing in this powerful yet pocket-friendly powerhouse – try it out today and never have to look back!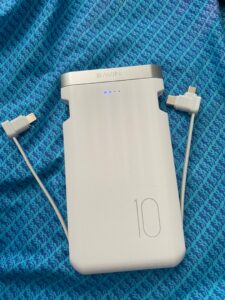 Pros:
Charge 4 Devices at the same time
Built-in Cable
Fast charging
Cons:
6. Orashare OH10

Large Smart Screen Digital Display
The Orashare OH10 is the perfect way to charge your phone, tablet, or any other device on the go. It features a 10000mAh capacity that gives you enough power for multiple charges without needing to be recharged in between uses. Even better is its fast charging technology which allows your devices to recharge quickly and efficiently no matter where you are!
When using the Orashare OH10 you'll also find it has some really great features such as a large smart screen digital display that will provide information about how much battery life you have left so you know when it's time to plug in again. In addition, there's even a hidden storage wire slot included designed for easy travel so you don't have to worry about cords getting tangled up while on vacation or at home.
Finally, this charger has three different outputs so users can charge three devices simultaneously – giving them more power than ever before! Its ultra-durable design ensures long-lasting use and reliability regardless of where it's used whether it's indoors or outside in all types of weather conditions making it an excellent choice for anyone looking for extra power on the go. If you're searching for an effective solution when it comes to keeping your devices powered up then the Orashare OH10 is definitely worth investing in!
Pros:
Powerful 10000mAh capacity to charge your device multiple times
Built-in Type-C and Lightning Fast Charging Cable for maximum convenience
Slim and Portable design makes it easy to carry, perfect for travelling
Cons:
Average Charging Speed Compared to Other Brands
7. Mitsushi Electronics M20
Slim and Ultra-High Capacity
The Mitsubishi Electronics M20 is a great power bank if you are looking for an accessory that offers reliable and long-lasting charges. Its 20000mAh Li-Polymer High Capacity ensures that it will provide plentiful energy all day without requiring recharges. The LED Display with Real Time Remaining Battery Status is ideal for keeping track of the available battery life so you don't get stuck with an empty device.
One of the unique features of this power bank is its metal aluminium slim design, making it easy to carry in your bag or pocket without taking up too much space. Not only does it look stylish, but its lightweight construction also makes it gentler on your hands for a comfortable grip during use or storage. In addition, the compatibility with most smartphones allows users to connect multiple devices simultaneously thanks to its micro type C & lightning input and dual USB output support.
Overall, the Mitsubishi Electronics M20 Power Bank provides excellent charging solutions that are both efficient and convenient for everyday use at home or on the go! If you're looking for a high-capacity power bank that won't leave you hanging when things start running low – then check out this must-have accessory today!
Pros:
Multiple Fast-Charging Interface
Silm and Ultra-High Capacity
Superior Quality
Cons:
8. KKSKY F9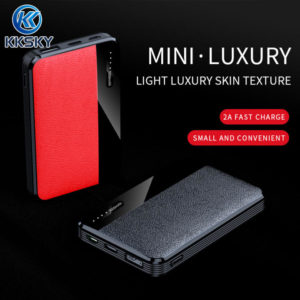 Lightweight and Portable
With its 50,000mAh high-capacity mobile charger external battery power bank, the KKSKY F9 Power Bank is perfect for those who need to stay connected and charged on long journeys or extended periods away from home. Featuring dual USB ports for simultaneous charging of phones, pads or other small electronic devices, this device ensures that you are never out of juice when you're on the go. To make things even better, it has a hidden intelligent LCD digital power display which shows the remaining battery life with ease.
The KKSKY F9 Power Bank also boasts an impressive high electrical energy conversion rate of up to 90%, making sure that your device remains powered up throughout the entire charge cycle without any significant losses in terms of energy efficiency. Additionally, it offers 10 Intelligent security protection against overcharging and short-circuiting helping protect both your devices and the power bank itself from any potential damages due to misuse or faulted wiring.
All in all, if you're looking for a lightweight yet powerful mobile charger external battery power bank that can keep multiple devices going at once and provide peace of mind through superior safety features then the KKSKY F9 Power Bank should be top of your list! Don't miss out on this amazing piece of tech – get yours today!
Pros:
2A Fast Charge
Small and Convenient
Smart Electric Display
Cons:
9. Mofit M101

Increased Charging Capacity
The Mofit M101 Power Bank is a great choice for anyone on the go! Thanks to its slim and stylish design, it easily fits into any pocket or bag. With two USB outputs capable of charging two devices simultaneously, this power bank packs a punch. It also has an LED digital display which allows you to accurately monitor the battery percentage so you know exactly when your phone needs a charge. With 10000mAh capacity, it can provide up to 5 times charge, making sure you're always powered up when necessary even on the go!
In addition, the Mofit M101 Power Bank isn't only practical but secure too with its smart Multi-Protect Safety System providing surge protection, short circuit prevention and advanced safety features that make sure both your device and power bank remain safe at all times. This great value item combines convenience, safety and style -all in one small package!
So if you're looking for more than just reliable power delivery on the go then look no further than the Mofit M101 Power Bank! Whether you're commuting by train or chilling out under the sun –this ultra slim power bank will be there to keep your devices charged through those long days! Add yours now to never run out of battery life ever again!
Pros:
IQ Intelligent Identification technology
USB-A 2.0A port that delivers up to 5V
Carbon Fiber finish power bank
Cons:
10. Mitsushi Orashare O20 Pro

Compact But Heavy Duty
The Mitsushi Orashare O20 Pro Power Bank is an absolute must-have for anyone looking to stay powered all day long. Its 18W Quick Charge technology charges your phone in no time at all, so you can get back to using it in half the time. With dual output and input ports, you can have simultaneous fast charging for yourself and someone else – perfect for if you're out on the go!
Not only does the Mitsushi Orashare O20 Pro look awesome with its bright colour and cool design, but it also packs a big capacity punch compared to other similar power banks available on the market today. You'll easily be able to keep up with your devices even when away from home or work, as this power bank will ensure that you never run out of juice!
If convenience and reliability are what you need in a power bank then don't look any further than the Mitsubishi Orashare O20 Pro Power Bank! Its compact size makes it easy to carry around while still allowing plenty of charging capacity – so make sure not to leave home without it! Don't miss out on such great features; grab your own Mitsubishi Orashare O20 Pro Power Bank today!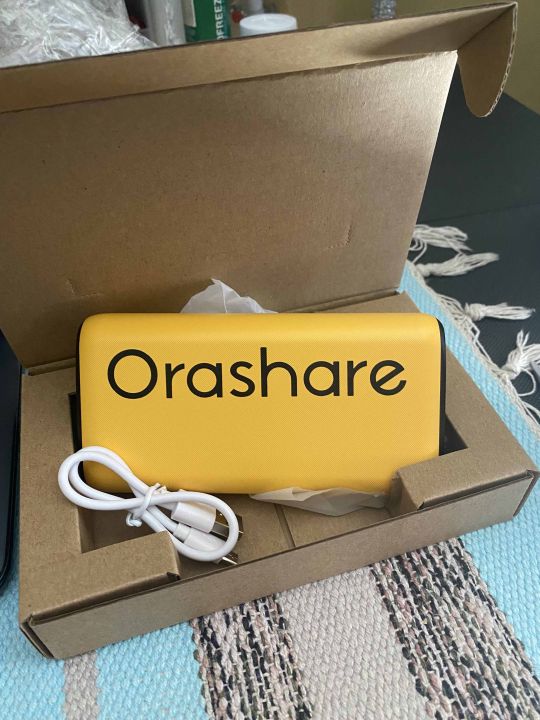 Pros
10 Layer Smart Protection
Universal Compatibility
Dual Input
Cons:
What to Look For in a Power Bank
Portability – If you're looking for a power bank that's easy to carry around, make sure it weighs less than 200g. If not, then the weight of your device will be more cumbersome and annoying when carrying it every day. The heavier capacity also means a larger size which can be inconvenient if you are always on-the-go or have small hands/pockets.
Capacity – The power bank you will need is all based on what your device requires. For reference, at least 5,000mAh capacity will fully charge a smartphone and 10,000 to 20,0000 for tablets depending on how often it needs charging or the time between charges needed.
Top Powerbank Brands in Philippines
Rapoo
Rapoo's latest range of power banks is a great buy for anyone who needs to charge their phone on the go. They come in different sizes and shapes, so there'll be one perfect for you!
Romoss
Romoss company is a provider of portable chargers for all your needs. Whether you need an universal powerbank to keep on hand at work, or something more specific like wireless charging technology that can charge multiple devices simultaneously – they got what you're looking!
Conclusion
So have you chosen a power bank for yourself? If not, hopefully our list of the best power banks will help make your decision easier. And remember, it's always a good idea to have an extra battery pack on hand just in case – especially when you can find them at such great prices!
FAQs
What Can I Charge with a Power Bank?
With a powerbank with a capacity up to 10,000mAh you can charge phones and handheld devices. If you want to charge laptops or anything bigger than that then it's best if the charger has capacities from 20,000 mA/hrs+.
How fast can a power bank charge?
How fast a power bank can charge your device is not determined by its capacity but rather, the output charge. The higher ampere it has, the faster it will transfer power to your device making 2A more efficient than 1A and 2.1 A better than both of them. However before you buy one for yourself or someone else make sure that their phone supports quick charging because if they don't then there's no point in having a high-output charger at all!
This post was brought to you by Kimz House.
Disclaimer: The opinion is solely based on our testing or intensive research with customer feedback around the most popular shopping platform such as Shopee and Lazada. The products/services shown here are available and valid upon the publication date. It may change from time to time. Please email us at [email protected] if there is any discrepanc