Last Updated on
Are you looking to upgrade your outdated kitchen appliances? Investing in a high-quality electric oven is the perfect way to get more out of your cooking experience. But shopping for one can be overwhelming with all the options available in the market! To help you make an informed decision, we've rounded up 10 of the best electric ovens in the Philippines for 2023. Read on and find out which one perfectly suits your needs!
Table of Contents
Advantages of Electric Ovens
Best Electric Oven Brands in the Philippines
Conclusion
Quick Comparison Table
(scroll right for more)
1. Imarflex IT-210CS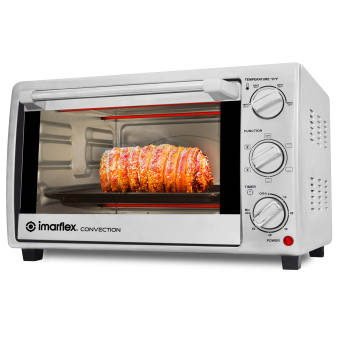 Best for Beginners
Are you a culinary enthusiast craving to try your hand at baking? Then you have the right companion with the Imarflex IT-210CS – a conventional oven perfect for anyone looking to run experimental creations. With its high-temperature range from 100°C to 230°C and various modes of operation, this oven ensures that each recipe you conjure comes out just as delectable as can be.
Moreover, it will also save you plenty of time and make your work easier with its 60-minute timer and power light indicator. This versatile machine is well suited for home use too, having a convenient design with its stainless steel body, enamel coated baking Trey and 21-litre capacity! And with the turbo broiler convection setting, pastries are cooked superbly on both the outside and inside for maximum pleasure.
Overall, Imarflex IT-210CS is one of the most recommended ovens for beginners enjoying the exploration of culinary excellence. If this sounds like something up your alley, don't wait anymore to grab this fun-filled companion now!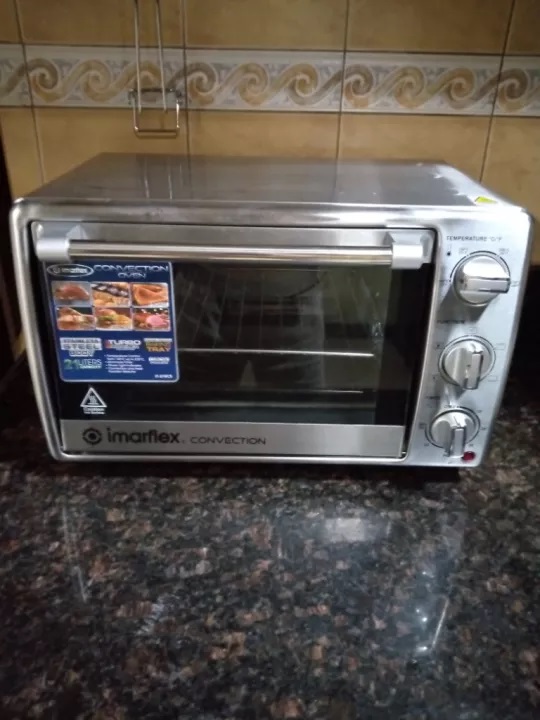 Pros:
60min Timer
Power Light Indicator
Convection, Heat Function Selector
Cons:
2. Kyowa KW-3338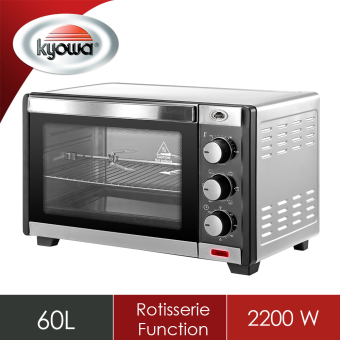 Best for Baked Food
Are you ready to cook like a professional in the comfort of your own kitchen? Look no further than the Kyowa KW-3338 oven! Featuring a large 60 Liter capacity, durable stainless steel body, and rotary temperature and heat control switches, this top-of-the-line baking oven will bring quality and convenience to your life.
Live a little and sizzle your favourite flavours with the versatile rotisserie function or bake the perfect cake for any occasion. This Kyowa electric oven has a see-through heat-resistant glass window that gives you peace of mind when baking because you can be sure that everything is cooking as it should without having to open the door. Additionally, our 60-minute timer with an automatic cooking end signal ensures nothing gets forgotten in the oven!
Nobody likes an unexpected kitchen appliance problem – luckily, finding help is easy with Kyowa's extensive availability of service centres throughout the Philippines. Say goodbye to your average kitchen scenes – upgrade today with Kyowa's KW-3338 Oven!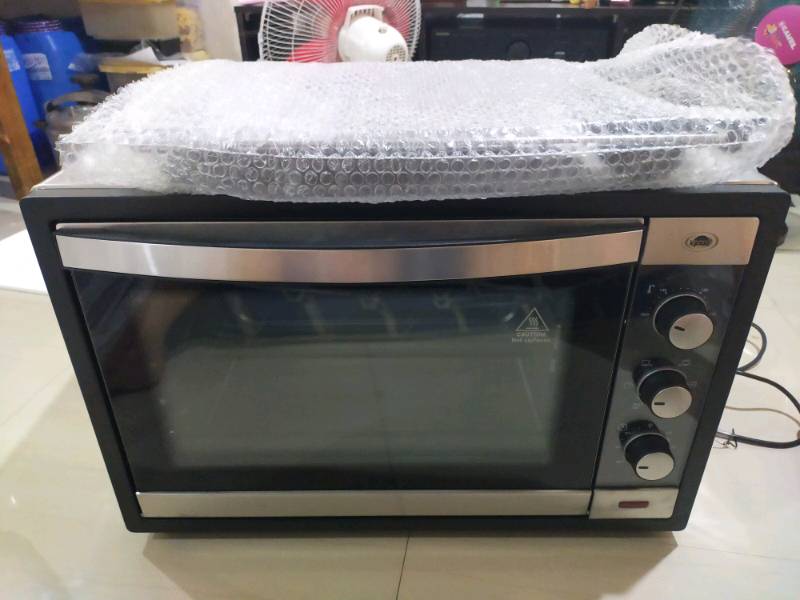 Pros:
Durable Stainless Steel Body
60-minute Timer with cooking end signal
Rotary temperature & heater control
Cons:
3. Imarflex IT-140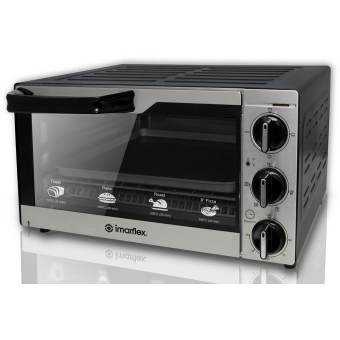 Best for Apartments
For those living tight on space but still wanting to enjoy the baking experience, the Imarflex IT-140 is the perfect solution. This 14 liter capacity toaster oven is a reliable and competent model for when a regular oven just isn't available.
Its temperature control feature allows you to customize your baking needs according to your project, plus its direct infrared quad heater gives an even bake all across your food. With the convenient 60-minute timer and stay-on feature, you won't need to worry about burning whatever it is you're baking. And, should you forget about the time flying by after an engrossing episode of your favourite show (and believe us, we've been there), the cool-touch handle offers extra comfort and protection from accidental burns. Oh did we mention it also has a handy pilot light indicator? Talk about going above and beyond!
The Imarflex IT-140 – delivers deliciousness without endlessly watching over it!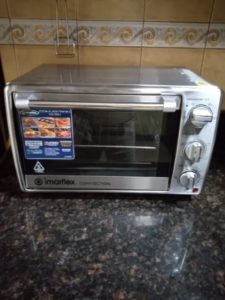 Pros:
Temperature Setting
Infrared Quad Heater
14 Liters Capacity
Cons:
The pan is a bit thin inside
4. Kyowa KW-3315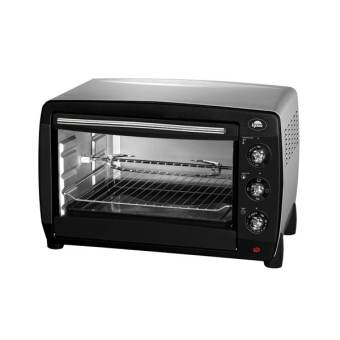 Large Capacity
Preparing meals with ease has never been easier thanks to the Kyowa KW-3315 electric oven! With its durable stainless steel body, you'll be able to use this amazing oven for many years to come. And the best part? It offers amazing value for money – no more sacrificing quality for the price!
This oven has a generous capacity of 45 litres which is perfect for preparing large family meals or baking sumptuous treats. With the temperature and heat control switch, you can precisely select your desired temperature up to 230°C. The rotisserie function also makes grilling and roasting hassle-free. You can check on your food while it cooks too with the see-through heat-resistant glass window so you don't have to keep opening and closing the lid.
This amazing oven also features a 60-minute timer with a bell alarm so food won't get burned anymore. And with the removable tray, cleaning up after cooking will be a breeze!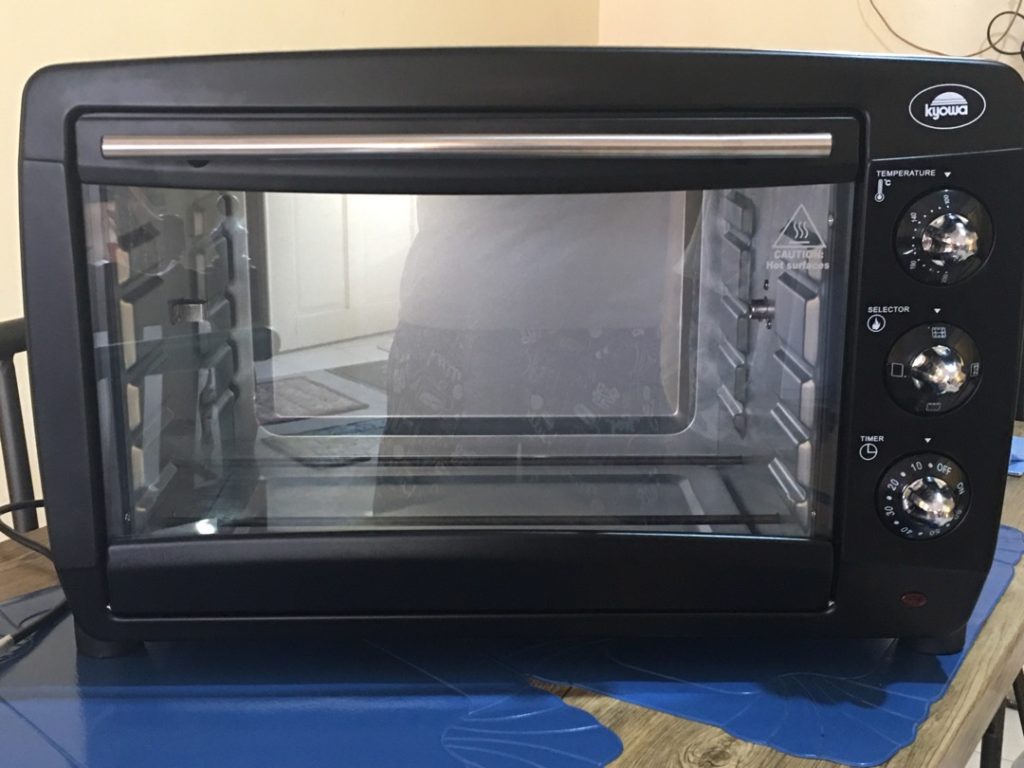 Pros:
With Rotisserie function
1 Hour timer switch
100ºC – 230ºC Temperature setting
Cons:
5. Imarflex IT-450CRS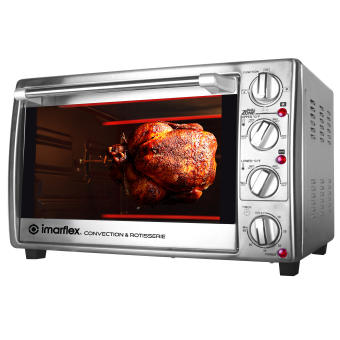 Easy to Clean
The Imarflex IT-450CRS Oven will bring your cooking and baking experience to a whole new level. Perfect for those who have limited kitchen space, this powerful oven features an insulated double glass door, stainless steel body with accessories and two stainless steel baking trays – all in one stylish package.
The 45-liter capacity turbo broiler convection and rotisserie oven heat function selector allow you to create delicious recipes like pieces of bread, cakes, chicken and pasta without the mess thanks to its non-stick cavity feature. This oven is easy to maintain and clean so you can spend more time doing what really matters – enjoying every succulent bite you make! Don't settle for something average ever again – upgrade your kitchen with the Imarflex IT-450CRS Oven today.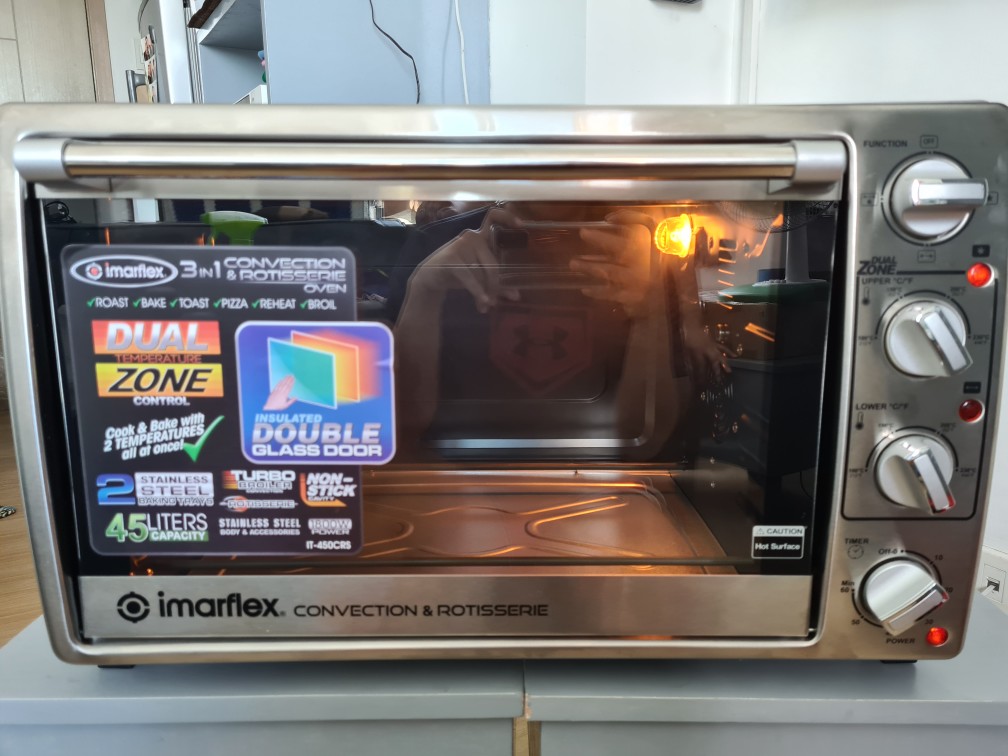 Pros:
2 Stainless steel Baking Tray
45 Liters capacity
Turbo Broiler Convection
Cons:
6. Sharp EO-429RTF-BK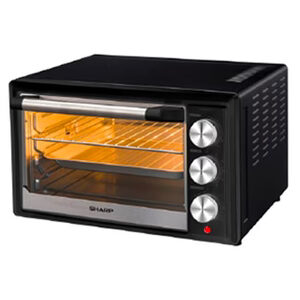 4 in 1 Heating Function
The Sharp EO-429RTF-BK is the perfect solution for busy home cooks who want to cook delicious food quickly and easily. This oven features a non-stick coating, top heater, bottom heater, high-temperature glass door and 4 in 1 heating function so you can bake, roast or rotisserie with ease. The stainless steel heating element gives you confidence that your food is being cooked safely.
With its non-stick coating and fast heat-up times you can create tasty dishes quickly without having to spend time scrubbing away burnt-on ingredients afterwards – saving you time and hassle! And thanks to its even heat distribution it's easy to ensure all your ingredients are heated through perfectly without any parts being over or underdone – giving you a restaurant-quality meal every time!
So why not upgrade your kitchen today with the Sharp EO-429RTF-BK? Whether you're an experienced chef or just getting started on your cooking journey, this oven has something to offer everyone – so start making delicious meals today!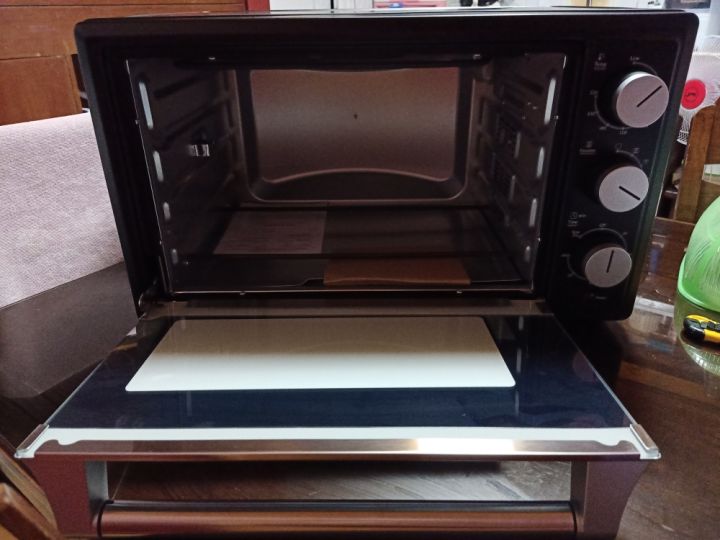 Pros:
Non-stick coating allows for easy cleaning and preserves the presentation of food
The top heater and bottom heater provide an even and fast cooking experience
High-temperature glass door manages maximum heat levels, offers great visibility into the oven


Cons:
Does not have a digital display


7. Elmax Household oven 20L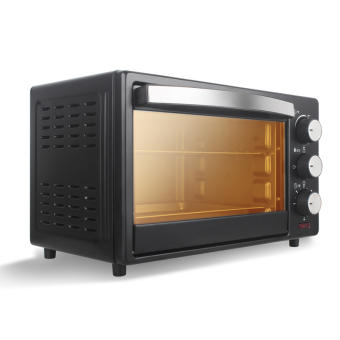 Precise Temperatures
With Elmax Household Oven 20L, you no longer have to worry about undercooking or overcooking food. Enjoy the precise temperature control that the independent heat pipes provide. It's easier to manage than your conventional oven! Plus with its timer that can go up to 60 minutes, you'll have ample time for longer cooks and worry-free dinners. Feel secure in the wall insulation that supports multi-dimensional heat dissipation and cooling while safe sockets keep you at ease.
What's more? Cleaning is effortless due to the slip-resistant silicone foot pads, anti-wrinkle hand wraps and a food-grade liner in the oven's interior! Bake anything from croissants to big family dinners – there's no limit with Elmax Household Oven 20l!
Pros:
Three heating methods to control
20L capacity
Independent heat pipe up and down
Cons:
Not ideal for large servings
8. Astron EO-35
Top/Bottom Heater Control
The Astron EO-35 boasts powerful 1500W capabilities and has a capacity of up to 35L – perfect for big meals! Not only that, but it also includes two highly effective heating elements so you can accurately control temperatures between 90 to 230 C°. For optimal results, take advantage of the included convection fan that evenly distributes heat throughout your food with every cycle.
To make sure everything you bake is perfectly cooked and moist on the inside, use the built-in rotisserie mode and interior lamp feature that comes with this oven. Plus, get more out of each baker's dozen by loading full racks thanks to generous interior space. And don't worry about messes – slide out the crumb tray in a jiffy for easy cleanup after every job.
Cooking just got simpler with this energy-efficient and technologically advanced mini oven. Get restaurant results at home with the great features found in the Astron EO-35 available at an exceptional value today!
Pros:
60-minute timer
Crumb tray included
With convection function
Cons:
9. Hanabishi HEO 45SS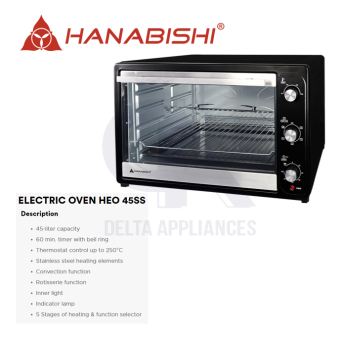 Best for Bigger Batch
Get your hands on the latest Hanabishi HEO 45SS electric oven and get ready to cook up a storm! Now you can create delicious cooked and baked feasts for family and friends with ease thanks to this oven's generous capacity of 45 litres. Preparing big batches of food has never been simpler!
Plus, all your cooking will be perfectly cooked each time with the oven's advanced functions like thermostat control up to 250°C, stainless steel heating elements, convection function, rotisserie function, inner light and indicator lamp. The 60-minute timer with a bell ring also means you can cook many dishes at once without worrying about them burning. And if you're feeling creative in the kitchen, the 5 stages of heating & function selector give you an array of options to explore different flavour profiles.
With this top-model electric oven from Hanabishi, it's easy to see why home chefs love bringing meals to life in their kitchen – order the HEO 45SS now and start creating tasty delights like never before!
Pros:
Temperature selection up to 250°C
Five stages of heating and function select
With a rotisserie function this is more than for baking.
Cons:
10. Kyowa KW-3325
Excellent Grill Power
The Kyowa KW-3325 is an incredible oven that packs a punch for your cooking. It has a 45 litres oven capacity which means you get more space to cook bigger meals or multiple dishes at once. With its rotisserie function, you can now enjoy the delicious flavour of evenly cooked and juicy roasted food like never before. Its durable powder-coated steel body ensures maximum durability while also being easy to clean up afterwards. The 60-minute timer with a bell alarm lets you know when your food is done so it doesn't overcook or burn. Finally, the rotary temperature and heat control switch allows for up to 230°C of heat control which makes it perfect for slow roasting, baking, heating up leftovers or anything else your heart desires
One of the greatest features this Kyowa KW 3325 boasts is its versatility in terms of cooking methods and the temperatures it offers for multiple dishes simultaneously without any hassle. You don't need to worry about burning any food because the timer will alert you when the meal is ready! This fantastic product gives you complete freedom over how long and at what temperature your food should be cooked so that each dish comes out perfectly every time – all within one single appliance!
For those who want amazing cooking experiences without compromising on convenience and safety, look no further than the Kyowa KW 3325 Oven! This fantastic oven offers everything from traditional baking to rotisserie functions with adjustable settings so that each dish is cooked perfectly just as you envisioned it would be – giving unbeatable results every time!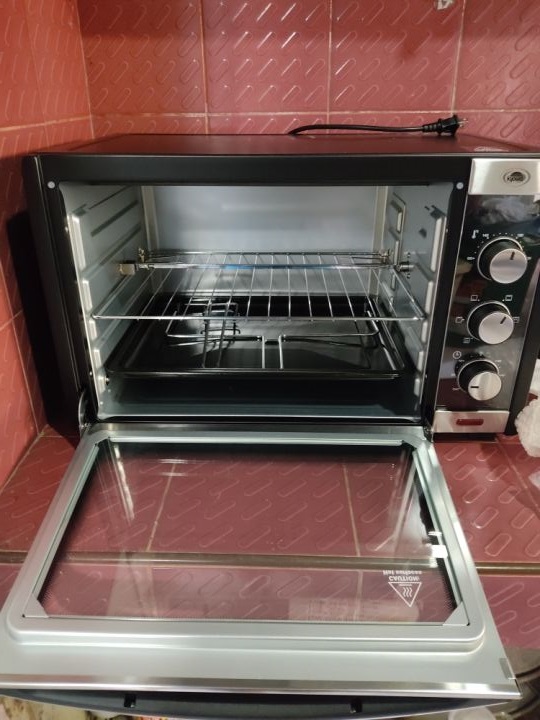 Pros:
Large capacity 45L oven perfect for family-sized meals
The Rotisserie function allows for evenly cooked and flavorful meat dishes
A durable powder-coated body ensures that the appliance will last a long time


Cons:
Lacks pre-set cooking functions
Advantages of Electric Ovens
While many huge pastry shops can be seen using gas ovens, there are still compelling benefits from using electric ovens, especially if you are new to baking. One of the most important advantages that you will experience from an electric oven is the consistency of the heat.
Along with that is also the more even distribution of heat for your recipe, so no need to worry about batches of goodies that are rather more burnt than the rest. Electric ovens are also generally more space-efficient than gas-range ovens. They can easily fit on your kitchen counters because of the minimal space requirements.
Best Electric Oven Brands in the Philippines
Imarflex
Imarflex produces quality, affordable home appliances that Filipino families know and love. With a wide range of products to suit everyone's needs from the kitchen all way down to your bathroom vanity or closet organizer–they're sure you'll find something!
Kyowa
Kyowa has been the iconic brand of home appliances in the Philippines for decades. The company was established back in 1988 and they've consistently maintained high-quality products at affordable prices, which is why so many Filipino families love them!
Conclusion
Whether you're a beginner or an expert baker, we hope that this list will help you choose the right electric oven for your needs. We have rounded up the 10 best electric ovens that offer great performance and versatility with safety features for your home in 2023. Reviewing all factors such as capacity, pre-programmed settings, size, temperature range & functionality before deciding on your next purchase is highly recommended to ensure you get value for money spent.
FAQs
How do I choose the right electric oven?
A lot of information should be considered before choosing an oven. One of the important factors to consider is the maximum temperature you would be needing, depending on what you are planning to use it regularly. Another factor is the size of the oven, when you are regularly serving multiple people, it is better to choose an oven built with larger capacity. Lastly, you need to consider what is your purpose for buying an oven. Whether you are in it for home cook meals or trying to achieve results that is in the range of professional cooking levels, you need to consider the features an electric oven offers.
Why do I have to preheat my oven?
Preheating allows the oven to have the time to reach the correct temperature for the recipe. Skipping preheating your oven can actually result to your food being undercooked.
This post was brought to you by Kimz House.
Disclaimer: The opinion is solely based on our testing or intensive research with customer feedback around the most popular shopping platform such as Shopee and Lazada. The products/services shown here are available and valid upon the publication date. It may change from time to time. Please email us at [email protected] if there is any discrepancy.