Last Updated on
Whether you're in the market for a new electric kettle or just want to compare different brands and models, you'll want to check out this list of the 12 best electric kettles in the Philippines. We've gathered some of the top brands and models so that you can find the perfect one for your needs. Plus, we've included reviews so that you can see what others have had to say about these kettles.
Table of Contents
Electric Kettles Comparison Table

Top Electric Kettle Brands in The Philippines
7 Things to Consider When Buying an Electric Kettle
Final Thought
FAQs
Electric Kettles Comparison Table
(scroll right for more)
12 Best Electric Kettles in PH
1. Xiaomi Electric Water Kettle
Precise Temperature Control
The Xiaomi Electric Water Kettle has a lot to offer and provides users with an easy, convenient way of boiling water. Using GB4806 standard 304 stainless steel for the liner, lid and other metal components ensures that the product is durable while the STRIX thermostat allows for precise temperature control with a 10,000 times longer life expectancy. Additionally, splash prevention enabled by slow opening up of the lid when pressing the open button helps to reduce accidents during use.
In terms of safety, this electric kettle offers triple protection against electric shock and leakage as well as auto shut off once water is boiled or dried out; something which adds peace of mind knowing that it won't be left on accidentally if forgotten about. The LED indicator lights are also helpful in making sure boiling temperatures can be monitored easily without having to guess whether it's ready or not yet. Plus, its power cord storage feature ensures neatness and convenience whilst keeping unsightly wires out of sight but within easy reach if ever needed again in future.
For those who need hot tea or coffee throughout their day-to-day lives then this could possibly be one piece of kitchen equipment that you really should consider investing in due to its ease of use combined with its various safety features – especially since no other kettle comes close in terms of performance! So why not purchase your own Xiaomi Electric Water Kettle now and benefit from all these advantages at a great price too?
Pros:
Made with high-quality 304 stainless steel
The STRIX temperature control system allows for precise temperature control
Visible LED indicator light makes it easy to see when the water is boiling
Cons:
The price is higher compared to others.
2. Imarflex IK-515S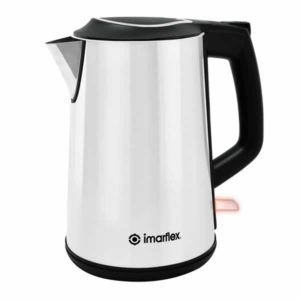 Food Grade Stainless Steel
This Imarflex IK-515S electric kettle is the perfect addition to your kitchen. With its sleek and modern design, it is sure to add a contemporary touch to your kitchen decor. The 5-litre capacity allows for quick boiling of water or other liquids and also has a double wall insulation that keeps the contents hot longer, without keeping it too hot to touch. The food-grade stainless steel construction provides durability and holds up well to everyday use while the 360º body rotation makes it easy and convenient to pour from any angle.
The built-in auto-off feature prevents overheating, as does the boil dry protection system which turns off once all liquid is boiled away, letting you know when more needs added for re-heating without wasting energy on an empty tank. Moreover, with 1500 watts of power, this electric kettle drinks quickly so you can have your favourite beverage sooner rather than later! Additionally, features such as cord storage and a cool handle/body make this electric kettle both safe and efficient too.
All in all, if you're looking for a high-quality yet affordable electric kettle then look no further! This Imarflex IK-515 Electric Kettle offers a great combination of practicality while not compromising overall aesthetic appeal making it an absolute must-have for every household! So don't hesitate–go out today get yours and make brewing at home faster & easier than ever before!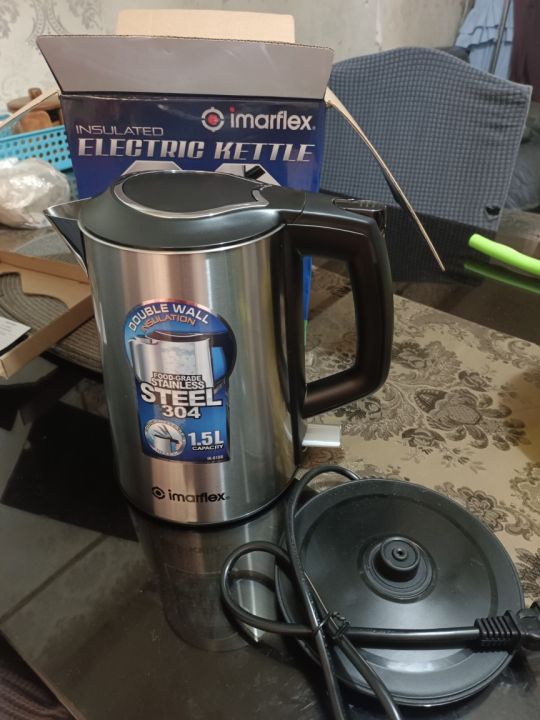 Pros:
360 rotation makes it easy to pour water of various heights
Food-grade stainless steel 304 construction is meant for use with any kind of food or drink
Cool touch body and handle allow you to safely use the kettle even when water is at the boiling point
Cons:
Pricey compared to competitors
3. Kyowa KW-1306
Easy to Use

The Kyowa KW-1306 Electric Kettle is a great appliance to have in your home. Its 1-litre capacity offers enough space for boiling larger batches of water, while its boil dry protection switch ensures that you don't overheat the kettle and ruin it. Heat-resistant plastic makes this appliance an excellent choice and adds extra safety as well. It also has an automatic power shut-off feature, which will turn the device off after a certain amount of time so you don't have to worry about leaving it on accidentally when not in use.
This electric kettle also comes with some useful features such as a removable and washable spout filter which helps keep your hot drinks free from dirt or debris, making them cleaner and healthier to consume. The water level indicator allows users to check how much water is left inside for maximum convenience without having to open up the lid all the time.
This is an ideal kitchen tool for those who want their beverages ready quickly with minimal effort involved! If convenience is what you are looking for then Kyowa KW-1306 Electric Kettle could be the perfect solution for you or your family! Don't wait any longer, get cooking today using this amazing product!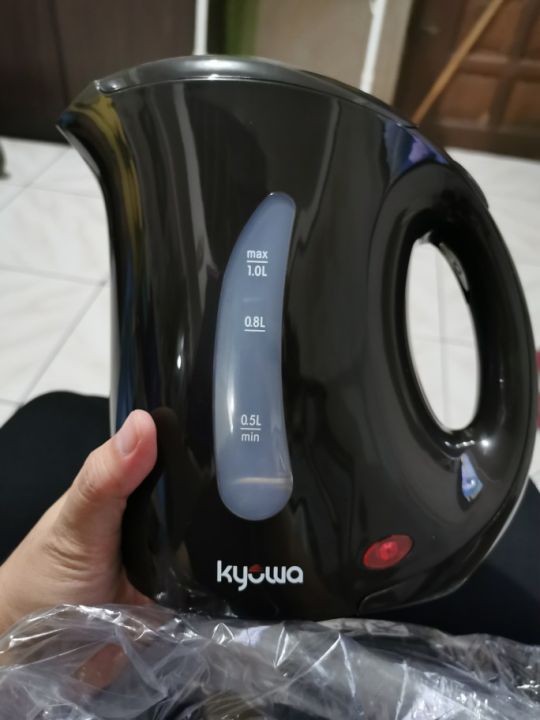 Pros:
Boil Dry Protection Switch shuts off the kettle when the water runs out
The Automatic Power Shut OFF ensures safe operation.
The removable spout filter is washable, and the kettle also features a water level indicator.
Cons:
4. Asahi Electric Kettle EK 171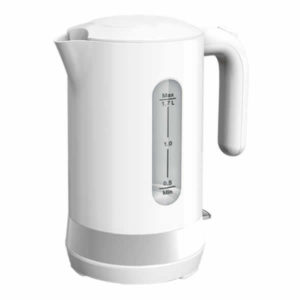 Powerful Motor

The Asahi Electric Kettle EK 171 is an ideal appliance for quickly boiling water. Its 7-litre capacity makes it perfect for making multiple cups of tea, coffee, and hot chocolate or for preparing meals like soup and ramen noodles in a fraction of the time it would take with traditional stovetop methods. With 2000W heating power, your desired temperature can be reached quickly ensuring that you have your hot beverage as soon as possible!
Furthermore, the 360° base rotation allows you to easily pour without having to lift up the kettle every time which adds convenience when you are dealing with smaller mugs or containers. Boil-dry protection with its thermostat disc ensures that no accidents occur due to an extended pot boil and cord storage at the base gives this electric kettle a tidier look so you can enjoy it from afar without any loose wires in sight!
Altogether, these features make this electric kettle one of the most reliable appliances suitable for any kitchen countertop setup due to its sleek design and robust functionalities. Get yourself an Asahi Electric Kettle EK 171 today as this product offers great value along with quick boiling ability so never miss out on another cup of warmth again!
Pros:
360° base rotation for easy pouring
Removable screen filter for unwanted particles
Boil-dry protection to prevent the kettle from overheating
Cons:
5. Philips Electric Kettle HD9316 1.7L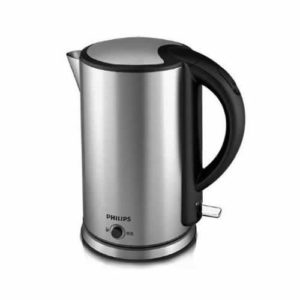 Easy Opening
The Philips Electric Kettle HD9316 7L is the perfect addition to any kitchen. This powerful kettle can rapidly bring up to 7L of water to a rolling boil in no time, with 1800W of power at your disposal! It also features PTC technology which allows for keep-warm heating without the worry of reboiling, while ensuring safety too as it's equipped with a steam sensor, dry boiling and overheating prevention systems. To top it off, this product is made from food-grade stainless steel for both its body and inner lid so you know that it will be durable enough to last through years' worth of use!
Additionally, cleaning this electric kettle is hassle-free due to the detachable stainless steel filter that comes built into it – take out the filter and do your maintenance quickly and easily every now and then! All these features come together harmoniously in one high-quality product so you get nothing but convenience when using this kettle each day. Whether you are making yourself a cup of tea or coffee or just need hot water on demand for other purposes like cooking soups or noodles – this electric kettle will certainly prove itself an invaluable asset right away!
So if you're looking for a reliable yet efficient way to heat up the water in your home without all those unnecessary bells and whistles, look no further than the Philips Electric Kettle HD9316 7L – especially considering how incredible its features are! With its ease of use and exceptional performance capabilities, all packed tightly into one incredible piece of equipment – getting one today will be an investment that pays off almost immediately!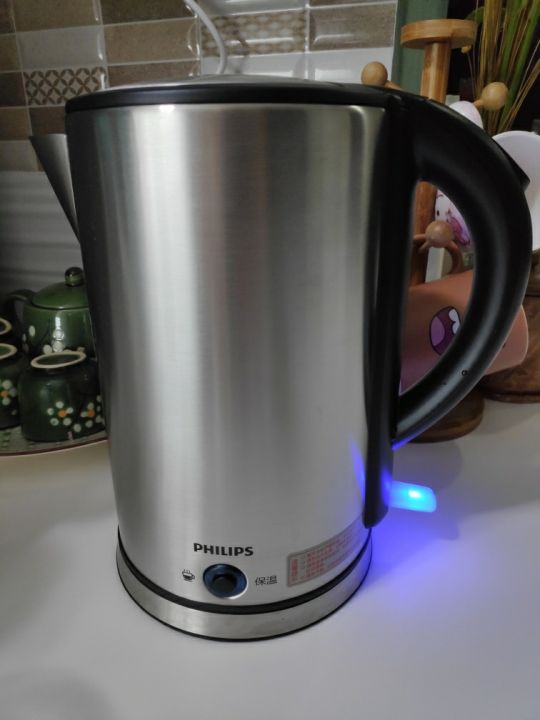 Pros:
Stainless steel finish
Looks great in the kitchen
Easy to clean and maintain
Cons:
6. Tefal Safe Tea KO2618
Dual Heat Barrier
The Tefal Safe Tea KO2618 is an excellent kettle that provides a quick and easy way to heat up beverages for any occasion. It has an efficient seamless stainless steel heating element which allows it to quickly reach the desired temperature, so you can enjoy your favourite hot drinks without having to wait too long. In addition, the assisted opening lid and 1L capacity also make sure that you have enough tea or coffee for everyone around with minimal effort.
One of the best features of this electric kettle is its toggle switch with a power light indicator so you know when it's on and how much energy is being consumed at all times. Moreover, thanks to its 3600 rotational base with cord storage, not only does it look good on your kitchen countertop but also helps keep things neat and organized as well as saving space at the same time.
Overall, if you are looking for an efficient electric kettle that does not take up too much space in your kitchen while still providing convenience during tea or coffee time then look no further than the Tefal Safe Tea KO2618! Its assortment of amazing features will help get drinks prepared quickly while giving users more control over their energy consumption simultaneously ensuring maximum safety for all family members in the household – what's not to love? So don't wait any longer – give yourself (or someone else!) this fantastic device today!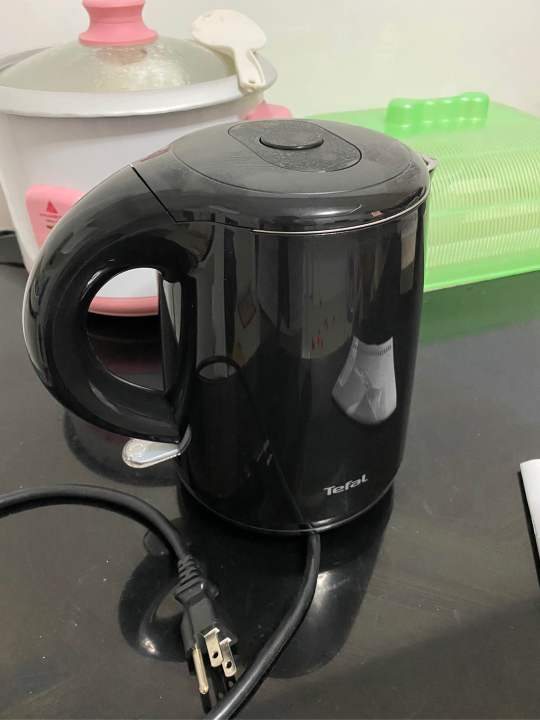 Pros:
The stainless steel interior is easy to clean
Assisted opening lid for filling and cleaning
360° rotational base and concealed heating element for convenience and safety
Cons:
The lid is not transparent, so you can't monitor the water level.
7. VIOMI YM-K1506
Smart Steam Sensor Switch
The VIOMI Electric Kettle 5L YM-K1506 is an incredibly convenient and efficient product that has a lot of amazing features. First, it's incredibly fast boiling since its capacity is 5L, making it perfect for people who want to quickly boil water for tea or coffee. Second, the handle is anti-scalding so you can use it comfortably without worrying about burning your hands. Third, there's also visualization with a heating indicator light which shows you when the water has started to boil at any time. Plus, the steam sensor switch and 13CM large calibre make it very easy to use with minimal effort needed! Finally, this kettle also comes with a high-quality thermostat that provides power failure protection and anti-dry protection as well.
This electric kettle from VIOMI offers great value since all these features combined make life very easy when boiling water or beverages conveniently and efficiently! Not only do you not need to worry about burning yourself while using this product due to its anti-scalding handle but also because of its other safety measures such as power failure protection and Anti Dry Protection. This kettle will keep you safe from having potential risks during operation like electricity short circuit problems or dry burns which could potentially cause harm if left unchecked, especially in certain scenarios where vigilance isn't always possible when boiling something on fire stovetops manually.
All these amazing features available now together plus a great price tag attached makes this VIOMI Electric Kettle 5L YM-K1506 an ideal choice for anyone looking for an excellent electric kettle that works reliably each time as expected every single time! If convenience coupled with safety are two things important to you then don't hesitate in getting one today – I guarantee you won't regret investing in this versatile kitchen appliance!
Pros:
Anti-scalding handle
5L large capacity for big batches
Steam sensor switch and 13CM large calibre design make it easier to use the kettle
Cons:
More expensive than a similar capacity product
8. Dowell EK-517 1.7L
Matte Finish Body
The Dowell EK-517 Electric Kettle is the perfect appliance for those who are looking to quickly and safely heat water. With a 7L capacity, it can provide enough hot water for a family of four in under five minutes! The kettle's double wall protection ensures safety from boiling temperatures, while its cool touch exterior prevents burns on contact. Not only does it have great features inside, but it also boasts an elegant matte finish body that adds an aesthetically pleasing style to any kitchen countertop.
Besides safety and convenience, this electric kettle also includes a toggle switch with a light indicator that allows you to monitor the temperature levels and adjust the time needed to boil your water accordingly. This feature takes all of the guesswork out of making sure your drink will be just as warm as you like without running any risks! Plus, with its easy manoeuvrability thanks to its lightweight design and handle grip, you won't have any trouble transferring your hot beverage anywhere around your house or office space with ease.
All things considered, if you're looking for an electric kettle that combines practicality and beauty in one package, then look no further than the Dowell EK-517 Electric Kettle! From its multiple features such as double wall protection and adjustable temperature settings amongst others; plus its stylish body build which blends in seamlessly into almost any home décor – this product is truly worth every penny spent on it! So why wait? Get yours now before stocks run out!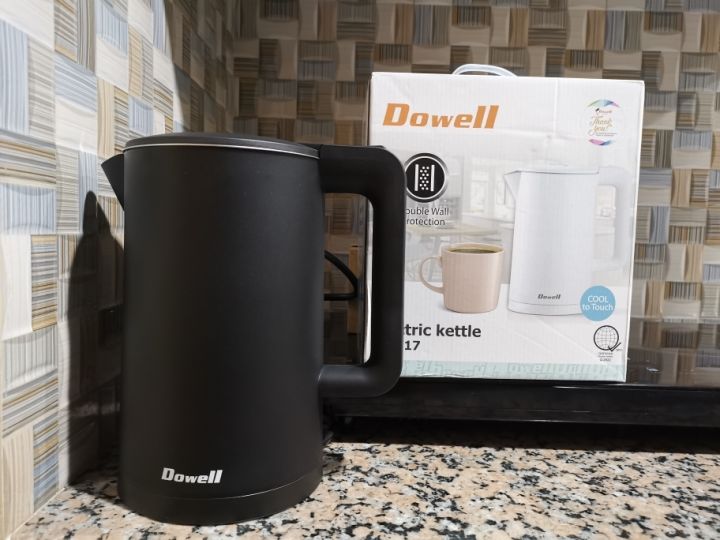 Pros:
Double-wall protection to prevent the loss of heat and maintain temperature for longer periods of time
Toggle switch with light indicator for ease of use
Auto shut off function to prevent heating when unnecessary or accidents
Cons:
Water stains easily on matte finish body.
9. Mango®MG1823
Budget Picks
The Mango®MG1823 Electric Kettle is perfect for those looking to quickly and efficiently boil water. It features a fast water boiling ability that heats up to boiling in less than 5 minutes, which is great for when you need hot water but don't have the time to wait around. The high capacity of 8L makes it ideal for larger groups or gatherings, and its multiple safety protections such as auto shut off and boil dry/overheating protection ensure no accidents are had while using the kettle.
Made of food-grade materials, such as 304 stainless steel material and BPA-free plastic, this electric kettle ensures that your beverages remain safe from any contaminants or harmful chemicals while brewing. Furthermore, an added benefit is its 360° rotating base allowing users to swivel easily with precision control – even during serving at the table! This feature adds some convenience not often found in other kettles on the market today.
All things considered, the Mango®MG1823 Electric Kettle would make a great addition to any kitchen as it offers users quick boiling times with added security features without compromising on quality or safety standards – making it one of the better options for electric kettles out there right now! If you're looking for a reliable and efficient way of boiling water then definitely consider checking out this product – we promise you won't be disappointed!
Pros:
It boils water quickly.
The capacity of the kettle is quite large.
The design is cordless and 360-degree.
Cons:
Some complain the design is outdated.
10. Hanabishi Electric Kettle HWK-112GL
High Borosilicate Glass Body
The Hanabishi Electric Kettle HWK-112GL is an excellent choice for those looking to make tea or coffee quickly and conveniently. With its 2-litre capacity, it can easily accommodate multiple drinks at once – ideal for busy mornings. To make use even simpler, the kettle has a 360° rotary base which allows you to position it in any direction and enjoy easy accessibility from any angle.
The body of this kettle is made with high borosilicate glass, making it both durable and stain resistant so that you don't have to worry about discolouration or surface wear. Inside, a concealed stainless steel heating element ensures safe usage and keeps your beverage hot without fear of burns or boiling over! Additionally, the one-touch starter button lets you get started right away so you can have your drink ready in no time!
Overall, if you're looking for an electric kettle that looks good on your countertop while also providing convenience and reliability every day, then I highly recommend the Hanabishi Electric Kettle HWK-112GL. From its easy 360° rotation feature to its concealed stainless steel heating elements, this product will serve anyone looking for quality performance at an affordable price point. So why not give this product a try today?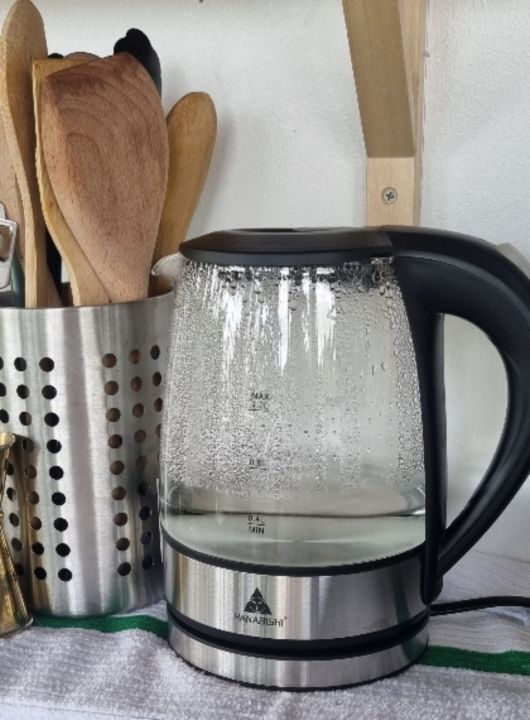 Pros:
The lid is easy to handle and remove.
Easy to clean.
It has a high borosilicate glass body that is durable and stain-resistant.
Cons:
It comes with a short power cord, so it can't be used without being near an outlet or extension cord.
11. Fukuda Electric Kettle EK18S
Preserve Hot Water Longer

The Fukuda Electric Kettle EK18S is a great choice for anyone who wants an efficient and convenient way to make hot drinks. Its cordless design makes it easy to take the kettle with you wherever you go, while its concealed heating element helps keep water warm for longer periods of time. Plus, it has a power indicator light that lets you know when the pot is ready to use. With its push button lid, you can easily open and close the kettle without having to worry about any spills or accidents.
Not only does this electric kettle come in handy at home but its 8-litre capacity also makes it perfect for larger gatherings and parties as well! You don't have to be worried about leaving it on — this model comes with an automatic switch-off feature so that your safety is ensured at all times too! It's truly a great purchase if you're looking for something that saves electricity and provides quick boiling performance every single time without fail!
Whether you need hot water in a hurry or just want something dependable, reliable and durable – then look no further than the Fukuda Electric Kettle EK18S! Boil up some delicious tea, coffee or even cocoa with ease – get yours today before they run out of stock!
Pros:
Compact and lightweight design for easy storage
Simple, intuitive controls make it easy to use
304 stainless steel inner pot for easy cleaning
Cons:
12. Micromatic MCK-1840
Value of Money
For those of us who are looking for a reliable and efficient electric kettle, the Micromatic MCK-1840 is the perfect choice. This reliable appliance has a 8L capacity and is equipped with an automatic switch-off feature that prevents overheating and offers dry-boil protection. It also comes with a concealed stainless steel heating element which ensures quick boiling while helping conserve energy. The cordless design allows 360° operation, so you can carry it around or put it on your kitchen countertop without worrying about cords getting in your way. Furthermore, its push-to-open lid makes filling up easy while its safety lid lock keeps you safe from accidental spills during operation.
With all these amazing features, this electric kettle was specifically designed with convenience in mind – no matter what kind of tea or coffee you're making – hot chocolates for kids or herbal teas for adults – this kettle will make sure you get to enjoy your favourite beverage at just the right temperature every time! The sleek look and modern design of this appliance also add to its charm – it looks great when displayed on any kitchen countertop too!
If you're looking for an electric kettle that delivers consistent results quickly without compromising on safety, then look no further than the Micromatic MCK-1840 Electric Kettle! Get yours now to experience superior performance whenever creating beverages for friends and family today!
Pros:
Concealed stainless steel heating element ensures even heat distribution.
360-degree cord operation makes it easy to use from any angle.
A Push-to-open lid with a safety lid lock makes it easy to fill and pour.
Cons:
The lid cannot be opened while water is boiling
Top Electric Kettle Brands in The Philippines
Philips
Philips is one of the most popular brands for appliances in Philippine homes today. Their electric kettles range from classic models like the Philips HD93165 to modern kettles that come with features like a steam sensor, overheating prevention systems, and more.
Tefal
Tefal is also one of the top electric kettle brands in The Philippines. Their Tefal KO2618 Electric Kettle comes with a host of impressive features, including an array of temperature options for different kinds of drinks.
Xiaomi
Xiaomi is a recent newcomer to the Philippine market, but their electric kettles are making waves for being of high quality while still being affordable at the same time. Several Xiaomi electric kettles also come with convenient features like locking lids to prevent accidental spills or boil-dry protection for safety.
Kyowa
Kyowa is another Japanese brand that's becoming popular for its electric kettles. Their most affordable model, the Kyowa KW-1306, comes with features like automatic shut-off when boiling is complete and overheat protection for safety.
Imarflex
Imarflex, on the other hand, offers electric kettles in various shapes and sizes, most of them with classic looks.
Fukuda
Fukuda is a brand that specialises in appliances from stainless steel. Their electric kettles come with features like an automatic shut-off when water boils and overheat protection for safety.
Dowell
Dowell is another popular brand that makes electric kettles for homes and offices alike. Their Dowell Electric Kettle EK-517 features an automatic switch-off function when the water boils, while their commercial models like the Dowell XS 1000 can be customised to suit your needs.
7 Things to Consider When Buying an Electric Kettle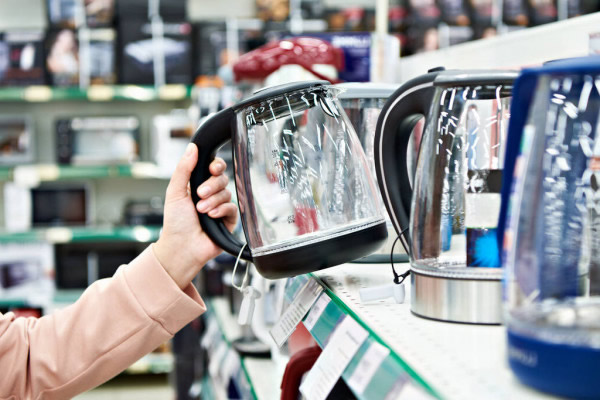 Now you might overwhelm with so many choices in the market when it comes to electric kettles. If you want to end up with a device that will provide your kitchen with convenience and style in making tea, then these are some pointers that might help in choosing the best one for you:
Capacity
The capacity of an electric kettle is measured by how much water it can contain. You must consider this so you'd know what size of the pot is needed to serve your guests or family members at home. If you live alone, then something small would do but if there are more than just yourself using the kettle, look for models with bigger capacities like .5 litres or even 1 litre. For instance, if you have 4 persons living with you most of the time, look for a capacity of at least 2 litres.
Cordless or not?
If you opt for kettles that are cordless, make sure they are designed to be lifted off the base when in use so you won't have to take the trouble of detaching it when pouring boiling water from its spout. Make also certain that cordless electric kettles are easy to clean, especially their bases because getting in between can be tricky. The actual life span of these appliances is shorter though compared with wired ones, using this sort would provide more convenience since you can move it anywhere, even near your table, without worrying about cables lying on the floor which might get in the way when cleaning up your kitchen mess afterwards.
Ease of use
For electric kettles, ease of use would refer not only to how easy it is for you to lift up its lid or pour water out from the spout but also to how simple it is to get rid of mineral deposits that might have settled in the bottom part by just cleaning them with vinegar. It's best if you can get models that are dishwasher safe, so they are easier to clean. Another thing too is when buying, make sure there are instructions included in your purchase, especially if it is your first time using this kitchen appliance.
Limescale filter
When deciding which model to buy, be keen on the presence of a limescale filter because this gadget makes sure that calcium and magnesium deposits are formless in heating coils that keep the water inside your electric kettle heated enough to become steam. Rather than having those deposits settle on your appliance, a limescale filter is designed to remove them as they slowly go down with the boiling water as it evaporates and gets converted into steam.
Safety features
Take note of any safety feature which becomes critical, even if this part might not be so noticeable at first glance when you shop around your local stores for an electric kettle. For instance, some models have boiled dry protection, and others use an automatic shut-off once their contents reach a boiling point, so there won't be a need for you to stay beside it just to watch out for its safe operation.
Wattage
Electric kettles with a wattage of at least 1500 watts tend to give you boiling power. But oftentimes, it's not the wattage that matters but how your purchased appliance performs on heating up food and liquids. Your focus should be on buying an electric kettle that works efficiently instead.
Design and colour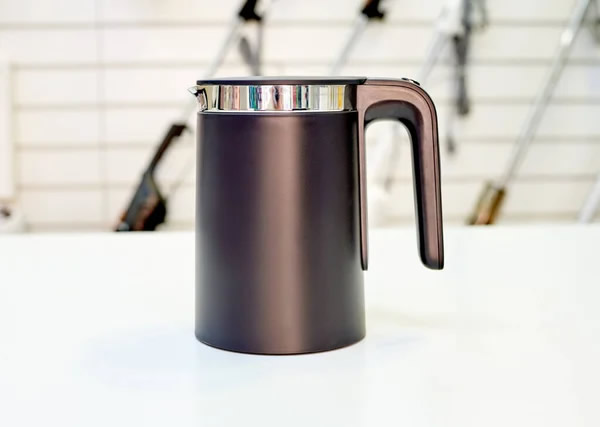 Design and colour also play a role when choosing an electric kettle since appliances like these will likely become part of your kitchen décor once they stay there permanently. You can get models that come in different colours or straight black, depending on what matches your current set-up inside your kitchen. Some even have cool features such as LED screens so you'd know right away if the water has already reached boiling point, while others light up in different colours once they are hot enough to extract flavour from your coffee beans.
Final Thought
The type of electric kettle you choose may depend on your needs and the important features. There's no one-size-fits-all when it comes to choosing a new appliance, so we hope this list helps make an informed decision about which is best for you! Plus, reviews from other shoppers can help give some insight into how these kettles work in reality. Happy shopping!
FAQs
What are the best brands of electric kettle in the Philippines?
Some of the best electric kettle brands in the Philippines are Eureka, Scarlett, Xiaomi, Tefal and Philips.
Why should I buy an electric kettle?
Electric kettles are the fastest and safest way for you to have hot or boiling water. It can heat water as fast as one minute.
What do I consider in buying an electric kettle?
Water capacity – how much water do you usually boil? Do you live alone, or do you share your space with your family? Electric kettles come in varying water capacity that fits your needs.
Design – you will be amazed by the many designs of electric kettle these days. Pick one that will easily match your kitchen interior.
Energy consumption – always look for electric kettles that are guaranteed energy-efficient.
How much is an electric kettle in the Phlippines?
Electric kettles can be as affordable as ₱800
This post was brought to you by Kimz House.
Disclaimer: The opinion is solely based on our testing or intensive research with customer feedback around the most popular shopping platform such as Shopee and Lazada. The products/services shown here are available and valid upon the publication date. It may change from time to time. Please email us at [email protected] if there is any discrepancy.