Last Updated on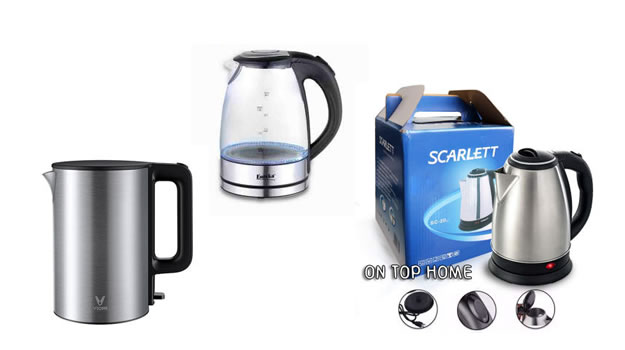 One of the best things about living in an apartment is getting new stuff to fill your humble space. One electronic appliance that is always present in every apartment is a reliable electric kettle. It's a lifesaver and multi-tasker that every busy worker needs to have.
If you are yet to find the best electric kettle for your apartment, here are our top pics from Lazada.
1. Eureka EK-1.8 GLED Electric Kettle
Easy Maintenance
What's better than a fully functional kettle? A pretty one! This easily matches any apartment interior with its transparent body and LED lighting. It looks fragile, but the body is made from high-quality borosilicate glass, so there's no need to worry.
Why buy this
Easy operation
Boiling dry protection
Stain-resistant
The ease of use and maintenance is what sets this best electric kettle apart. It's a great choice for any tea lover, especially when you want to relax after a long day.
2. Scarlett Stainless Steel Electric Kettle 2 L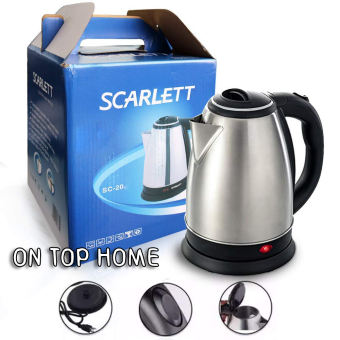 Budget-friendly
Scarlett is one of the more popular brands in the Philippines when it comes to kitchen appliances. They are known for their budget-friendly price points and durability, and the same is true for this electric kettle.
Why buy this
Auto stop function
Impact-resistant
Scalding protection
One of the best things about this model compared to other electric kettles is the ergonomic handle that prevents common accidents with spilt boiling hot water. It has an ergonomic design that makes pouring and setting up easy and safe.
3. Xiaomi Stainless Steel 1.5L Electric Water Kettle
Space Saver
Xiaomi is relatively a new player in kitchen appliances, but they have so far been receiving great reviews for every electronic appliance that they release. A good start to test Xiaomi's reliability in this category is through this innovative electric water kettle.
Why buy this
Made from standard food-grade stainless steel
Double-layered for scalding protection
Unibody design
The entire design of the kettle is meant to take as little space as possible, and make cleaning and maintenance easier. It is also innovatively designed to prevent any hot water drops when you uncap the lid.
4. Micromatic MCK-1840 1.8Liters Electric Kettle
Durable Stainless Body
Want to add some pop of colour to your mini kitchen? Go for this preppy blue electric kettle that comes with a highly durable stainless steel body.
Why buy this
Automatic switch-off with dry-boil protection feature
Concealed stainless steel heating element
360 degrees cord operation
Push-to-open lid with safety lid lock
It's also worth noting that this electric kettle has an auto-off feature, which means the hot water won't keep heating once it reaches the boiling point. This is great for preserving the hot water for longer periods of time.
5. Philips Kettle HD9306 – Daily Collection 1.5L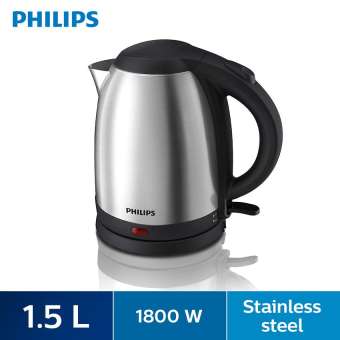 Easy to Bring
This elegant looking kettle gives you everything you need in a Philips electric kettle. Its cordless base adds to it's sleek and makes it easy to bring wherever.
Why buy this
Hinged lid
Food-grade Stainless Steel
Steam sensor
UK Strix thermostat
Boil water in just a few minutes. The Philips Daily Collection Electric Kettle is your number one go-to solution for boiling hot water. With a steam sensor and UK Strix thermostat, you'll never have to worry about burnt fingers again.
Best price for Philips kettle here.
6. Mango®MG1823 Stainless Steel Cordless Electric Kettle 1.8 L High Capacity.
Fast Boiling
One of the reasons why we buy ourselves an electric kettle is to have our warm drinks/soups faster. This powerful kettle can boil a litre of water within 5 minutes, saving you your precious time.
Why buy this
Serves up to 7 cups
Boil dry and overheating protection
Auto shut-off
This kettle looks elegant enough and comes with a 360-degree rotating base. You can very much use the same kettle to serve at the table in case you have some guests in.
7. Xiaomi Viomi Electric Kettle High-Quality Thermostat 1800W
Energy Efficient
Here's another powerful and fast-boiling electric kettle from Xiaomi. Viomi is Xiaomi's ecological line, which means that you are buying an energy-efficient kettle, as well.
Why buy this
High-quality thermostat
Double safety protection
Full stainless steel body
No more plastic-tasting water. With this electric kettle, your water will not touch any plastic interior since the entire body is made from food-grade stainless steel. Boiling more than a litre of water will also take only 5 minutes with this kettle.
8. Philips Kettle HD9350 – Daily Collection 1.7L
Boil Dry Protect
Do you want to bring your electric kettle with you when going out of town? Do you want to make it an aesthetic part of your kitchen? Well, you can enjoy this beautiful kettle that boils at 200 watts power.
Why buy this
Other features of the kettle include the following:
Non-slip base
Boil dry protect
Flat heating element
Auto-power off
You don't need to worry about overheating or other electronic related incidents since Philips has designed their kettles to be safe and worry-free.
Buy this Philips electric kettle here today.
9. Tefal Kettle Safe Tea KO2618
Dual Heat Barrier
Here's another top of the game design that we love from Tefal. Comes in a sleek back body with LED light illumination.
Why buy this
Dual heat barrier layers to better protect your hands
Ready for tea preparation
Assisted opening lid for convenient filling and cleaning
Auto switches off for both light and heater.
Don't miss the best price for this heater available here.
10. Philips Kettle HD9303 – Viva Collection 1.2L
Best for Travelling
It's a small but terrible package that also comes with similar features as the larger versions. This model, however, makes it easier for you to take anywhere.
Why buy this
Wide opening for easy filling and cleaning
Overheating Protection and Steam Sensor
Wide opening for easy filling and cleaning
Food grade stainless steel body.
You can buy this Philips electric kettle in the Philippines here.
11. Fukuda Electric Kettle Cordless 1.8 Liters SAFE TO TOUCH EK18S
Preserves Hot Water Longer
We love the aesthetics of cordless electric kettles because they look good and safe enough to be put on the table, as well as to serve more people with coffee or tea. This electric kettle makes the experience even better with its fully insulated body; there is minimal to zero chances of scalding while using it.
Why buy this
Power indicator light
Double insulation
304 stainless steel
It also has an auto-switch off feature, while it preserves your hot water for longer hours because of its great insulation.
12. Philips Kettle HD4646/56 – Daily Collection 1.5L
Easy Grip
When it comes to electric kettle brands, there is a reason why Philips has become a staple name in the market. This model, for instance, is packed with all the safety features including anti-boil-dry, auto switches off, cord winder.
Why buy this
Jug appearance with an easy-grip handle
Safety lid that stays cool
Hinged lid
Easy to wash
For a more playful look for your electric kettle, this is your best choice from Philips.
Buy this kettle/jug here.
13. Philips Kettle HD9316 – Viva Collection 1.7L
Easy Opening
Philips basically outdoes itself when it comes to electronic technology, and this electric water kettle Philippines is no exemption.
Why buy this
Keep warm function
Spring lid for easy opening
Removable filter
UK Strix Thermostat for a more accurate temperature control
This kettle is seriously cool. We love the upright body design because it looks so clean and modern in every kitchen, and the PTC technology means that you save time by not having to reboil water.
You can purchase this model online here.
How an Electric Kettle Works?
What Should I Consider In Buying An Electric Kettle
With the many options available in the market today, it can be challenging to pick your choice. Here are some of the top considerations to have before buyingand choosing the best electric kettle philippines:
Material – Our first rule for buying electric kettles is the less plastic, the better. This means that it is always better to opt for glass or stainless steel models like the ones featured on the list. That way, you can be sure that there will not unwanted taste in your water from contact with heated plastic.
Water capacity – how much water do you usually boil? Do you live alone, or do you share your space with your family? Electric kettles come in varying water capacity that fits your needs.
Design – you will be amazed by the many designs of electric kettle these days. Pick one that will easily match your kitchen interior.
Safety feature – Another consideration is the safety features of the electric kettle. Among the non-negotiable safety features include auto shut-off once the water is boiling and anti-scalding.
Energy consumption – always look for electric kettles that are guaranteed energy-efficient.
Top recommended electric kettles in the Philippines in 2020:
FAQs
What are the best brands of electric kettle in the Philippines?
Some of the best electric kettle brands in the Philippines are Eureka, Scarlett, Xiaomi, Tefal and Philips.
Why should I buy an electric kettle?
Electric kettles are the fastest and safest way for you to have hot or boiling water. It can heat water as fast as one minute.
What do I consider in buying an electric kettle?
Water capacity – how much water do you usually boil? Do you live alone, or do you share your space with your family? Electric kettles come in varying water capacity that fits your needs.
Design – you will be amazed by the many designs of electric kettle these days. Pick one that will easily match your kitchen interior.
Energy consumption – always look for electric kettles that are guaranteed energy-efficient.
How much is an electric kettle in the Phlippines?
Electric kettles can be as affordable as ₱800
This post was brought to you by Kimz House.
Disclaimer: The opinion is solely based on our testing or intensive research with customer feedback around the most popular shopping platform such as Shopee and Lazada. The products/services shown here are available and valid upon the publication date. It may change from time to time. Please email us at [email protected] if there is any discrepancy.